Stunning landscapes of Liverpool by artist Dominic Burkhalter are being shown for the first time at View Two Gallery in Mathew Street in the city's Cavern Quarter.
The irony, he says, is that an Anglican designed the Roman Catholic cathedral while a Catholic designed its cousin at the opposite end of Hope Street
The creation of up to 50 works, all painted this year especially for the Liverpool exhibition, is a case of back to basics for the Londoner. Half-Swiss by parentage, he was brought up in Dorset, and now lives in the Bohemian-cum-arty Lark Lane area.
One of his paintings, Dom says proudly, has been in the National Portrait Gallery. But he all but put his paints and easels to one side as he followed a career in the digital world, working for companies like News International and the BBC.
His love of painting never left him, so he decided to head to Liverpool to paint the city, creating his new works as he viewed buildings from the streets and from the Wirral shoreline.
"Call it a kind of sabbatical for me," says Dom, adding his re-entry into the world of painting means an end to a non-stop carousel of meetings with executives and commissioners.
Whether a return to the corporate world will be necessary depends on reaction to his new landscape paintings of Liverpool, the largest five feet wide.
So what was the magnet that attracted Dom to live and paint in Liverpool?
"Liverpool has an edge and humour that just makes it a great place to be, with a stunning skyline by the Mersey and so many iconic buildings, ranging from the world heritage waterfront to the two famous cathedrals."
As everyone knows, if you want a cathedral we have one to spare. Dom adds: "Liverpool is the only place in the world to have a cathedral at either end of a street."
The irony, he says, is that an Anglican designed the Roman Catholic cathedral while a Catholic designed its cousin at the opposite end of Hope Street.
Of course, the cathedrals feature in his latest works, with paintings of the interiors highlighting the contrasting styles of the two buildings.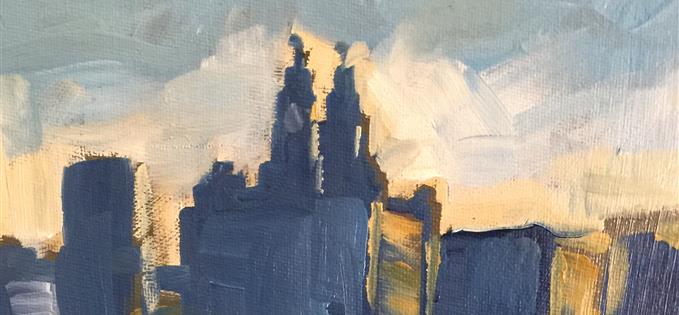 The Liver Building
Born in 1959, Dom studied politics and international relations at Southampton University before doing a foundation course at Bournemouth College of Art, leading to a degree course at the Slade School of Art.
He says his painting influences include both his parents and tutors at his various art schools. His strongest influence emerged from the English tradition of Turner's landscapes to Patrick George, with the English and Swiss mix of understated and accurate drawing holding the greatest sway.
Growing up in the Dorset countryside added to that mix, boosted by the novels of Thomas Hardy, and watching classic films like The French Lieutenant's Woman being filmed virtually on his doorstep.
Dom also inherited his Swiss tour guide father's travel bug, leading to global travels during which he captured landscapes in oils.
And those travels brought him to Liverpool.
"For 25 years I worked in the digital area, from the early days of a web sites and CD-ROMs to the current world of apps and mobile technology. I'm now returning to the world of painting and giving the world of Photoshop and project plans a break," added father of three Dom, who now lives in Liverpool with his partner Claire.
Liverpool in a New Light – Paintings by Dominic Burkhalter. View Two Exhibition: Friday August 14 to Saturday October 17, 2015. Other times by appointment.
Artist's website: dominicburkhalter.com
View Two website: viewtwogallery.co.uk
Dominic Burkhalter