VISITORS to Liverpool's bombed out church were given the first public view today of a new statue that captures a special moment during World War One.
Called "All Together Now", its unveiling coincides with the all-star re-release of the hit of the same name by The Farm.
The statue, by Andy Edwards from Stoke on Trent, shows two soldiers about to play football in No Man's Land along the Western Front. Early visitors gavie it an enthusiastic welcome.
Meanwhile, bidding for the Christmas Number One spot, the charity single, All Together Now, by the Peace Collective, went on sale in shops today. Produced by Suggs from Madness, it features I Am Kloot, Alexandra Burke, Gabrielle, The Proclaimers, Engelbert Humperdinck, Holly Johnson, John Power (Cast), Jah Wobble (PiL), Jane McDonald, Shara Nelson (Massive Attack), Amelle Berrabah (The Sugababes) Jermain Jackman, and The Farm.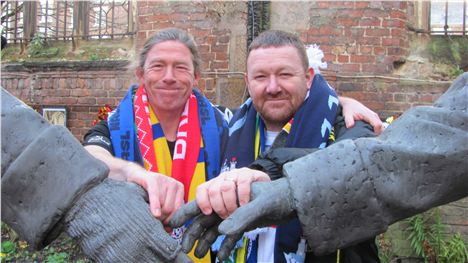 Tommy Calderbank, the project organiser and Russell Greenop from the James Greenop Foundation.

The statue will be on show until Thursday from noon to 6pm at St Luke's and again on Saturday and Sunday, though there will be a programme of events starting tonight (Monday) at 6-30pm. This will include the Socialist Singers revisiting music of the trenches, as well as songs about that remarkable Christmas Day truce when soldiers on both sides were said to have laid down their arms to play football.
On Wednesday there will be a panto in the church at 7pm and on Thursday at 7pm a screening of the film Joyeaux Noel.
At 3pm and 7pm on Saturday you can see an abridged version of the play All Quiet on the Western Front.
On Sunday evening the statue will be packed up for its journey to Belgium where it will stand in the town square near to Messines close to where the famous footie game took place.