MANY years ago, I went out on a restaurant review as the guest of a very honest food critic who wrote for a large, mainstream media organisation here in Liverpool.
In his subsequent report - of a long departed, but unlamented, Italian job - he entertainingly described the food's mediocrity at some length. He also fleetingly observed, not in any intentionally mean way, that the eyebrows of the waiter were not dissimilar to those famously sported by Groucho Marx. A line as throwaway as their lasagne.
"If you can't say anything nice, don't say anything at all. It will all come back to bite you on the arse," as Thumper almost said
It was, frankly, a pretty accurate assessment, but the restaurant did not possess our critic's sense of humour or Groucho's sense of self deprecation ("I don't want to belong to any club that accepts people like me as a member" etc).


Instead its owners plucked out the eyebrow quote, bitterly complained to my friend's management about it and threatened to pull their advertising unless the company delivered a grovelling apology to the waiter.
Memo to staff: "If you can't say anything nice, don't say anything at all. It will all come back to bite you on the arse," as Thumper from Bambi almost said.
And lesson learned: Never take the piss out of waiters, unless they are taking the piss out of you.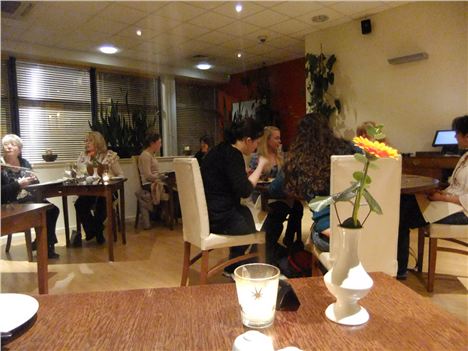 The dining room at The Academy by evening
I was especially mindful of all this a couple of weeks ago when I dined with another friend at Liverpool Community College's Academy Restaurant.
Staffed by catering students under the watchful eye of tutors who, until recently, included 2011 BBC Master Chef winner Clare Lara, they are taught to crack eggshells, while the nervous critic might be inclined to dance on them.
Why so? Because you have to cut these kids some slack, whispers Thumper.

Run rabbit, runDon't be daft, a more strident voice scoffs: The Academy has been called Liverpool's "hidden gem" (another one); they charge good money for the experience, and the students might as well get used to being written about if they are going to carry on in this game.
The catering and hairdressing arm of Liverpool Community College was referred to, for years, simply as "Colquitt Street", and it still turns out most of the legions of men and women who cook and coiffe for you around Liverpool.
Now in the newish East Village, in Tradewind Square, off Duke St, The Academy is certainly off the beaten track, but that does not stop its dining room from being pleasantly full - and, it is to be hoped, its patrons too.
It runs culinary theme nights throughout the week, budget lunch menus from Tuesday to Friday and on Thurs/Fri you can eat like proper grown ups – at night, in a muted, candle-lit setting.


The small menus are sophisticated and show students are being encouraged to experiment and learn why things go well together, or otherwise.
From a choice of five starters, all £4.50, tender roasted rabbit loin (hasta la vista, Disney bunny) came wrapped in a smoky pancetta whose crunch contrasted with the meat and the feather-light cushion of fondant potato.
Soused mackerel was off, and tame trout was offered as its replica. It was served with the same fennel and orange salad, a welcome departure from the ubiquitous buckets of rocket which pepper plates across the city. The aniseed and citrus overshadowed the understudy fish which showed little evidence of being soused before it had been pushed out on stage at the last minute.
So far so good, and with the hubbub of voices and clink of glasses we could have been anywhere. However, the service pulled us up on that little reverie, owing mainly to our young waiter/ess, who, still mindful of our note to self earlier, shall remain a shadowy figure.
I suspect he/she was rather embarrassed by the whole thing.
"OMG, this is so uncool," their lowered eyes said as they grinned, grimaced, winked, fumbled, forgot things, dropped cutlery, handed us cutlery, and made a tutor (they all work the room with the students) wince once or twice.


Altogether, it reminded us of how the things we take for granted, like removing the menus from the punters' hands - and not flopping them down in the middle of the table before striding off - are not as easy as they look to master. Well, OK, that's a bad example.
We found them quite compelling, these venial sins. In fairness he/she might have been the next Marcus Wareing or Angela Hartnett, we will never know. For I later learned that all the catering students must learn front-of-house by taking their turn on the tables - whether they plan a career in it or not and whether they like talking to people or not. And service, in Britain, is still not a popular ambition.
Medallion of nicely peppered pork loin (all mains £8.50) should have been rested or cooked a little longer, for it remained a wee touch dense. The glossy pan juice reduction made up for it, a precious, meagre commodity as good as I've had anywhere. Accompanying greens, salsify and mild pepper sauce addressed all the senses in perfect harmony.
Sauteed chicken with wild mushrooms and polenta
Sautéed chicken breast had the velvety texture of having been poached. It came on creamy leeks to which had been added a good handful of wild mushrooms. A lovely dish let down only by deep fried polenta, the staple food of rustic Italy which, on this occasion, had the texture of, not exactly staples, more B&Q dowelling.


The desserts (£4) were excellent. Someone in that college kitchen has got a great future making moist and delectable butterscotch and almond pudding. The white chocolate and mascapone brulee, with a big bowl of tangy berry compote was equally competent.
It was all washed down with a crisp, chilled Chilean voigner (£13.50) and an inky old vine zinfandel (£15.95) from a wine list where nothing goes beyond £16. It was best not to ask for recommendations, we concluded.
"I have had a perfectly wonderful evening, but this wasn't it," Groucho Marx also once said.
And we have ended the night on that very sentiment dozens of times, having forked out comparatively vast amounts of Liverpool Confidential's dosh in places that really do fancy themselves, serve nothing but disappointing rubbish and have waiters who call you "mate".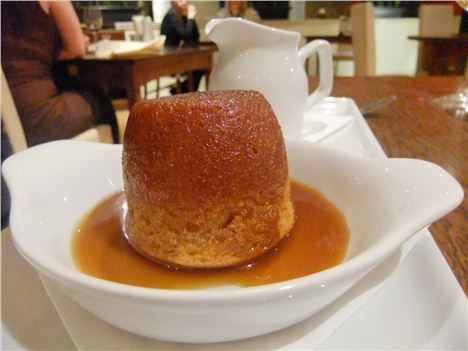 Star pudding
Here we filled our bad boots on £62, which is a bit wonderful – and we got bit of style, plenty of substance, a little taster of tomorrow and a nugget of reality.
So you've got to tell people about it, haven't you?
"OMG! See him/her on the telly... I remember when they were waiting tables."
Follow Angie Sammons on Twitter @Twangeee
---
ALL SCORED CONFIDENTIAL REVIEWS ARE IMPARTIAL. Critics dine unannounced and the company picks up their bills - never the restaurant, never a PR company.
Rating:

14/20

Breakdown:

Food 6.5/10
Service 2.5/5
Ambience 5/5

Address:

Academy Restaurant
Liverpool Community College
Tradewind Square
Liverpool L1 5BG.
Tel: 0151 252 4512
Venues are rated against the best examples of their kind: fine dining against the best fine dining, cafes against the best cafes. Following on from this the scores represent: 1-5 saw your leg off and eat it; 6-9 get a DVD; 10-11 if you must; 12-13 if you're passing; 14-15 worth a trip; 16-18 very good to exceptional; 19-20 As good as it gets.