We're grabbing our cameras,
We're visiting venues,
We're taste-testing all of the Leeds festive menus,
Confidential's coming to lunch.
There's only so many Greggs Festive Bakes you can eat before sage-flavouring reaches dangerous levels of toxicity in your body (It's fifty-two. Don't ask how I know that), so you have to switch up your Christmas special intake.
We've tried as many festive specials as we can get away with while still fitting into our "hilarious" jumpers, to help you decide whether they're going on your naughty or nice list.
The Rules
To be eligible for consideration as a "festive special", menu items must adhere to any of the following conditions:
a) It must contain turkey, stuffing, pigs in blankets, or sprouts.
b) It must contain any item of food item that might feature in a Christmas party buffet or cheese board
c) It must contain any item of food that your Mum might buy in mid-November and warn you "don't touch them, I'm saving them for Christmas".
MEATliquor
Meatliquor's XXXMAS menu is the same as last year, and the year before, and so on. That's no bad thing though, Christmas is, after all, a time for enjoying repeats of old classics. It also means that they've honed it now - like the Delia Smith of the Christmas specials burger game, waking up at 5am to put the turkey in, score the sprouts, and ensure everything's pulled off with military precision.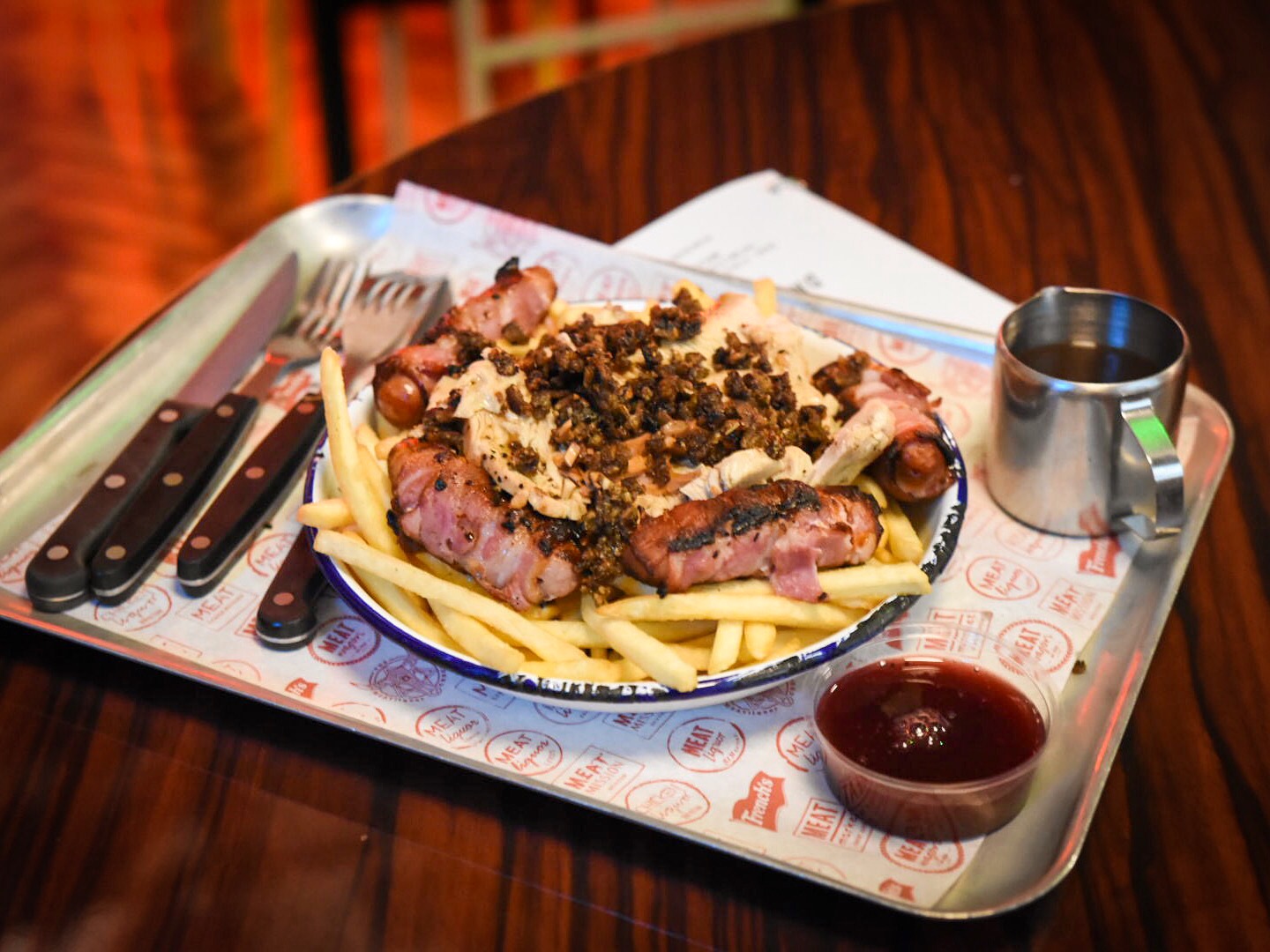 XXXmas Garbage Plate
The combination of turkey, stuffing, gravy, and pigs in blankets appears on fries (£10), in a burger (£9.5), and in cheesesteak form (£9.5), is essentially the 10pm Christmas day, leftovers-sandwich of dreams. There's also Camembert & Stilton deep-fried mac & cheese (£6), which in itself is becoming a bit of a festive institution.
Oh, and just like old Delia, they like a bit of a tipple as well.There's no less than eight special cocktails utilising the entire of the Christmas booze cabinet - we'd recommend the Santa Baby (brandy, Grand Marnier, walnut bitters, and prosecco, £8) and Let ItSloe (sloe gin, rhubarb gin, lemon, sugar, and creme demure, £9)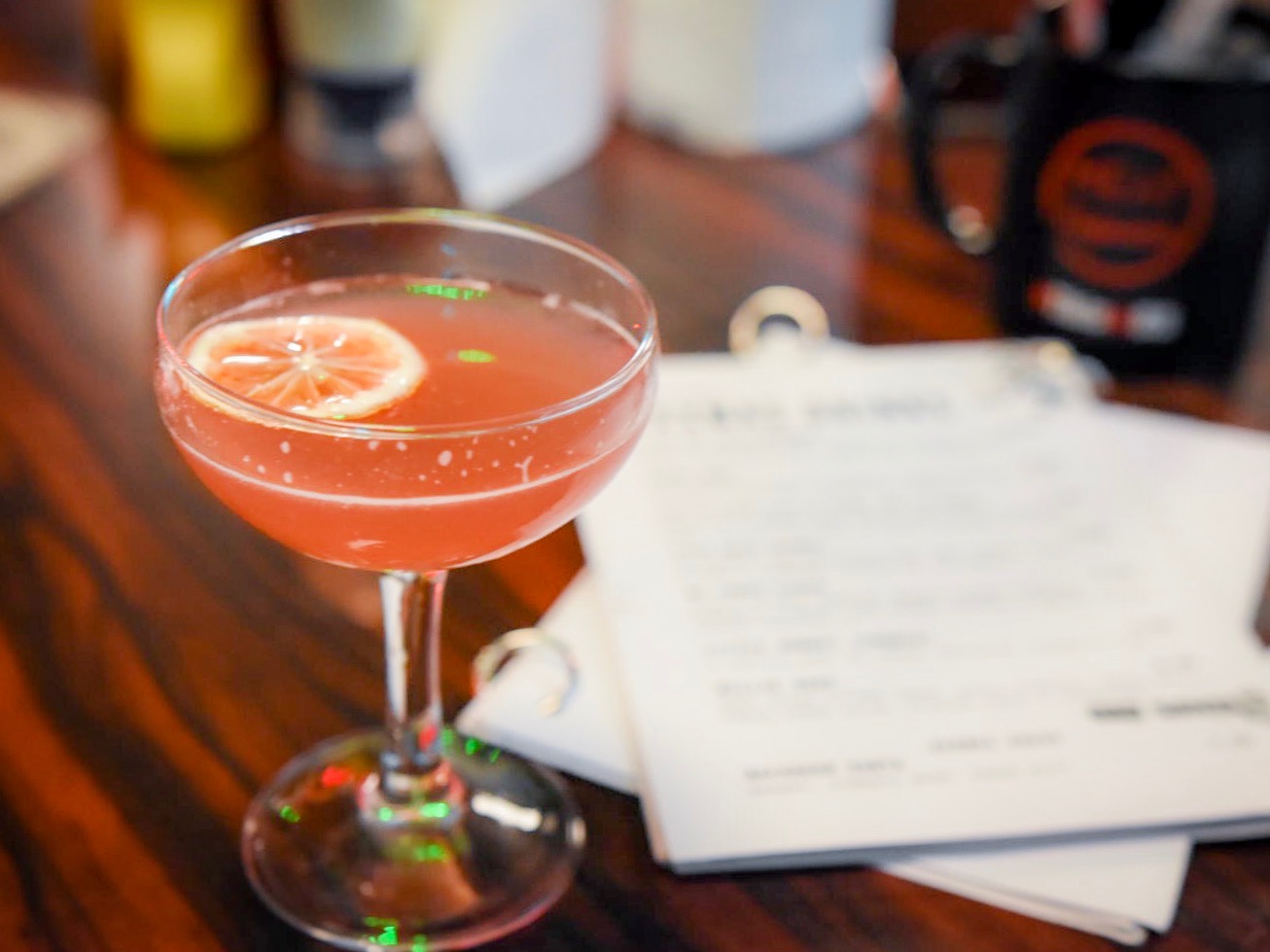 Let It Sloe
---
Bundobust
If you haven't stopped pretending to hate sprouts yet, you need to grow up. Or at least, just find some better sprouts. There's no shortage of good sprout dishes around now - Ox Club slather them in bacon jam, The Swine That Dines do them with sheep's yoghurt and pecorino - but for the best gateway-sprout, you need Bundobust's Sprout Bhajis (£4)
Shredded, battered and bhaji'd before being drizzled with a treacly tamarind ketchup, these deep-fried fritters are worlds away from the over-steamed balls of mush you grew up on - you haven't seen a vegetable in this much of a new light since your Mum watched Jamie Does Christmas, and started roasting carrots in maple syrup.
They're also stocking Northern Bloc's Chestnut & Orange Peel ice cream (£3.50), which is so good that the hot chestnut bloke on Briggate has given up and started selling pots of sweetcorn and knock-off phone cases instead.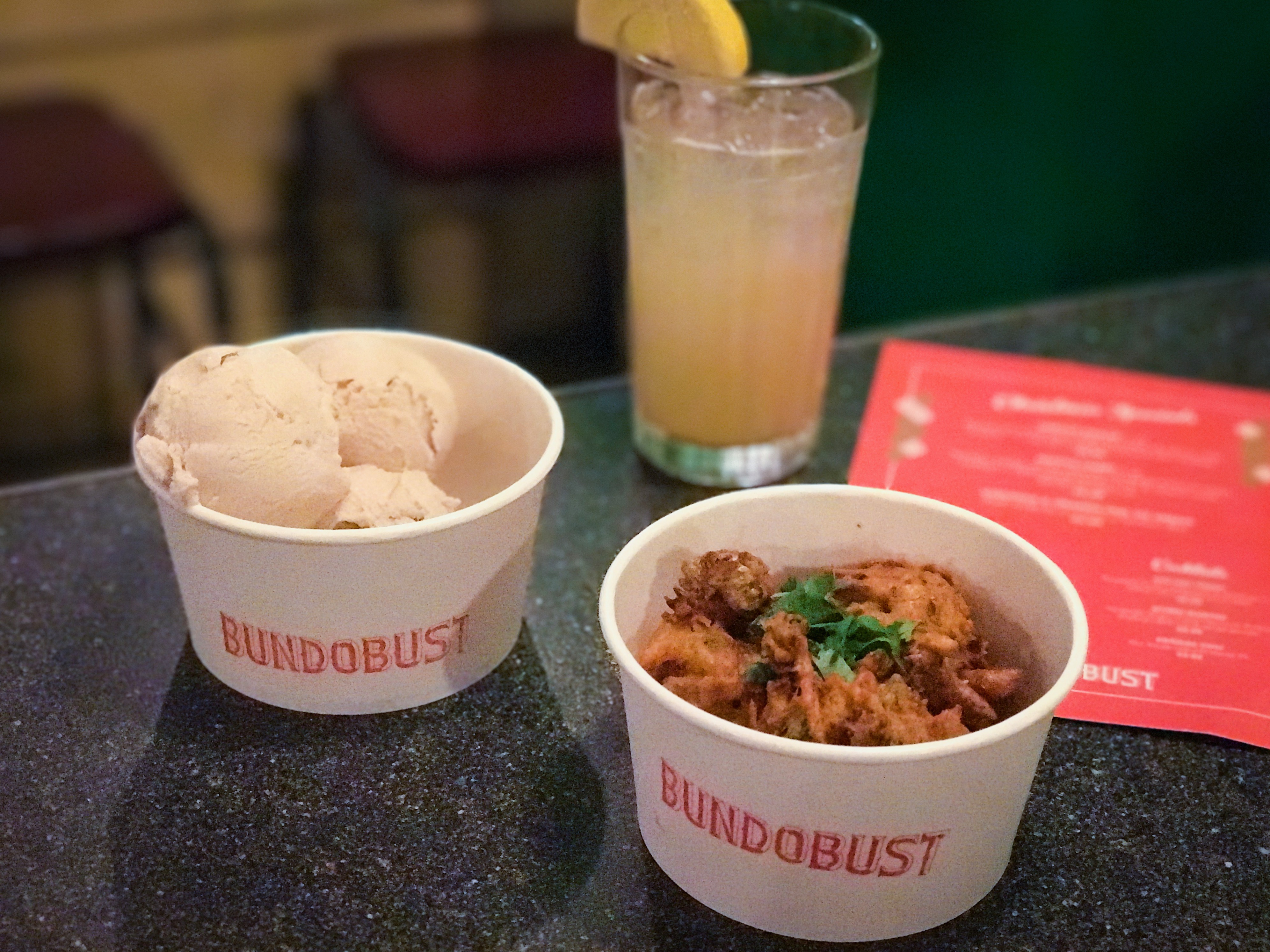 ---
Patty Smiths
Festive Fries (£7.75) are Patty's Session Fries with a Christmas jumper on. Not literally - but you do get a whole canteen-tray full of some of the best chips in the business, topped with deep fried turkey, stuffing, pigs in blankets, cranberry sauce, and pepper gravy.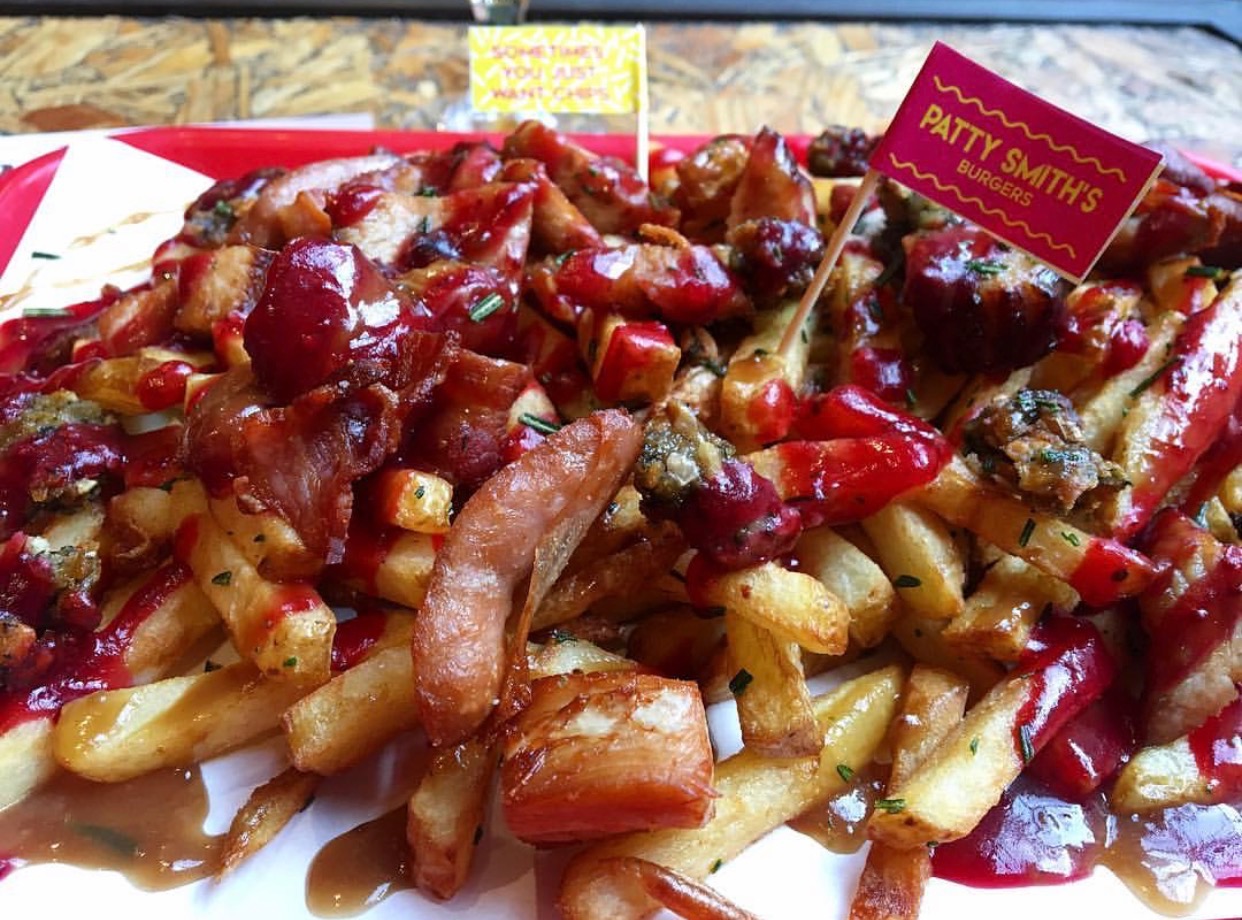 Festive Fries
They look banging, don't they? No idea what they taste like though, as both times we tried to order them, they'd sold out. Now I know how Arnie felt in Jingle All The Way; trying to get his hands on an elusive Turboman for his ungrateful turd of a son. Similar physique, as well.
---
Dough Boys
All killer no filler, each quarter-pizza slice of Dough Boys' Mr Claus (£3.20, half price slice offer though) is topped exactly the same, like identical rocking horses and spinning tops coming off the elves' production line.
The toppings - a slice of tea-brined turkey, a pig in a blanket, stuffing and a fried sprout - are a scaled down, greatest hits compilation of Christmas dinner. Think of it as a savoury version of Celebrations, without anything as controversial as the Bounty.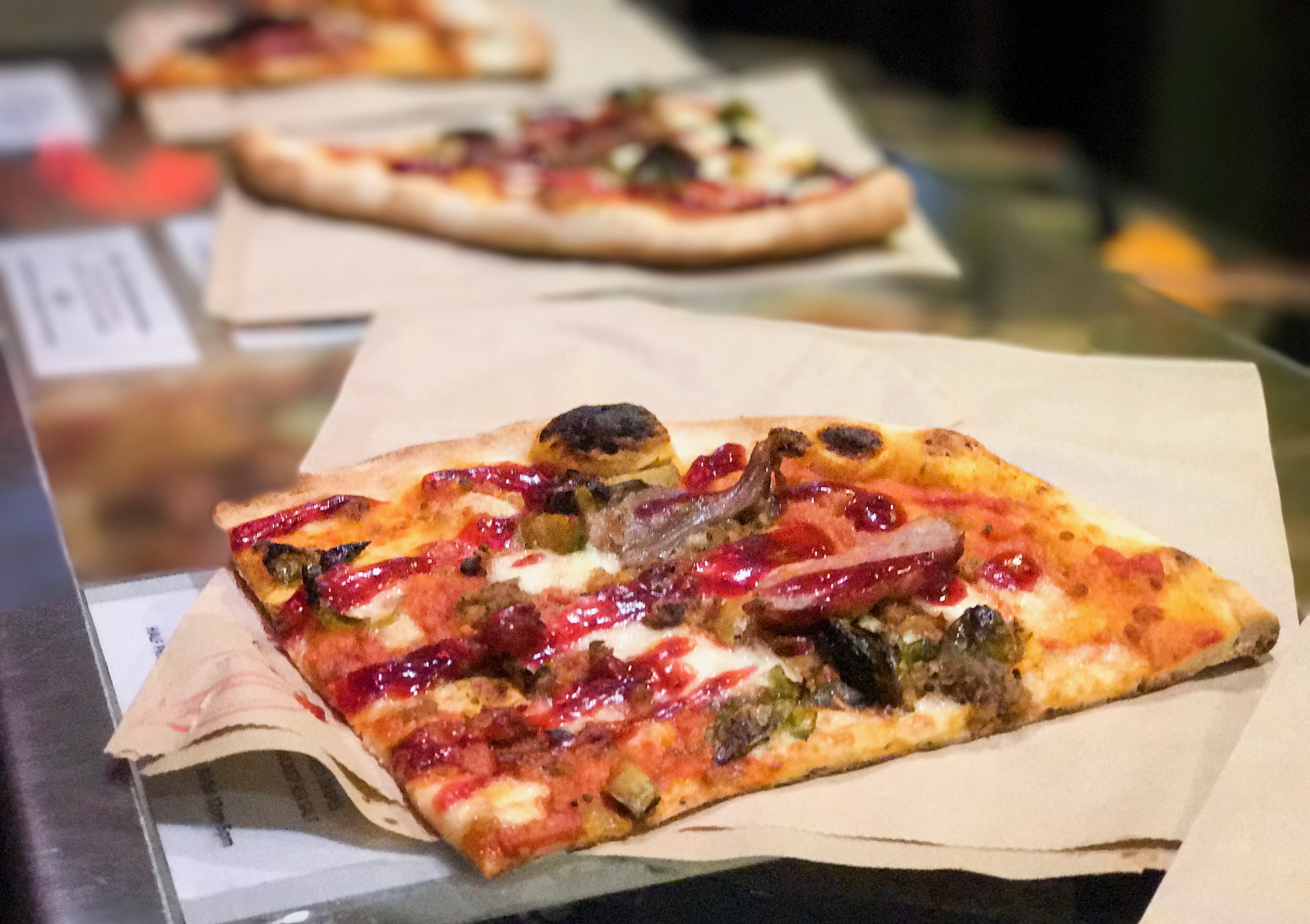 ---
Neon Cactus
Neon's lamb pibil tacos are, hands down, my favourite tacos in Leeds. The most fun you can have with three inches of anything in your hand - all sticky-sweet and charred and spiced, I can't recommend them enough.
Neon's Christmas special - Turkey tacos with the not-particularly-Mexican, not-particularly-Christmassy accompaniment of mixed salad leaves and tomato (£7) - is the taco equivalent of when you leave your big-shop until Christmas eve, and end up serving your turkey with...mixed salad leaves and tomato.
Well, that and tequila...
---
Almost Famous
You know how Alan Partridge tests his toilet out by flushing a pound of mashed up Dundee cake? Try and get that image out of your head as you sip a Christmas Pud Mojito (£8) - containing actual Christmas pudding at the bottom, complete with solid globs of suet.
But, if you can't overindulge at Christmas, when can you?
Almost Famous's triple-stacked effort crams in a double cheeseburger, buttermilk-fried turkey, maple-cinnamon glazed bacon, BBQ sauce, waffle fries, slaw, bacon cranberry jam, mustard mayo; a pork patty slider with brie, crackling and cranberry jam; then topped with a pig in a blanket.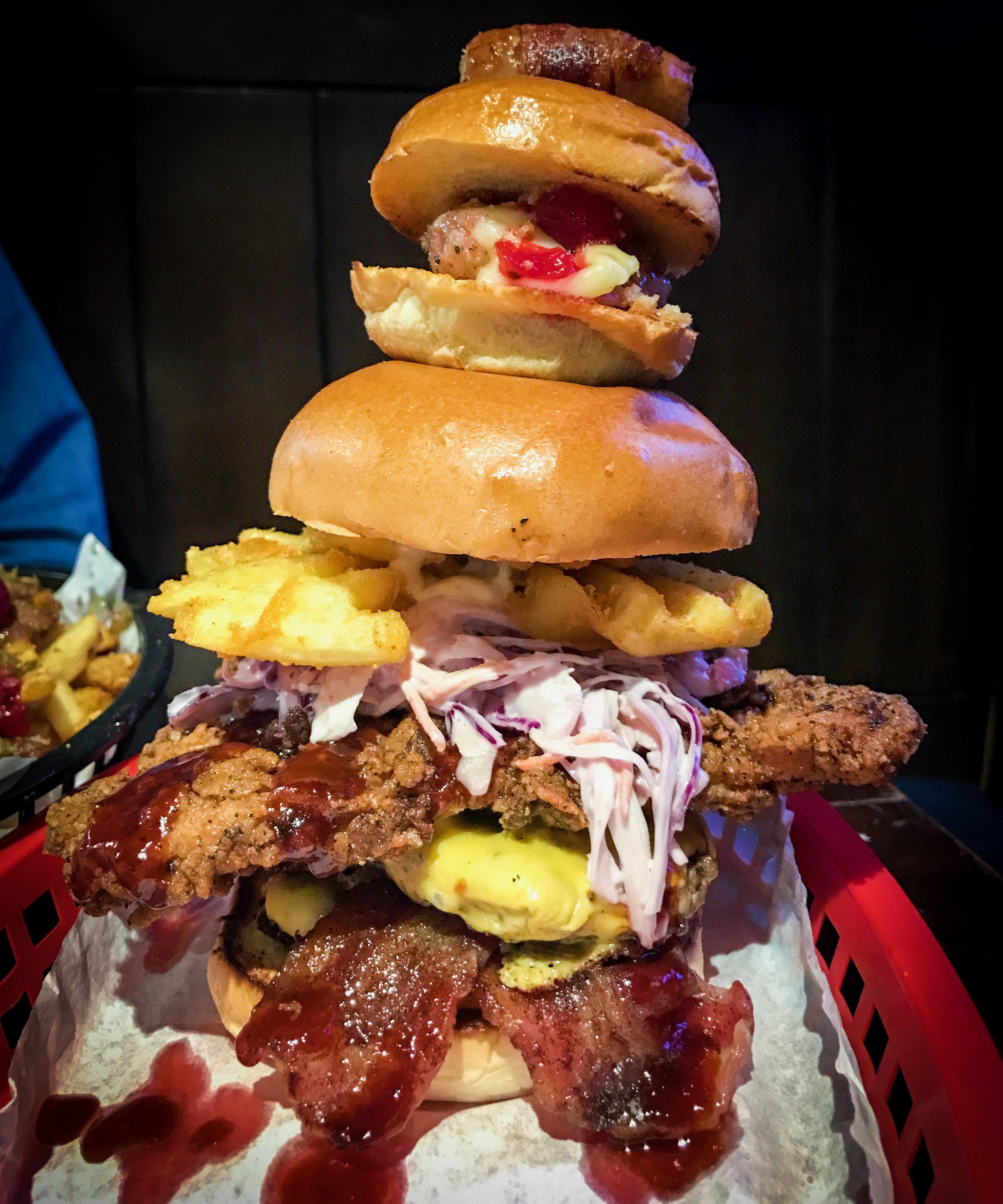 Xmas Blowout Burger
They call it the Xmas Blowout burger (£15), I call it the worst thing Christianity's been responsible for since the Westboro Baptist Church.
Merry Christmas, everybody.