THREE YEARS ago this autumn, something called 'street food' hit Leeds' collective conscious from several angles.
There are no set rules for 'street food.' There never was
First came the big, bold, flashy Trinity Kitchen - the neon neo-food court in a multi-multi-million-pound shopping centre. A completely new concept - not to mention a huge risk and leap of faith - where usual mall-botherers like Zizzi and Frankie & Benny's were shunned in favour of unfamiliar names that served cardboard bowls of noodle soup, and- hang on- how did those vans get all the way up here?
Hot on its heels was Belgrave Feast - the first of their monthly indoor cook-outs, where strangers would squeeze intimately close onto the beer hall benches and eat food cooked on portable stoves, balanced on the tables from WWF hardcore matches. From humble beginnings, it would go on to be the launchpad for several nationally and internationally recognised names in food.
At the time, I wrote (for a rival publication, so don't worry about googling it...) that the very first Belgrave Feast was the food equivalent of Sex Pistols' "gig that changed the world" - instilling members of its moderately-sized audience with a DIY ethic that would shape the face of music to come: audience members like Tony Wilson, Mark E. Smith, Morrissey. We've all seen 24 Hour Party People...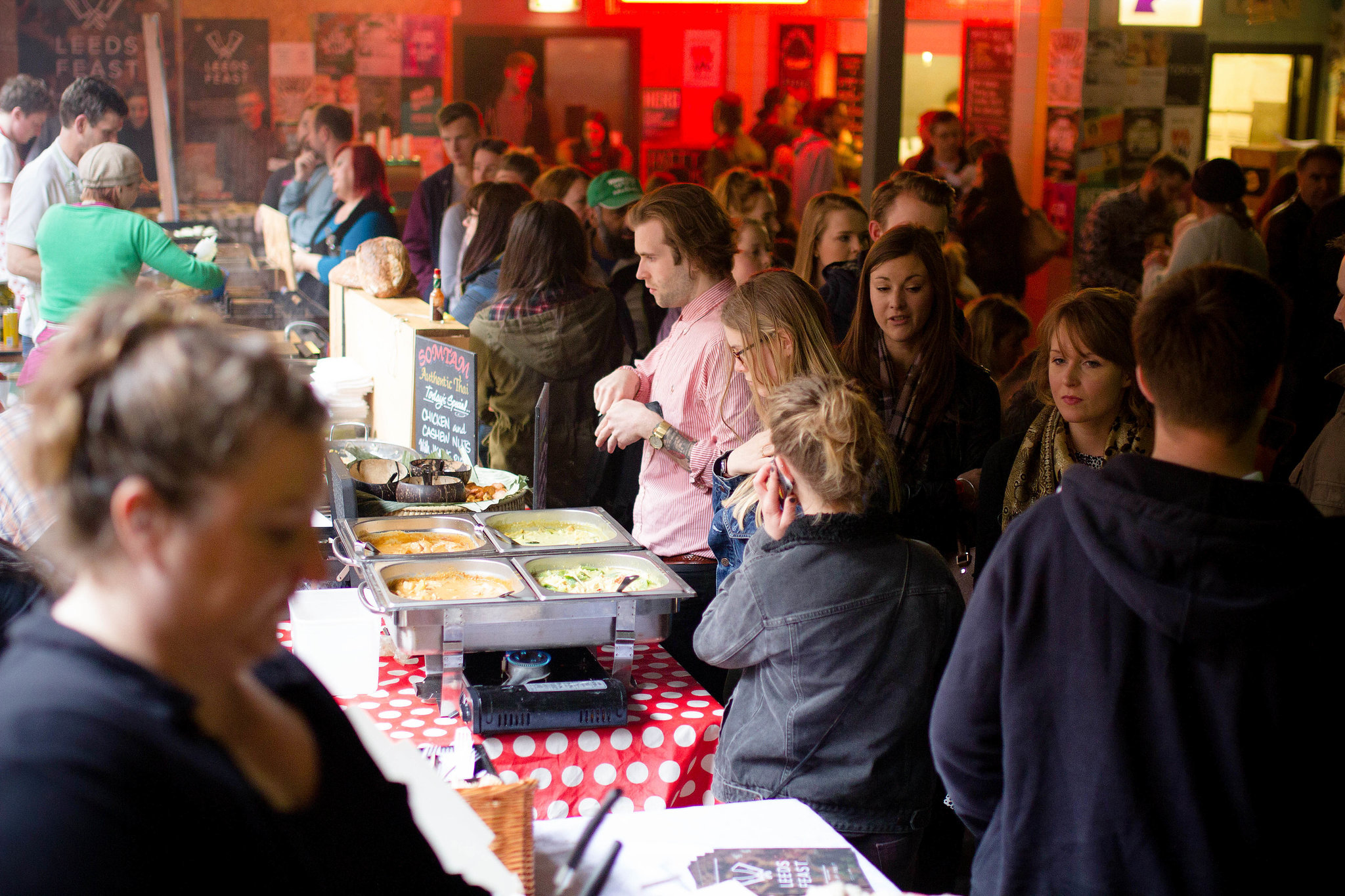 Belgrave Feast
Within months of the first Feast, we were eating the kind of creativity and experimentation that North England's music scene enjoyed between punk and the Hacienda.
Bundobust did a Stone Roses, introducing us to a fresh, psychedelic version of the India we were familiar with; Fu-Schnikens brought the bao to Leeds, and won the British Street Food Awards top prize; and unassuming breakfast cafe The Greedy Pig started to give Fergus Henderson a run for his money with its alter ego The Swine That Dines, putting these new adventurous eaters face-to-face with nose-to-tail.
These repurposed camper vans and gazebos and pop-up tables were where you'd consistently find the most exciting food in Leeds.
Over the course of twenty years, that gig's influence would adapt and transform and present itself in many identities: Joy Division, The Buzzcocks, A Guy Called Gerald. By the mid-nineties though, the most active ambassador from that audience in 1978 was Mick Hucknall and his band Simply Red.
Innocuous and populist, supermarket-friendly, and politely enjoyed at family-friendly festivals on heaths and commons - street food, in its current iteration, couldn't be any more Simply Red if it was providing pleasure at the fairground on the way. Oh wait, it does.
As soon as the Proper™️ street food traders gained prominence and presence at mainstream events and big festivals, the burger vans who'd previously claimed public events as their turf started banging 'street food' on their canopies and benefitting from the couple of quid supplement for the perceived 'gourmet' status. The bar was forever lowered, but who can blame them?
Despite its many conventions and cliches - the brioche buns, the omnipresence of pulled pork, the infinite, tedious puns on rappers names - there are no set rules for 'street food.' There never was. It's an ethos: bringing good quality food out of a restaurant environment and putting it in a car park, a camper van, a shipping container, or on a decorator's table in a trendy bar.
This loose, subjective definition would contribute to its eventual oversaturation. Anybody could get involved; which diluted its impact, consistency and appeal. How often do sitcoms stay popular or credible once everybody's spouting their catchphrase?
But. The fact anybody could get involved would also be it one of its main legacies.
Aside from the honour of becoming the most ubiquitous catchphrase in food since Jamie's 'pukka' or Gordon's 'fuck,' street food's resounding impact has been the democratisation of food - opening new avenues for would-be restaurateurs, as well as budding 'foodies.'
"It's a gateway for people who haven't had the opportunity to eat in a fancy restaurant" says Marko Husak, one half of Bundobust, whose pop-ups at street food events served as a proof-of-concept and a stepping stone to bricks and mortar, fast-casual craft beer and snack bars.
"Temporary residencies give traders the opportunity to try out operating day-to-day" says Trinity Kitchen's Wendy Denman. "So they operate daily for six weeks, like a restaurant would, rather than the concentrated trade of a festival or supper clubs"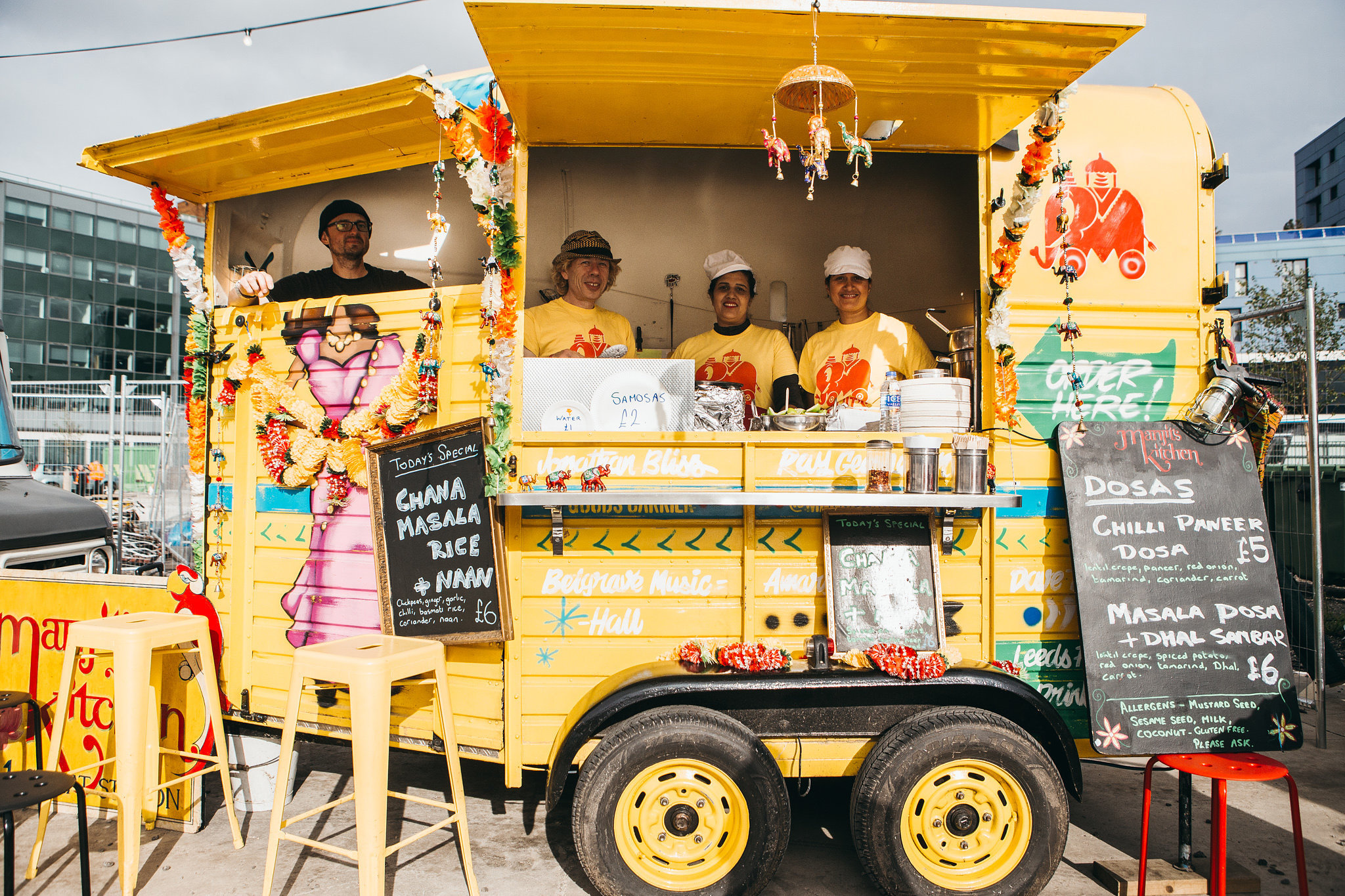 Manjit's Kitchen
And that's been the case with many traders - MEATliquor, Bangwok, Rola Wala and the upcoming Fat Hippo all used stints at Trinity Kitchen to test the local audience before investing in property with an LS postcode. Manjit's Kitchen - originator of Leeds' street food scene - and Fat Annie's also used their stints to experience sustained, daily trade before taking up plots in the new Kirkgate Market.
Ben Davy, whose Patty Smiths, Dough Boys, and Ox Club start-ups all went on to become permanent fixtures in Belgrave and Headrow House thinks that the ethos of informality filtered into restaurants outside of the street food bubble, too.
"There's been a shift in recent years where restaurants aren't so rigid - you see less tablecloths, if you know what I mean - places are more relaxed, but still really high quality"
"It's opened up food to much younger crowds than before" adds Bundobust's Marko. "The food scene has become part of the student experience, people don't just check out the clubs and bars in a city before they go there now, they look at the must-eat places"
Street food's impact on demographics extends beyond the dining room, and into the kitchen, too. With fewer elaborate techniques for chefs to master, no formal hospitality training for front of house staff, and no sommeliers to hire, street food and street food-inspired kitchens are easier to staff, and there's more diversity in kitchens.
"About one-third of the traders who come through Trinity Kitchen are women" says Wendy, which is a much fairer representation than the 20% of women in professional kitchens, and a stark contrast to the one in twenty traditional head chef roles they occupy.
From the early days of MEATliquor's Yianni Papoutsis tweeting out the location his original Meatwagon would be slinging burgers from, back in 2009, street food's impact wouldn't have been possible had it not coincided with the rise of social media.
A study this week has suggested that one in five Britons has taken a photo of their food in the past month. Norms will call it vanity, or use it as an example of "social media being ANTI-social!!" like a sixth-form Charlie Brooker, but there's more to it than the adrenaline rush of getting twelve likes for a photo of a well-poached egg.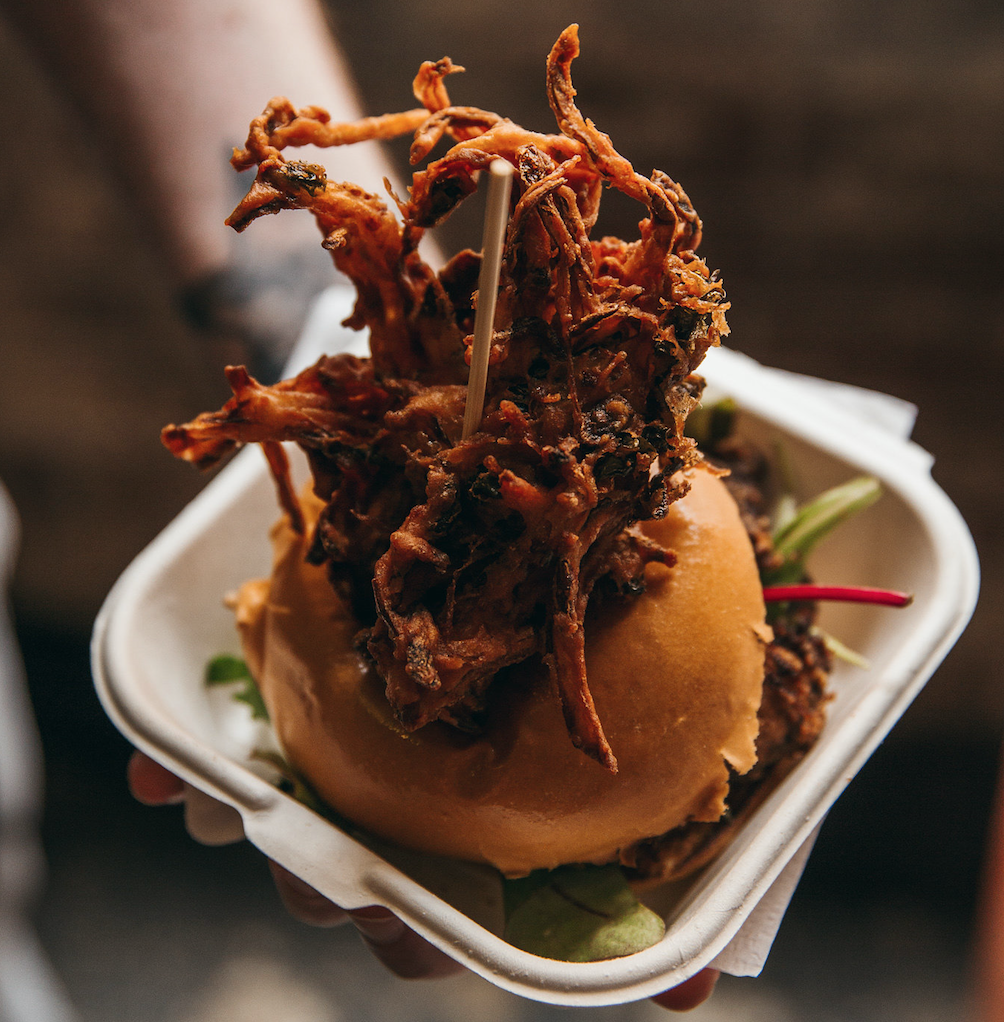 Not all 12million are as good as this one...
Each time those 12million people upload a photo, they're advertising the dish, the restaurant, the type of cuisine and culture, to their hundreds or thousands of likeminded followers. As well as giving restaurants a bit of good PR, it's encouraging eaters to become more engaged with the food that they eat, and with the people that make it.
"The most popular traders seem to be the ones who interact with customers on Twitter" Wendy has observed. "It builds customer confidence, advertises the product, and builds relationships that help create a tight-knit community like we have in Leeds"
This tight-knit community can only exist when the previous barriers between cook, server and eater are broken down; a transparency that promotes awareness of provenance, and how their food is grown, farmed, sourced, and put on their plate or recyclable cardboard tray. When they understand the cost of quality ingredients and the amount of labour that goes into carefully crafted food, customers start to understand how prices are arrived at, and consider what compromises larger restaurants might have to take, to be able to charge £1.49 for a double cheeseburger.
This legacy is already evident in the way Leeds food scene has changed in the past couple of years - larger, traditional chains are closing down and being replaced by more adventurous, exotic fast-casual dining experiences - Brazilian rodizio grills, Mexican restaurants without the "Tex" prefix, Italians and Indians serving cuisine specific to individual regions, rather than an Anglicized version for shy palates.
Where will diners go from here? Restaurants don't operate in a linear hierarchy, where customers ascend the levels leading up to Michelin stars, but eating has a way of instilling curiosity that can only be satiated by trying something else; something a bit "more".
It's not inconceivable to think that sense of adventure sparked by a paneer wrap in Trinity Kitchen could eventually lead to an evening at Man Behind The Curtain, several years down the waiting list. There's apparently a demand for this type of high-end eating - off the top of my head I can think of four fine-dining restaurants that weren't around when I went to that first Belgrave Feast, three years ago.
While customers can ascend the dining room ranks in as much time as it takes to save £80 per head plus wine pairing and service, it's not so easy for kitchen staff to go from casual to fine dining.
If demand for high-end restaurants continues to grow, there's every chance the industry could be heading for a skills deficit, as the future talent pool gets into the industry by making toasties or having engaging Twitter banter - rather than any formal chef, service or hospitality training.
Eataly
Moving on doesn't necessarily have to mean moving "up" though - a trend for combining gourmet produce with the informality of street food markets like London's Kerb and Manchester's B.eat Street has extended across the US and Europe in the form of curated markets. Mario Batali's Eataly in New York, Time Out Market in Lisbon, and London's recently opened Mercato Metropolitano fuse high-end produce with informal dining.
"I think that's the way things are heading - destination markets, high-end stuff, high-end Chefs being given pop-up spaces where they can try out concepts and do something different" says Marko.
Leeds is light years away from developing this kind of culinary nirvana though, judging by people bemoaning the "hipster gentrification!!" of Kirkgate Market when its "street food" hall advertised Yorkshire Pudding wraps.
Probably the most informal way street food has infiltrated our appetite is how it's changed the way we eat at home. These new-generation restaurants have a new-generation distribution channel in Deliveroo - could content delivery be the next move for street food? Stalls offering DIY kits to take away from and try at home, or collaborations between recognised street food brands and ingredient delivery services like Blue Apron and Gousto?
Like most things which come along and change the game - Michael Jordan, Eminem, Tinder - street food came from seemingly nowhere. Maybe something else, completely unpredicted, will blindside us and render street food's impact insignificant. With 54% of consumers eating more street food than before, and 94% apparently planning on maintaining or increase the amount of it that they eat*, it doesn't appear to be going anywhere soon - it just won't be on the streets.
Thom Archer is Editor of Leeds Confidential, and a Guild of Food Writers Award-winning journalist. He started writing about food after visiting Belgrave Feast in November 2013.
*Santa Maria Street Food Report, October 2016
Main Image: Tom Joy. Belgrave Feast: Jessie Leong. Manjit's Kitchen: Tom Joy. Food: Tom Joy.