SMALL plates may be all the rage now in 'food­ capital ­of­ the ­North' era Leeds, but believe it or not, there was a time where Yorkshire frugality wouldn't entertain the notion of London portions. A time when the only role a small plate had on the dinner table was summat t'put bread­ bun on while slathering it in beef dripping. I am, of course, referring to the dark, uncivilised days of early 2013. Pre-­Zucco.
Zucco doesn't need a sarcastic Twitter feed, a flash website, bloggers or indeed regional magazine reviewers to do their marketing for them...
Popping up in Meanwood seemingly out of the blue, bringing with it chefs from Headingley's Salvo's and London's Polpo, whilst bearing an uncanny resemblance to the latter (if imitation is the sincerest form of flattery, Russell Norman must have been blushing Pancetta­ pink when he saw this place), Zucco's simple, rustic, northern Italian sharing plates were an instant hit amongst locals. The restaurant instantly became a given in everybody's Top 5, and soon became responsible for bringing more city-dwellers through Meanwood than the 51 to Moor Allerton.
Though multiple subsequent openings, such as the Ox Club, Iberica, The Swine That Dines and most recently Polpo, have all eschewed the three­ course ­meal blueprint in favour of starter ­sized portions to fight over, I was nonetheless interested to see whether Zucco was holding its own.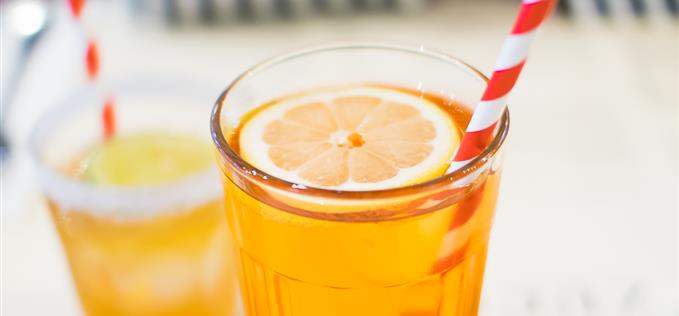 Amaretto Sour (£6) and a Bicicletta (£5.20)
I visited during the height of Leeds Indie Food season, the three week celebration of local produce, talent, indie spirit, plus its ability to keep a straight face when charging £12 for brunch. You'd think it was exactly the type of thing that was made for places like Zucco, yet they were strangely absent from any of the listings.
Not that it's harming their trade. Besides Pizza Express and Nando's cashing in on the pre-2-4-1 cinema crowd, 7:30pm on a Wednesday is hardly a prime time for any restaurant, yet around three quarters of Zucco's tables are full when we arrive. There's young dates, trendy 50-somethings, families with older kids who've flown the nest, families with younger kids who fly around the restaurant and adolescents eating ox cheek orecchiette with deep fried zucchini. At that age I was still ordering scampi and chips from the kiddies menu at the local Brewers Fayre. It's like something from the overheard in Waitrose Twitter account.
We study the familiar menu (a disclaimer on their website states that while the menu changes based on availability, some items remain for fear of upsetting the regulars) with a couple of reasonably ­priced cocktails; a mouth ­puckering Amaretto Sour (£6) and a Bicicletta (£5.20) which reminded me there's rarely any use straying from a Negroni when it comes to Campari­-based drinks.
Following a bit of negotiation with our waitress ("You've ordered ten dishes there... we usually recommend 2­3 per person") we settle on six dishes to work our way through, including piquant, marinated white anchovies (£4) and almonds with spiced pecorino (£3.5) from the 'Boccone' (mouthfuls) section.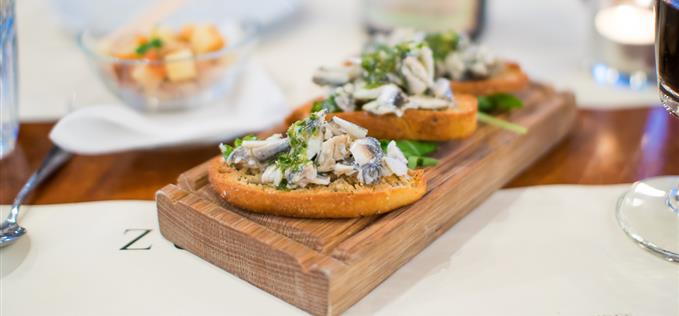 Anchovies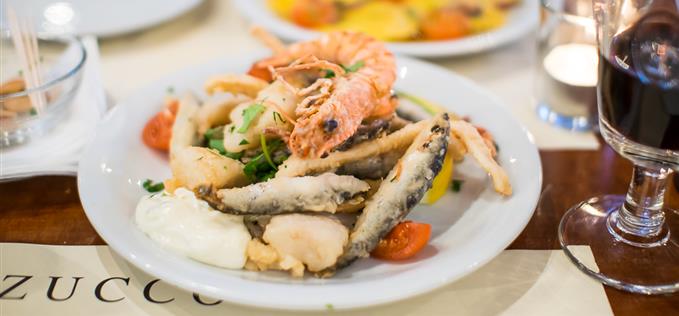 Fritto Misto
Baccala Ravioli (£8.20) comes glossy in bright ­yellow parcels of ravioli enveloping a firm, coarse puree of salt cod, ­ the saltiness counterbalanced and trussed up beyond its peasant ­food beginnings by white wine and sage. Fritto Misto (£7.50) doesn't have that glassy ­crunch that the very best versions do, but what it lacks in technical prowess it makes up for in generosity and presentation.
Smoked Haddock & Scallops (£7.80) is a dish so comforting it should be used as a sedative, its sauce doesn't requiring little but cream, a little garlic and white wine imbued with smoke from the robust haddock fillet.
This simplicity pays off in the Tagliatelle Al Burro (£7.50) too, a subtle grassiness comes from olive oil that glistens on good, taut strands of pasta and sauteed mushrooms, while the honk of white truffle oil lingers over the dish the way white truffle tends to, without overpowering the whole thing.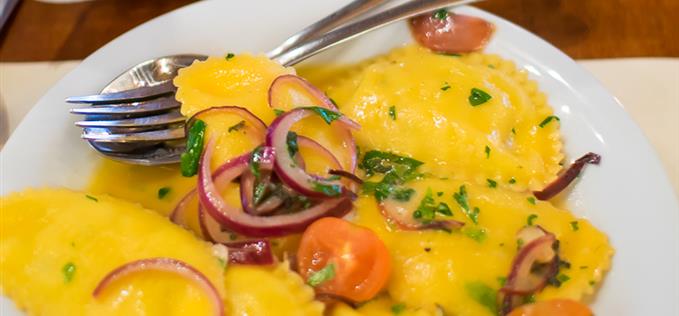 Baccala Ravioli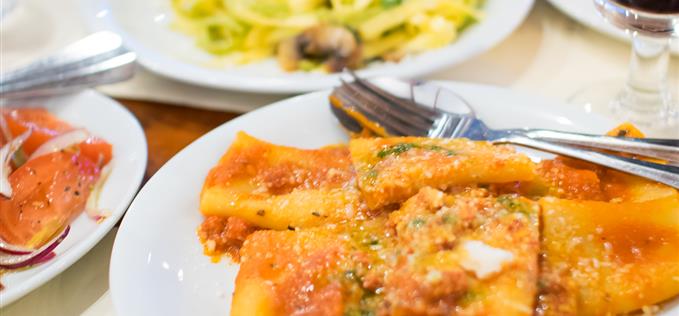 Paccheri
Paccheri pasta (£8.20) is penne's larger, wider, flatter cousin - a gluttonous whale shark with a cavernous mouth used as a delivery method for sauce. Oh that sauce, - an umami ­bomb of tomato and garlic with salty studs of salami and Nduja sausage spicy enough to give your lips that Kylie Jenner look - is the highlight in a meal full of highlights.
Perhaps ten dishes would've been too many, after all. All of the above, plus a vine tomato and red onion salad (£4) - which we'd only ordered out of embarassment to counterbalance all of that pasta and cream - left us staring at the dessert list of homemade cannolis, lemon tarts, almond and pistachio cakes and frangipanes, all forlorn. I've tried them all before, they're remarkable. As a compromise, we order a couple of ice creams from Armley -based gelateria Northern Bloc.
This is clearly a beautiful restaurant with great attention to detail which carries through into the food. That it doesn't carry over into their online presence should be little cause for concern. Their passion and skill far exceed their need for all the trappings of a modern restaurant. Zucco doesn't need a sarcastic Twitter feed, a flash website, bloggers or indeed regional magazine reviewers to do their marketing for them. They let the food and their punters do the talking. Yes the new breed of small plate restaurants might have caught up with Zucco, but they're still the one to beat.
Zucco, 603 Meanwood Road, Leeds, LS6 4AY. Tel: 0113 224 9679
Rating: 17/20
Food: 8/10 (Fritto Misto 6, Haddock and Scallops 8, Baccala 8, Paccheri 9, Tagliatelle 8)
Atmosphere: 5/5 - a real trendy community hub
Service: 4/5 - plenty of staff, Rolex-­like precision.
PLEASE NOTE: All scored reviews are unannounced, impartial, paid for by Confidential and completely independent of any commercial relationship. Venues are rated against the best examples of their type: 1-5 saw your leg off and eat it, 6-10 stay in with Netflix, 11-12 if you're passing, 13-14 good, 15-16 very good, 17-18 excellent, 19-20 pure quality.