WE headed over to Headrow House for brunch last weekend. Despite this being a hipster heaven where sleeve tattoos and beards seem mandatory, there were mostly, well, 'normal' people over 40 having brunch in there too.
...the only thing Headrow House is missing is a few bedrooms
After years of neglect, this former textile mill was transformed last year into a mixed-use arts and events space over four floors, incorporating three bars, one beer hall, a live room, two roof terraces, a cocktail bar and a partridge in a pear tree.
The Ox Club is the restaurant on the ground floor where the team behind Belgrave Music Hall and Canteen, together with chef-proprietor Ben Davy, have set up a more permanent operation than the sell-out food fests they started with. Ox Club describes itself as a 'contemporary solid fuel grill showcasing the best of Yorkshire produce.' By grill, they mean a gargantuan nine foot Grillworks grill which they've imported from the US, one of only three in the UK. It spans the back wall of the stainless steel kitchen like the ultimate Heath Robinson Chef's toy with pulleys, cogs, hand cranks and adjustable grill shelves.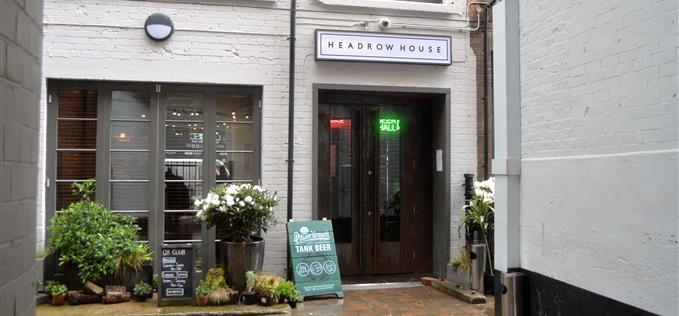 Ox Club, Hedrow House
The restaurant is open from 5pm-10pm Tuesday-Saturday serving small plates, wood grills and sides in an ever-changing menu which evolves to suit the seasons, but we'll have to save those for another review. At lunchtime on weekends, there's only the brunch option on offer, served from 11am-3.30pm. Obviously the ubiquitous avocado makes an appearance, but theirs has been smoked on the fancy grill and served with za'atar, sourdough flatbread, sumac oil and tomato (£6.50).
There is a dish for you here wherever you stand on the hangover scale; from a virtuous bowl of granola (£4) to a full on Ox Club Breakfast (£8.50). We'd brought our kids with us, so we could order a range of things to pick at and mix and match, but while narrowing it down I went for the bruncher's means test - the Bloody Mary. This one hit the spot, being well spiced and served in a black-pepper crusted glass for good measure. They're not afraid of chilli, so any cobwebs were blown well away by the time the food arrived.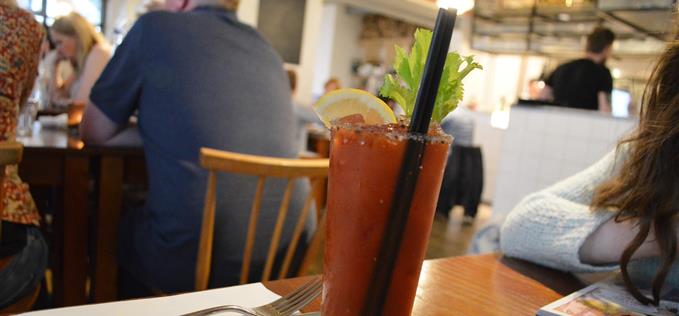 That'll put hairs on your elbows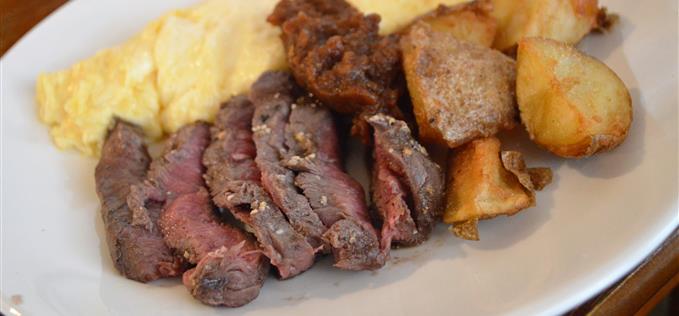 Hanger steak, cheddar eggs, home fries and smoked tomato jam (£9)
We all agreed that the pick of the brunch bunch was Hanger Steak and Cheddar Eggs with Home Fries and Smoked Tomato Jam (£9). This is where we first discovered that Ox Club certainly knows how to treat an egg. Cheddar eggs turned out to be omelette royalty, a light and fluffy, perfectly seasoned example of this usually humble dish. The poached egg that sat on top of our Corned Beef Hash had been poached to within the optimum second, unfurling a cape of perfectly cooked golden yolk when pierced, and the fried eggs on our Korean Fried Chicken wore an almost crispy golden frill which enhanced the dish perfectly. If the chefs here treat their significant others with the same care, sensitivity and expert timing by which they cook their eggs, expect an orderly queue through the courtyard and down The Headrow.
But I'm running away with myself. Back to the Hangar Steak which was seared and pink within, just as you'd expect from the mega-grill. It was too salty though which seems to be a thing with steaks these days. I'm beginning to think chefs just can't help themselves.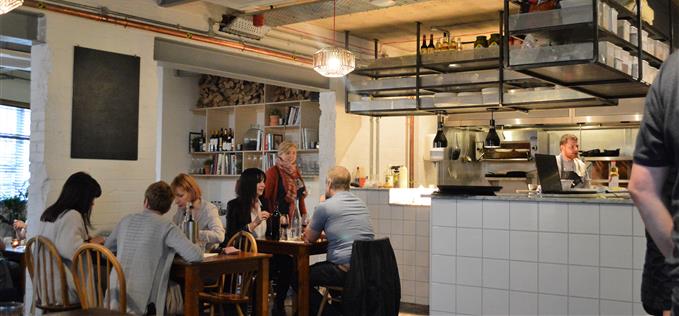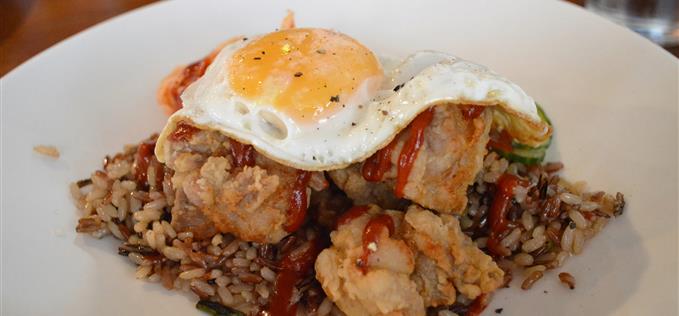 Korean fried chicken (£7.50)
Korean Fried Chicken (£7.50) was crispy marinated nuggets of thigh drizzled with a fiery Sriracha, served with comfortingly chewy fried wild rice, homemade kimchi cabbage and pickled cucumber – oh, and two of those crispy fried eggs.
Homemade Corned Beef and Kale Hash (main image) turned out to be a dish of highs and lows, although great value at £7.50. The beef was masterfully crafted, the smashed new potatoes were naturally buttery and moreish and the kale gave it a good Vitamin A-spiked backbone. Unfortunately the whole thing had been sabotaged by an overwhelming mint salsa verde which seemed to have bullied its way in after getting lost on the way to some other dish.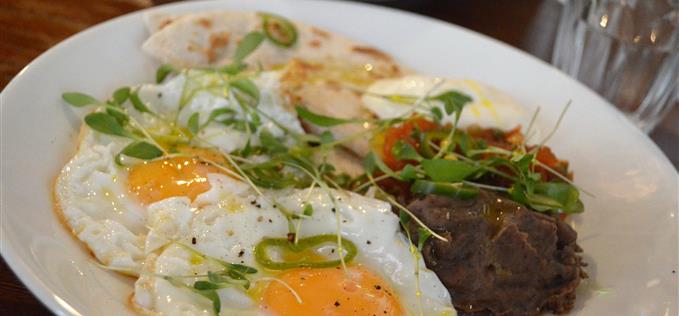 Huevo Rancheros and tortillas (£8)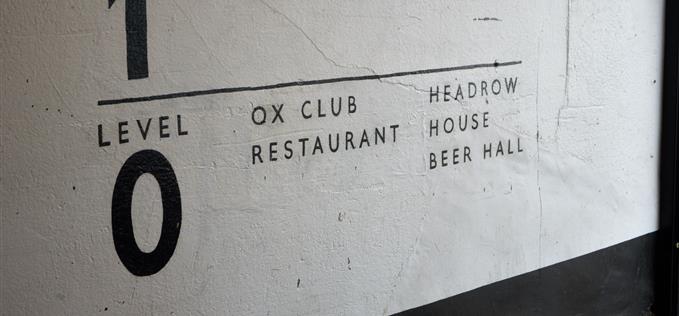 As well as grilling, charring and smoking anything that can be grilled, charred or smoked, they also make their own sauces, jams, pickles and marinades, and we couldn't get enough of the gorgeously rich and smoky tomato salsa which came with our Huevo Rancheros and tortillas (£8).
This is one of the most imaginative brunch menus we've seen for awhile and any of the dishes would definitely re-balance your electrolytes if you'd overdone it in the beer hall or up in the Redondo Beach cocktail bar the night before. With everything you'd need under one roof (including free and easy to log-on WiFi), the only thing Headrow House is missing is a few bedrooms. It's probably for the best though, otherwise we could pretty much see ourselves moving in.
Ox Club at Headrow House, The Headrow, Leeds, LS1 6PU. Tel: 07470 359961
Rating: 14.5/20
Food: 7/10 (Huevos Racheros 7, Corned Beef 6, Steak & Eggs 8, Korean Chicken 7 , Bloody Mary 8)
Atmosphere: 3.5/5
Service: 4/5
PLEASE NOTE: All scored reviews are unannounced, impartial, paid for by Confidential and completely independent of any commercial relationship. Venues are rated against the best examples of their type: 1-5 saw your leg off and eat it, 6-10 stay in with Netflix, 11-12 if you're passing, 13-14 good, 15-16 very good, 17-18 excellent, 19-20 pure quality.