FULL DISCLOSURE: I want to avoid the sentiment of this review boiling down to "Tharavadu: not your usual curry house!" - as if aligning yourself with a great British dining institution is anything to be ashamed of - but, it's...not your usual curry house.
We had the hubris to turn up and expect a table to be available, and ended up waiting an hour. For a table for two. On a Tuesday night. Obviously they're doing something right.
On first impressions it might look like. It's got the exotic name - presumably butchered by the clumsy tongues of many who attempt to pronounce it - it's got an unassuming appearance, and it wears its many awards with pride.
Is there a more-decorated type of restaurant out there than the curry house? You could trek to the Outer Hebrides and still find an Indian proudly displaying a faded A4 printout declaring it Kingfisher Beer Curry Awards 1998's Silver Medal winner. Tharavadu's accolades aren't so tenuous, though; as of 2015 they're officially a bonafide Michelin-recommended restaurant (They're also highly celebrated at the Yorkshire Evening Post's Oliver awards, but don't let that put you off)
Whether thanks to the Michelin guide, YEP, or just good old-fashioned word of mouth, the place is consistently rammed. We had the hubris to turn up and expect a table to be available, and ended up waiting an hour. For a table for two. On a Tuesday night. With Bundobust next door, and god-knows-how-many other Indian restaurants in the city limits. Obviously they're doing something right.
Personally, I could be persuaded against an essential trip to A&E if it looked a bit chilly outside when I'd done myself a mischief, yet here's an Indian restaurant (one of 129 in Leeds, according to Tripadvisor) packed to the rafters like an NHS waiting room of Tory scaremongering dreams, with a waiting list to match.
Once inside, the ambience hardly sweeps you off your feet - any atmosphere lent by the restrained decor is washed away by bright ceiling spotlights, but is more than made up for by the convivial chatter of big groups of friends, families, and business types with expense accounts.
They're talking slightly louder than usual because of vast expanse of table between them. Shave a few inches off each of these and you'd be able to squeeze in enough extra to prevent me (and, I suppose, other people) that hour wait.
Then again, it'd also mean not being able to fit the masala dosa (£6.49) on the table, which would be nothing short of tragedy.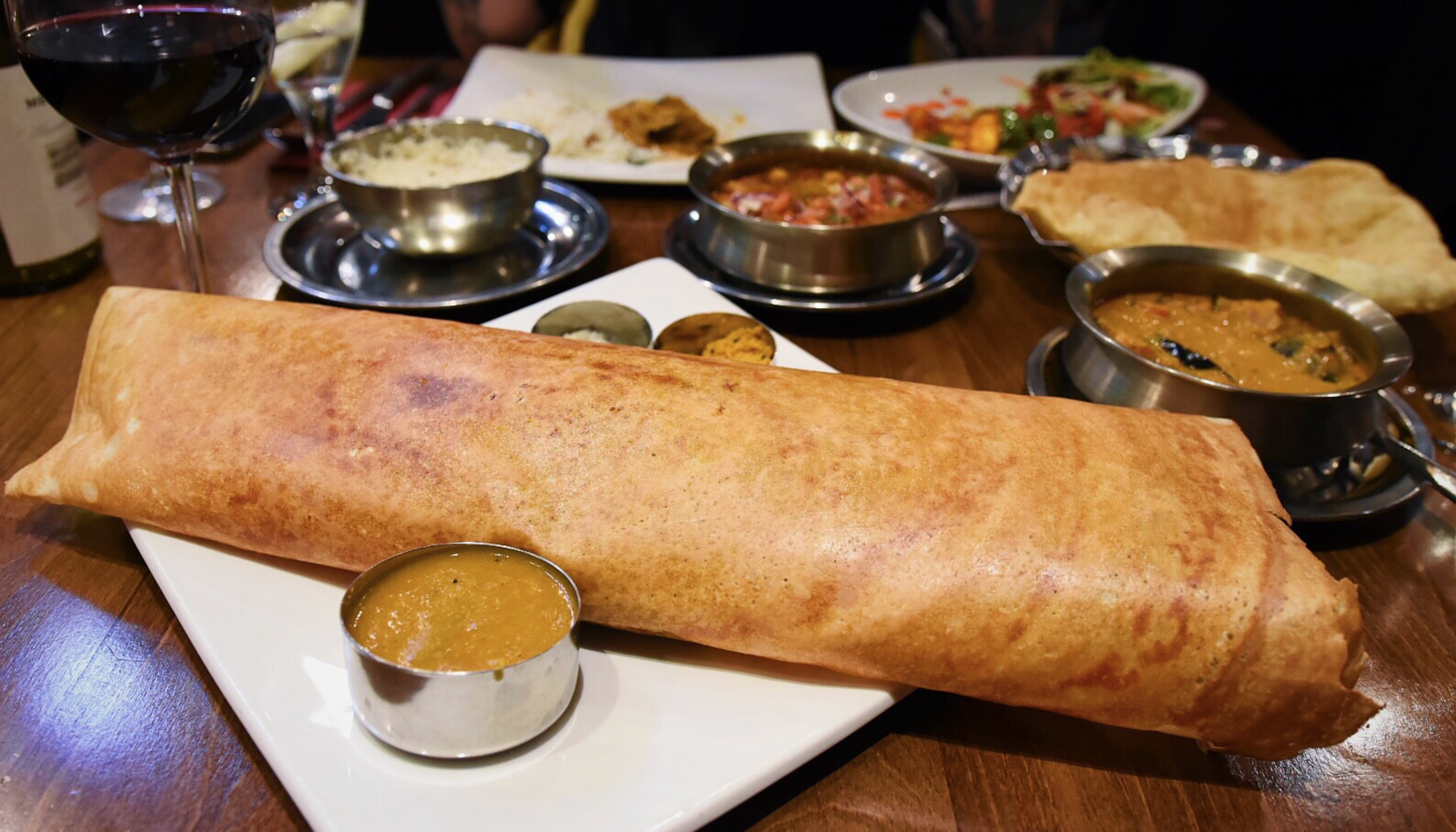 Masala Dosa
A pancake of fermented rice flour, tracing-paper-thin on the edges and served rolled up; big enough to serve as a perfectly good underground tunnel should Leeds City Council ever pull its finger out and install a subway.
Golden brown, almost varnished on the outside, the fermented batter lends a pleasant lactic tang to the benevolent potato masala inside. I'd hazard a guess as to what sambals occupy the three accompanying tiffins, but aside from the coconut chutney I'd only be showing my ignorance. They're uniquely fantastic though.
Besides, my ignorance got a thorough outing when I attempted to order vazhuthananga curry (£6.95) without pointing at the menu (For future reference, it's pronounced something like "Valatunga"). A slick, seductive, aromatic cashew nut sauce - sweet with roasted onions and bejewelled with the glossy black skin of aubergines.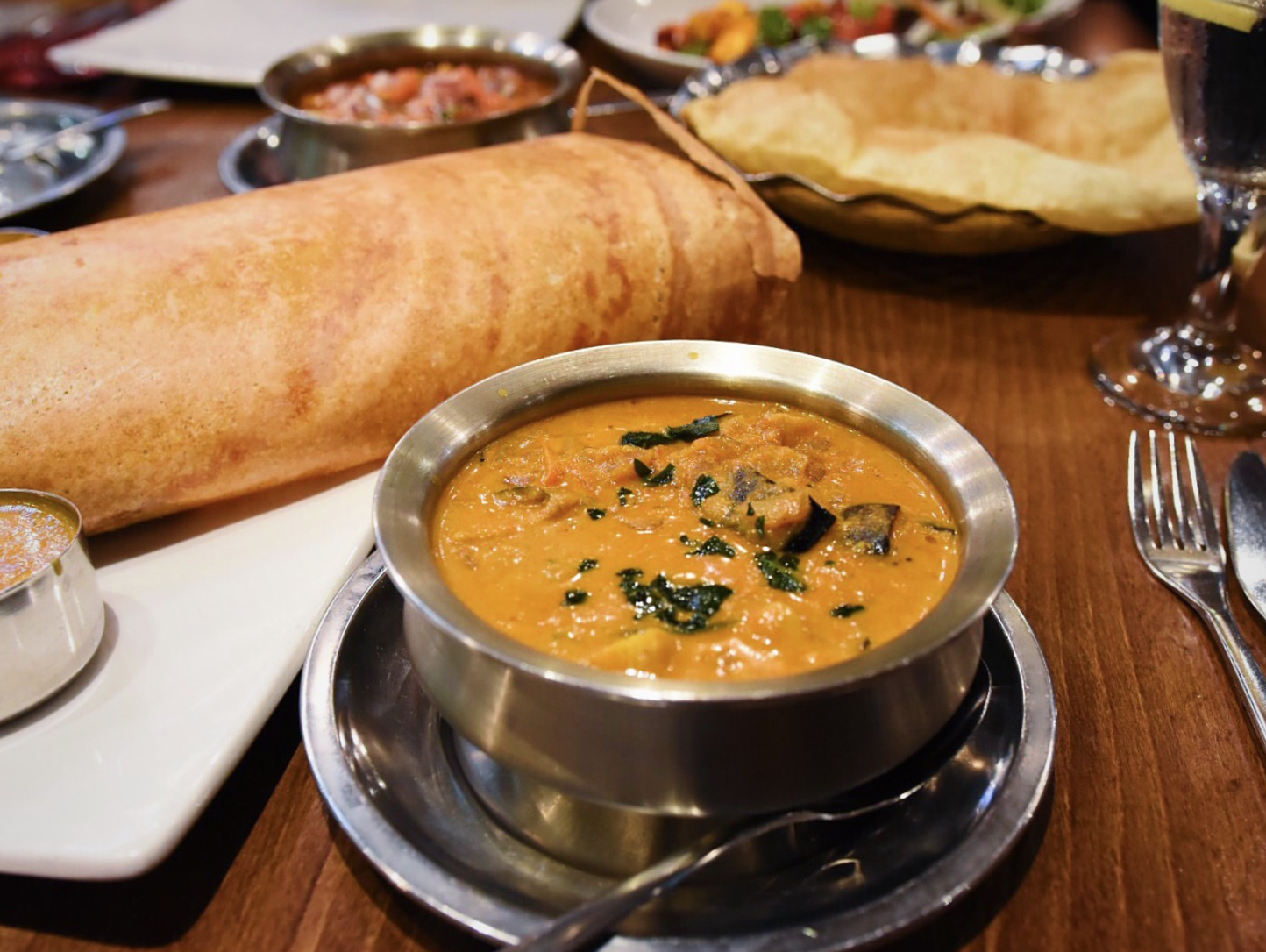 Vazhuthananga Curry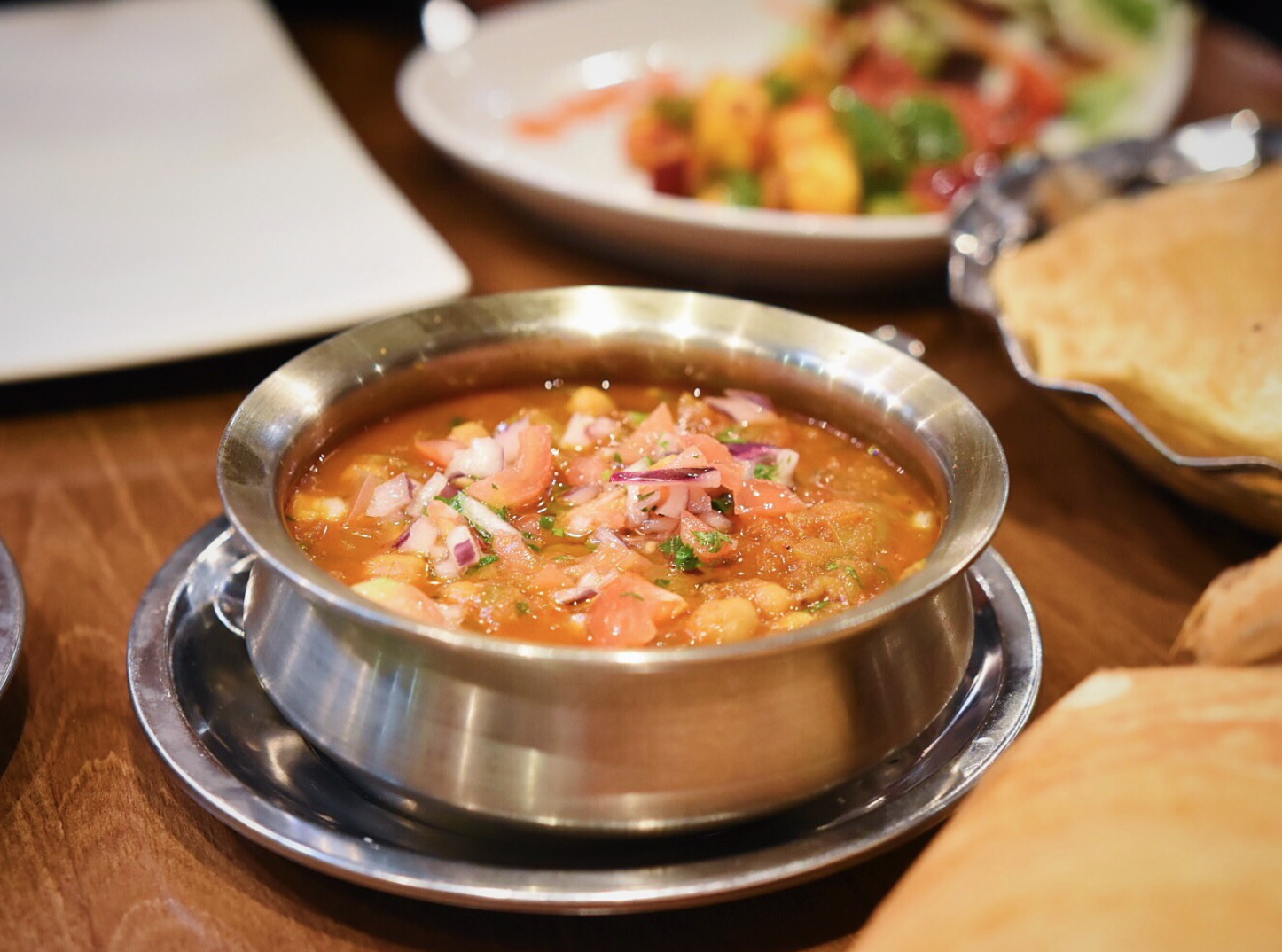 Kadala Masala
Being sixteen days into eating a vegan diet, I did well to resist the plate of chilli paneer (£5.79) opposite me, but the aubergine had such bite and flavour that it made a fine substitution.
The fried bathura flatbread (£1.99) used to scoop and mop the curry was translucent and reassuringly fatty on the outside; as delicate and joyous as crisp chicken skin. Admittedly by this stage in my vegan escapade I'd started hallucinating that my own cats were walking hams with whiskers, but feverish apparition or not, it was flipping great bread.
Kadala Masala (£5.89) makes a mockery of every murky, stodgy homemade curry I've ever attempted. Chickpeas full of life and bounce simmered in a bright tomato masala sauce; its nimble simplicity and freshness of flavour rounds off a completely enjoyable dinner.
It took a fraction of the time we'd waited - first for the table, and then for the food - to actually wolf it all down, but that's a credit to the food itself rather than a slight on the kitchen or front of house, who were clearly working at full efficiency.
Mercifully, plans are underway to expand the restaurant upstairs, increasing both the number of covers and the kitchen capacity, theoretically making it easier to just drop in when you fancy a curry. No word on when the first-floor expansion will be open to the public - but if there's one thing I've learnt, it'll be worth the wait.
Tharavadu, 7-8 Mill Hill, LS1 5DQ
Rating: 15/20
Food 8/10 - Snacks & Chutneys 8, Bathura 8, Masala Dosa 8.5, Vazhuthananga Curry 8.5, Kadala Masala 8, Chilli Paneer 8
Atmosphere 3/5 - Buzzing, but not especially ambient and lacks the character the food posesses
Service 4/5 - Affable and efficient, but waits can feel tedious.
PLEASE NOTE: All scored reviews are unannounced, impartial, paid for by Confidential and completely independent of any commercial relationship. Venues are rated against the best examples of their type: 1-5 saw your leg off and eat it, 6-10 stay in with Netflix, 11-12 if you're passing, 13-14 good, 15-16 very good, 17-18 excellent, 19-20 pure quality.