When the announcement came earlier this year, prophesying the arrival of a new tapas restaurant just off East Parade, it took all the enthusiasm I could muster to even swipe it into my deleted items folder.
It was approximately the forty-eighth new "tapas-inspired" restaurant to open that week. It has a "cocktail concept" attached to it? Well I never. This is Leeds in 2016. If you stand still in a public area for eight seconds you'll summon a cocktail pop-up trying to flog you a seven-quid Aperol Spritz (Admittedly, they'd probably stop doing it if I stopped buying them...)
I momentarily considered setting up a custom filter to redirect all emails containing the phrases "small plates sharing concept" and "premium drinks partners" directly into the sun, but then I decided to stop being such a miserable bastard, and go to the launch night.
And that made me even more of a miserable bastard.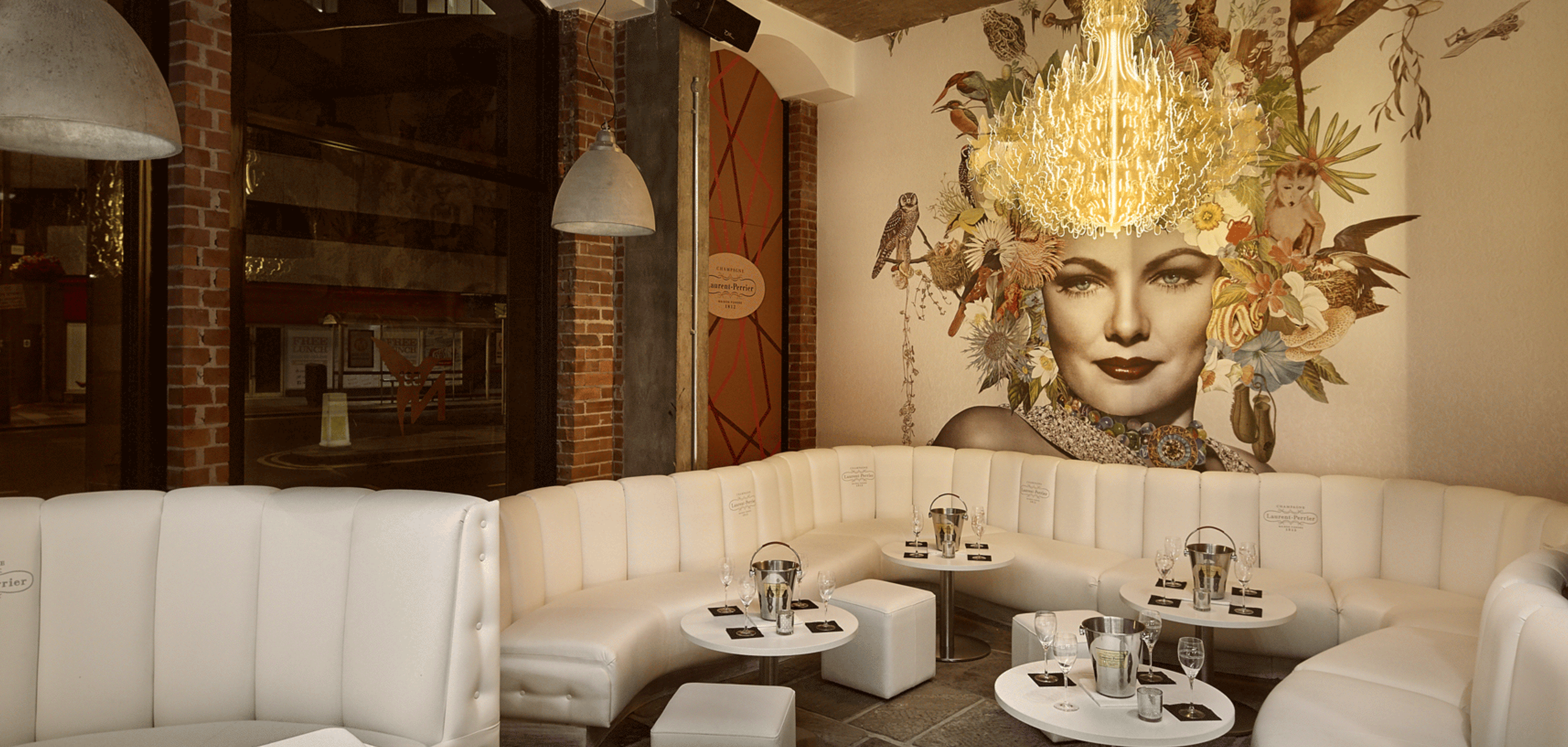 53 Degrees North
53 Degrees North sets out to, according to that press release, "capture the spirit of Ibiza" - their "spiritual home". If Ibiza's spirit can be captured by a man playing bongos next to a DJ, white velour banquettes, fringed-off "VIP" areas, and "premium drinks partner" branding plastered over everything (the glassware, the windows, the champagne buckets, the upholstery, the bar staff's foreheads) with the grace and subtlety of "LAD'S ON TOUR '16" t-shirts, then 53 Degrees North nails it.
I can see why everybody on the island chooses to get off their lids on ecstasy.
To be fair to the place, it's not for me. There is a considerable and willing audience who seem to enjoy being seen in 53 Degrees North, but I'm not one of them. The target demographic is good-looking, affluent, ITV2 types out to have a good time, rather than me; Rylan Clark's ageing, decaying portrait-in-the-attic, made flesh through some cruel curse.
Though only a partition-wall away from my own personal 53rd Circle of Hell, Ricci's Tapas & Cicchetti is a much more serene affair. Restrained white tiling contrasts with exposed brickwork and concrete surfaces, and turquoise hues pop from the fittings and upholstery like distant glimpses of the Balearic sea. The dishes reach far beyond the body of water, though.
The name "Tapas and Cicchetti" gives you a clue that our Ricci is an indecisive chap, but that's just the beginning - the vegetarian section alone touches down on North African, Indian, and Japanese territory with dishes like shakshuka, dhal, and honey miso-roasted aubergine.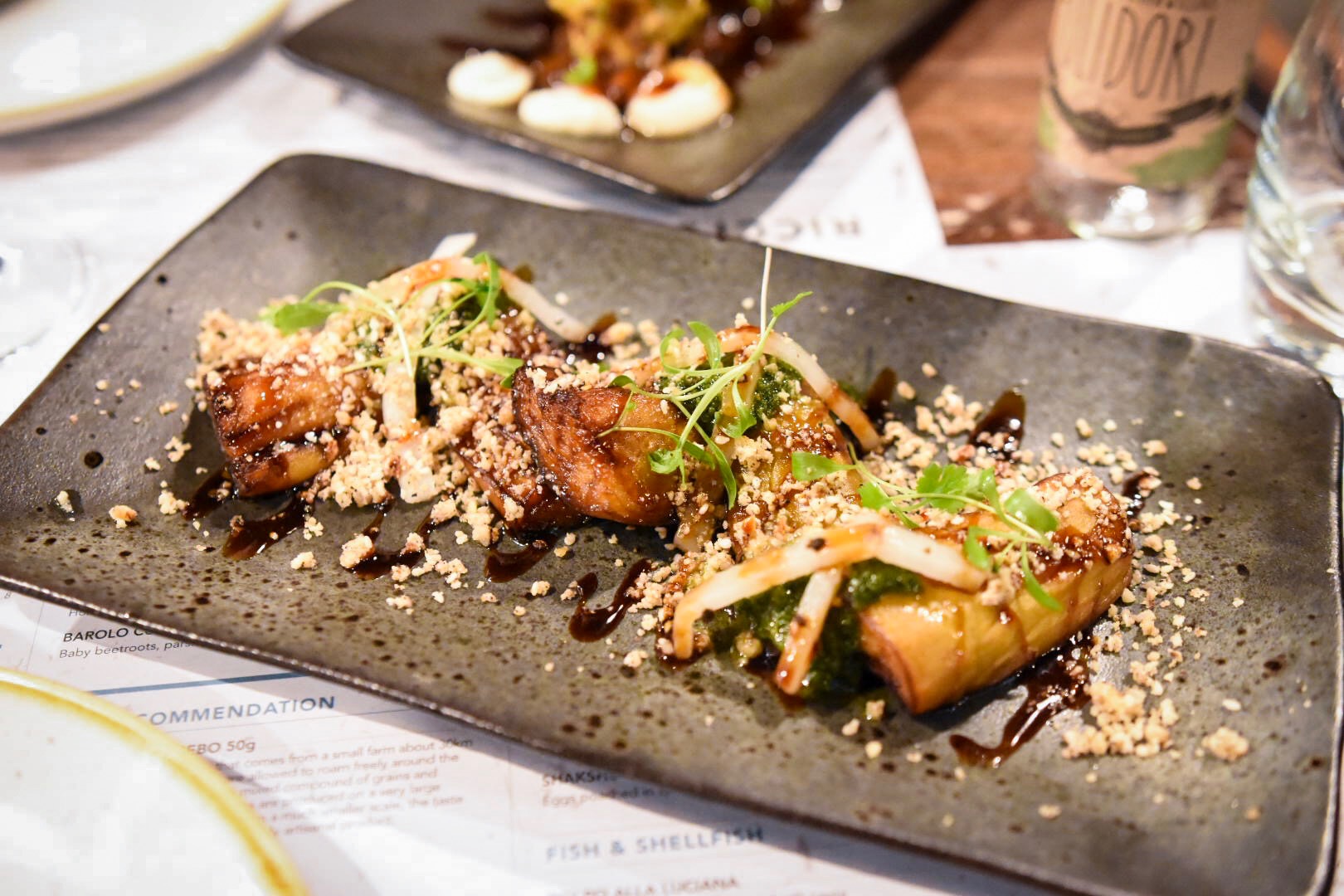 Honey Miso-Roasted Aubergine
This kind of spreading yourself thin often provides restaurants with a convenient allowance for being mediocre. "Well, it's not great - but they're ambitious!". Wishy-washy nonsense. If you can't do something well, charge customers for something you can do well instead (or get a job as a restaurant critic).
Here though, there's no need for such excuses - every effort to catch the kitchen out, each attempt to discover which section of the menu is the rug that the rubbish is getting swept under is met with a "You'll have to try harder than that" from the versatile and capable kitchen.
Goats cheese churros (£6.5) combines the primal satisfaction of hot fried batter with truffled honey and a goats cheese with blue-like complexity; It's Middle Eastern Kunafeh in a sombrero. Gnocchi (£7) is crisp-fried and crumbled with a heavily-veined, tongue-throbbing Blue Valdeon. It's rounded off by a good slick of caramelly roasted garlic aioli for balance, which we take turns in scraping off the plate until we're close to eating varnish.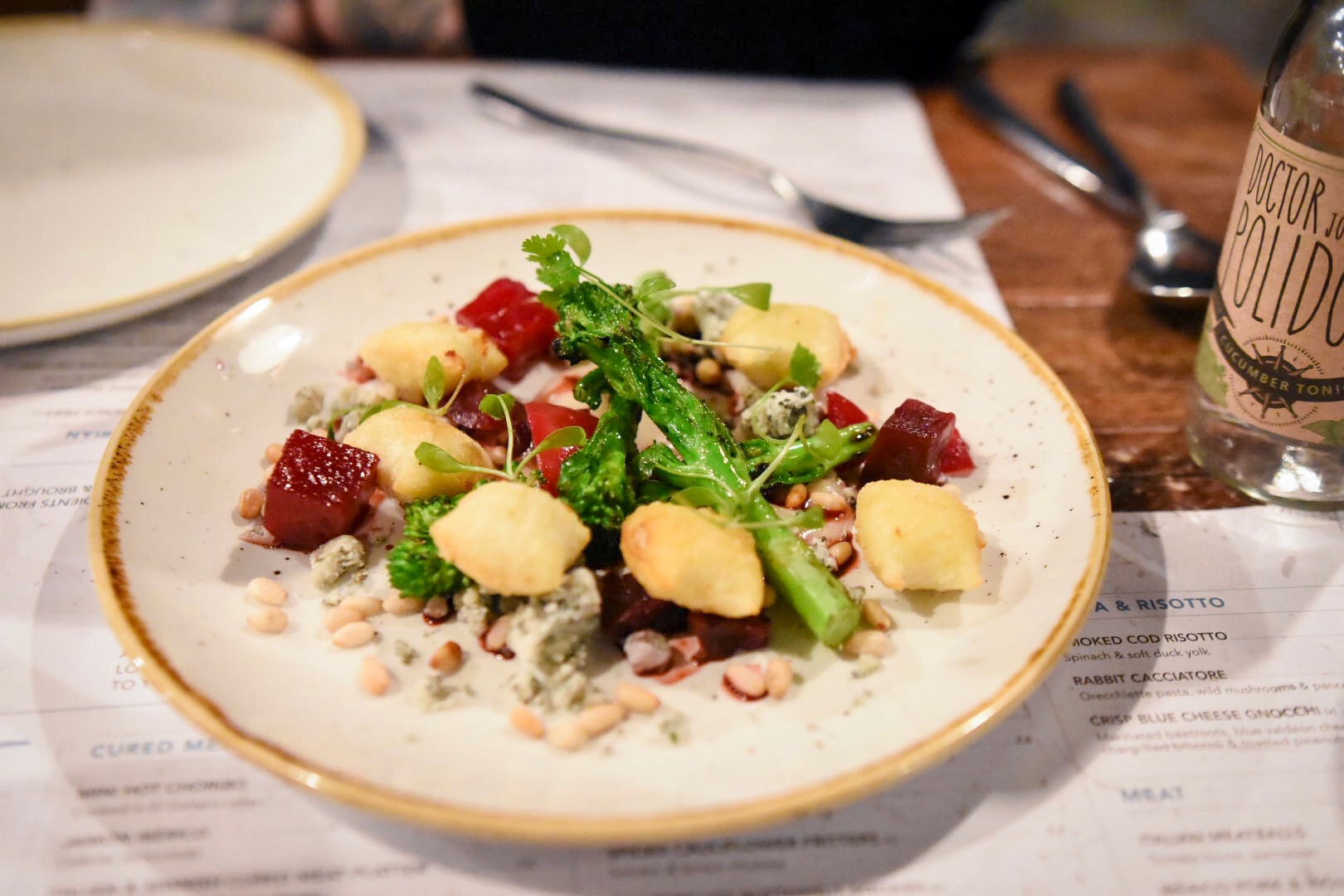 Crisp Blue Cheese Gnocchi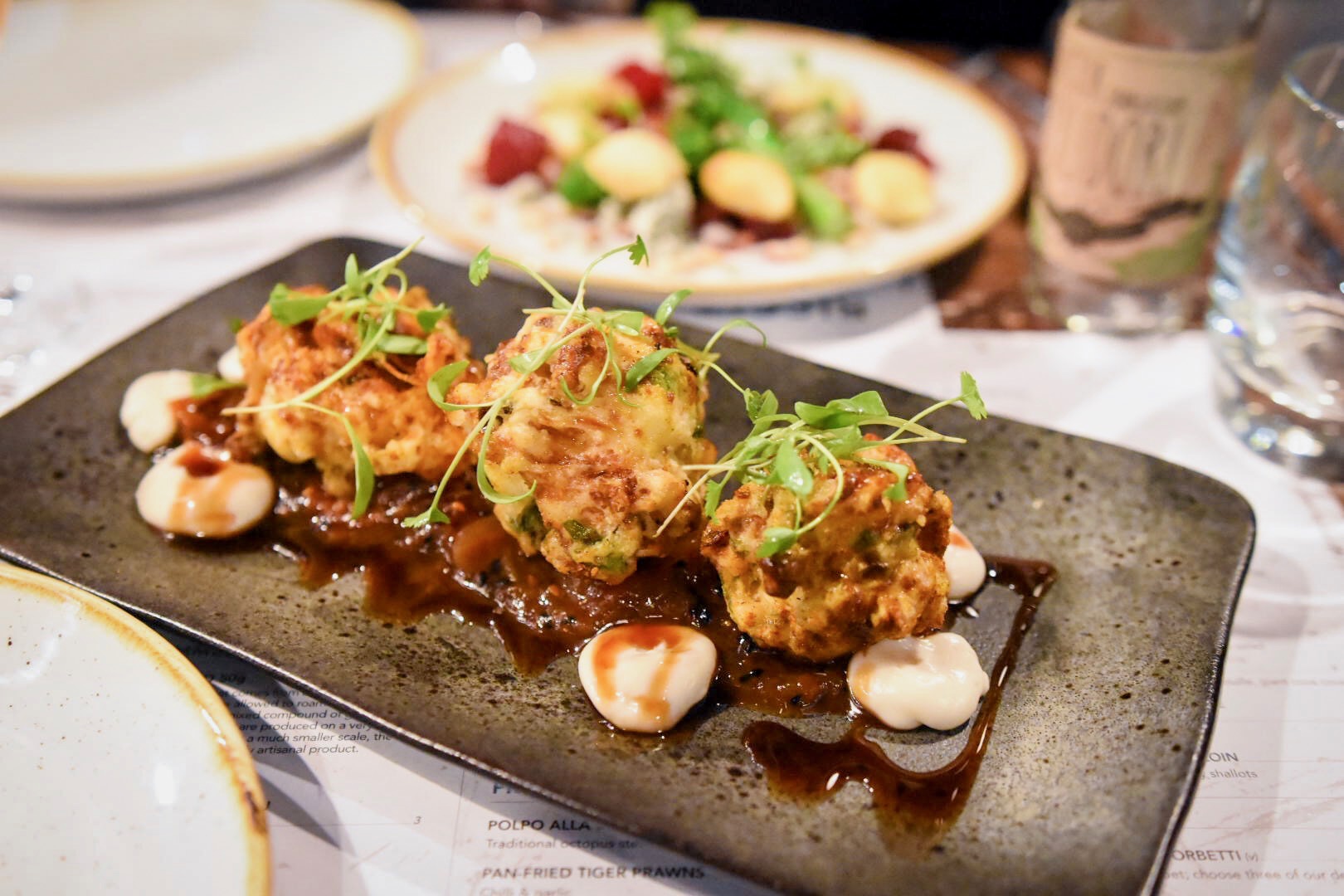 Spiced Cauliflower Fritters
Gnarly great cauliflower fritters - proper chunky florets concealed by wisps of batter - are fine as they are, but the lemon and tomato chutney somehow manages to be cloyingly sweet and acrid at the same time. Honey-miso roasted aubergine (£6) shows off the kitchen's ability to pair contrasting flavours much better; combining the sweet-umami glaze with Szechuan-nutty crumb and a lightly-citrus coriander pesto.
Smoked cod risotto (£7) does no such thing. It doubles, no; triples, no; quintuples-down on flavours that soothe and assuage; pearly risotto with the sixth of November-faint linger of smoke, sweet leeks, and a perfect - perfect - duck yolk under a flurry of grana padano. If I was about to get the electric chair, this would be my last meal request. If I ever end up on death row, it'll probably be because somebody dared stand between me and this risotto…
Smoked Cod Risotto
Combine this with a world-class sticky toffee pudding (£4.7) - all steamed and fudgy and full of dates, with a figgy back-burn of liquor - pleasant, well-timed service from a young team, and a nice open kitchen to be nosey at, and suddenly I'm not feeling like such a miserable bastard anymore.
Ricci's Tapas and Chicchetti, Goodbard House, 15 Infirmary Street, LS1 2JS
Rating: 14.5/20
Food: 7.5/10 - Goats Cheese Churros 7, Crispy Blue Cheese Gnocchi 7.5, Cauliflower Fritters 6, Honey Miso Roast Aubergines 7.5, Smoked Cod Risotto 8.5, Italian Meatballs 7, Sticky Toffee Pudding 8.5
Service: 4/5
Atmosphere: 3/5
PLEASE NOTE: All scored reviews are unannounced, impartial, paid for by Confidential and completely independent of any commercial relationship. Venues are rated against the best examples of their type: 1-5: saw your leg off and eat it, 6-9: Netflix and chill, 10-11: only if you're passing, 12-13: good, 14-15: very good, 16-17: excellent, 18-19: pure class, 20: cooked by God's own personal chef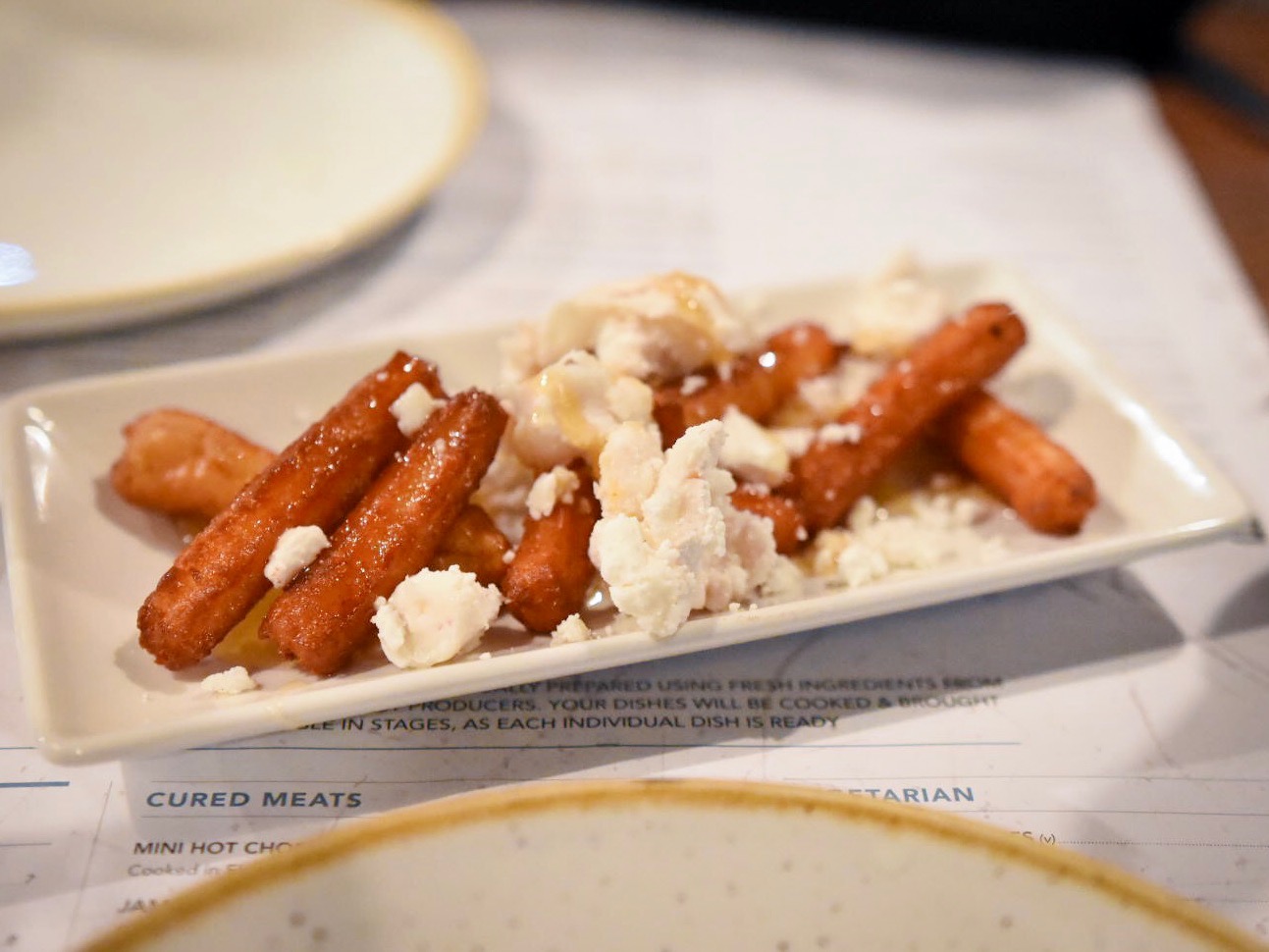 Goats Cheese Churros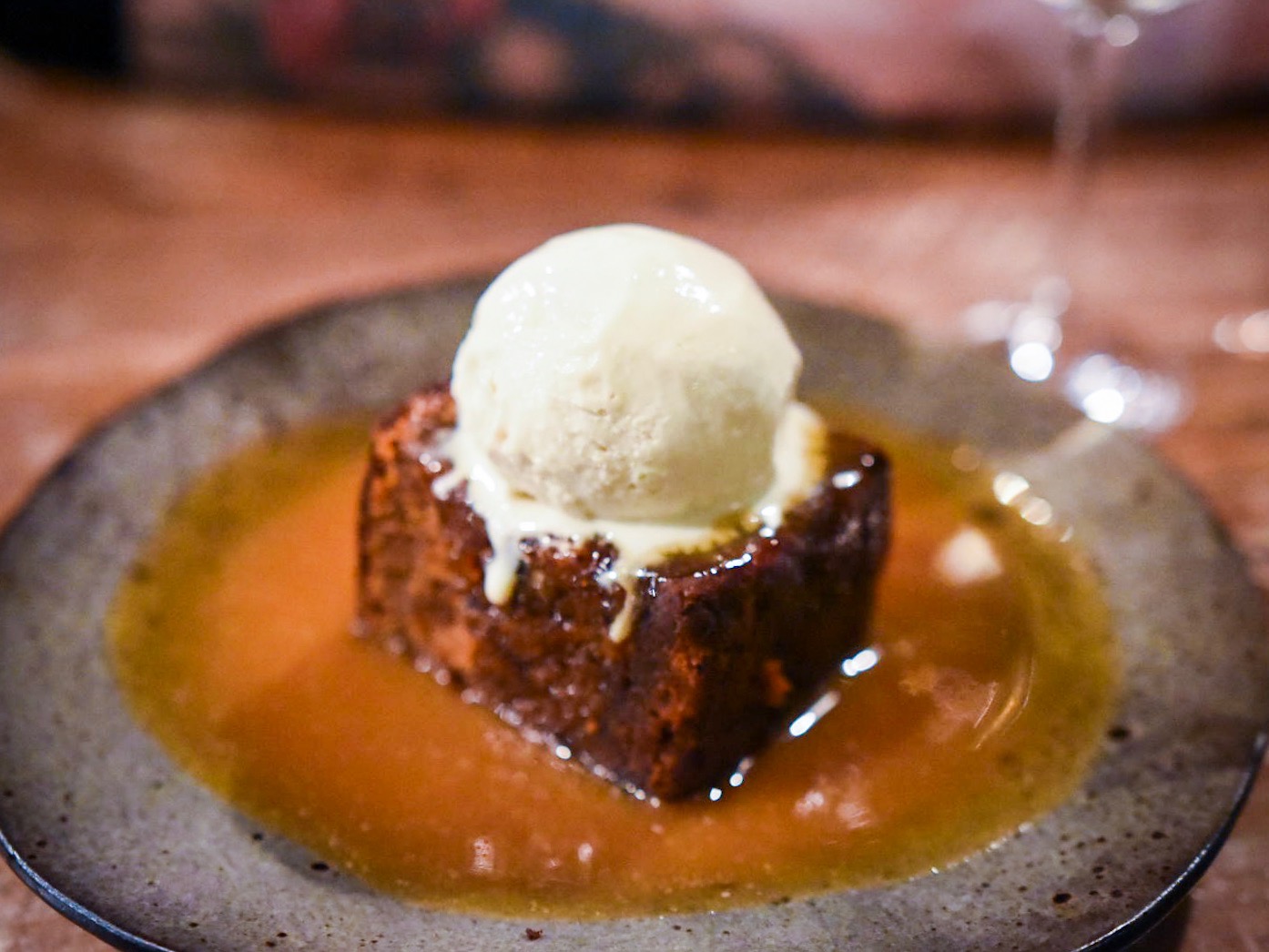 Sticky Toffee Pudding