Confession time: I've never been wild for Mexican food. I'll never come round to the idea of a burrito – rice? In a wrap? – and the stress that overcomes me whenever I've had to say the word 'taco' aloud is simply too much: tar-co or tack-o? It's just never been worth the pressure.
Wonderfully considered yet simple all at once, the cod taco is best enjoyed whilst stifling tears of passion and relief that you've finally found it: the perfect taco
Luckily, it turns out that Pinche Pinche (pinch-y pinch-y) can cure any hesitation towards Mexican cuisine.
There's nothing fancy or try hard: just a small-ish space with a few novelty cactus cushions and sugar skulls painted on the walls, a tiny bar smothered in tequila and fairy lights and an army of attentive waiting staff that don't laugh when you pronounce 'taco' like a middle class twat.
The menu was designed to 'be eaten with your hands in good company', and this relaxed mantra upholds itself in the atmosphere of the setting.
Owner Simon Heath spent a year working in Mexico City learning the secrets of Mexican street grub before doing us all a solid and bringing that knowledge to north Leeds. In keeping with the small plates theme ubiquitous in our city's eateries of late, Pinche Pinche serves up 'Mexican tapas' alongside the option for bigger plates like burritos – rice in a wrap? – and enchiladas.
In a desperate bid to eat as much across the board as we could, we chose the tapas route ranging from the comfortably familiar to the adventurous. Nachos (£4.95) - Delicious as they were, nachos are nachos, and they were quickly cast aside to congeal alongside our most daring - and regrettable - choice.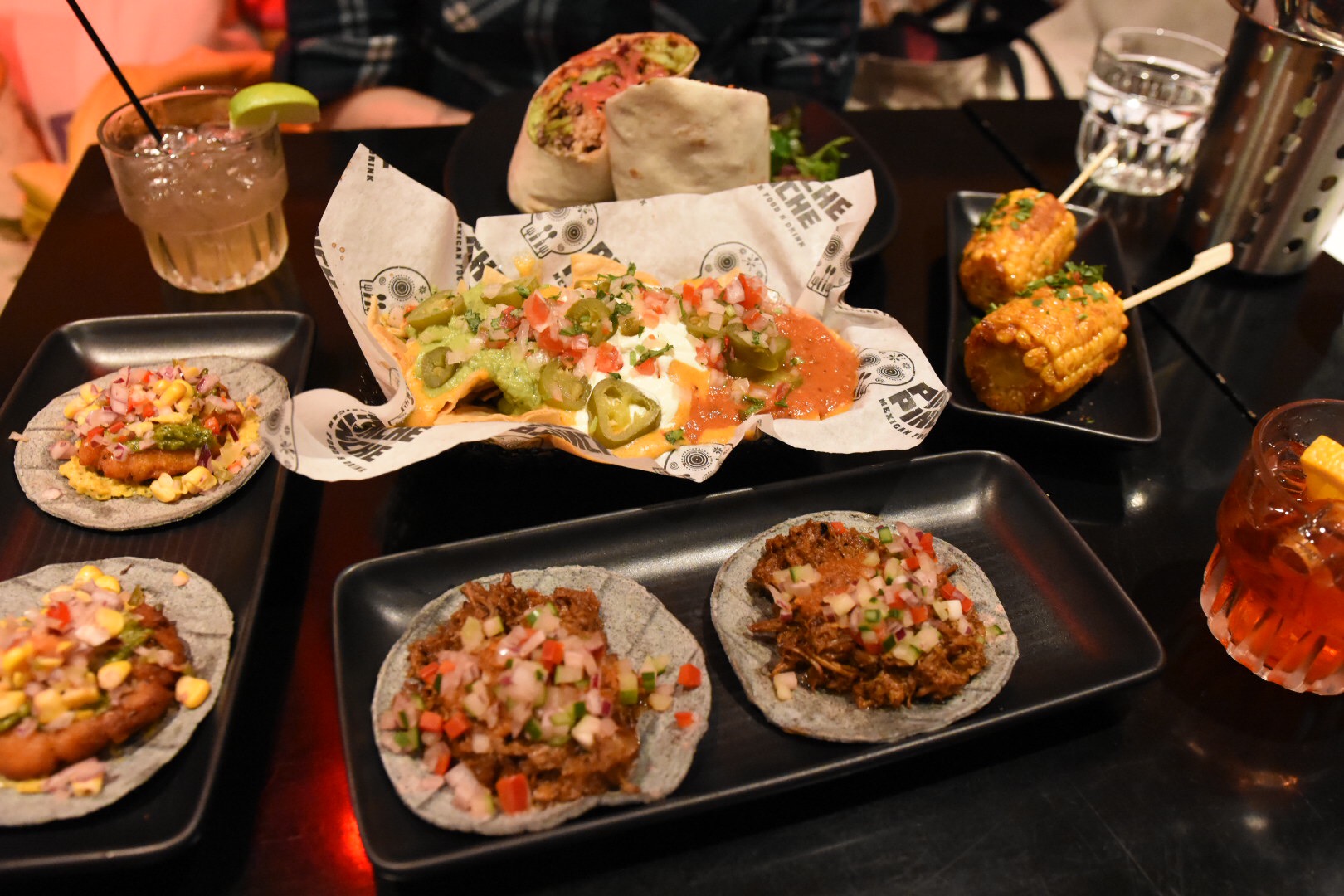 Nachos and 'The Perfect' Taco
The mushroom sopes (£6) are, at best, upsetting – a sweet potato and maize 'tart' with a globby mass of chopped, underseasoned mushroom stuffing looking like something you might find in your tissue after a day on the London Underground.
However. Vaguely familiar but exotic is where the menu shines.
Remember that time you bought a £20 cactus from Urban Outfitters and spent hours finding the right filter to suggest that you are, in fact, a design-savvy hipster legend? (side note: it's Nashville.)
WASTED TIME. You should have been deep frying that mother.
They might not look pretty, but what cactus fries (£3.95) lack in Insta-bility is more than made up for in intrigue. The texture is similar to Okra, and the cactus's inherant lack of flavour is compensated by the accompanying chipotle aioli I would gladly brush my teeth with.
By this point my Mexicana-scepticism, on the whole, was still pretty resolute.
And then: the cod taco (£5.95 for two). Served in a soft, blue corn tortilla, roughly half a damn cod nestles in a bed of hibiscus coleslaw, draped generously in that life-affirming aioli and sprinkled with toasted sesame seeds for a last minute nod to texture.
Wonderfully considered yet simple all at once, the cod taco is best enjoyed shovelled directly into your mouth-hole with both hands, whilst stifling tears of passion and relief that you've finally found it: the perfect taco.
The steak version (£6.95 for two) is equally revelatory, and just like that, I am a convert.
Pinche Pinche works because it steps up to the context it finds itself in. We crave small plate authenticity with an edge; they give us ingredients imported directly from Mexico with a tapas option and cactus bloody fries.
They've done their research, and they've chosen well: Chapel Allerton is the perfect setting to lure us away from the city centre - just as Zucco flies the flag for Meanwood, Pinche Pinche reminds us that some gems really are worth braving the 91 bus for.
And the next time you find yourself stranded in the desert, never mind a cool refreshing spring - look out for a deep fat fryer and vat of chipotle aioli.
Megan Jones
Pinche Pinche, 116 Harrogate Road, Chapel Allerton LS7 4NY
Total: 13/20
Food: 7/10 – Nachos 6, Mushroom Sopes 2 (I'm feeling generous), Cactus Fries 7, Cod Taco 8.5, Steak taco 8.
Atmosphere: 3/5 – Buzzing and relaxed but could do with sexing up, and a few more tables.
Service: – 3/5 - Attentive, and preserved my ego by stifling any laughs at my attempted pronunciations.
PLEASE NOTE: All scored reviews are unannounced, impartial, paid for by Confidential and completely independent of any commercial relationship. Venues are rated against the best examples of their type: 1-5 saw your leg off and eat it, 6-10 stay in with Netflix, 11-12 if you're passing, 13-14 good, 15-16 very good, 17-18 excellent, 19-20 pure quality.