Stand in a particular spot on Headingley's North Lane on a clear day, tilt your head juuust-so, wait until the Otley Run groups have got out of your way, and you'd pretty much be able to spot three different barbecue restaurants in the panorama.
Compared to Longhorns' smoked sausage, the German Market's wurst really lives up to its name.
Three. All serving variations of the same menu.
To put that in perspective, pizza - possibly the most universally-adored food in the Western world, with almost 700 years more experience than barbecue - has only two restaurants dedicated to it in the same vicinity (at the minute, at least - I'm looking at you, 61 Otley Road…)
Our national expectations for barbecue food have been lowered so much by the association of eating carcinogenic sausages while fending off wasps that for the first twelve months after Red's True Barbecue opened, we'd happily wait two hours for the chance to eat brisket and ribs and chicken imbued with flavours of smoke and fire. The novelty and popularity hasn't tailed off too much since then.
We never did get a truly great barbecue restaurant though. Nothing that could compete with the Bodeans or the Pitt Cues of the world. Instead, we got brands and concept restaurants that could be packaged and set up wherever there was perceived demand for testosterone-fuelled overconsumption. Two of the brands account for two of the three barbecue restaurants in Headingley. Sandwiched between them, is Longhorns.
Starting off life as a mobile smokehouse at street food markets and events, Longhorns moved into the world of bricks & mortar with a couple of restaurants in Newcastle, before occupying the kitchens of a few Head of Steam pubs - sensibly pairing the food with Cameron's Brewery's take on US Craft Ale-houses.
Decked out in distressed wood, bright red neon, and enamel tablewear, the dining room could be the setting for any slasher movie set in Hicksville, USA, with the rootin' tootin' menu blurb apparently written by the kindly old gas station attendant who warns you against staying in the woods. I can forgive the likes of "Badass Nachos" and "Bigass Beef Ribs", but a "Dirty Longhorn" doesn't sound like something I want anywhere near my mouth.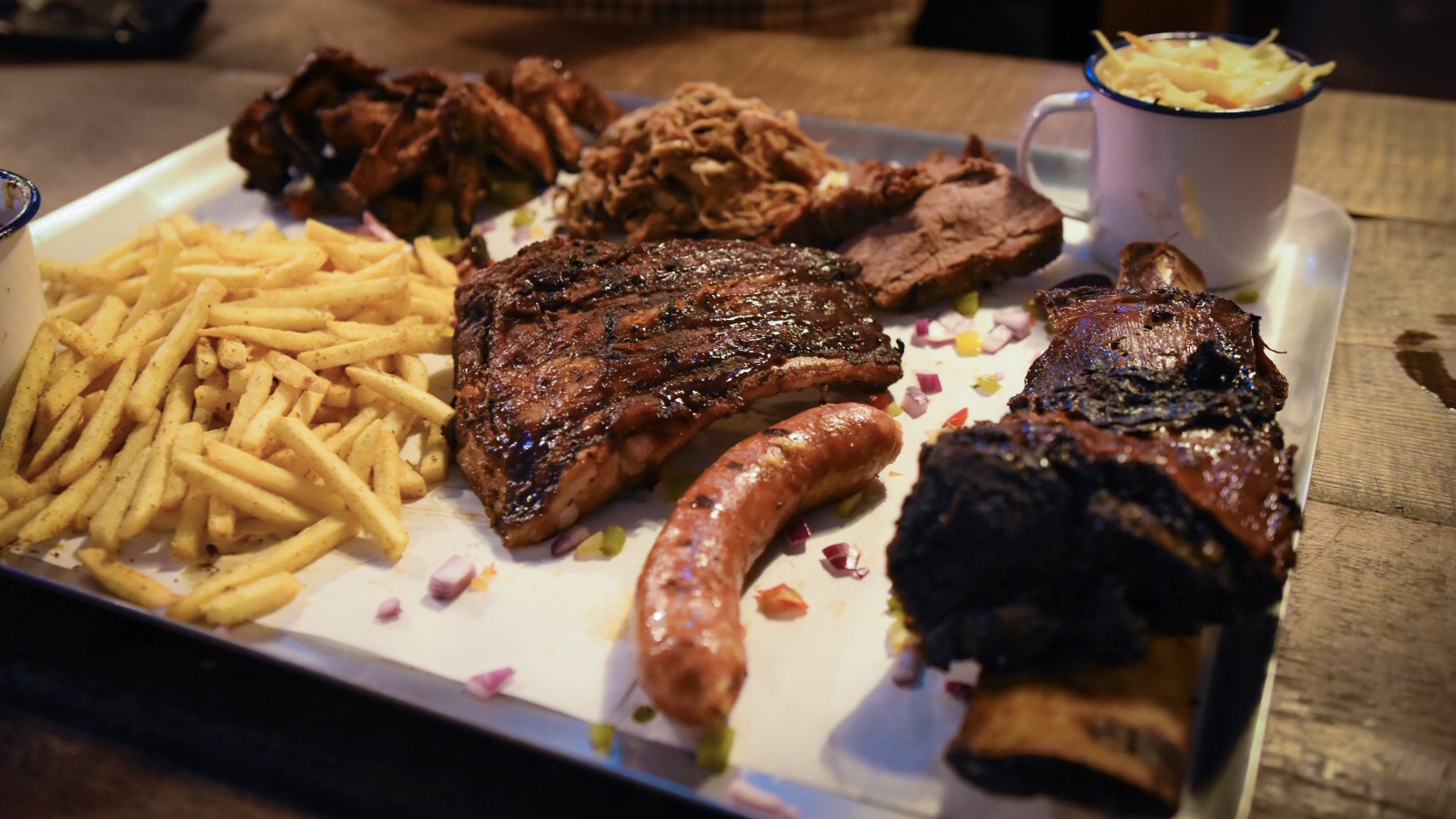 Smoked Sausage (Centre) and Beef Rib (Right)
The innocuous-sounding "The Board" (£27.50) seems much more appetising; a sampler tray of assorted body parts that'd give Ed Gein a wet dream, all rubbed and smoked and sauced and pulled.
That beef rib lived up to its bigass promise - a good couple of farm-hand fistfuls of rib meat, so tender that it could be persuaded off the bone by little more than gravity, delivering a deep, fatty corned-beef hit. The smoked sausage's satisfying snap yields to an almost-crumbly mixture of well-spiced, well-smoked pork and beef - compared to this, the German Market's wurst really lives up to its name.
There's brisket - a fat-laden slab of beef, dry-rubbed and smoked over hickory for 24 hours, breaking down the connective tissues and make it tender, intensely smokey, fuchsia-hued and gushing with juices. In theory, at least. I'm not sure how we ended up with some bland, gristly, carvery-style roast beef.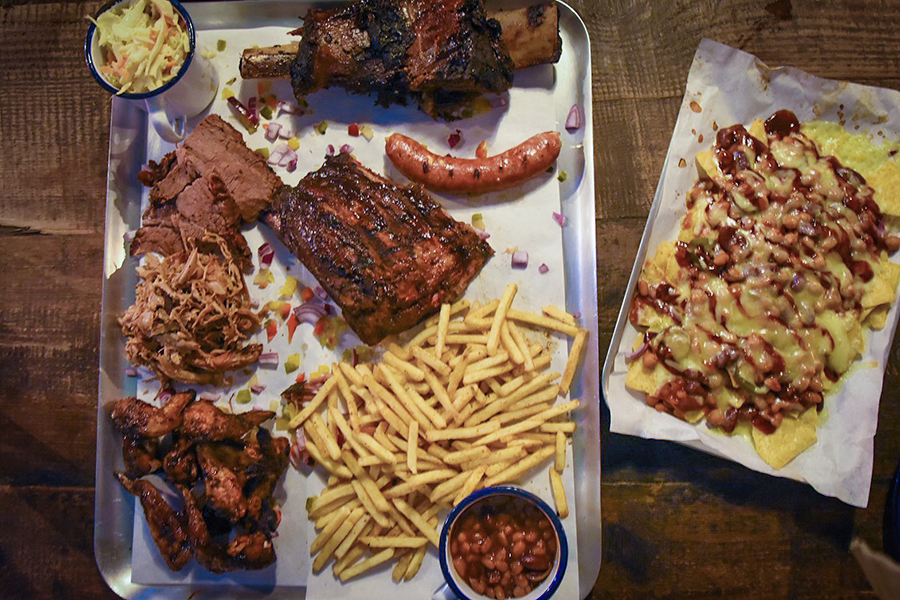 The Board
The pulled pork looked and tasted like tinned tuna swimming in barbecue sauce as well, then again it always does - St Louis ribs proved a much more dignified end for the animal. Nachos (£6) will never be fine dining. The most you can hope from them is that they live up to their promise of being slathered in cheese and chilli and moreish enough to make you keep going back for another one until you've eaten so many you're positively ashamed of yourself - and then six or seven more times. And these did just that.
Despite a couple of misfires (that they really should be getting spot-on 100% of the time) I'm happy to give Longhorns the benefit of the doubt. The Board gives them no place to hide, featuring practically everything on the menu beside the burgers - which have as rightful a place on a smokehouse menu as Crêpes Suzette or tabbouleh, anyway.
Longhorns isn't the kind of legendary smokehouse worthy of a pilgrimage across three states, but as far as barbecue in Leeds goes, it absolutely smokes the competition.
Longhorns at Head of Steam, 11-13 North Lane, Headingley, LS6 3GH
Total: 13/20
Food: 6/10 - Beef Rib 8/10, Pork Ribs 6/10, Chicken Wings 6/10, Smoked Sausage 8/10, Brisket 4/10, Pulled Pork 5/10, Chilli Cheese Nachos 7/10
Atmosphere: 3.5/5 - Strong aesthetic without veering into "themed restaurant" hell
Service: 3.5/5 - Friendly, fast, and eager to please
PLEASE NOTE: All scored reviews are unannounced, impartial, paid for by Confidential and completely independent of any commercial relationship. Venues are rated against the best examples of their type: 1-5 saw your leg off and eat it, 6-10 stay in with Netflix, 11-12 if you're passing, 13-14 good, 15-16 very good, 17-18 excellent, 19-20 pure quality.