FOR whatever reason, Japanese food has never really taken off in Leeds. Pan-Asian is definitely 'a thing'. We've got an abundance of Thai restaurants. One of them is the "best restaurant in Leeds" according to a recent awards ceremony. It isn't, obviously. It's not even the best Thai restaurant in Leeds. It's not even the best Thai restaurant on that street.
"Has vegan food ever tasted this good?" asks the menu. Do you really want to leave yourself vulnerable to this line of questioning, menu?
Japanese, though? Not so much. Indies like newcomer Senbon Sakura and Sushi Waka do admirable things with bone broths and raw fish, but beyond a couple of Wagamamas and a Wasabi where hope goes to die, Leeds city centre's main Japanese options are Little Tokyo and Fuji Hiro.
Judging by recent lacklustre visits, Fuji Hiro has - to butcher a Dark Knight quote - lived long enough to become a Fuji villain, and if what I ate at Little Tokyo is capable of pulling crowds in on a blustery midweek evening, then it might not be the Japanese restaurant that Leeds needs, but it's all we deserve.
The decor is a little old-fashioned, but suggests a restaurant that holds itself to high standards, going all out with the dark wood and display bottles of sake and themed seating areas - a sunken table in the basement where you can sit on the floor all traditional like; a mezzanine of benches overlooking a tranquil koi pond.
Our table - a varnished cross-section of tree shaped like a scale model of the Pyrenees mountains, with just as many bumps and contours - looms ominously over this koi pond like a diving board. It's as if they've taken out a lucrative life insurance policy on the fish, then manufactured the ideal conditions for an oaf (enter, me) to knock their wine into the pond so they can cash it in.
I don't want the death of any fishes resting heavy on my conscience. Not in a week that I'm committing to veganism for an upcoming article, so I ask if we can move to the mezzanine. No such luck. "They're all tables for four" I point out that all of the occupied tables up there only have two people on them "They were here before, we need to save the remaining tables in case any groups of four come in". Fair enough, I won't begrudge a place for needing to make money.
However, I'll happily - and enthusiastically - begrudge somewhere for wacky menu descriptions. Half of the ones here sound so unabashedly pleased with themselves that might as well be followed by that emoji with the shit-eating smirk plastered across its face.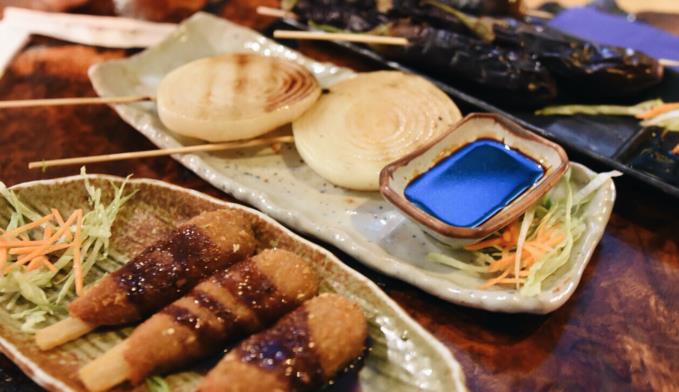 "Unbelievable" - Charcoal Grilled Lollipops
Charcoal Grilled Lollipops (£1.99), for example. They "can't believe simple onion could look so funky and taste so sweet" Oh no? Well, menu - I've run it by the lab, they've analysed the dish, and deduced that the unbelievable, funky look is achieved by poking a stick in a slice of onion, and then cooking it a little bit.
"Has vegan food ever tasted this good?" Do you really want to leave yourself vulnerable to this line of questioning, menu? Here is a list of vegan foods that taste as good as or better than the vegetarian chicken legs (£4.99) that prompted such hubris: courgettes, sherbert, french fries, malt loaf, pickled onions, pickled onion Space Rai... hang on, they've just sat two people on one of the mezzanine tables. Maybe we could move up there too?
"Ooooh, no. Sorry - if you'd asked one minute ago though!"
We asked ten minutes ago
"Hmm...Sorry."
Probably trying to wind me up in the hope that I take my frustration out on the fish. Not this week, pal.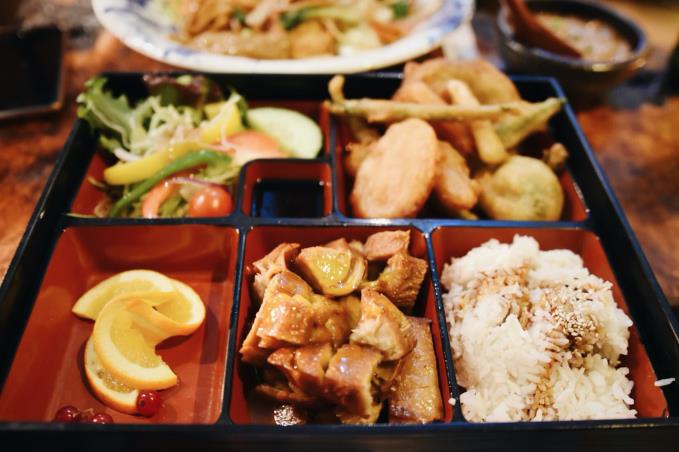 Vegetarian Duck & Mango Bento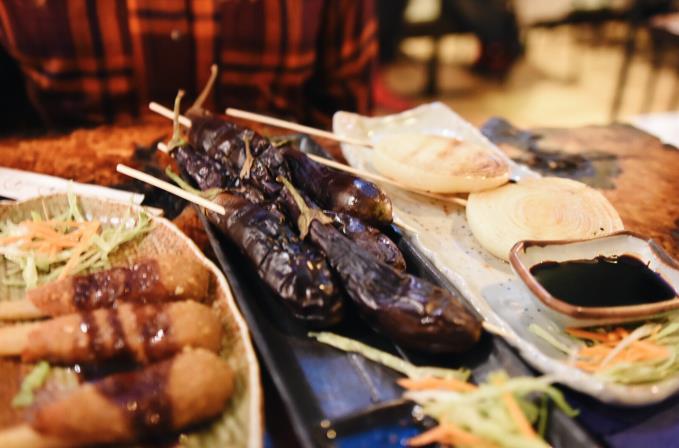 Flame Grilled Eggplant
Again, I'm not a guy to hold grudges. They'd get a free pass on the sub-Innocent Smoothie label banter on the menu and the lack of service if the food was any good. If only the rice in the bento box hadn't been sat still in a rice cooker for so long that it had congealed like a glutinous rat king; if another two segments of the bento weren't occupied, bizarrely, by an Italian bistro salad and an arrangement of sliced orange with redcurrants, like a festive centrepiece your Mum pulled off Pinterest; if the vegetable tempura hadn't been executed with all the grace of a mosh pit, turning honking slabs of aubergine into fun-fair donuts that you could wring the oil out of like a car wash sponge.
It's not just the tempura either, the takeaway-standard Yakiudon and vegetarian chicken legs - essentially fried bread with a breadcrumb coating rested on top of some sugar cane - conceal so much oil that there's a very real chance of getting invaded by the US military.
Not everything is atrocious, though. Baby aubergines are flame-grilled whole, caramelising the flesh inside as it turns to a satisfying goo. This is the best thing we eat, and proves that if you avoid the extensive selection of bentos boxes, noodles, and anything that's been near the deep-fryer, there's a slither of hope. Which is more than you can say for those poor koi…
Rating: 8.5/20
Food 4.5/10 - Vegetarian Duck & Mango Bento 4, Vegetarian Yakiudon 5, Charcoal Grilled Lollipops 3, Vegetarian Chicken Legs 4, Flame Grilled Eggplant 7
Atmosphere 3/5 - Looks the part and with crowds comes a buzz, but it's uncomfortable and dark
Service 1/5 - You get a point for not dropping orders en route to the table...
PLEASE NOTE: All scored reviews are unannounced, impartial, paid for by Confidential and completely independent of any commercial relationship. Venues are rated against the best examples of their type: 1-5 saw your leg off and eat it, 6-10 stay in with Netflix, 11-12 if you're passing, 13-14 good, 15-16 very good, 17-18 excellent, 19-20 pure quality.