Quite what compels a restaurant to open on the lesser-visited end of Great George Street, I'll never work out. Ok, so it's pretty much in the city centre, while having an LS2 postcode that probably negates some of the rent & rates premium that comes with being in the city centre.
The really interesting stuff has been taken off the printed menu - perhaps it's not a big hit with the lunchtime crowd - but it's still on the website, and they'll still make it for you if you ask nicely.

So we did.
Being within a lunchbreak proximity of places like the teaching hospital, magistrates court, and Leeds City College makes it an attractive proposition for daytime traders too, but come clocking-off time, anything east of Calverley Streets (flanked on either side by Leeds Gallery and the Town Hall) becomes a bit of a ghost town.
Sorry to go on like a cynical business loan advisor outlining a financial risk-assessment, but it's important to consider the mechanics and the behind-the-scenes of a restaurant before attempting to comment on what it does. If Tripadvisor contributors were so considerate before moaning about prices or opening times or availability of produce, Gary Usher's blood pressure might settle to something resembling healthy - by a chef's standards, at least.
Great George Street, while littered with solid little places like Veritas, Senbon Sakura, and NOM Deli, hasn't enjoyed the same renaissance as North Street; another worthwhile jaunt into LS2 which boasts an embarrassment of riches in the form of The Greedy Pig, Brunswick, Reliance and Shuffledog.
Walking past almost-empty restaurant after almost-empty restaurant en route to Line Thai felt like wandering the corridors of a puppy rescue centre. Look at them, all so bright-eyed and hopeful. I want to help them all, but what can one person with one stomach do?! I'm er, referring specifically to the restaurants there...
In fairness, it's the first Wednesday back at work in January. Hardly a boom period for restaurants, but, the always-average Zaap Thai with its more central location never fails to attract custom; disciples seduced by a neon messiah (note to self: check I haven't just plagiarized a Depeche Mode lyric), so is the quietness a symptom of its location?
"A much-needed slap across the face" - Som Tum salad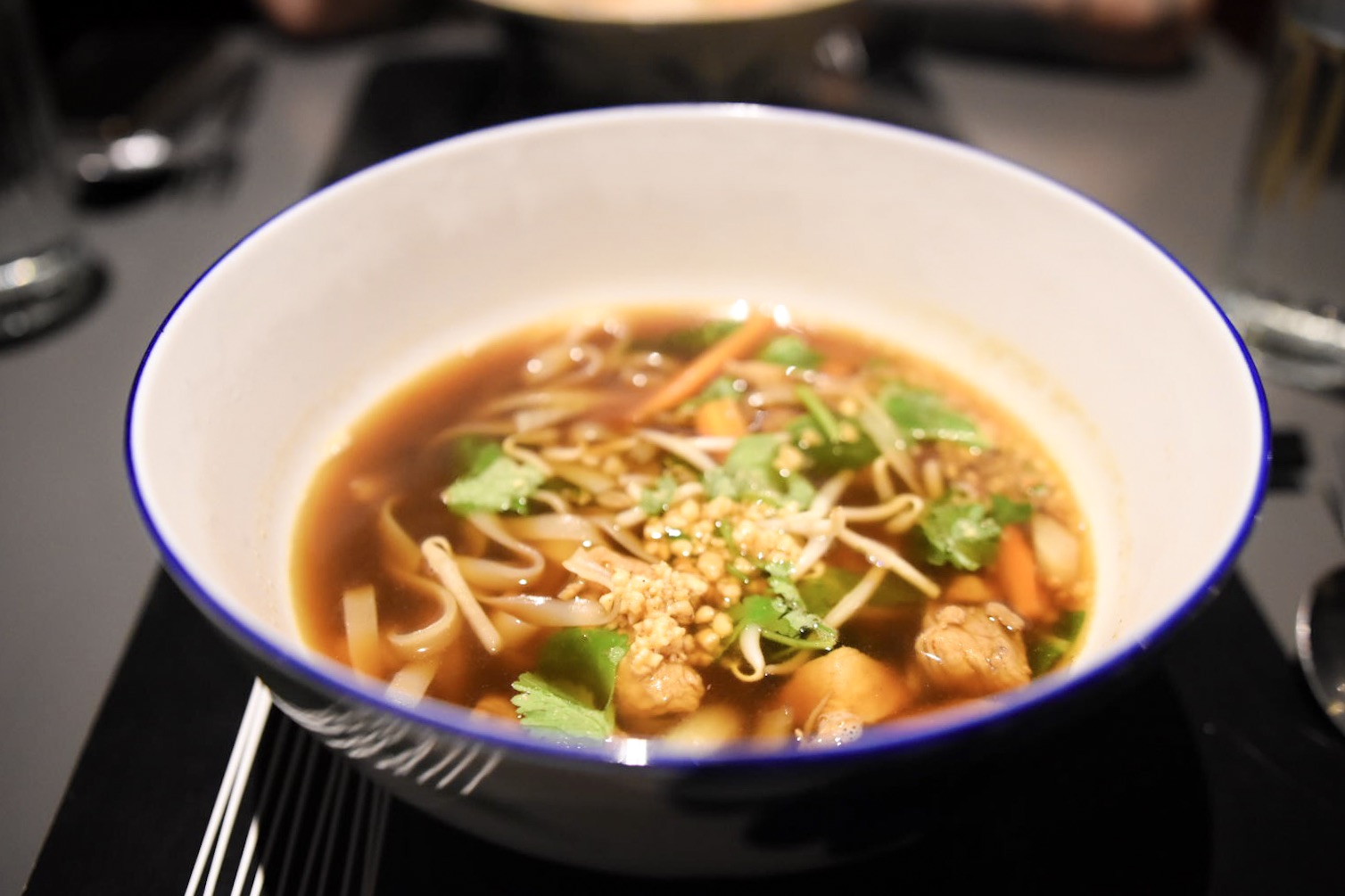 "Real nourishment" - Guey Tiew Nam
Well, it's not the food's fault. Maybe it's the menu's? It covers all the usual bases - deep fried starters, soups, salads, curries, stir fries and rice and noodle dishes - and can feel like a bit of a chore to work through. This isn't even its final form, though. The really interesting stuff has been taken off the printed menu - perhaps not a big hit with the lunchtime crowd - but it's still on the website, and they'll still make it for you if you ask nicely.
So we did.
Som Tum salad (£5.95), with its finely-balanced sharp heat from lime and chilli was a much-needed slap across the face, with a bit of depth from dried shrimp and fish sauce to keep you going back for more. Tom Yum soup (£5.95) is its more fragrant, slurpable little sibling, lightly humming of lemongrass and sweet with prawns - but real nourishment came from Guey Tiew Nam (£5.95), a broth of near-consomme richness, sweet - almost sticky-tasting - but without being cloying, bathing a tangle of rice noodles, slow-cooked beef, and barbecued pork. It's stuff of real sustenance, without the mental and physical sensation of drinking a hog-smoothie that you get when eating tonkotsu ramen.
Sinus-battering salads and soups for the soul out of the way, Pla Tod Foo (£7.50) is best described as 100%, categorically Not January™. Minced fish, deep fried beyond all recognition into sticky, chewy floss, the colour of copper - jolts of fresh pineapple and papaya and spikes of raw red onion punctuate, but the main draw here is the umami and the texture - like spicy scraps from the chippy, or fish sauce-toffee popcorn. If that doesn't turn you on then we're fundamentally different people.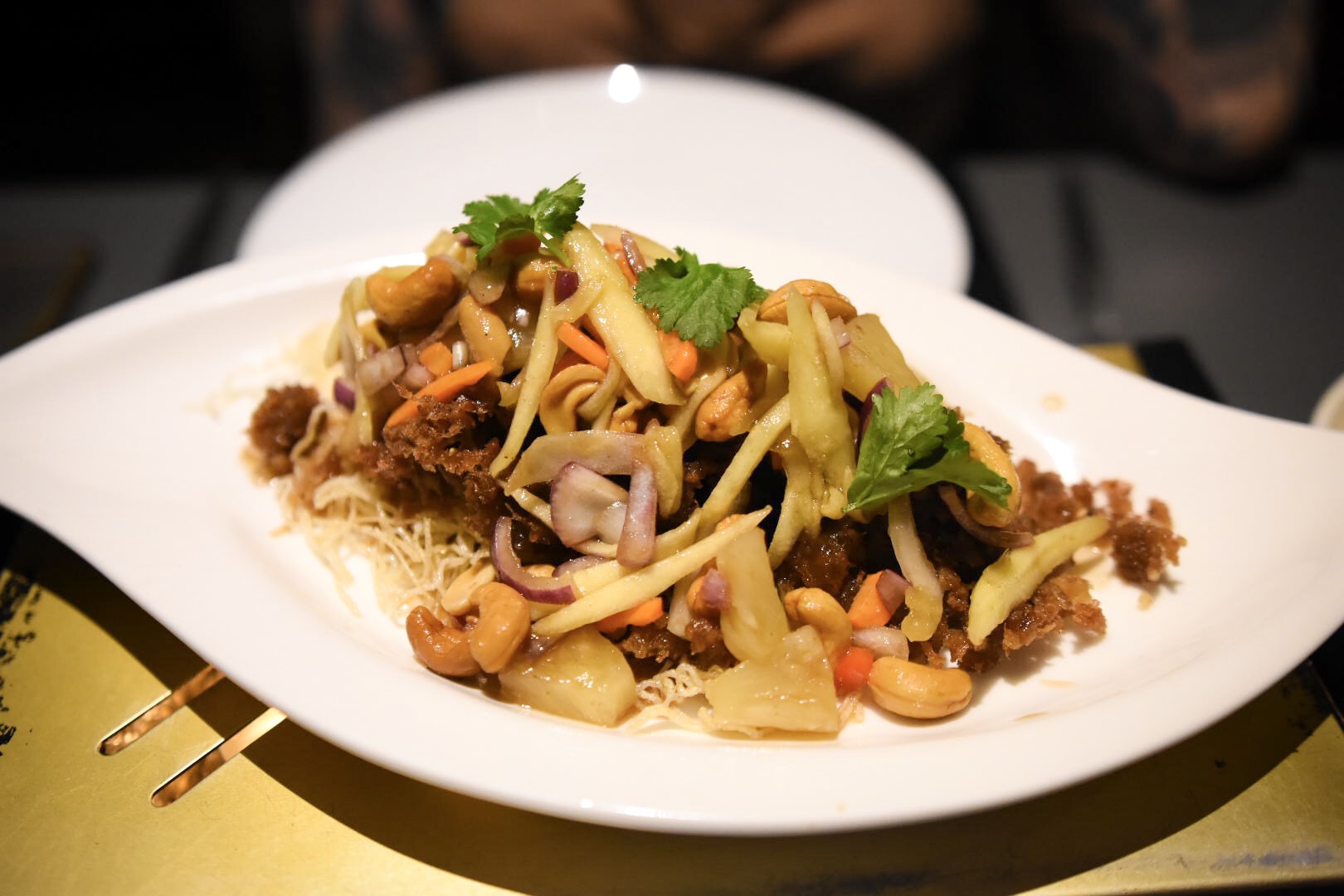 "Fish sauce toffee popcorn" - Pla Tod Foo
Any deep fried dish is reliant on the oil it's cooked in - in this case it did taste a little fatigued, as if it carried the stresses of a long day with it, but I'd be keen to try it again.
Pad Broccoli (£4.50) falls short of Thai A Roi Dee's exemplary version, and sticky rice takes the dish to its logical extreme - so glutenous and, well, sticky, that it becomes a singular entity. Tiny, wild horses would struggle separate the grains from each other. Might be fun to watch them try, though.
Despite these niggles, plus an awkward lack of atmosphere and secretive, limited menu, I still found fondness for Line Thai, and if people venture into the brave new world of slightly-east-Great George Street, they might do, too.
Line Thai Oriental, 39 Great George Street, LS1 3BB
Rating: 12/20
Food: 6.5/10 - Som Tum Salad 7, Tom Yum 7, BBQ Pork & Beef Soup 8, Crispy Minced Fish 7 , Pad Broccoli 5 , Sticky Rice 5
Service: 3.5/5 - Attentive, quick, and accommodating to off-menu requests
Atmosphere: 2/5 - Harsh lighting, but fine for a cheap-eats place, would score higher if there was more of a buzz.
PLEASE NOTE: All scored reviews are unannounced, impartial, paid for by Confidential and completely independent of any commercial relationship. Venues are rated against the best examples of their type: 1-5: saw your leg off and eat it, 6-9: Netflix and chill, 10-11: only if you're passing, 12-13: good, 14-15: very good, 16-17: excellent, 18-19: pure class, 20: cooked by God's own personal chef