I'M GOING to show my hand early here, and say that Art's Cafe is a gem. There we go. You can sack off the rest of the review if you want, and just book a table - save us all five minutes (click some adverts while you're here though, don't be a freeloader)
You don't last 22 years in the game by being unpopular, or by not being good at what you do. Bloody hell they're good at what they do.
Still reading? Also good. Art's is the kind of place that, if airlifted and plonked into a suburb like Roundhay or Chapel Allerton, people would clamber over each other to espouse its virtues to anybody who'll listen. I'm guilty of it myself. Ask me to name my favourite restaurants in alphabetical order, and I'll still find a way of sneaking Zucco in my first breath.
As it is, residing on Call Lane, it seems to get unfairly overlooked. Despite The Lane going legit in recent years - last week they finished extending the pavement, reducing the amount gutter to pass out in - for most of the 22 years Art's has been there, it's been the type of area where you wince every time somebody lights a fag, in case it ignites the atmospheric liquor fumes and the whole postcode goes up in flames.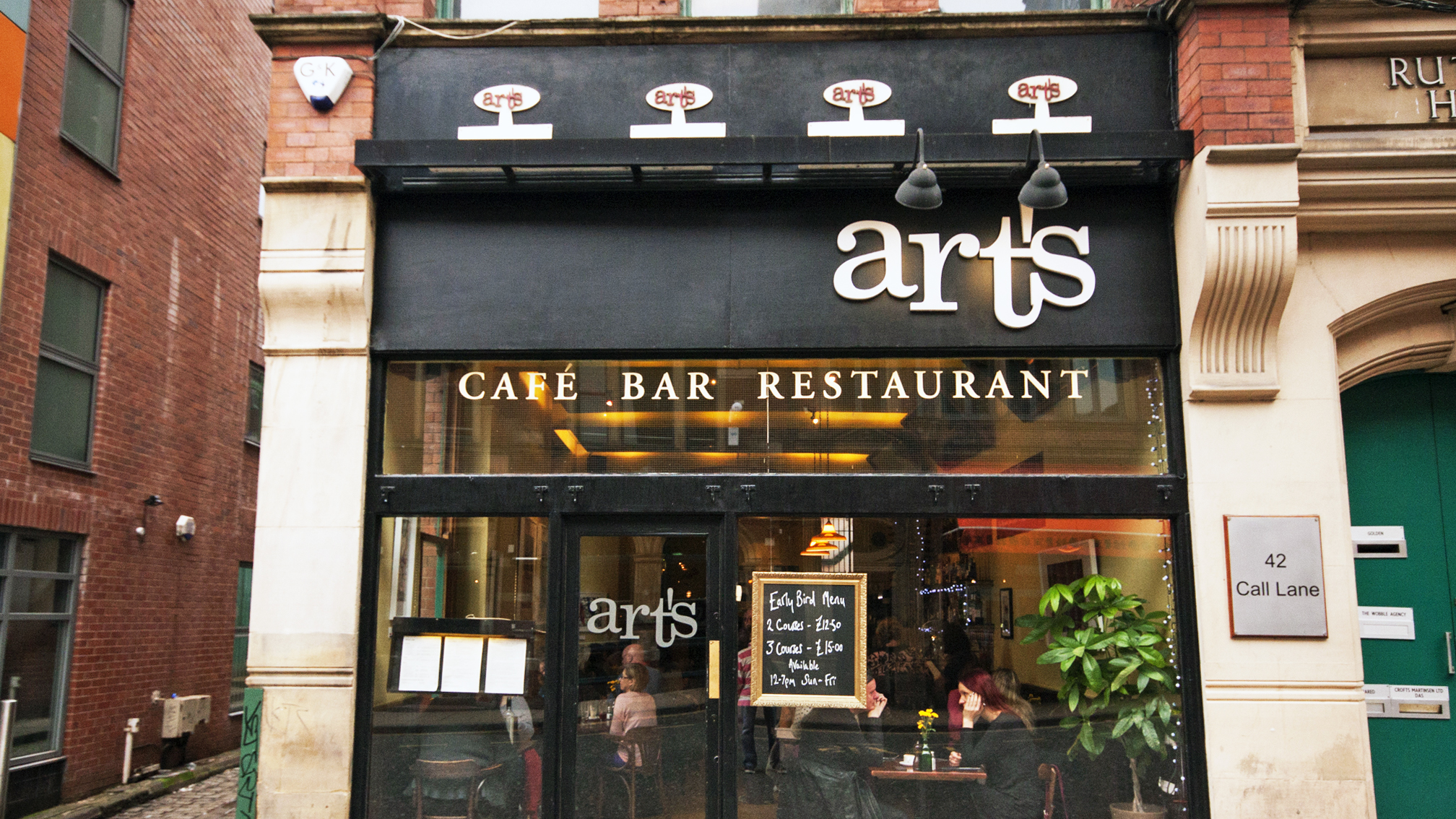 Arts Cafe, Call Lane
Still, people embraced its neighbourhood bistro charms that combine home comforts with restaurant flourishes, and a drinks selection to rival any of its Lane-mates. You don't last 22 years in the game by being unpopular, or by not being good at what you do. Bloody hell they're good at what they do.
The menu is full of modern British staples - fish cakes and terrines and pork belly and sticky toffee puddings - but with imagination and creative touches that suggest the head chef not only has creative control, but actually, genuinely gives a shit. It's brilliant.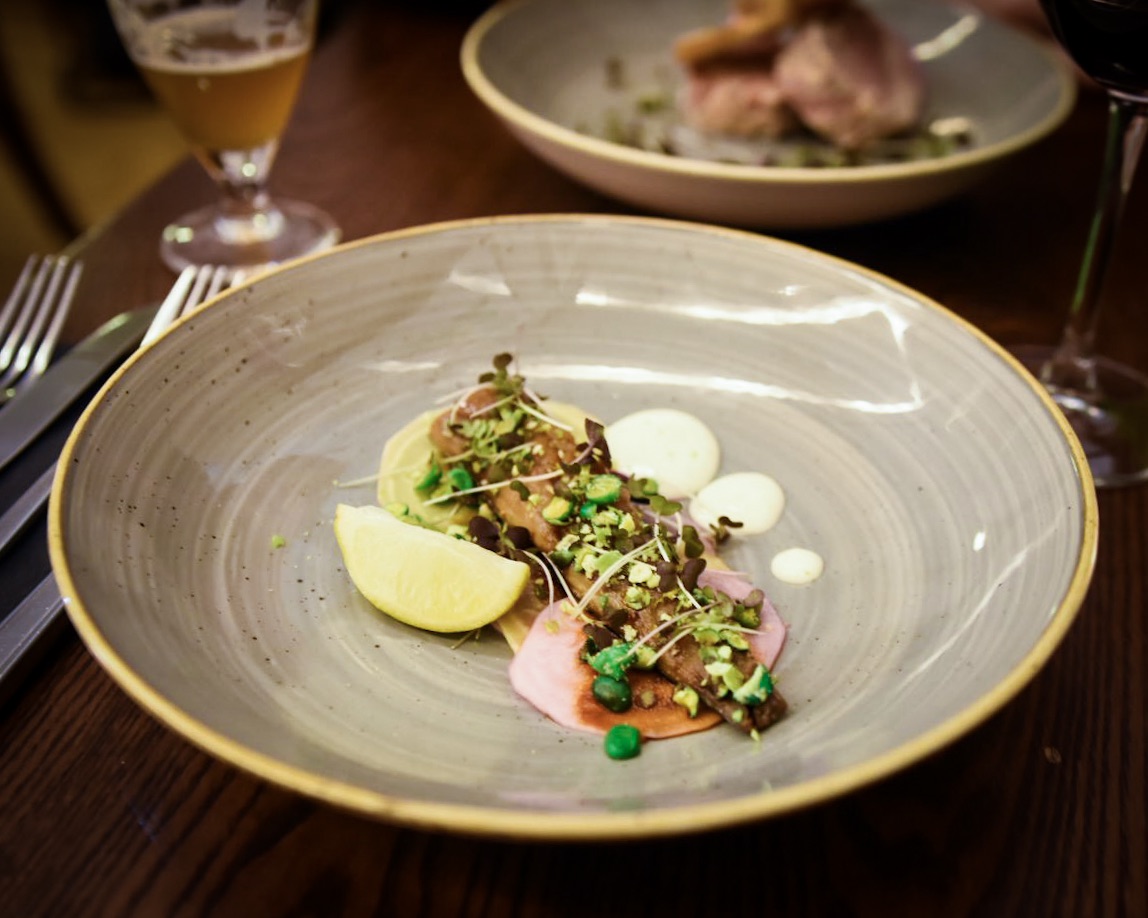 Ponzu-cured Mackerel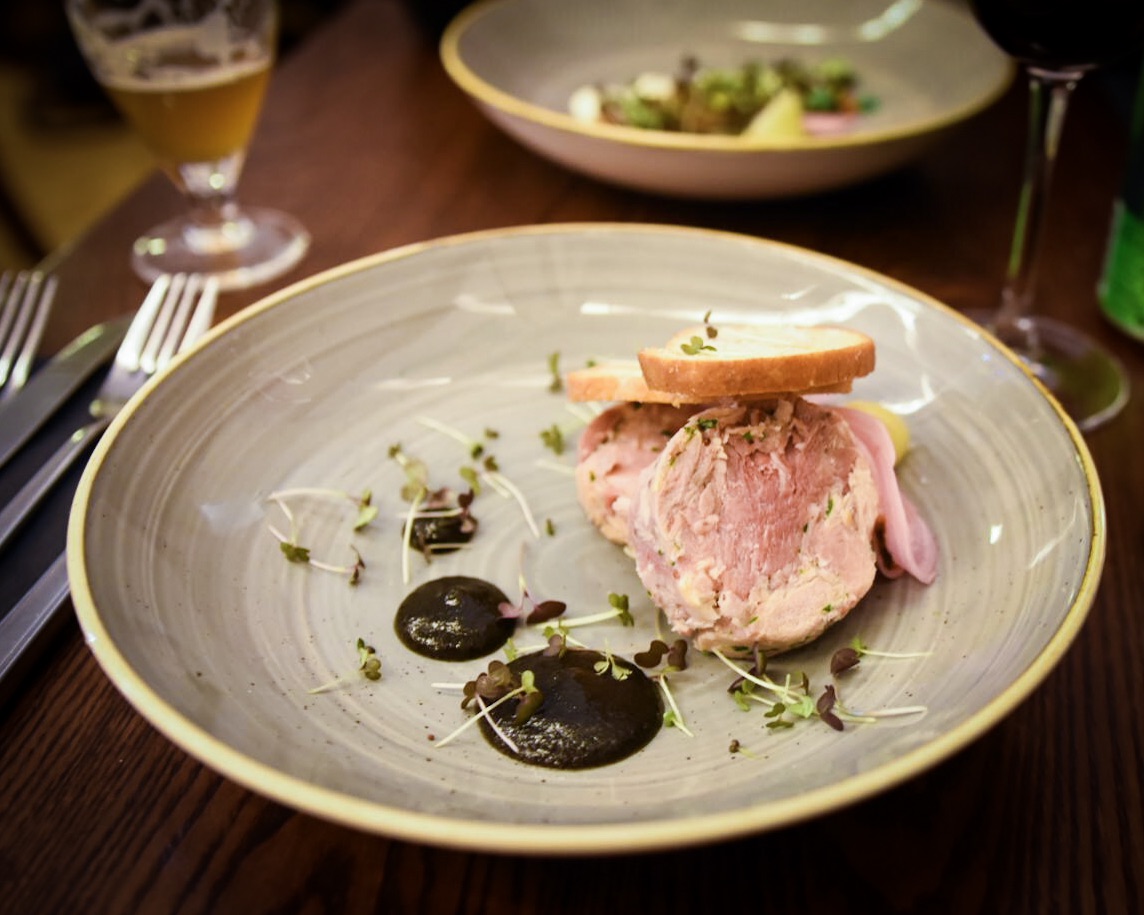 Rabbit & Ham Hock Terrine
Seasoned eaters like yourself might not bat an eyelid at Ponzu-cured Mackerel (£6) on a brusque tasting menu somewhere painfully trendy, but in this context, where standard-issue gin-cured salmon is usually enough to elicit oohs and ahhhs, it's verging on outrageous. It's also delicious, with the nasal heat of wasabi peas and tang of lime mayonnaise and sharp-pickled turnips and radishes hitting all the right notes. Rabbit & ham hock terrine (£6.50) is served as two thick slices; stocky bruisers lacking in much grace, but satisfyingly coarse and meaty. The Mitchell brothers reincarnated as a small plate.
The steak-game has been upped in Leeds in the past 18 months or so - a grilled tomato and mushroom accompaniment won't do anymore. Art's chargrills a mean rib-eye (£17) and ups the ante with a black garlic and truffle butter. Even the pan-fried chicken breast (£14.50) - usually a compulsory addition to the menu, for the benefit of people who want to eat in restaurants but don't actually like food - comes with braised chicory, and mushroom and Jerusalem artichoke gnocchi. Fluffy polenta chips (£3) are guarded by a golden-frosted perspex exterior with brilliant crunch; hot fat contrasting with a peppy aioli dip.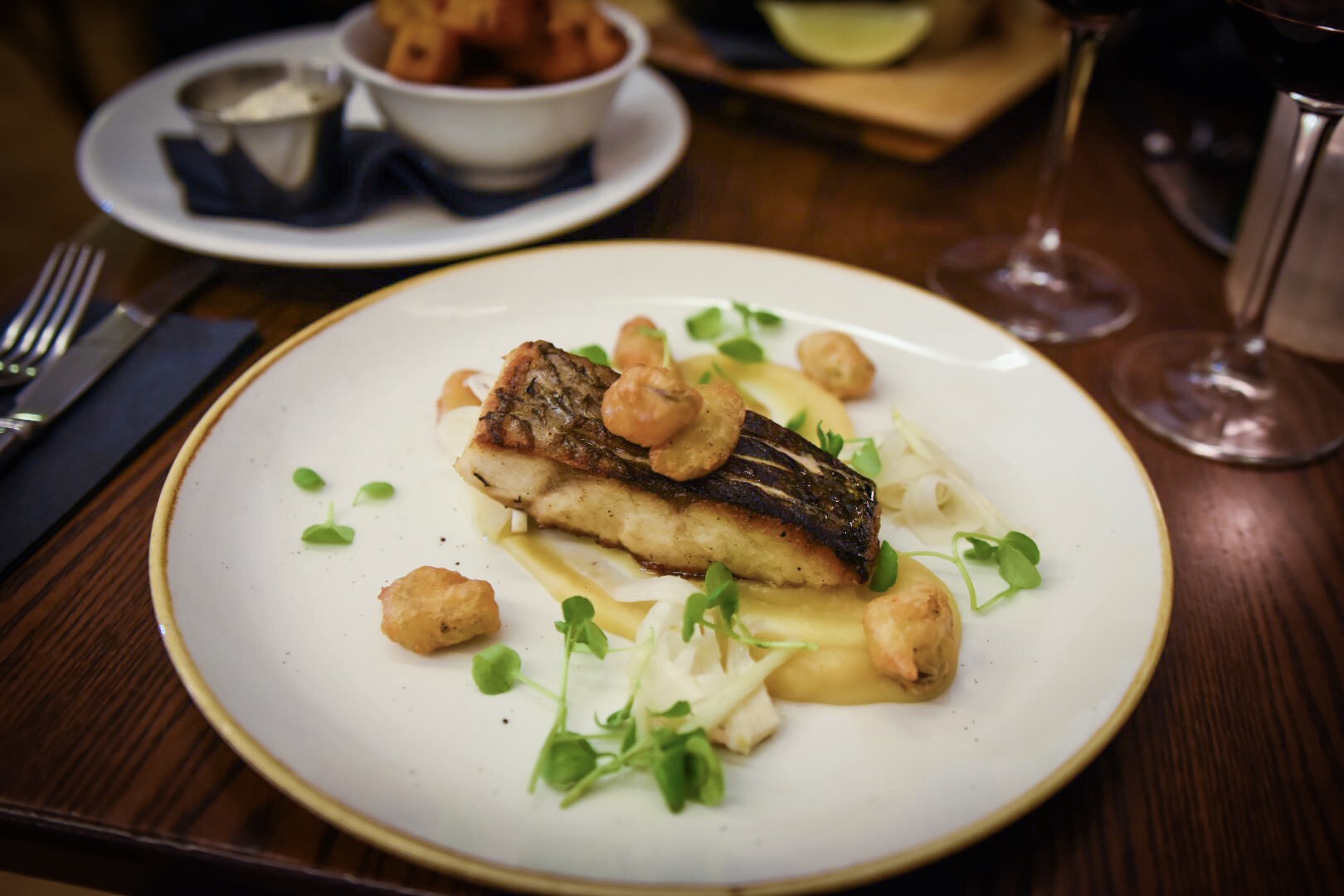 Stone Bass with Tempura Mussels
Straying from the format of the rest of the dishes is the Fresh Fish of the Day (£13) - a hunk of pan-fried stone bass on top of a parsnip puree, scattered with tempura mussels, it's more the kind of curated, assembled plate that you'd expect to see in upmarket sister-restaurant Shears Yard, and it's executed with gusto.
Smoked haddock crumble (£9) on the other hand, is the platonic ideal of what a place like this would serve - parmesan-panko crumb concealing a creamy sauce studded with topaz flakes of smoky fish. It's more comforting than having your hair stroked by Nigel Slater; an ideal dish for soothing all post-Brexit, post-Trump, post-truth anxieties.
There are niggles, but not with the food - that said, sticky toffee pudding (£4.95) could do with more dates and fewer micro-herbs. Make that no micro-herbs.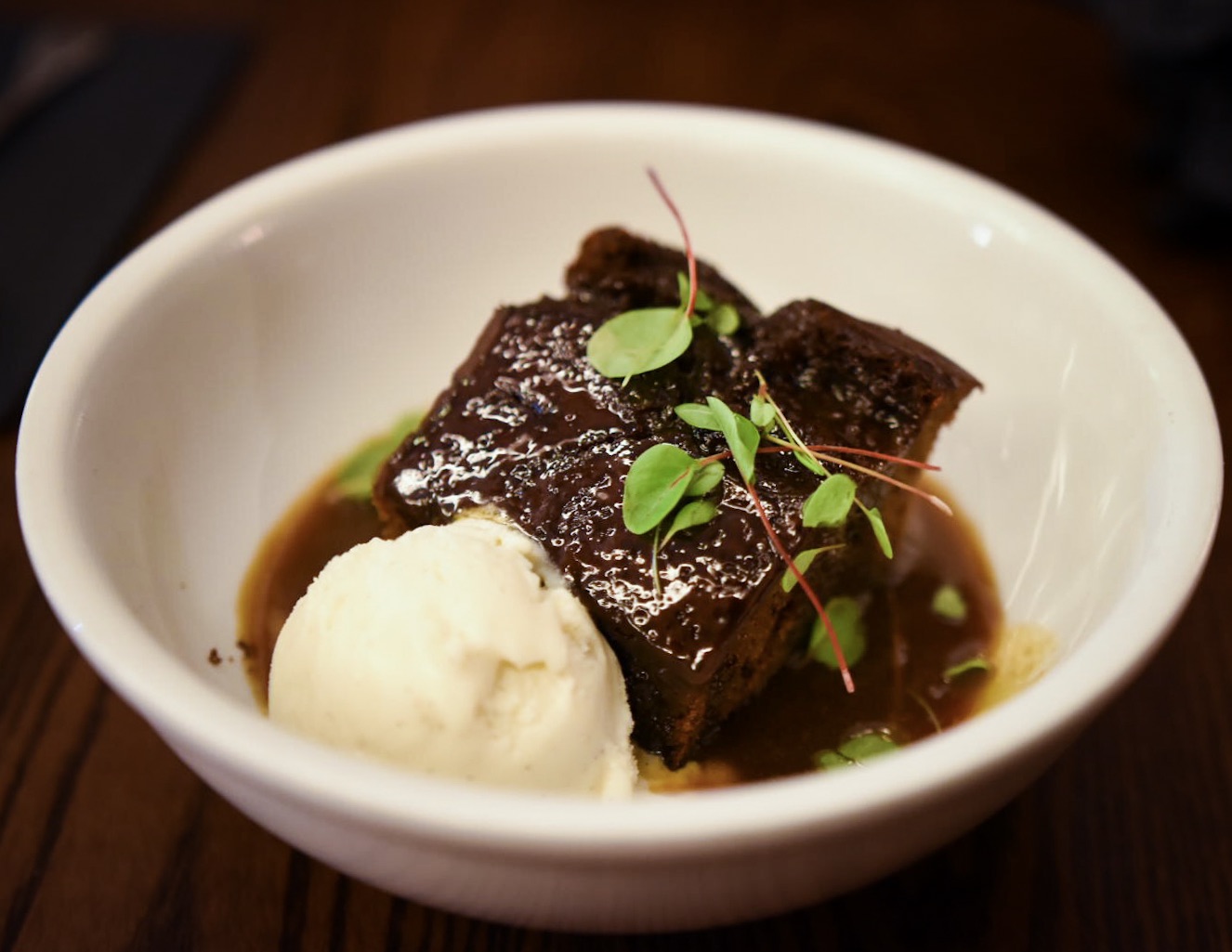 Sticky Toffee Pudding
Service tends to bumble on occasion, with attempts to take our order before we'd ordered drinks, and again when we were waiting for an answer to a question for the kitchen. Gratuity is added onto the bill automatically. I can understand the necessity of this for larger tables, but for a table of two it made the meal finish on a frustrating note, being told to do something you were going to do anyway.
What else? There's an Early Bird menu - brilliant value at £16.50 for 3 courses - but it's very limited, and half of the options are timid and safe. You might be able to tell I'm trying very hard to appear balanced here, as there's not an awful lot to find fault with.
With its fancy new pavement, growing number of dining destinations, and being in direct lineage to the international spirit brand opening a multi-million pound 'gin hotel' in London later this month, Call Lane doesn't show any signs of slowing down when it comes to scrubbing up. If it continues then hopefully Art's will start to get the recognition it deserves, failing that, relocate to Oakwood and watch the foodies fawn.
Art's Cafe, 42 Call Lane, LS1 6DT
Total: 15/20
Food: 8/10 - (Ponzu-cured Mackerel 8, Terrine 8, Haddock crumble 9, Stone Bass 7.5, Polenta chips 8, Sticky toffee pudding 8)
Service: 3/5
Atmosphere: 4/5
PLEASE NOTE: All scored reviews are unannounced, impartial, paid for by Confidential and completely independent of any commercial relationship. Venues are rated against the best examples of their type: 1-5 saw your leg off and eat it, 6-10 stay in with Netflix, 11-12 if you're passing, 13-14 good, 15-16 very good, 17-18 excellent, 19-20 pure quality.