MIDWAY through our roast dinner, it strikes me. Bringing my Mum - who spent eighteen years of Sundays toiling over joints of beef and potato in three forms just for my benefit - for a Sunday dinner of this quality might be considered insensitive. At best passive-aggressive, at worst downright cruel - like forcing your tubby boyfriend to watch Magic Mike, while you marvel at every glistening ab and every gyration of Big-Dick Rick's hips (Not that I'm speaking from experience or anything...)
They're not cooking for status, recognition or glory, they're just cooking great food
Generously-portioned meat and two veg (I'm talking about the food again now, not Magic Mike), crowned with a homemade Yorkshire pudding and ambrosial gravy, this really was a textbook Sunday roast (£12.50). But that's not actually what we'd come for.
The seeds of our trip were planted when Mum was last here, when we'd called in to The Reliance for a night-cap after eating at the neighbouring Swine That Dines. Our attention was drawn to the many chalk boards in the bar listing whatever guest beers, wines, charcuterie and specials were passing through - enough to place it firmly within the 'places to take the parents next' list.
And we've all got one of those; an arsenal of safe choices to draw on once dad initiates code-red by suggesting a trip to Morrison's caf'. Places that are interesting enough to explain why you moved four hours away from them, but unpretentious enough to dispel any accusations that 'the big city has changed you'. Hustle and bustle is fine, but the ambience must be conducive to a sensible level of conversation - usually Mum's less-than-subtle hints about wanting a grandchild.
It's a competitive and narrow market, but one that The Reliance manoeuvres through like a ballerina with Robocop-vision. The menu is split into smaller plates and larger plates. The aforementioned specials push the envelope a little more, emphasising the 'Modern' in Modern British cooking. Salaciously pink pigeon breast (£7.50, main image) comes thinly sliced, entwined with ribbons of courgette. The whole thing's been given a bit of a temper courtesy of the chargrill, as well as dukkah and a harissa-yoghurt dressing. Fragrantly herbed ricotta, encased in courgette flowers (£7.25) has a tempura batter so crisp and firm, I can't tell whether they've been deep-fried or ogled by Medusa.
From the seasonal menu, sardines (£7.25) come as three big lads with their shimmering skin crisped from a hot pan; flesh surrendered in satisfying chunks, to mingle with a fresh, clean tomato and seaweed salsa. A terrine of ham hock (£6.25) swoons over crisp sourdough with only slight encouragement from the knife, crisp piccalilli complements its intense, heady porkiness.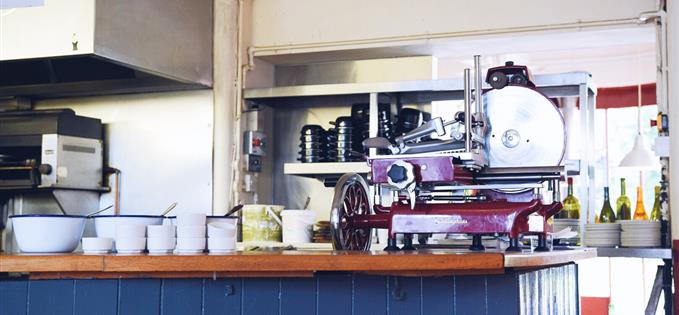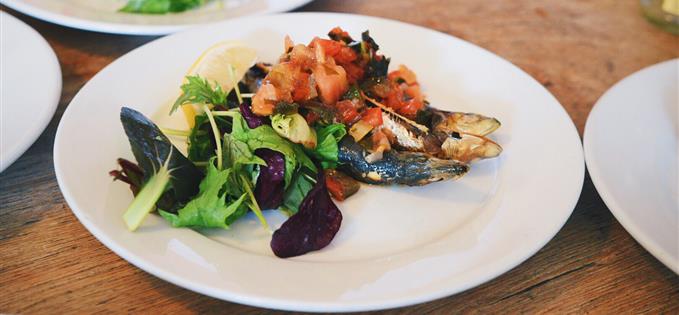 It's likely the hock started off downstairs in the curing room - a feature that makes The Reliance unique. In there they let time, protein and chemistry do their thing, yielding velvety prosciutto, salamis with fennel, and heavily-marbled coppa. There are infinitely worse ways to spend an afternoon than working your way through the extensive beer and natural wine selection with a homemade selection of charcuterie in front of you.
There's a little disagreement at our table over the Porcini arancini (£6.75). I suggest it's a little tightly-bound, but I'm assured by my other half that I'm wrong. We do agree that the blue cheese mayonnaise could have done with a bit more backbone, but they're only minor niggles.
What I love about The Reliance is that rather than falling into the trap of clichés that plague so many other Modern British restaurants and gastropubs (you know, solitary fishcakes plated with Snickers-sized chips in Jenga towers), it's a place that balances awareness of what's happening around it with complete assurance in what they do. They're not cooking for status, recognition or glory, they're just cooking great food. And they can cook for me whenever they like. Sorry mum.
The Reliance, 76-78 North Street, Leeds LS2 7PN
Rating: 17/20
Food 8.5/10 - nine dishes between 4 people, and the only fault was with a condiment
Atmosphere 4/5 - open kitchen, towering ceilings and a dining-room bathed in sunlight
Service 4.5/5 - knowledgeable with crouching-at-the-table friendliness
PLEASE NOTE: All scored reviews are unannounced, impartial, paid for by Confidential and completely independent of any commercial relationship. Venues are rated against the best examples of their type: 1-5 saw your leg off and eat it, 6-10 stay in with Netflix, 11-12 if you're passing, 13-14 good, 15-16 very good, 17-18 excellent, 19-20 pure quality.
Food

nine dishes between 4 people, and the only fault was with a condiment

Atmosphere

open kitchen, towering ceilings and a dining-room bathed in sunlight

Service

knowledgeable with crouching-at-the-table friendliness