CROWDS flocked to Leeds Dock in April when the city's prime waterside destination hosted the very best in music, art and digital innovation for the Leeds Digital Festival.
Leeds is the latest stop on our current global tour, which has taken us to Vancouver, NYC, Shanghai and London
The six-day event (25-30th April) celebrated digital culture in all its forms with seven mind-bending interactive and immersive digital art installations from the internationally-renowned Lumen Prize Exhibition, nights of music and visual performance and a 'retro' Sega versus Nintendo play-off.
Among the Lumen Prize exhibits was 2015 prize winner MAN – A, a unique piece of 'camouflage art' that sees life burst from seemingly flat geometric surfaces of distorted patterns and military dazzle by those using an augmented reality mobile app. Headline piece, Portee, saw luminous wires stretching down from towering concrete pillars, mysteriously linked to a solitary grand piano being played like a giant harp.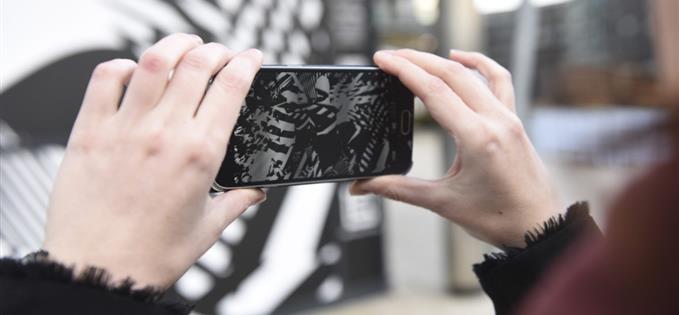 MAN – A, at Leeds Digital Festival
Friday night saw a melting pot of music and art, with Leeds Dock housing a 'Bring Your Own Beamer' night on 29th April – a creative free-for-all night of moving image, projection, participation and experimentation with Released record label and Leeds College of Music.
Carla Rapoport, Director & Founder of Lumen Prize Exhibition, said:
"The Lumen Prize is delighted to be part of the Leeds Digital Festival this year and will be bringing a dazzling range of digital art from all over the world to this exciting event. Leeds is the latest stop on our current global tour, which has taken us to Vancouver, NYC, Shanghai and London. We're excited to be in the North of England for the first time and look forward to encouraging local artists to enter the prize and be part of the tour for 2016/17."
Full details about Leeds Dock and the Leeds Digital Festival are available at Leedsdock.com and leedsdock.com/events