I FIRST met Mario Olianas a couple of years back at his market stall in Briggate Market, but his Cena Sarda dining clubs are something I've wanted to attend for some time.
This is about getting up-close and personal with one of Yorkshire's finest Italian chefs
Getting a call to say there was a place on the sold-out Cena Sarda fourth birthday evening was not the best prep for my planned summer bikini body diet (predominantly revolving around rice cakes and raw food), but the opportunity was too much to pass up.
As well as his supper club and market stalls, Mario also runs Taste of Italy nights, cookery demonstrations and private Italian cookery classes. He also finds time to make his own pecorino cheeses - two of which have won gold awards. You can find them on sale on his market stall along with speciality pork meatballs, cannelloni, fresh Italian donuts and home-made bread. This gives you a general idea of what to expect at the dining club.
The secret supper club location, revealed just before the event, turned out to be the Lutheran Church in Headingly – a big old house, nestled among leafy tree-lined streets. There, Mario and his wife Sonia greeted guests with a glass of Prosecco and a friendly smile. The first of four courses had already been laid out on the table and in itself was enough to feed a small army. A platter of sheep's milk cheese, mounds of ricotta, a meat platter of mortadella, prosciutto, salami, along with baskets of breads, sundried tomatoes, roast aubergine and pickles. I might not be a qualified cheese judge, but those cheeses are well worth their gold awards, and the smooth creamy ricotta melted in the mouth, especially when piled on crusty bread and topped with a strip of prosciutto.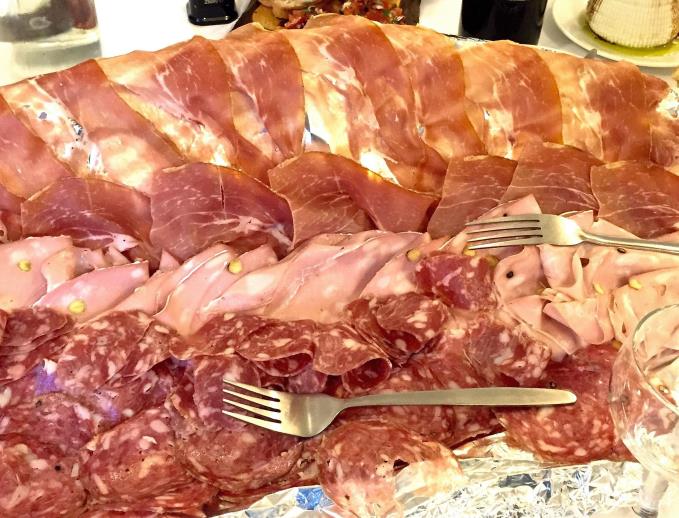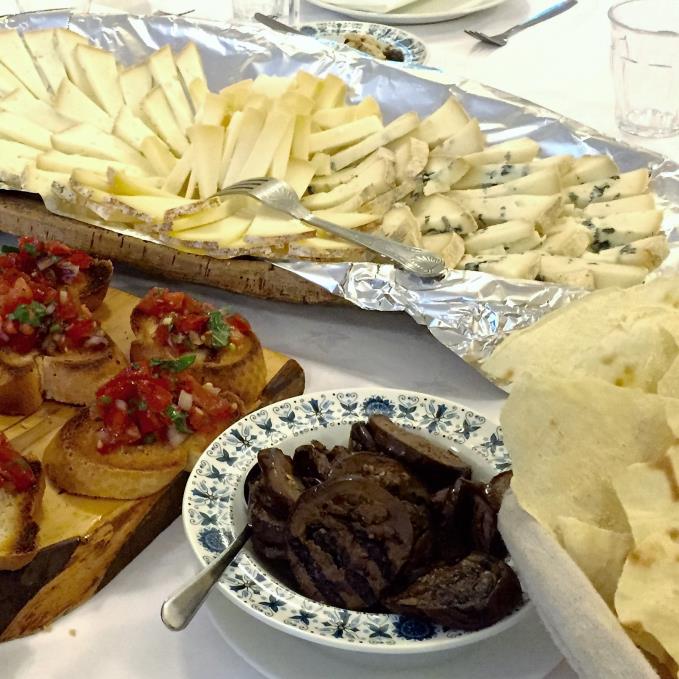 ...and that's just the starter?
The second course was super-fresh Gnochetti Pomodo Basilico Pecorino. Hand-made gnochetti; pasta shaped like a curved shell with ridges (ideal for scooping up sauces) had been tossed in chopped basil and tomato just before it arrived on our table. Mario advised us that simply adding a drop of fine olive oil would enhance every deliciously summery and light flavour.
The pièce de resistance (sorry, wrong language, perhaps 'coronamento'?) was suckling pig. Mario expertly separated the boned parts and the meatier cuts onto two platters – so those getting stuck into ribs could differentiate. Served with a zesty fennel-based side salad, the meat was tender, full of flavour and literally falling off the bone. This dish perfectly illustrated exactly what traditional Sardinian food is about - simple, natural, well sourced and very tasty.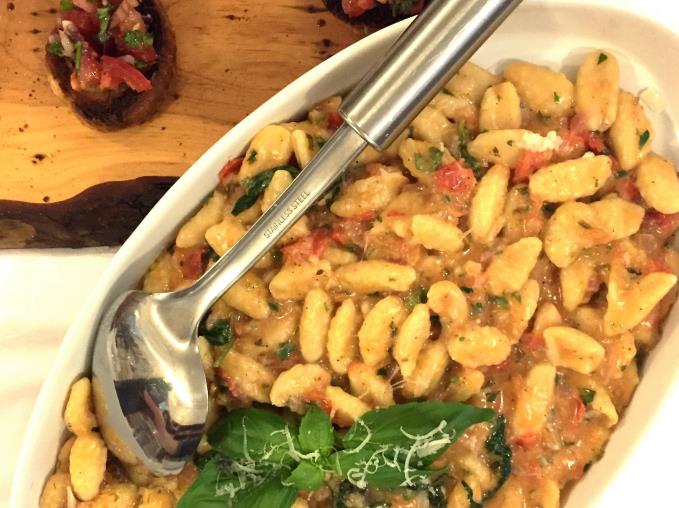 Gnochetti Pomodo Basilico Pecorino
Major treats were lined up for desserts which included a simple blackcurrant mousse with fresh berries on the side to compliment the Olianas speciality, an Italian donut. Served with espresso, and a variety of grappa to finish, it was an enhanced donut experience altogether.
Cena Sarda Dining Club is all about getting up-close and personal with one of Yorkshire's very active and hands-on Italian chefs. It really did give a superb and informal Sardinian experience; guests serve themselves at the table, chat to the other guests (around a dozen at each event) and immerse themselves in a friendly atmosphere with the help of traditional food, and great wine. This turned out to be an extremely happy meal and one I'd highly recommend if you're up for a laid-back evening with some very good grub.
Book yourself onto the next Dining Club here. Tickets are typically priced £35 all-in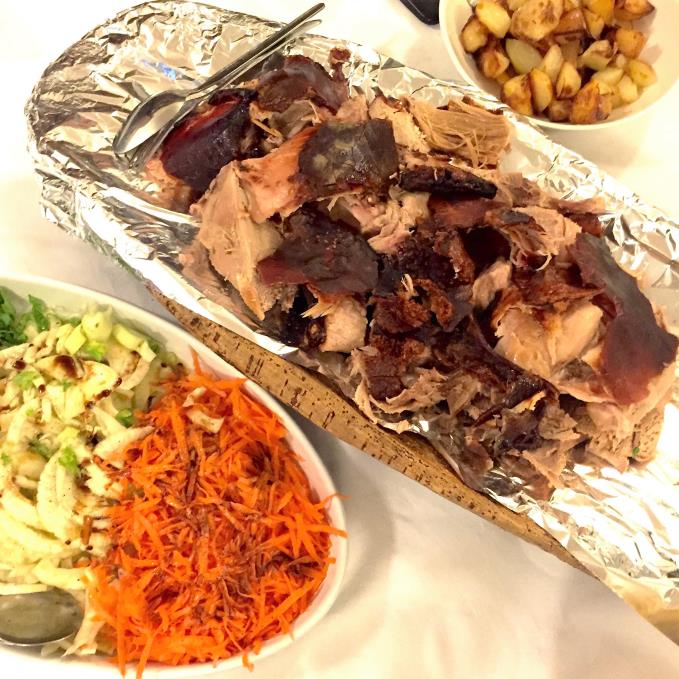 Oohh that suckling pig