It's the beginning of October, students are back and settled but Leeds International Film Festival is a couple of weeks off yet, that can only mean one thing. Light Night is back. And it's so much bigger than before - one whole day bigger in fact.
The end of this week marks the 12th anniversary of the multi-arts event, and this year you can spread those 'oohs' and 'ahhhs' over two evenings of installations and performances across our beloved city.
Between 6-11pm on Thursday the 6th and Friday 7th October, the city will transform into an entrancing medley of over 50 art pieces, including light projections (obvs), street performances, exhibitions and music.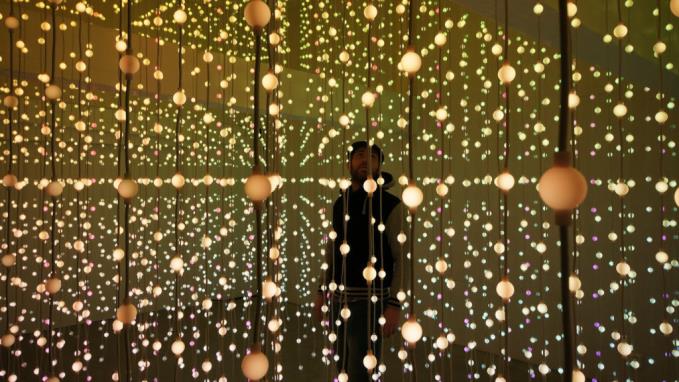 The city will be split into 10 zones, each with a programme of events that sees Leeds landmarks – Millennium Square, The Queen's Hotel and Trinity to name but a few – transformed by local and international artists.
And if that wasn't enough, the whole thing is completely free. Those darlings at Leeds City Council are even providing a Light Rider Bus: a free hop on/hop off bus service running all night, every 15 minutes, with stops in every zone.
Further details, including a full schedule, map and bus drop off points can be found at www. whatson.leeds.gov.uk/lightnight - but if you want to hear our top picks, allow us to 'illuminate' you (couldn't resist)
Light Triathlon
If there's one thing I think of when I hear the phrase 'light show', it's obviously a triathlon. So, it appears, do the fabulous organisers of the aptly named Light Triathlon: a triathlon themed procession, whereby you can watch people from all over Leeds walking, running, cycling and perspiring their way down The Headrow; sweat glistening provocatively in the swathes of dancing light cast by the Lanterns parading the same route. And if that's not poetic enough for you, plonk yourself down in the Victoria Gardens at 8:20pm to shower participants in congratulations.
Thursday, 7:30-8:30, The Headrow, LS1 3AA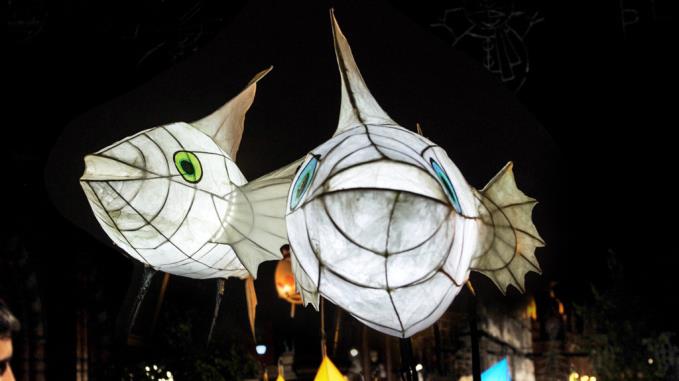 BREAD Art & Eve Harrison
Now this is snazzy. Set in the Trinity Atrium on both nights, gaze upwards and find yourself beneath a landscape painted by thousands of lights embedded in every corner of that glorious roof. The best part? The display is accompanied by a ground breaking musical score, created by – wait for it - the interpretation of environmental data collected throughout the day. Tune.
Thursday & Friday, 7:30-10:30 (check website for showtimes), Central Atrium, Trinity Leeds, Albion Street, LS1 5ER
The Phoenix in the Stone
The pièce de résistance of Light Night, Illuminos return to the stage (Millennium Square to be exact) with the awe-inspiring fable 'The Phoenix in the Stone' – a story for the four quarters of Yorkshire, using shadow, light, and the capture of imagination. This one's the big one, and it's likely to be the most ram-packed: It's hotly tipped to be a step up from the epic 'Momentous' of 2013, and definitely worth an ogle.
Thursday & Friday, 7:30-11, Millennium Square, LS1 1UR
Apparatus Florious
The brainchild of Tom Dekyvere, this installation is a masterpiece of geometric proportions. The structure presents the growth of a plant searching for light through a series of geometric patterns, intertwining and growing amongst each other. The work provocates the relationship between human adaption and the digitisation of our natural environment, so if you're feeling philosophical, and maybe a little botanical then this is your cup of tea.
Thursday & Friday, 6-11pm, Park Square, LS1 2NU
Waterlight Graffiti
Now, if it's interactive, I am SO there – to participate, but also probably to break things. Enter Antonin Fournea, the French artist behind 'Waterlight Graffiti', a wall embedded with thousands of LEDs that light up if their surface is touched by water. If it's damp, you can write with it: sponges, brushes, water guns, anything. This is the result of a research project based around water-sensitive materials, and is arty, fun AND eco-friendly.
Thursday & Friday, 6-11pm, Victoria Gardens, The Headrow, LS1 3AA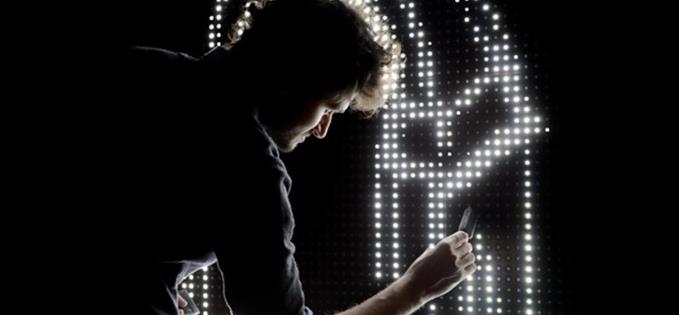 Giant Dandelions
If, like me, you've always felt that the Merrion centre and gardens have been missing a certain pizazz, look no further. Turns out that what it's always needed is actually 90 giant lit dandelions made of 9,000 recycled bottles, and low and behold Olivia d'Aboville comes to the rescue with this thought provoking art installation that highlights our consumerist society and its impact on our environment.
Thursday & Friday, 6-11pm, Merrion Gardens, Merrion Street, LS2 8JG