In September of 2014, a campaign launched on the crowdfunding site Kickstarter announcing itself as 'A Divorce Before Marriage.' The money was being raised to help complete a feature-length documentary which followed the Leeds-based band I Like Trains recording an album after the (then recent) loss of their record deal.
Within six days, half of the requested £16,000 had been raised, and in less than three weeks the total had been reached. But things didn't stop there.
The starkly beautiful trailer suggested a film about more than just one band recording an album was on the cards, and extra rewards and stretch goals were added to the Kickstarter campaign until a grand total of £28,591 had been pledged to the film in just 6 weeks. From then on, save for the occasional blip of news with regards to filming, editing, and sound design, the process of generating and pulling together years of footage quietly rolled on.
And so it will come to pass that following packed screenings in London and Warsaw, the film will come home on Sunday 6 November when it's projected onto the familiar, silver screen at the Hyde Park Picture House, two weeks before the band reunite for a headline show at High & Lonesome festival around the corner at Brudenell Social Club.
It's just about a group of guys trying to make music, trying to make art and trying to live a creative life. That is what we wanted to shine a light on.
We had the pleasure of sitting down with Ben Lakeseter, who, along with Matt Hopkins corralled the film into shape, and I Like Trains singer and guitarist David Martin. The most obvious of questions, of course, is just how had he come to spend four years following I Like Trains around the continent?
"We made a series of music videos for 'He Who Saw The Deep', the I Like Trains record, and that culminated in our 'Sea of Regrets' vide. When they started to record 'The Shallows' we went into the studio with them in Wales, and the idea was to just sort of make a little album teaser."
It's easy to forget, when confronted with chart hits, ancient rock bands still selling out stadiums, and processed-indie arena fare, that the reality for many bands doesn't match up with a lot of what we hear and see from traditional rockumentaries. Ben and Matt were certainly surprised.
"We realised that they had office jobs around the music, and it was really interesting to us. We sort of thought of them as just a rock band yet all five of them had these desk jobs that were totally not to do with the band. They just had to generate income to support themselves."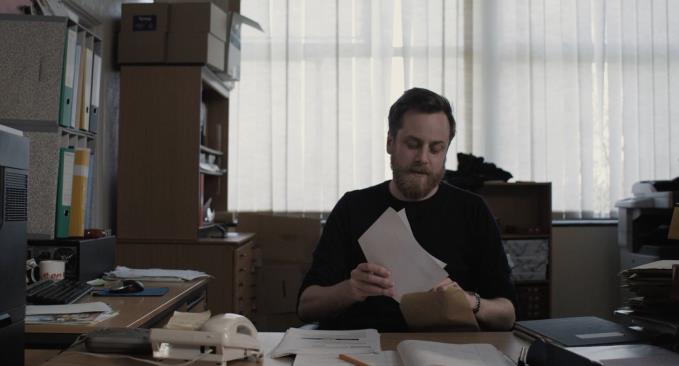 "(As film makers) we do a lot of commercial work that pays for our passion projects, so we sort of thought let's continue this conversation - follow them to their work and see where it takes us."
Ben went on to freely admit that they had absolutely no idea for anything tangible at that point, and certainly no plans to spend years on something. Dave from the band remembers them, eventually, making a plan of sorts.
"Matt and Ben came to us and they said that they'd like to make this feature-length documentary about the band, to which we were fairly surprised! And the initial reaction was 'ok, but I don't want this to be a vanity project. I don't want it to be just how great the band is." The filmmakers took this on board, went away and wrote up a proposal, and presented it to the band.
"They came back and said they want to make a documentary that is based around the band, but also about balancing life and being creative without being vastly successful, and all the challenges that it entails." He pauses for almost long enough for me to consult my notepad for the next question-
"They probably didn't know what they were letting themselves in for. I don't think for a second they thought they would be following us around with cameras for the next four and a half years!"
So, if you're keeping count, that's neither filmmakers nor band that planned on spending the best part of half a decade together. So what happened that led Ben and Matt making their first feature film?
"There's a point in the film where Dave talks about how their story isn't this incredible story" Ben tells us. "It's just about a group of guys trying to make music, trying to make art and trying to live a creative life. That is what we wanted to shine a light on. We didn't even want it to be just a music film, we wanted it to be a film that any creative person can relate to and find a lot of meaning in."
Dave and the band, agree. "It's four years of my life compressed into this film, but it's a slightly odd one in that it's an unexceptional story!"
It seems that everyone involved, and including all 561 Kickstarter backers, found something to care about in an unexceptional story. Ben again; "It's a universal story even though it's about a band. There are so many bands like that, and we wanted this one particular band to hopefully speak for loads of other people in their position."
Unexceptional, but universal.
And almost relatively untold - whilst we are not short of documentaries on Nick Cave, The Beatles and The Stone Roses of late (it's understandable that the more well-known stories should be worth telling) there is certainly no glut of stories we just haven't heard before.
"Glorious failures are the stories that are I was totally drawn to when writing" says Dave, although we're not suggesting for a second that I Like Trains are even close to that. But it seems that the idea of finding out the true difficulties that surround being in a band intrigue more than just a handful of people.
There's a point in the film that shows Dave saying goodbye to his relatively young son. "It was quite shortly after that on tour that Oscar (Dave's son) took his first few steps" Ben remembers. "We just happened to be in the room filming Dave when he got a text message from his partner. They're not these big crazy moments, but they're moments of significance, and it shows that challenge of doing what he loves doing but the sacrifice there is. It's about those moments in these five guys' lives over that period of time."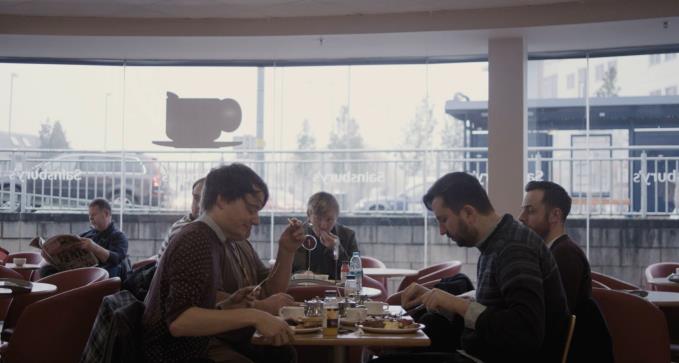 And it's those moments, sitting in motorway service station night after night, that keep the film so grounded in the reality of a band in the middle. Even with their triumphant return to Leeds, the mundanity of driving yourself, unloading the van yourself, and being knackered before the gig even starts, you're made to wonder just why bands keep going.
But it's all there in A Divorce Before Marriage; spending time with your mates, seeing stunning parts of the world, playing gig after gig after gig and loving every one of them. The highs and the lows compound each other and leave you with, essentially, an unexceptional story.
But people have been saying great things about the film. Things that are too good to be said about unexceptional stories. So, there's either more than meets the eye to this little narrative, or the story of a band in the middle is one that we've been waiting an awfully long time to see. Paddy Garrigan