THERE ARE plenty of arguments in favour of going vegan: Animals are very cute and it's mean to eat them; factory farming those animals is destroying the environment and contributing to the inequality of food distribution globally; Red's True Barbecue is proper shite. Each reason truer than the last...
Laynes have pretty much perfected the art of roughing up an avocado, putting it on toast and topping it with enough fancy extras to justify charging six quid
Very few people actually commit to being vegan, which means it must be really hard, right?
Aside from a year-ish stint as a vegetarian in high school (a desperate grab at anything that would give me a bit of identity, combined with trying to impress the green-haired girl who gave out anti-vivisection leaflets on the high street on Saturdays), I've consumed meat, milk, or eggs pretty much every day of my life.
I'm not telling you this to show off or impress anybody (if you're impressed by any of that you really need to reconfigure your standards), but to demonstrate that our national appetite involves consuming animal products habitually and subconsciously.
And yet despite mounting and irrefutable evidence that a vegan diet is better for individuals, the environment, and the human race in general, the vast majority of people demand that meals are based around a piece of meat, that melted cheese is the ultimate in culinary decadence, and that an amaretto sour is not an amaretto sour unless it contains egg white (guilty!). And of course the market responds to that demand.
A growing number of Leeds shops, cafes and restaurants cater to the vegan crowd though, whilst veganism continues to infiltrate more mainstream shopping destinations as well as hemp-condom and magic crystal outlets. The movement is becoming more accessible to a bigger audience.
But has this increased accessibility made it any easier to actually make the switch? In the name of research I spent a month being vegan in Leeds, exploring the things most people would find it hardest to cope with...
---
Brewing Up.
First thing's first, waking up on day one of my vegan adventure I was gasping for a cuppa. I'd planned ahead and stocked up on a range of plant and plant-milks from Millie's on Vicar Lane. Cartons of liquid soy, almond, cashew, coconut, hemp, and quinoa that made my fridge looked like the set of a Portlandia sketch.
Cow milk is pretty versatile, but each plant milk tastes and behaves differently, so they're good for different purposes: oat milk makes ace pancakes and baked goods, coconut milk actually makes cereal taste better rather than just softening it, and so on.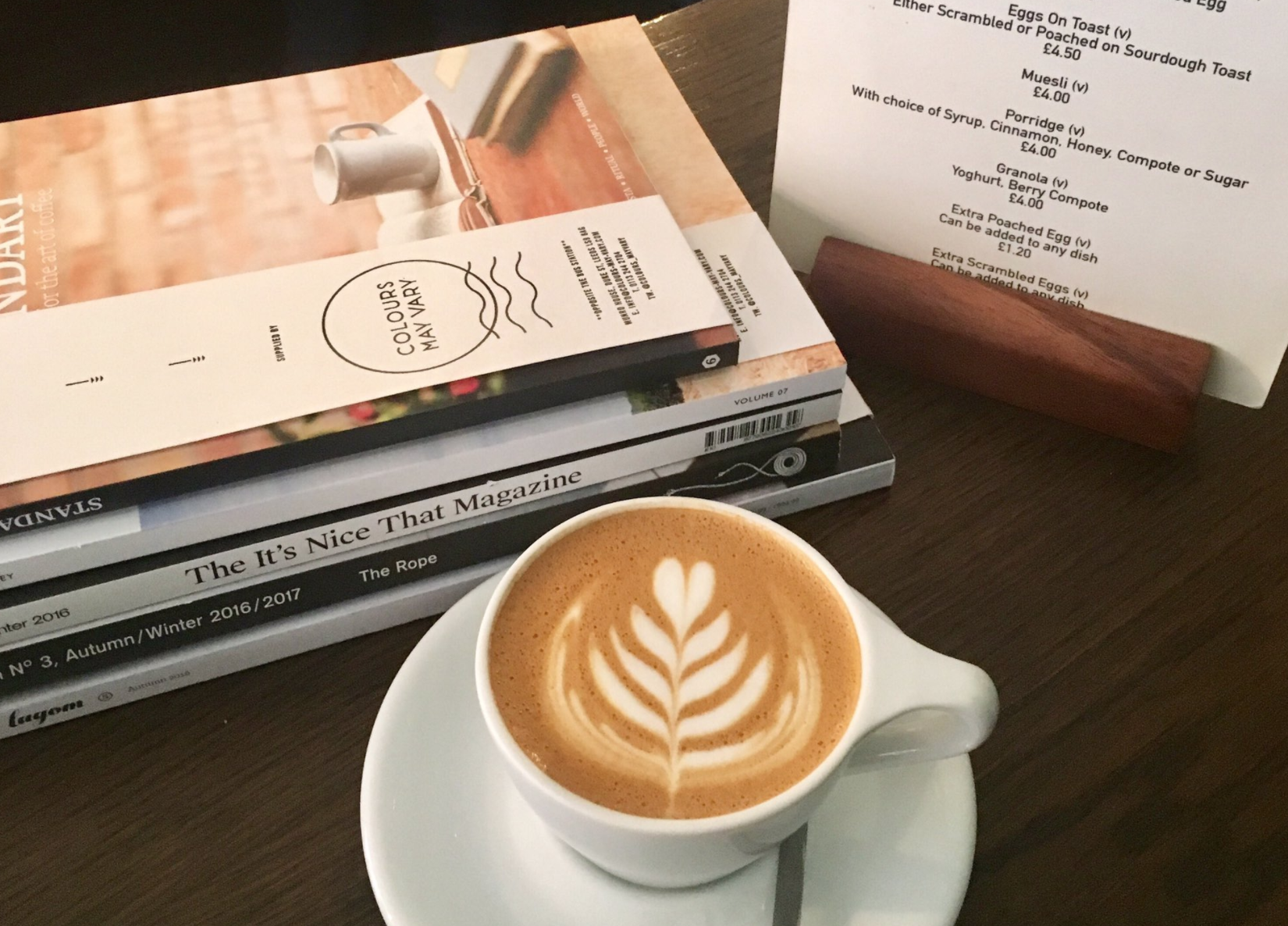 Laynes Espresso
One thing they all have in common, though, is that when you pour them into your cup of tea, they're about as appetising as using tipp-ex. Find a herbal tea you like, and cling onto it for dear life.
As for coffee, soy milk lattes are an abomination both to make and to drink, but oat milk has been formulated specifically for barista-use, and it's every bit as good as the real thing. Grub & Grog's Noonshine Cafe at Tall Boys whips up a pretty mean latte with the stuff, as does Laynes Espresso - who also have a good selection of vegan bakes to go with it.
Millie's, 109 Vicar Lane, LS1 6PJ
Noonshine Cafe @ Tall Boys, 17 Thorntons Arcade, LS1 6LQ
Layne's Espresso, 16 New Station St, Leeds LS1 5DL
---
Lunch on-the-go
Speaking of Grub & Grog, they do a tasty range of sandwiches, stews and cakes at Tall Boys as well, including vegan options like beetroot & walnut pesto and root veg stew - much better than Boots' vegan meal deal option of plain quinoa and feeling sorry for yourself.
In fact, (Boots aside) lunch is best-catered for during a vegan diet. Out of this World's vegan bakery has pasties, pies, sausage rolls and wraps for £2-3 each, or, get this, the Pound Bakery do vegan sausage rolls! Your move, Greggs.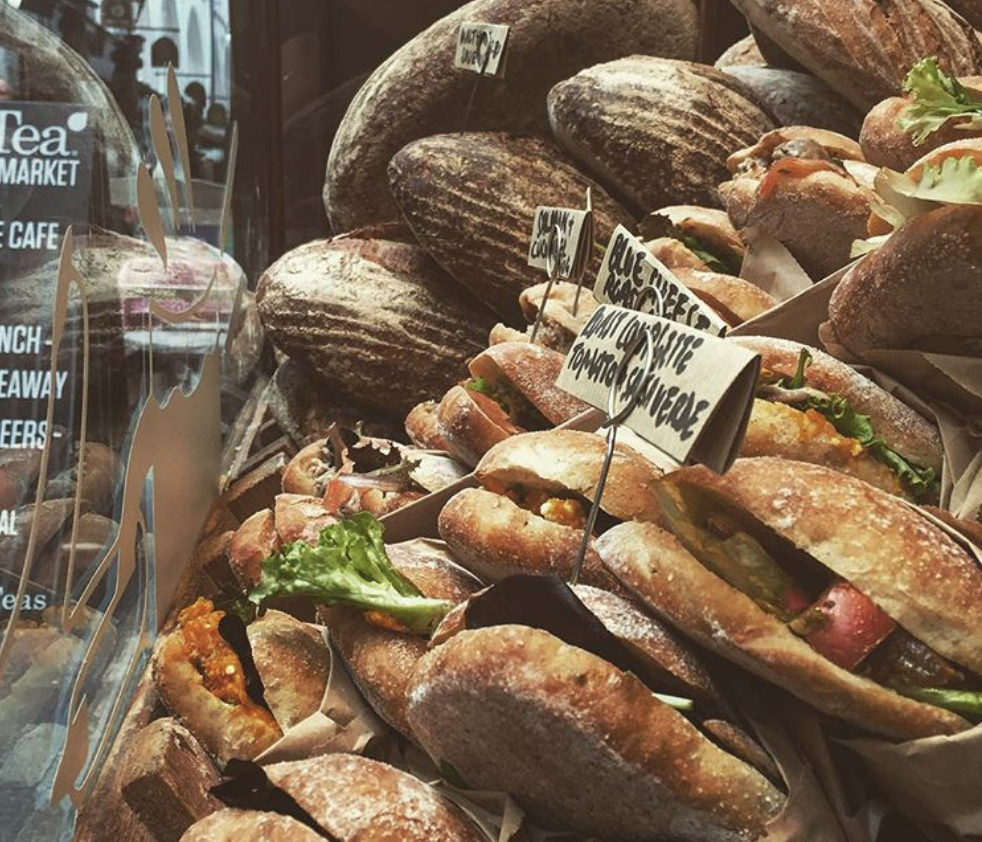 Noonshine Cafe, Tall Boys Beer Market
Up in Trinity Kitchen, Rola Wala's vegan options include a keralan cauliflower curry, and a red dal which you can have in a naan wrap, or as a brown rice or cauliflower rice bowl. Their neighbours Pho also do all sorts of vegetable and tofu noodles, soups and curries - but don't expect much else from the usually meat & cheese heavy street food traders.
Over in the Corn Exchange, Humpit whips chickpeas into various combinations of hummus and falafel dishes which are easy enough to grab as a treat, likewise with nearby Caravanserai - sister restaurant to Cafe Moor in Kirkgate Market.
Outside of the City Centre, Nichols Vegetarian Deli in Chapel Allerton make fresh sandwiches, salads, and light lunches, as well as stocking their shelves with vegetarian and vegan products so you can make your own.
Out Of This World, 20 New Market Street, LS1 6DG
Nichols Vegetarian Deli, 86A Harrogate Road, LS7 4LZ
---
Eating Out
Basically, if you like curry, you'll be spoilt for choice. Hansa's and Michelin-recommended Prashad are both vegetarian Indian restaurants with plenty of vegan options. Likewise with Tharavadu (reviewed here), despite having meat, fish and poultry sections on the menu.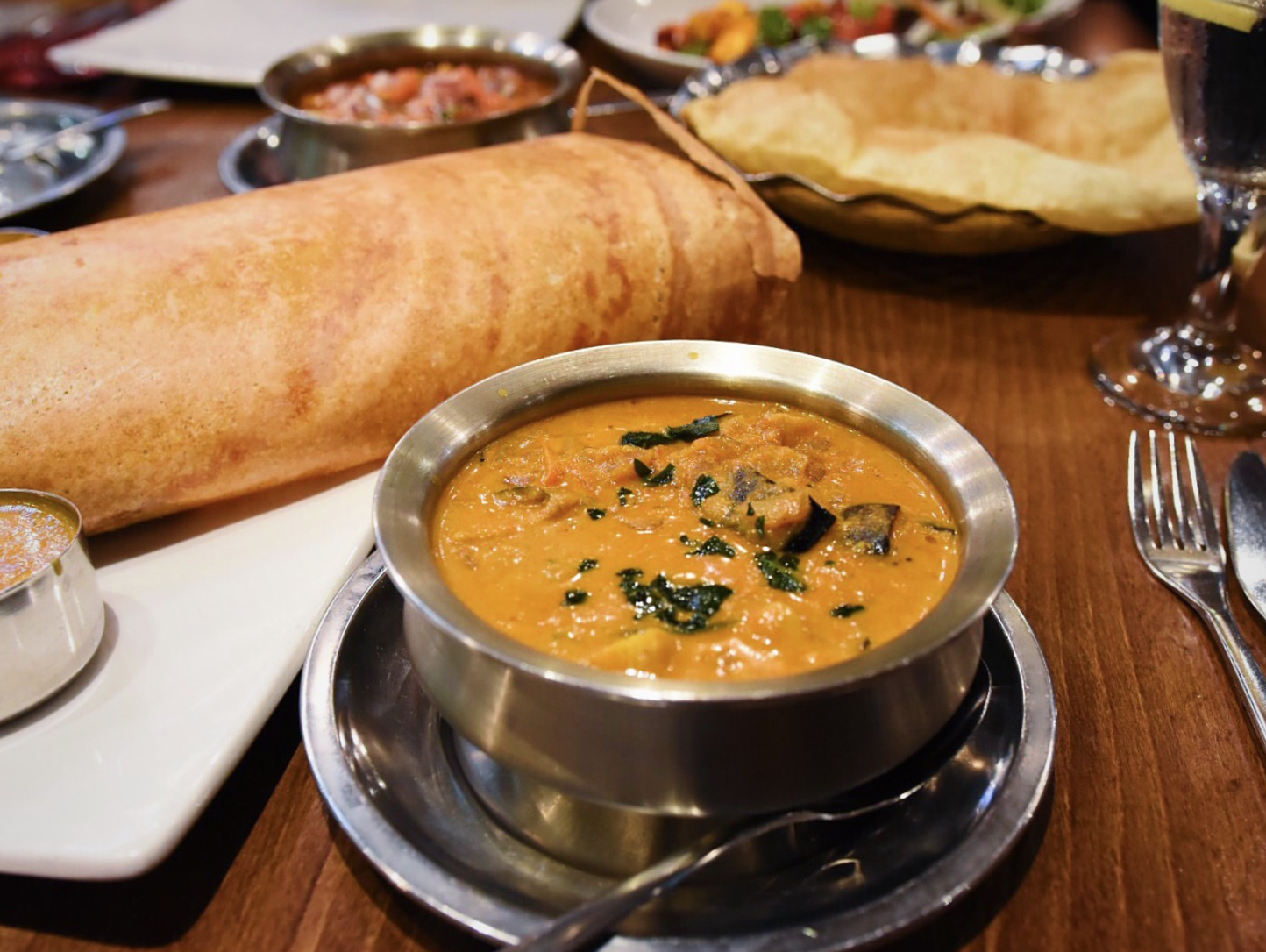 Tharavadu
Little Tokyo has a lot of vegan options and is wildly popular with the herbivorous community, although after a recent visit I had no idea why. I suppose when you've got limited choices you're grateful for what you're offered.
It might not be the epitome of authentic Italian dining, but Zizzi is trailblazing as the only chain to really embrace the fact that when large groups of people go out to eat (ie the type of group more likely to go to a chain), chances of specific dietary requirements increase. They cater to plant-based diets with dairy-free mozzarella for pizzas, egg-less pasta, and dairy-free gelato for dessert.
As for authentic Italian, it doesn't get much more authentic than being certified by the Associazione Vera Pizza Napoletana - which Ecco Pizza proudly boasts to be. Their pizzas are hand-thrown, wood-baked, and some of the best in Leeds. Choose from the regular menu and replace the mozzarella with vegan cheese, or go for one of the non-cheesed options.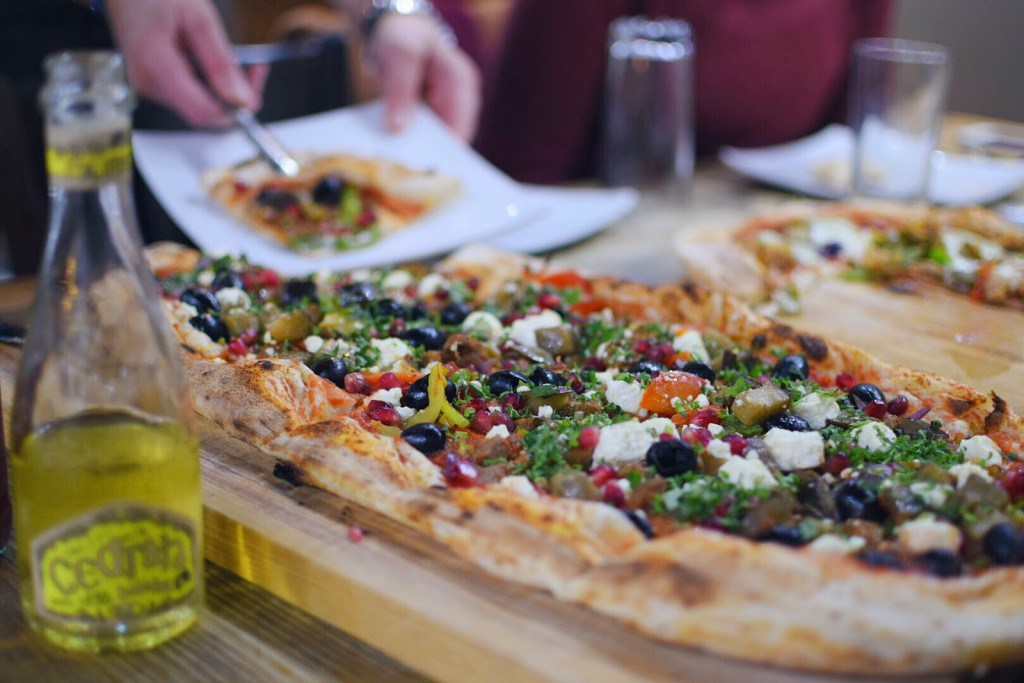 Ecco Pizzeria
If circumstances call for something more formal, 2 Oxford Place has a nice bistro vibe, and as Leeds' only 100% gluten-free restaurant they're used to catering for specific diets. Their menu is split up into three sections, including a vegetarian and vegan one, which includes dishes like pear & walnut salad and sauteed porcini with polenta.
If you're off out to eat with an unrelenting carnivore, Fazenda of all places have a few dishes catering to vegans as well, so you can help yourself to the vegan options from the salad bar accompanied by seasonal dishes like courgette & garlic gnocchi, amongst the parade of slaughter and charred flesh.
Prashad, 137 Whitehall Rd East, Drighlington, BD11 1AT
Ecco Pizzeria, 93 Otley Rd, LS6 3PS
2 Oxford Place, LS1 3AX
---
Getting a takeaway...
Due to many kitchen conveniences relying on animal-based products, cooking vegan requires a bit more time, effort, and preparation. Best intentions to whip up a homemade daal or babaganoush are easily derailed when you spend an hour stuck in traffic after work because the traffic on Kirkstall Road is auditioning to be Dante's tenth circle of hell, and your old friend JustEat starts to beckon.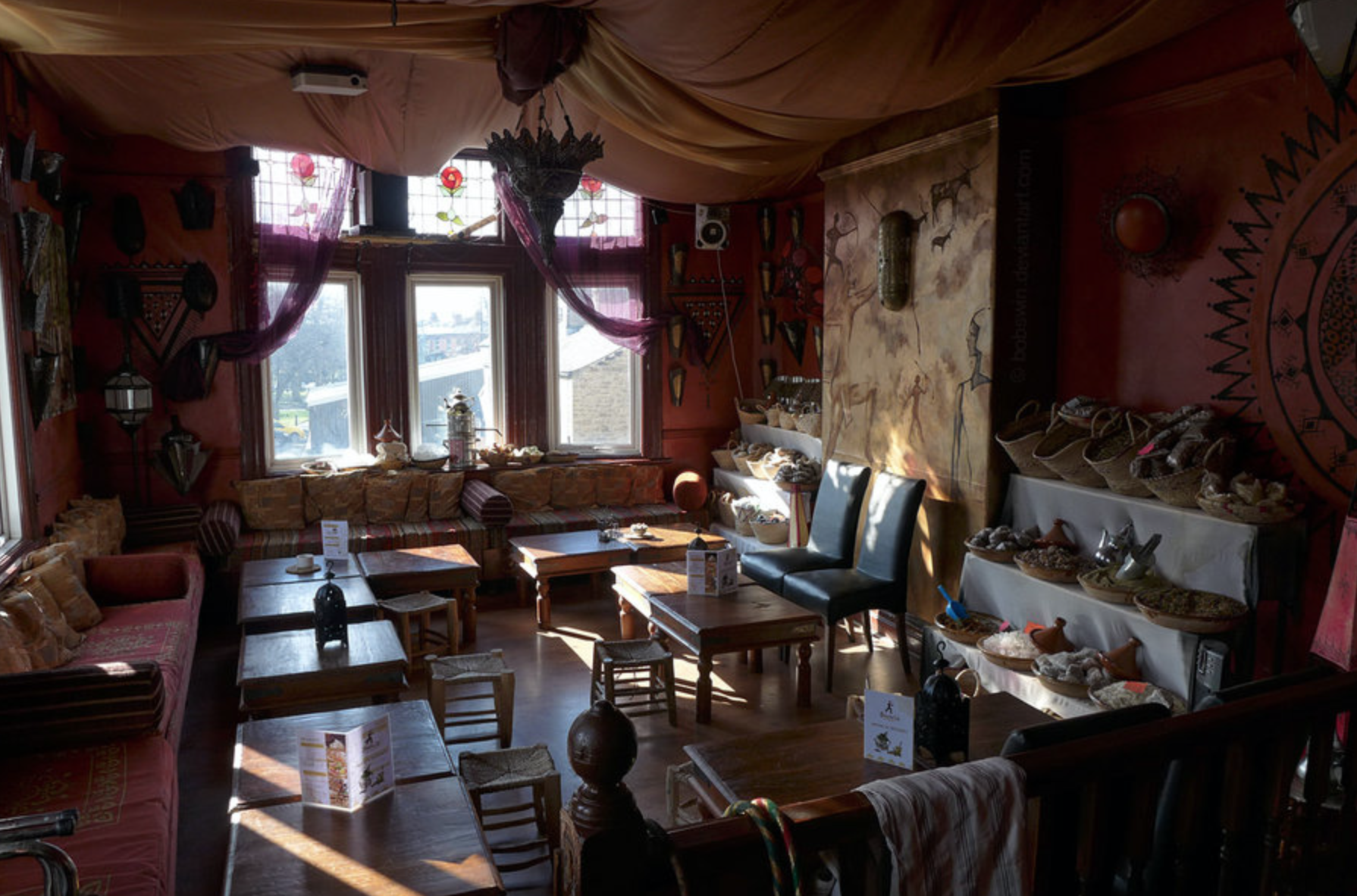 Oranaise Cafe
Luckily, you've got a fair few options. Look for places that cook food from countries where meat isn't eaten for cultural or religious reasons and you'll find plenty of options.The ones I kept going back to more often than I'd ever admit to my personal trainer were Oranaise Cafe's mezze and falafel, and Grove Cafe's curries and pizzas.
Oranaise Cafe, 1 The Crescent, Hyde Park, LS6 2NW
Grove Cafe, 133-135 Cardigan Road, LS6 1LJ
---
Boozing...
Don't let the big breweries pursuit-of-purity advertising fool you, a lot of beers contain more than just water, hops, grain, and yeast. You won't find it on the ingredients list, but some contain isinglass, which is a slightly nicer way of saying "fish guts".
Made from dried fish bladder, it's added to beer casks as a fining agent, separating the sediment in the ale to make it less cloudy. As gross as fish guts sound, some breweries prefer the natural approach rather than using non-organic chemicals.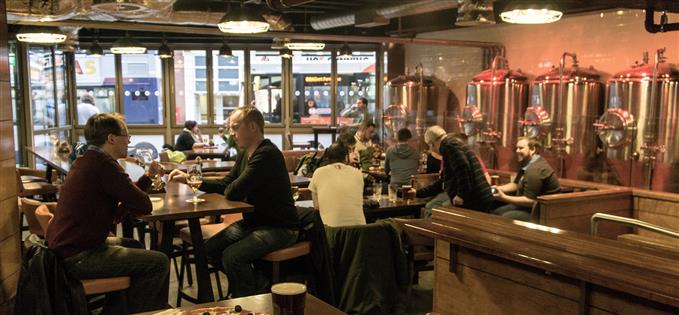 Tapped
As a general rule, cask beers tend to have isinglass in them whereas kegged ones (with a few exceptions) don't. That's not all you have to be wary of though, things like dairy derivative lactose, and honey (yep, don't forget honey) are added to some types of beer, so be careful to read the labels of dark ales, porters, sours, and sweetened beers before chugging.
Thanks to the rise of craft beer in recent years people are much more aware of what they're drinking, any decent craft ale bar like Tapped, Head of Steam, North Bar etc have knowledgeable staff who will be able to recommend a fish and milk-free beer.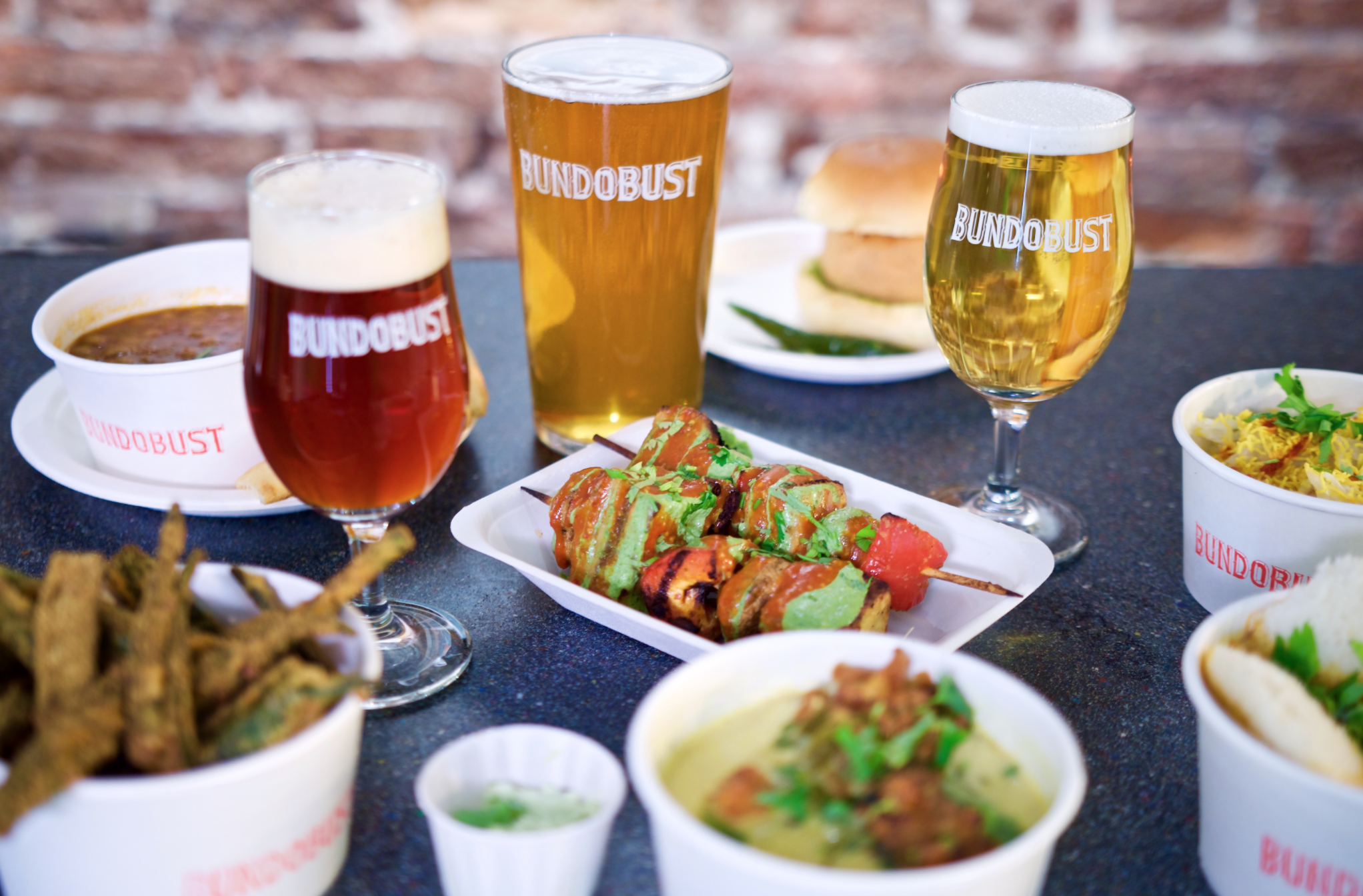 Bundobust
Mill Hill's Bundobust also has some of the best bar-food in Leeds, and it happens to be almost all vegan (you'll never long for a pork scratching again).
Wine can contain isinglass, milk protein, egg white, or gelatin as a fining agent, but any place that's worth drinking wine in - Friends of Ham, The Reliance, Veeno, Decanter - will be able to tell you what is and isn't suitable.
---
Breakfast...
So it's the morning after the sesh. You probably feel as fresh as a newborn unicorn, with a clear conscience from your night of cloudy vegan beers, right? What do you mean, no? A decent breakfast will sort you out. You've made it this far, don't let yourself down now by getting an 8-item special from the Morrisons Cafe, because there are plenty of gaffs in Leeds with vegan breakfast options.
Obviously the world of avocado toast is your oyster. Laynes have pretty much perfected the art of roughing up an avocado, putting it on toast and topping it with enough fancy extras to justify charging six quid. And the Mrs Athas version is just as good, with a lemon and mint pesto, sumac and toasted sunflower seeds - just ask them to leave the egg off it. They also do a vegan sausage sarnie which is, and you can quote me on this: boss.
The Greedy Pig has some vegan-friendly brunch dishes like sauteed mushrooms with pickled walnut, or roast pumpkin with savoury granola on sourdough which are pretty fantastic. They can also adapt their much-loved vegetarian breakfast to be suitable for vegans as well.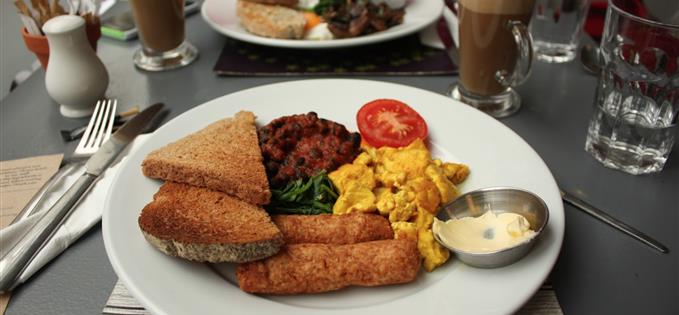 Roots & Fruits
Anybody on the Fry Up Police group have strong opinions on what constitutes a fry-up, and they're happy to share them with anybody who wanders in. The thing is though, the Fry Up Police regulars are the internet's worst group of people this side of the dark web, so ignore them and enjoy a vegan fry up with scrambled tofu, chipotle beans, spinach and nutmeg from Roots & Fruits in the Grand Arcade. Feel free to post a picture of it on their loser-group and watch them splutter on their bacon-rind.
Mrs Athas, Central Road, Leeds LS1 6DE
The Greedy Pig, 58 North Street, LS2 7PN
---
Sunday Lunch...
Resident vegetarian Becky lamented the incongruity of roast dinners and a vegetarian diet in her recent vegetarian roast dinners in Leeds, but a few places manage to do it well, and a couple go one better than that.
The Brunswick
The Brunswick's vegan roast dinner features hands down the best nut roast I've ever tried (it's a coveted title) - the same one that's on the vegetarian roast, but served with sweet potato mash in place of their yorkshire pudding. Grub & Grog Shop at Sheaf Street Cafeteria has a constantly-changing menu of seasonal vegetable roast lunches that stand proudly among their Game Sunday choices.
The Brunswick, 82 North Street, LS2 7PN
Grub & Grog Shop at Sheaf Street Cafeteria, 3 Sheaf Street, LS10 1HD
---
Erotic fun...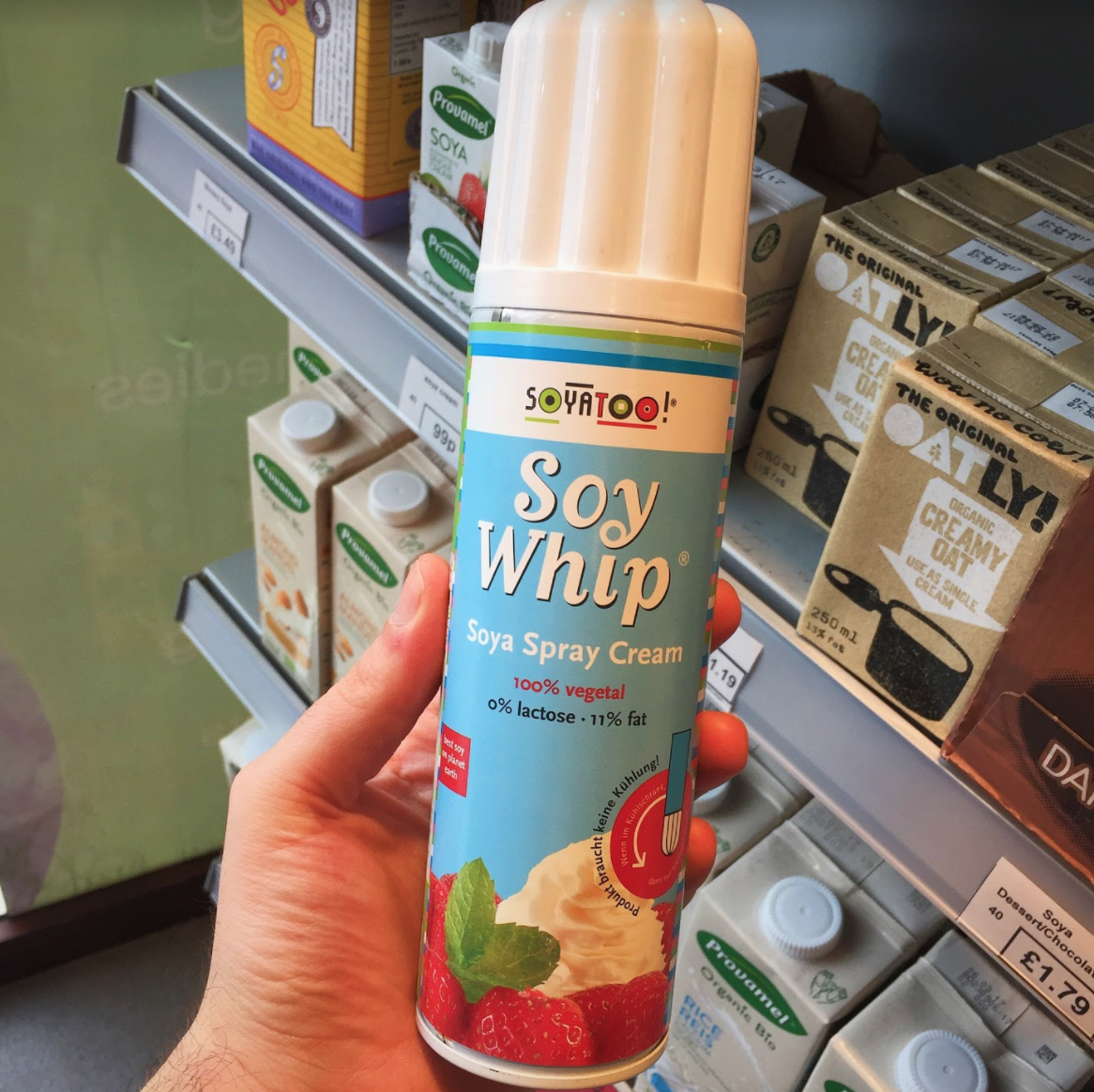 Sorted.
---
Conclusion:
So how hard is it? Well, not particularly. Some things just take a little more preparation and forward planning. Will I be keeping it up? I've been non-vegan for thirteen hours and already drank eight cups of tea and eaten two pigs-in-blankets.
It's all about finding a balance though. Even if you're not ready to commit fully, any steps you decide to take towards reducing your consumption or being more conscientious about what you eat and where you buy from helps.
Being able to impose any type of stipulation on your diet is a privilege, and you should share that wealth in a way that eliminates the strain mass-farming puts on the environment, whether it's by going vegan, cutting back on your meat and animal product intake, or sourcing your food more responsibly.
Now somebody bring me a proper amaretto sour, stat!