You may remember being specifically told not to play with your food in the past, but at 'Snafling' that is exactly what you are asked to do. The coming together of Jonathan Trayte and FEAST is being held at The Tetley, bringing a unique dining experience to Leeds.
If you're looking for a comparison, think Heston Blumenthal meets Andy Warhol.
Snafling is set to be a meal like no other and will feature decorative food served in a variety of ways, with performance art and storytelling being a large part of the dining experience. Guests can anticipate having their expectations tested and their acceptance of social norms pushed. If you're looking for a comparison, think Heston Blumenthal meets Andy Warhol.
The meal compliments the current Tetley exhibition Polyculture. Jonathan Trayte's bizarrely beautiful, supersized sculptures have been showing at The Tetley since July (if you haven't caught the exhibition yet, you have until the 9th of October to do so!). Inspired by all things edible, Trayte creates a narrative surrounding food production and food consumption.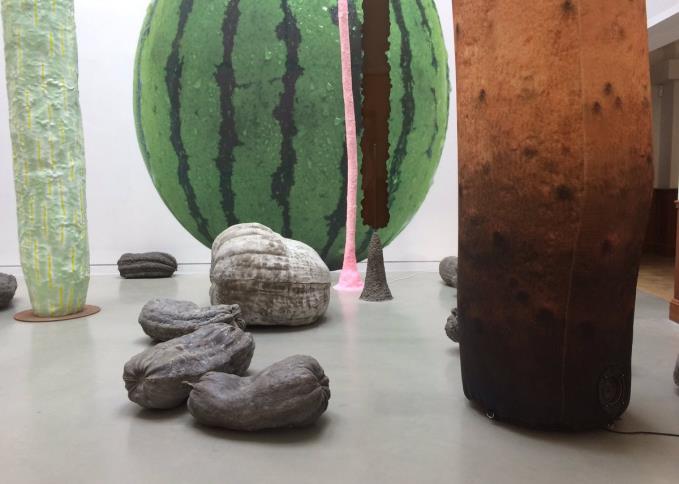 Polyculture Installation, The Tetley
His larger than life sculptures, filled with vibrant colours and finished with a glistening gleam, pop out at the viewer creating an almost uncomfortable confrontation. In a world of GM products, horsemeat scandals and clever marketing, food and the way we experience it is a complex issue.
Challenging conventions is a connecting theme between the exhibition and the meal. The regimented way we eat food is been turned on its axis for this event. We might be used to an element of theatrics but for most of us, this amounts to a carefully executed drizzle of a red wine jus or a flambéed cocktail. The idea of interacting with and 'catching' food on your plate before you eat it is almost as alien as Trayte's sculptures.
The forced participation in a group scenario, especially one that takes the viewer out of their comfort zone, creates joint experiences that unite the participants and spark conversation.
Food lovers and art lovers alike should book their tickets and add the date to their diary.
Snafling: A Dining Experience with Jonathan Trayte and FEAST, Wednesday 5 October, 6:30pm
Words Lois Whitehead, Main Image Julian Lister.