When thinking of veggie friendly meal, a roast dinner - with their joints of meat, proper gravy, and beef-dripping roasties - don't immediately spring to mind.
Luckily, Leeds holds a small but mighty handful of pubs and restaurants who know how to knock up a nut roast, and can whip up a veggie gravy that's never seen a Knorr stock cube in its life
---
The Reliance
A honey pot of delicious vegetarian food, The Reliance is an unsurprising appearance on this list. Changing up their offering up on a regular basis, the only constant is the use of fresh, local produce to create hearty, wholesome food.
Previous visits have featured a Yorkshire fettle stuffed onion, sides of greens with chilli and hazelnut-butter and, of course, a quality nut roast. My nan reckons you can judge a cook by their Yorkshire pudding, and if we apply this rule to The Reliance then their fluffy and triumphant puds are a well-earned crown on their herbivorous roasts.
The Reliance, 76-78 North Street, Leeds LS2 7PN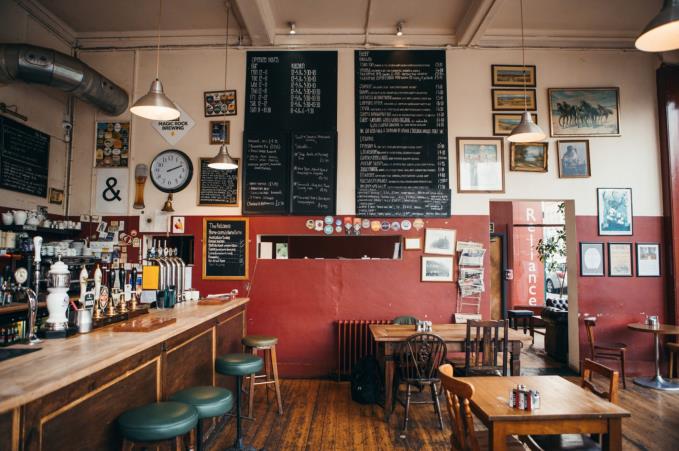 Credit: Tom Joy
---
The Grub and Grog Shop
The words 'Game Sunday' may send some vegetarians running for the hills but The Grub and Grog Shop are re-launching the popular weekly event on the 2nd October, and their veggie and vegan roasts are the stuff of Sunday legends.
Using locally sourced and organic produce means that the Sunday roasts at The Grub and Grog come with that extra feel good factor - which is particularly great when you're spending the rest of the day in bed with Netflix and Häagen-Dazs.
The Grub and Grog Shop, Sheaf Street Cafeteria, 3 Sheaf St, Leeds LS10 1HD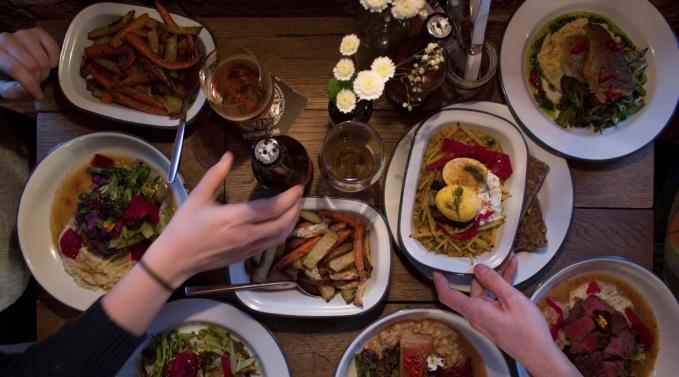 Credit: Liam Henry
---
With The Reliance just next door and The Greedy Pig a few doors down, The Brunswick sits comfortably amongst the North Street greats. Though working out of a small kitchen, The Brunswick create dishes with big, bold flavours, and their veggie and vegan roasts are no exception. Herby, rich and inexplicably succulent, the guys at The Brunswick nail the nut roast and their veggie gravy is arguably one of the best. If you're vegan then they cater to you too, foregoing the Yorkshire Pudding in favour of sweet potato mash (pictured), but if you're not a side of their cheesy leeks is an absolute must.
The Brunswick, 82 North St, Leeds LS2 7PN
---
Shears Yard
Sundays at Shear's Yard are a bit of an occasion. The kitchen team take your Sunday Roast off its traditional course to make sure it leaves you with a lasting impression.
If you're feeling something other than the trusty nut roast, then let their curried roasted heritage carrot and onion seed falafel dish spice up your Sunday. But remember to save room for pudding as their Pineapple upside down cake smothered in pink-pepper caramel is pretty special.
Shears Yard, 11-15 Wharf St, Leeds LS2 7EH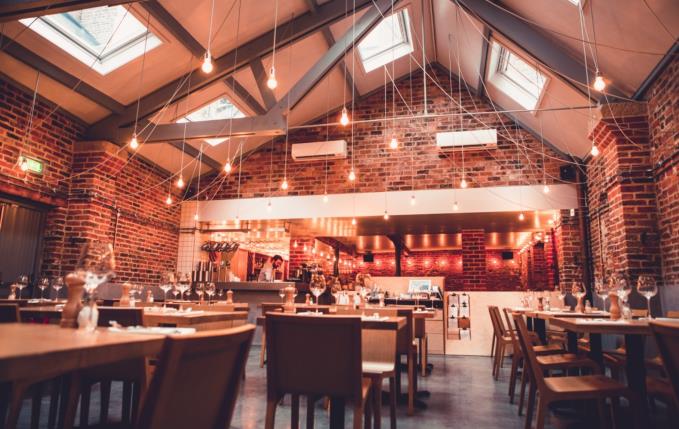 ---
The Mustard Pot
Harbouring its own compact yet vibrant foodiesphere, Chapel Allerton is worth a trip out of the city to explore.
The Mustard Pot is one such Chapel A gem, offering a relaxed gastropub setting and reliably delicious food. Veggie wise the baked golden beet with goat curd is top notch, and they manage to achieve crispy on the outside, fluffy on the inside roast potatoes while leaving the goose's fat on the goose, where it belongs.
If you've got a bit of a sweet tooth, their version of comfort food extraordinaire, sticky toffee pudding, will have you falling into a Sunday afternoon snooze quicker than you can say "Turn Songs of Praise off, will ya"
The Mustard Pot, 20 Stainbeck Lane, Leeds, LS7 3QY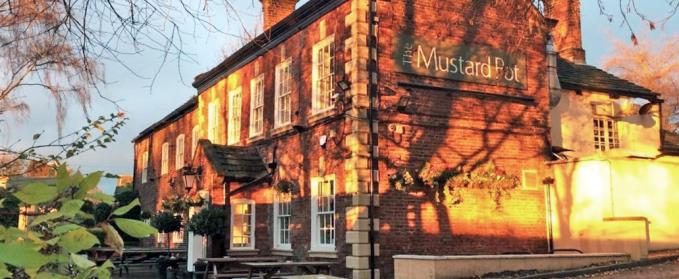 Becky Peartree