COFFEE, it fuels the morning rush, warms catch up conversations with friends ,and goes great with eggs, what more could you ask for? Except...maybe something better than instant?
Whether you're the kind of person that needs a caffeine hit as soon as you've stepped out of bed, you're looking for something a bit better to go with those weekend pancakes, or, like me, you're an aspiring coffee geek looking to brew up bright fruity single farm microlots with fancy technological gadgetry, Leeds has something to offer every type of coffee enthusiast.
The opening of Victoria Gate has brought with it a wealth of new brewing options in the 'push button' and 'semi manual' brewing categories. With Nespresso opening one of their new boutiques and the arrival of John Lewis, there's a new collection of automatic coffee brewing gadgetry available to those who prefer their machines to do the hard work for them.
Push Button
Kings of convenience Nespresso offer the fastest and easiest route to an espresso-like home beverage out there.
A little longer (read: that's coffee jargon for "more liquid") than your average espresso, a Nespresso machine will produce something closer to a lungo for you to sip on in less time than it takes for your toaster to pop up. A simple Inissia machine will set you back a lot less than a £100, which makes it competitive in price compared to kettles, let alone espresso machines.
Pay up a bit extra and you'll get milk frothing options from the Lattissima or Aeroccino. It might invalidate your warranty, but for those looking for convenience and something a little extra special, Nespresso-compatible pods can also be bought online from Lancastrians Neighbourhood Coffee, South-West coffee roasters Roastworks, and Colonna Coffee.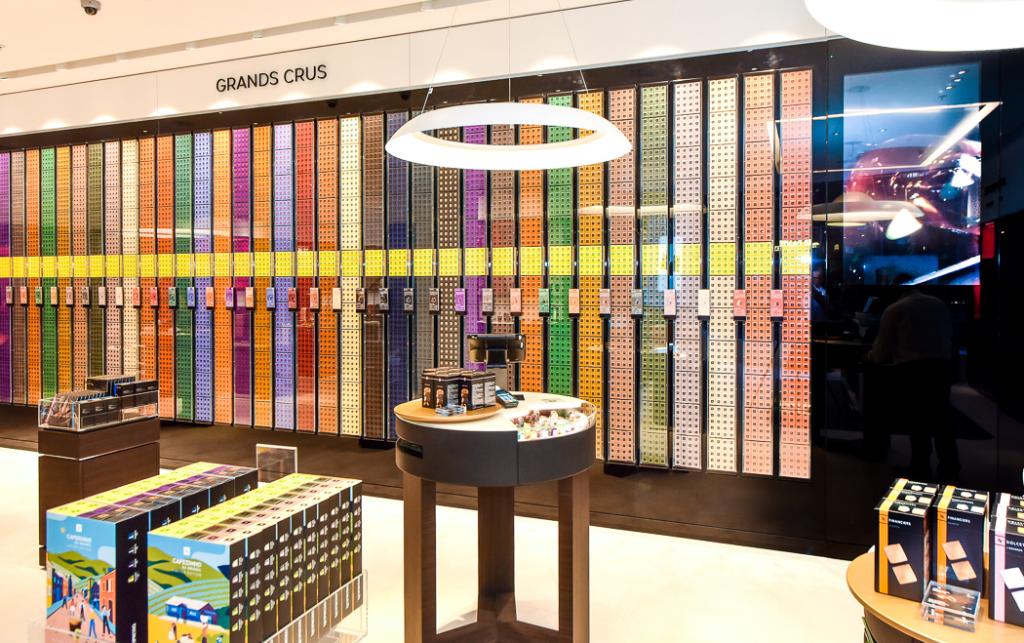 Nespresso, Victoria Gate
Semi-Manual
You won't find a better collection of expensive coffee making equipment anywhere in Leeds than in John Lewis' homewares department, they've even got dedicated Sage staff onsite to provide you with advice and demonstrations.
For those of you looking to recreate a true home espresso, the Sage Dual Boiler offers the best possibilities - pair it with a Sage Smart Grinder Pro to make a café worthy cup of coffee. It comes at a price though - both pieces of kit will set you back in excess of £1000 (more than a year's supply of morning brews from your local barista), and that's before you've even bought the beans.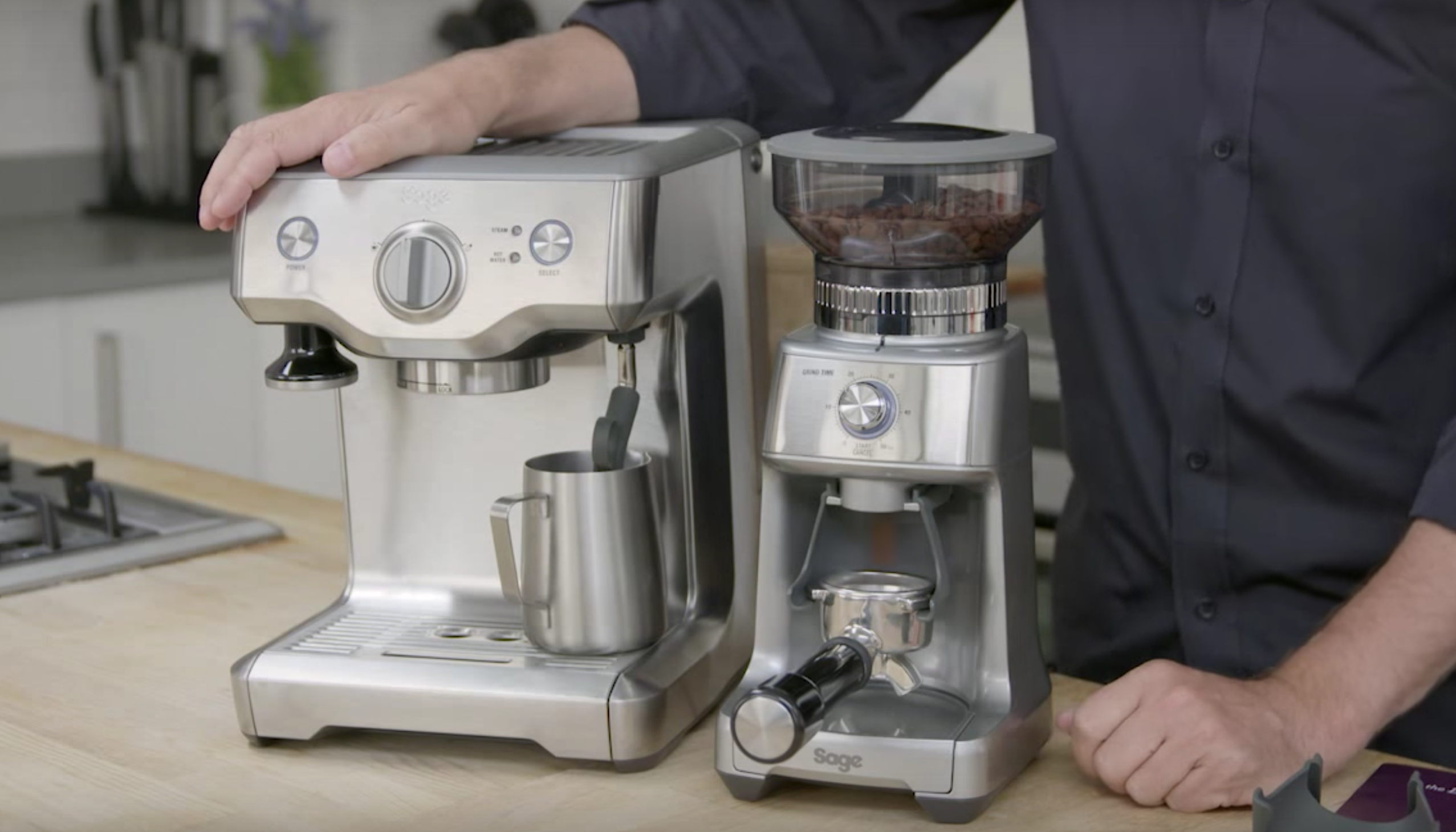 Sage Dual Boiler and Smart Grinder
John Lewis also offers the KitchenAid Siphon Brewer, where adding beans and water and pressing a couple of buttons is all that's required for the magic to happen, as the device uses full immersion brewing and vacuums to produce you a velvety cup of black coffee.
It'll produce up to a litre of coffee at a time, so it's great for when you're entertaining friends or family, and it's got more theatre than West Yorkshire Playhouse.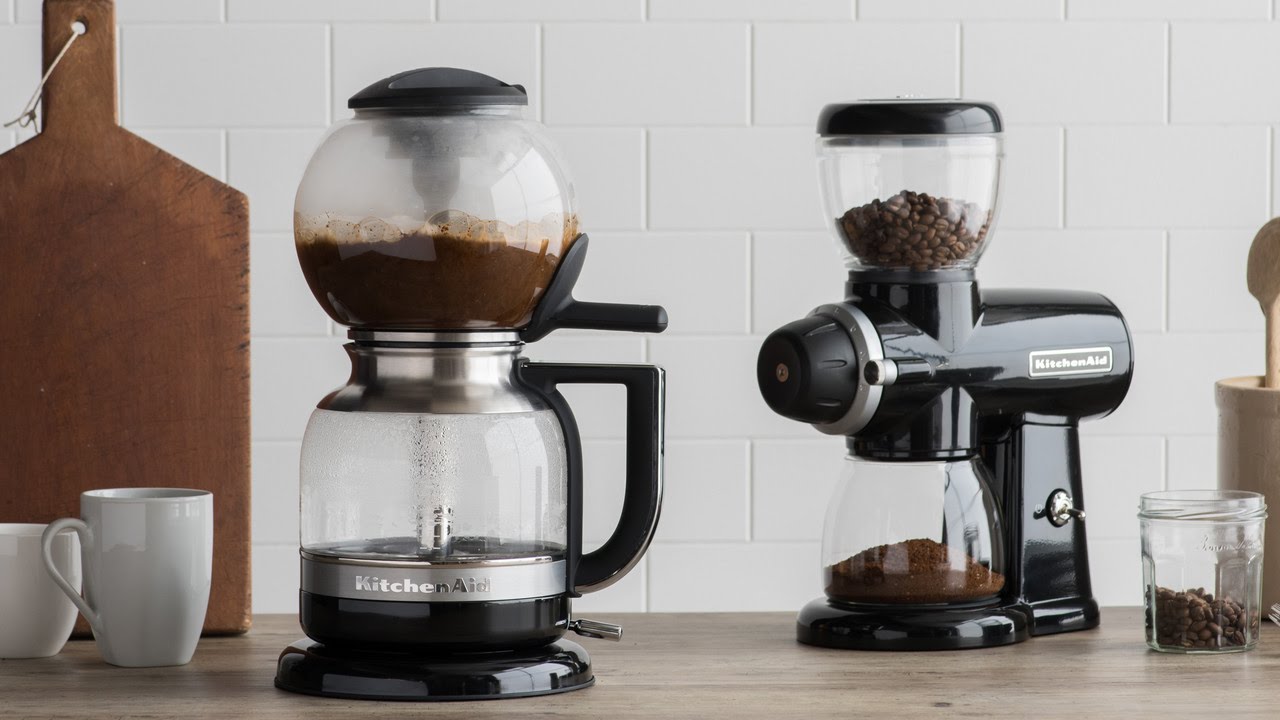 KitchenAid Siphon Brewer
Manual
For those of you looking to get hands-on with brewing, all you really need for a better cup of coffee is a cafetiere (also known as a French Press), a hand grinder, and a bag of recently roasted specialty coffee. If you're willing to step down the rabbit hole though, Leeds provides a whole range of brewing equipment and options to help you produce amazing hand-brewed coffee.
First of all you'll need a grinder, as coffee tastes best when it's freshly ground to order. The most popular grinder out there is the Hario Ceramic Burr Hand Grinder, available from roasters Maude and North Star, as well as in store at the likes of Laynes and Grub & Grog shop.
It's the most reasonably-priced hand grinder out there, and with a bit of fiddling it's adjustable too.
For anyone who appreciates craft above all else, Harvey Nichols have begun stocking the Made By Knock Feldgrind; one of the best hand grinders out there, but at just under £150 you're getting into the budget end of electric grinders. If you're dead set on producing home espresso then Maude Coffee stocks the Mahlkonig Vario Home Grinder, which will grind fine enough for you to produce a worthy espresso with a good crema.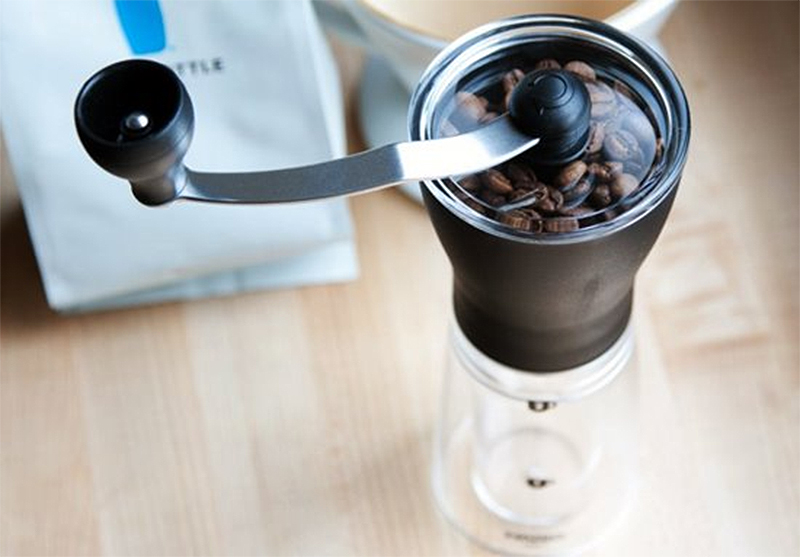 Hario Mini Mill Hand Grinder
A cafetiere is a great place to start, especially if you're not sure about coffee yet and you're still clinging to your Yorkshire Tea-pot. They're cheap and they produce pretty consistent coffee, but you won't get a ton of clarity from them; which is important if you begin to purchase more complex or interesting coffees.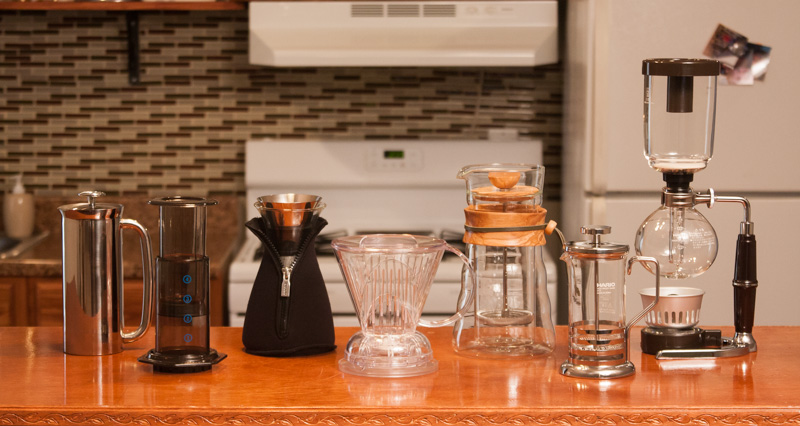 The Brew-sual Suspects
V60
In my opinion the best brewer to start with is the Hario V60, it offers the best all round expression of a coffee, and its paper filter will offer you a clean and clear cup.
Laynes Espresso have been brewing using the V60 method for as long as I can remember, and they stock a range of the equipment in their retail section, giving you the chance to try a brew for yourself one and buy one if you like it.
Cielo Coffee Roasters also brew on V60, as well as stocking the brewer and range servers to buy should this be the one for you.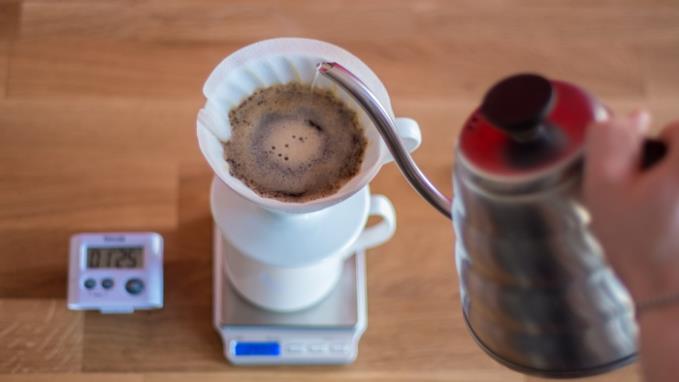 V60 Pour-Over
Aeropress
For the more experimental of you, the Aeropress offers the most flexibility when it comes to brewing, allowing you to adapt your recipes to how you like your cup of coffee best.
Mrs Atha's have been brewing on the Aeropress for a while now, and offer a range of coffees on their brew menu for you to sample this brew method.
Italians are usually all about their espresso and Moka pots, but if you pop over to Bond Court when it's quiet and ask nicely, La Bottega Milanese will get out their Aeropress to brew you up their daily filter offering too.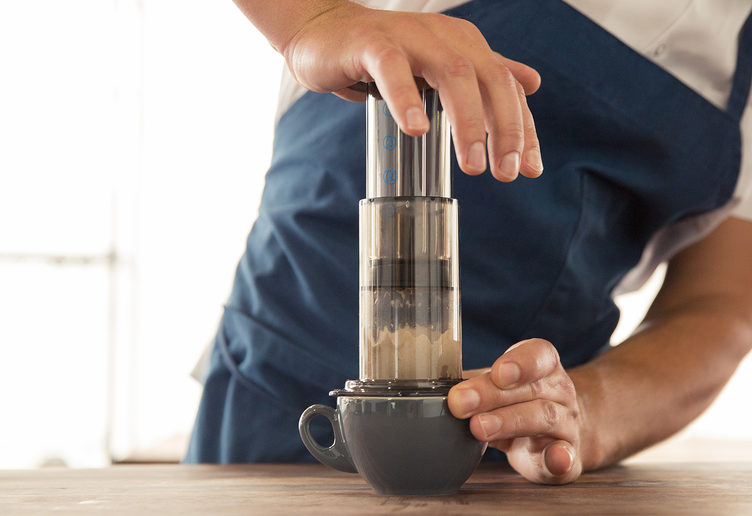 Aeropress
Chemex
If you fancy a bit of theatre or you're brewing for more than two people, then the rather attractive looking Chemex begins to come into its own.
Available from North Star Coffee Roasters in a variety of cup sizes depending upon how many people you're going to be making coffee for, or how voracious your appetite for coffee is, the chemex offers you both clean and sweet cups of coffee.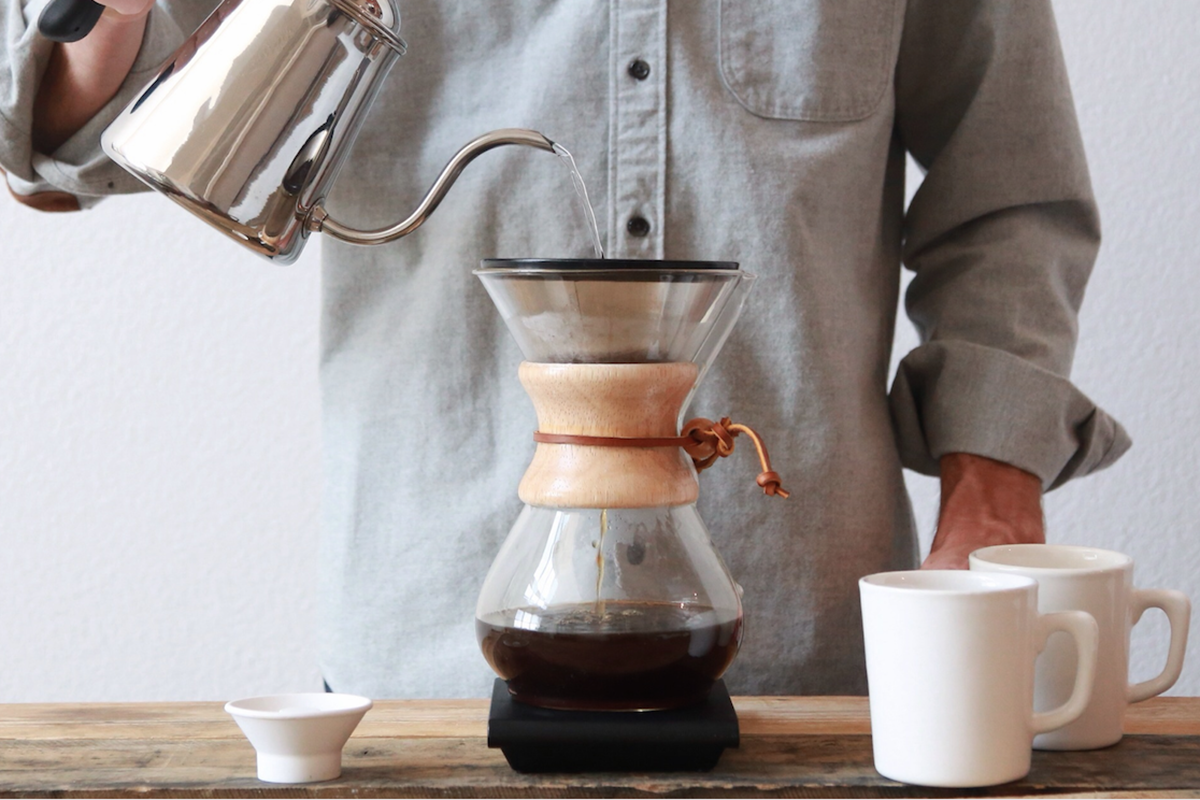 Chemex
Now you've bought all the equipment, you might think you'll have to become best friends with a barista, watch a lot of videos on youtube, or be happy with the many errors that result from the trials of brewing your own coffee.
Well you would, if it wasn't for the team down at the North Star Coffee Academy, offering courses for both professionals and homebrewers alike. Their home-brew masterclass can be tailored towards your specific needs and offers you all the knowledge you'll need to produce great coffee at home again and again. At £70 it might sound a little pricey, but for the fun you'll have and the skills you'll learn, it's priceless.
Of course! the most important ingredient in the coffee making process. Luckily Leeds has a lot of great coffee available, and no less than four coffee roasters call it home - North Star, Maude, Cielo and newcomers Pump'n'Grind all offer coffee roasted here in Leeds, available to buy online or in outlets across the city.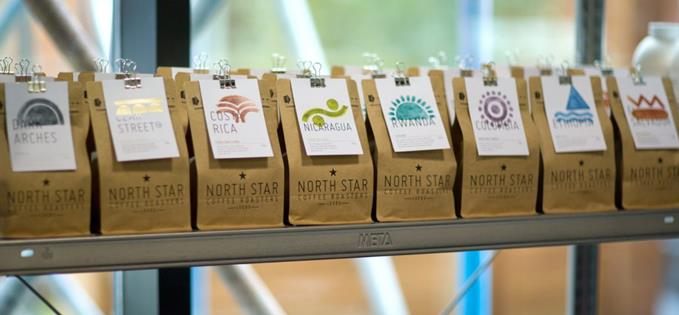 North Star's Familiar Range
Laynes Espresso stock London's big name in coffee Square Mile, and Mrs Atha's often have guest roasters available to buy in their retail section. For a selection of roasters including those from Leeds, Kapow Coffee on The Calls offers a large selection of retail coffee bags and Cielo Coffee, now with outlets on Duncan Street and at York Place, offer a free drink with any bag of beans purchased in store.
If you fancy something more exotic, Harvey Nichols offer the biggest selection of beans roasted by some of the big names in coffee at their fourth floor food market, although should your local pride return you need only turn around to find La Bottega Milanese's new pop-up cafe - part of Harvey Nichols' Britalia season - ready to supply you with some locally roasted coffee and expertly brewed espresso. Troy Gammon.
Maude, 82 Railway Street, LS9 8HB
North Star, Unit 33, The Boulevard, Leeds Dock, LS10 1PZ
Cielo, Duncan Street, LS1 6DQ / 18 York Place, LS1 2EX