IN AN age where we have to multi-task just to fit enough hours into the day, any opportunity to combine tasks is a welcome one - especially when one of those tasks is a pub crawl. Want to educate yourself, display some local pride and get some exercise at the same time, all while catching up with friends and sinking a gallon of ale to boot? Do the Leeds Owl Trail Pub Crawl.
The owl has been a symbol of Leeds's heritage ever since three of our feathered friends appeared on the Leeds city coat of arms, created in 1626
The owl has been a symbol of Leeds's heritage ever since three of our feathered friends appeared on the Leeds city coat of arms, created in 1626 when Charles l made Leeds an official borough. Since then the owl has been carved, etched and chiseled into the most famous buildings in Leeds, and if you haven't noticed, this is a good way of finding out.
When the Leeds Owl Trail launched in 2009 it included just 10 locations, now referred to as the 'Civic Owl Trail'. Almost immediately, using owl-like vision, the local populace inundated organisers with the location of 15 more, so a second 'Grand Owl Trail' was added. Combine the two for some extra local knowledge, exercise, and, er, "sociability", and you happen to take in some of Leeds's best pubs en route. Just download a map and make sure the anecdotes and historical nuggets you pick up on the way don't delay you too much between pubs...
Victoria & Commercial Hotel
OK, so no group of friends meets for a walking activity at the very start of the walk - they meet in the pub. We're going to meet in the magnificent Victoria & Commercial Hotel - the much-loved pub gets us in the historical mood with its carved wooden alcoves, separate 'meeting' rooms and lofty ceilings and the fine selection of ales and generous pub grub has us raring for the off. We proceed to Millennium Square and possibly the most recognisable and prominent owls; the two golden ones perched proudly outside the Civic Hall (1).
Above the entrance to the Civic Hall around the corner you will spot another in the facia (2), and from there we take the short stroll to the Leeds Museum where a somewhat weathered owl can be seen above the old 'Leeds Institute' signage (3).
We didn't say all the owls would be easy to spot, and that's certainly the case at St Anne's Cathedral on Cookridge Street (4), but if we walk down to the War Memorial in front of the Leeds Art Gallery there are four owls for us to pick out pretty easily (5).
Victoria & Commercial Hotel, 28 Great George Street, LS1 3DL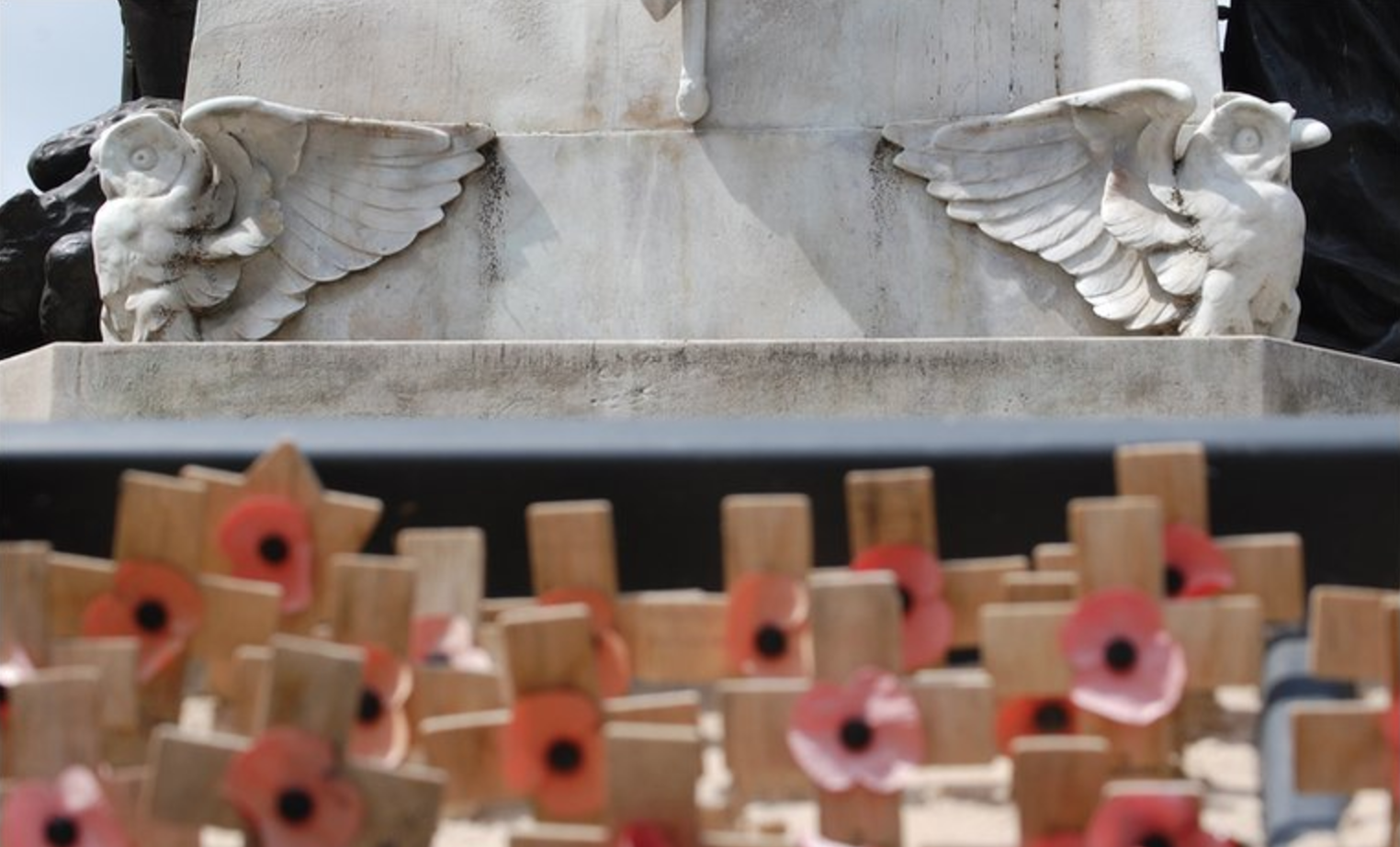 War Memorial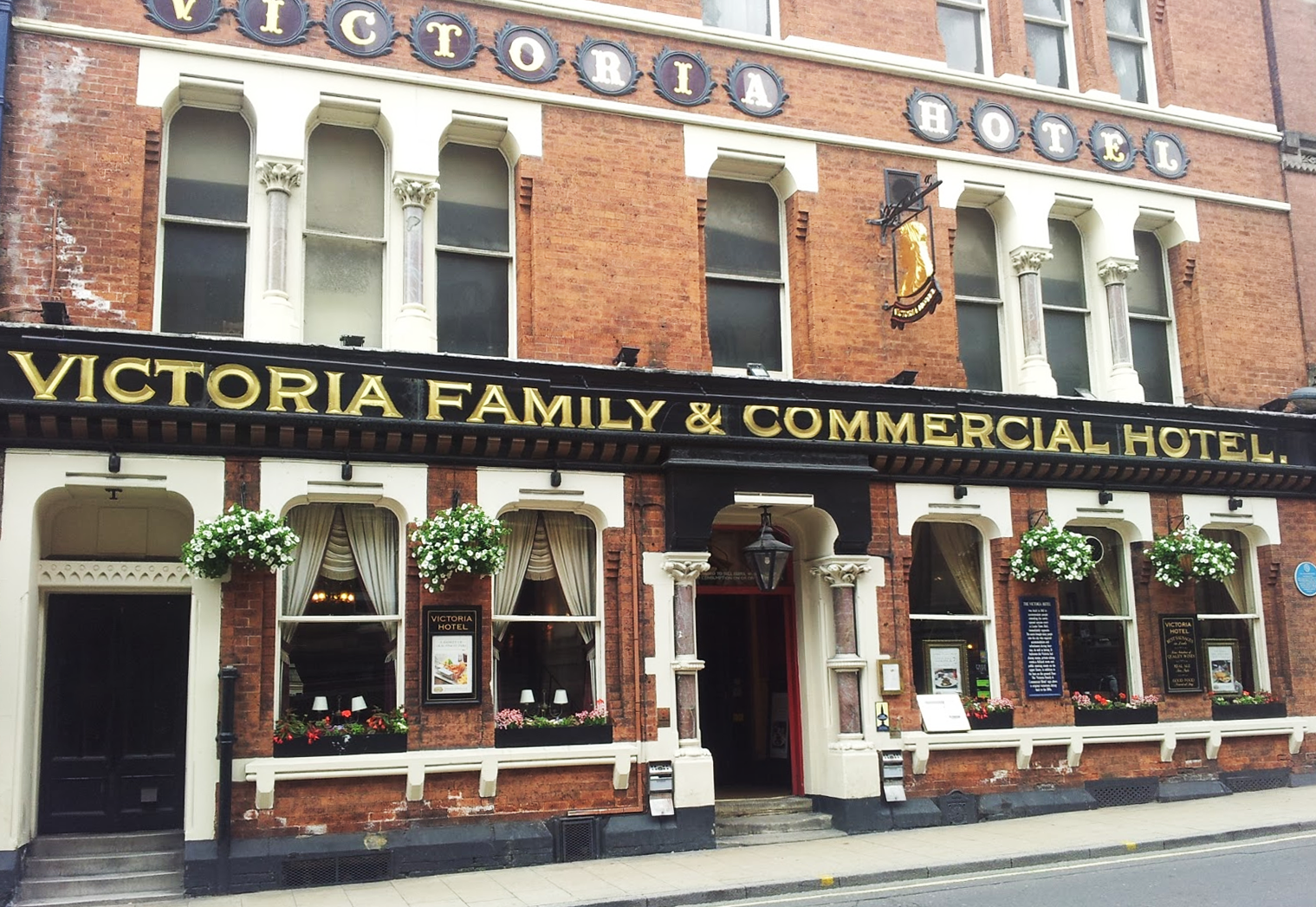 Victoria & Commercial Hotel
---
Town Hall Tavern
We deserve a short break after all that (!) so we saunter down to the wonderful Town Hall Tavern, a Timothy Taylors Gastropub with an excellent range of drinks to match and a very hospitable welcome. We can swiftly assess the next leg of our tour and we are soon off to the City Library where an owl can be seen in the glass archway above the entrance (6) while inside a beautiful embroidered tapestry depicts several owls (7).
Standing proudly on iron fence posts on Calverley Street are the 'Municipal Owls' (8) but round the corner, the stone engraved owls above the Leeds School Board building at the Civic Courts are rather harder to spot (9).
Town Hall Tavern, 17 Westgate, LS1 2RA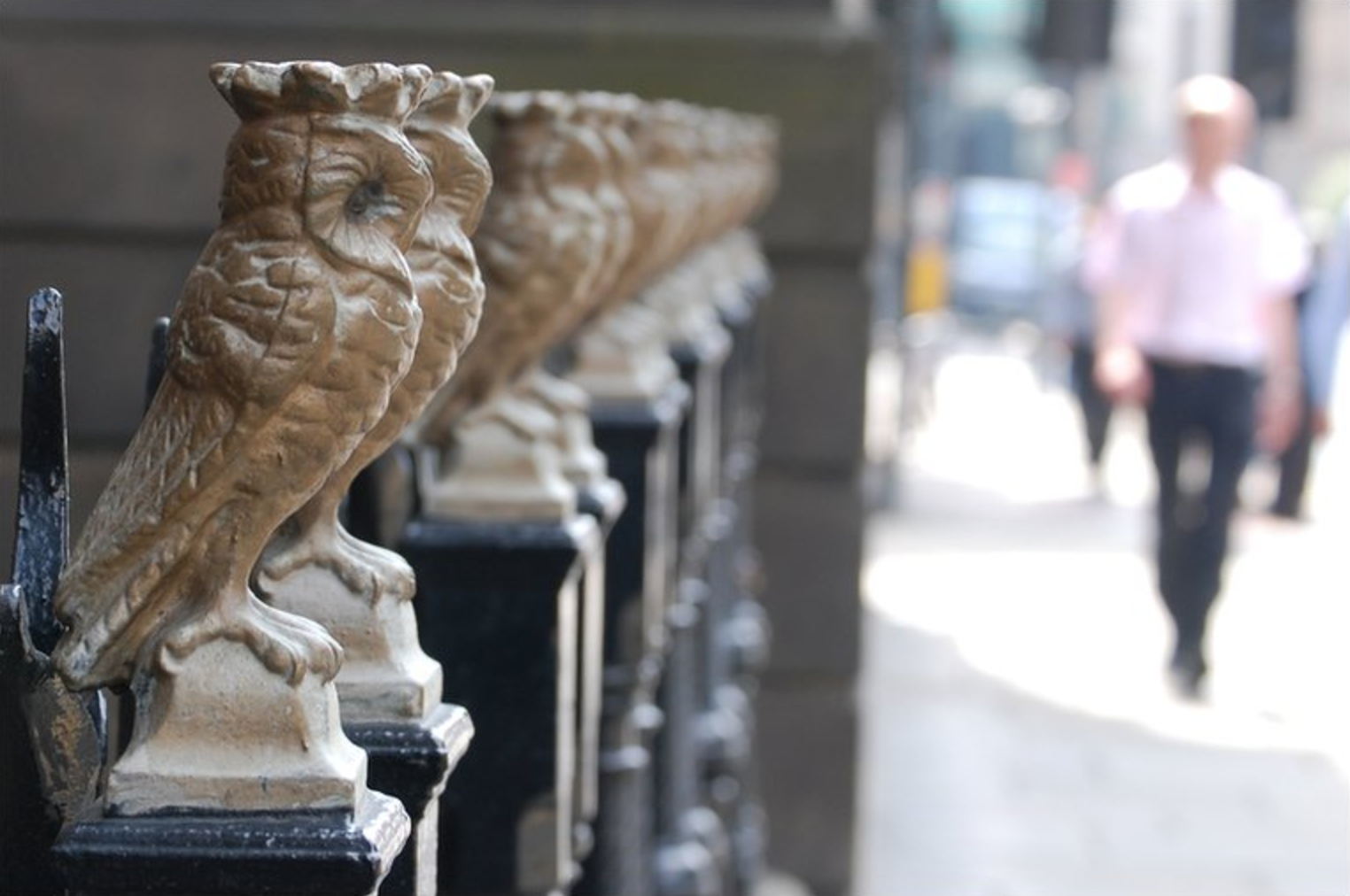 Municipal Owls on Calverley Street
---
The George
It's time for another break as we nip into The George on, funnily enough, Great George Street, which is a fine traditional pub, with a healthy selection of ales and a vibrant atmosphere. But time waits for no man - or owl - and we are just one location off completing the first leg of our trail.
It's a simple stroll down to the front of the Town Hall, but spotting the owls isn't so simple as good vision - strong neck muscles are required to scan the vast exterior of Cuthbert Broderick's spectacular design. However, trust me, they are there (10).
We then set off on the 'Grand Owl Trail' starting off at Fountain House on South Parade where silver owls in an art deco style feature in the exterior (11). Around the corner on Park Row a stone coat of arms can be seen in the entrance above Kenneth Hodgson House, formerly Abtech House (12), and then we have a relatively long walk down to Infirmary Street where the Yorkshire Penny Bank Owl greets us as easily the biggest on the trail (13). Check out that wingspan.
The George, 67-69 Great George Street, Leeds, LS1 3BB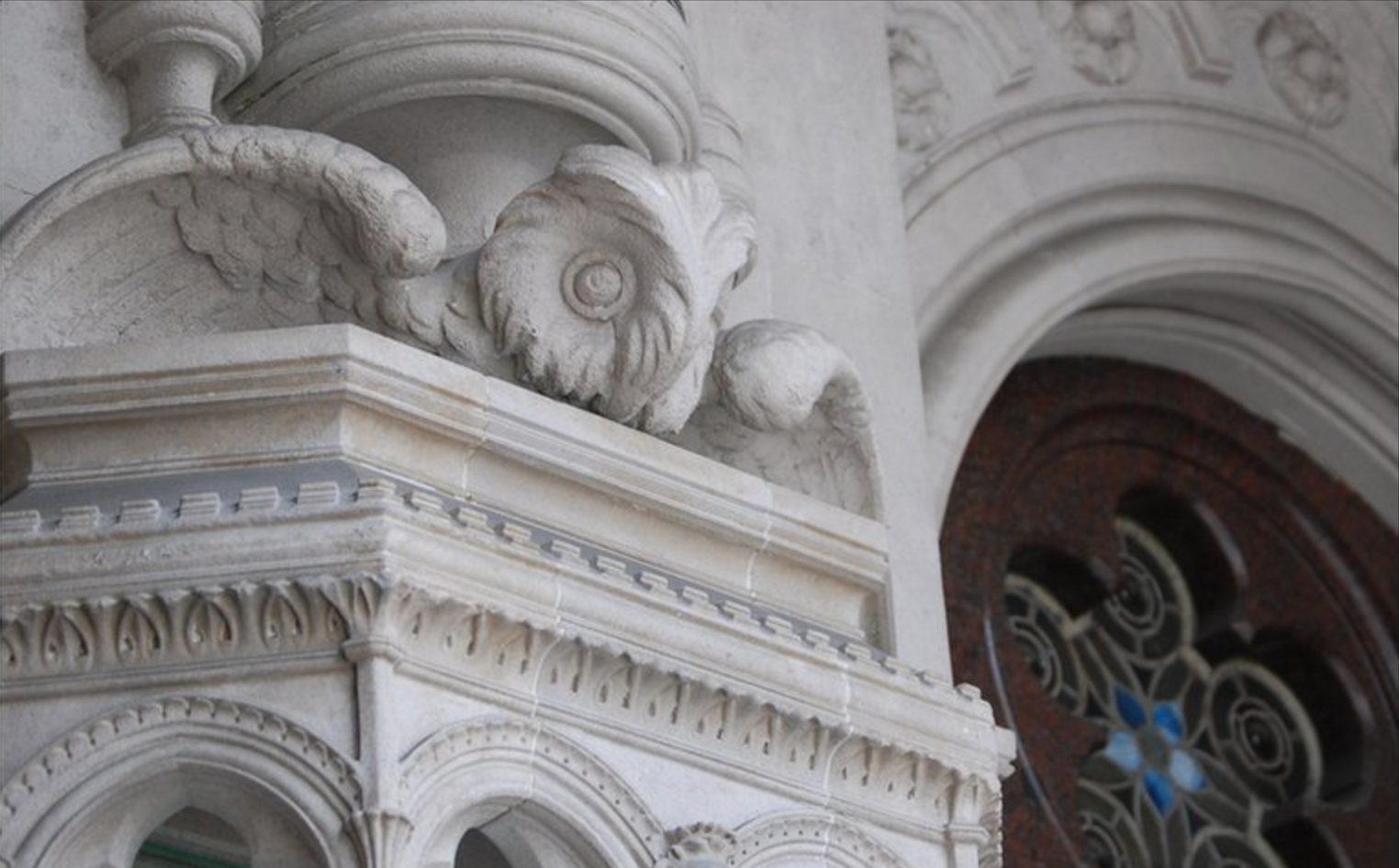 Yorkshire Penny Bank Owl
---
Atlas Brauhaus
The recently-relaunched Atlas Brauhaus is our next pit stop, which, true to its name, promises beers from around the world, as well as an impressive, airy interior. We can't just admire the surroundings though, as we have plenty of that to do outside. So we're off to Quebec Street to marvel at the wonderful stained glass owls of the Quebecs Hotel (14) before checking out the striking Terracotta façade of The Met, where the conveniently contrasting golden owls are quite easy to spot (15).
Heading across City Square we have quite some time to spy the owls on the Black Prince building as we approach it. Follow the former bank's stately pillars upwards to spot the owls (16).
Atlas Brauhaus, 31 King Street, Leeds, LS1 2HL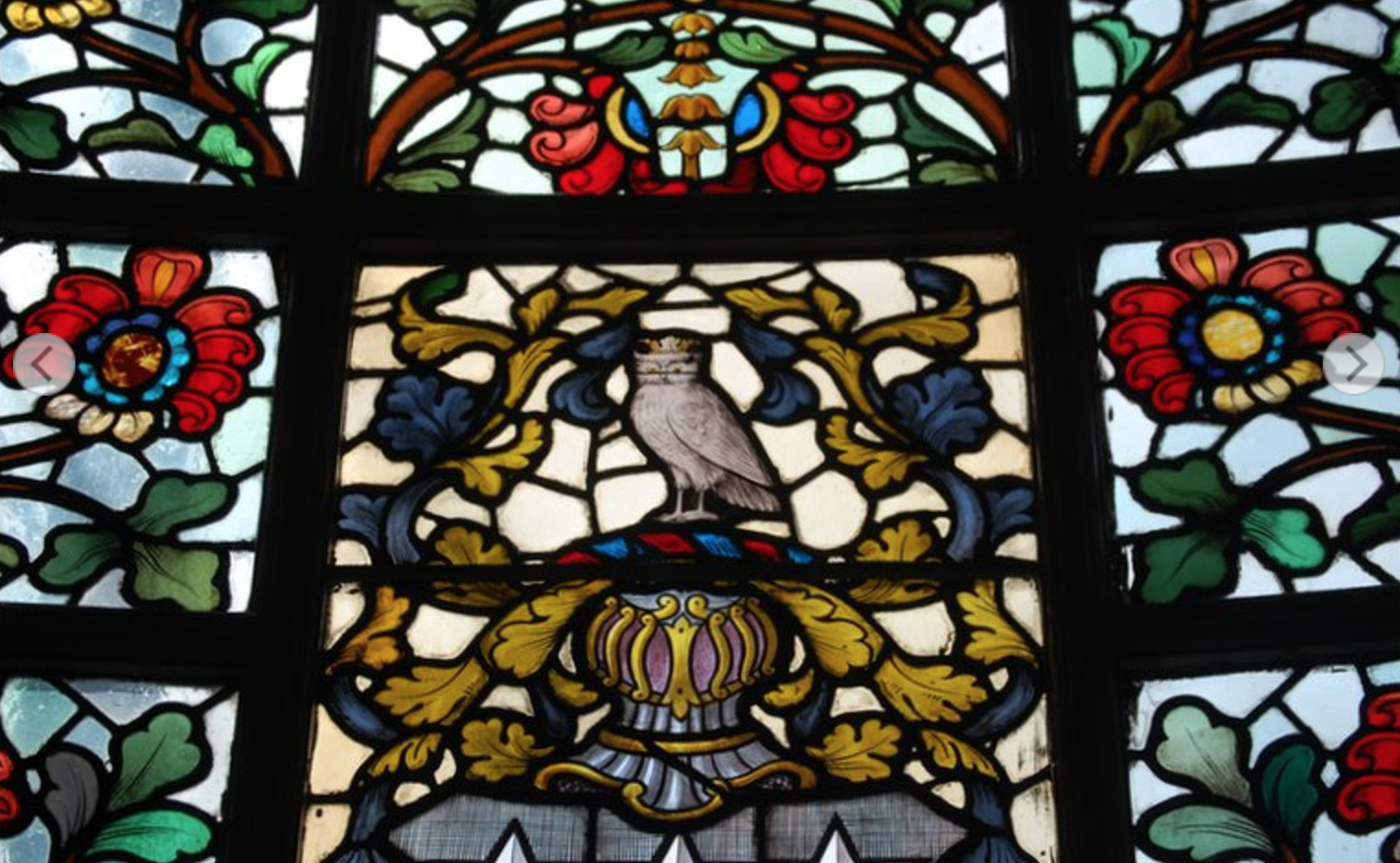 Quebec Hotel Stained Glass Owl
---
Tapped
American-style brew pub Tapped has established itself as a vital stop-off on any ale and cider tour of Leeds, with its dizzying selection of taps lined up with accompanying notes to help selection.
One of their lovely pizzas might be an idea by this stage too, but we are soon off to The Bourse along Boar Lane, where another weather-beaten owl can be seen etched into stone (17). The most recent addition to the Owl Trail can be spotted in the middle of the Trinity Centre (18) before we nip off down one of the famous 'loins' to Whitelocks.
Tapped, 51 Boar Lane, Leeds, LS1 5EL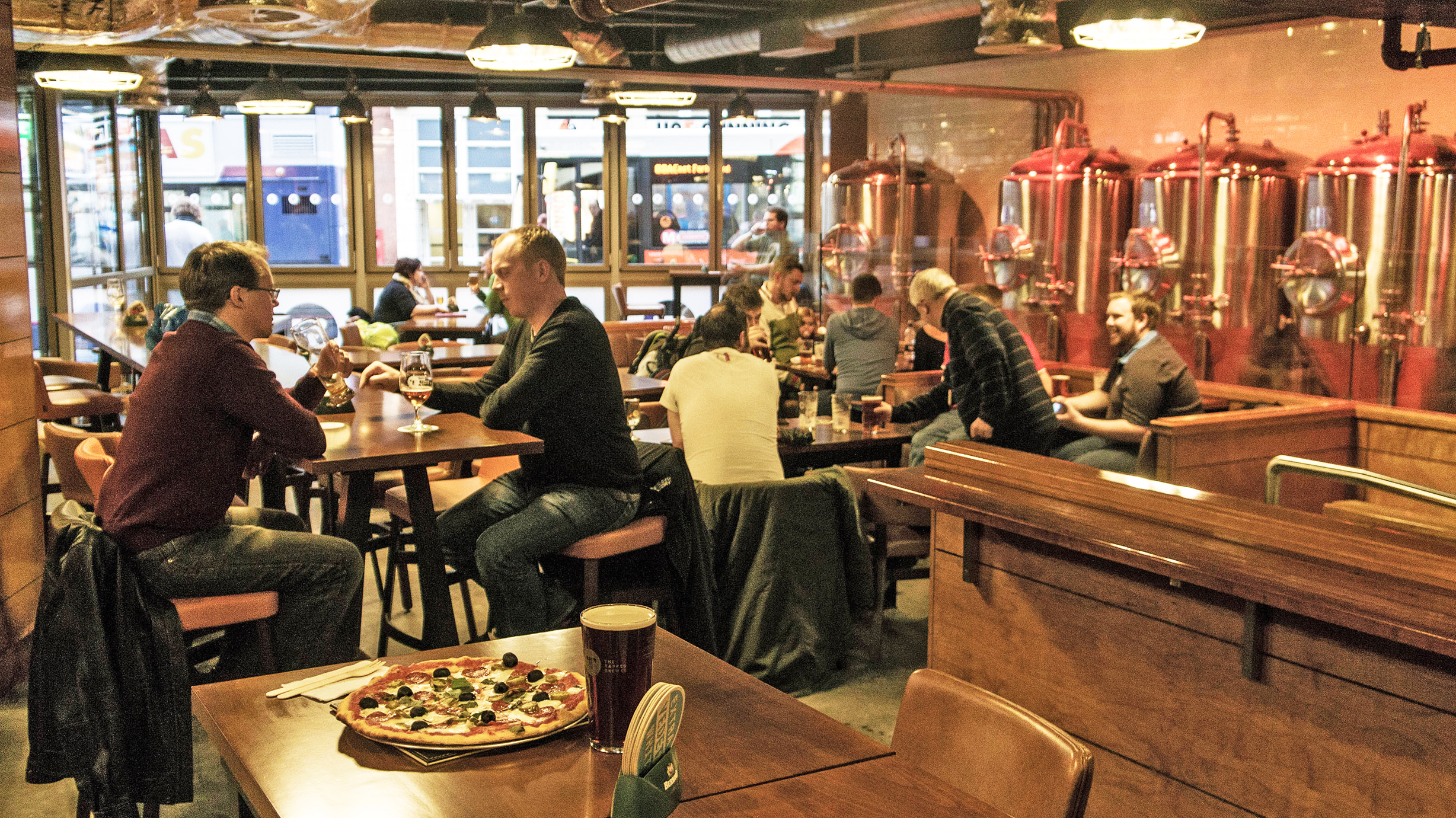 Tapped
---
Whitelocks
If you live in Leeds and haven't been to Whitelocks, I just don't know what you've been doing all this time. Full of charm, characters and great beers, Whitelocks is a Leeds institution and should form part of any historical tour of the city. But we can't dwell on that as it's off to find the wood-etched owl at the Yorkshire Bank on Kirkgate (19). We then wander in to Kirkgate Market and scan the roof design to find the owls incorporated cleverly into the high ceiling beams (20).
It's unlikely any walk around historical Leeds landmarks would miss out the Corn Exchange, and sure enough there are owls both inside and outside Cuthbert Broderick's 'other' Leeds classic (21). Take a bit of a stroll down Call Lane and along to the Malmaison hotel on Swinegate which features a stone coat of arms in its façade (22), before we hot foot it over Leeds Bridge where a cast iron coat of arms is featured proudly in the middle (23).
Whitelocks, Turks Head Yard, Leeds, LS1 6HB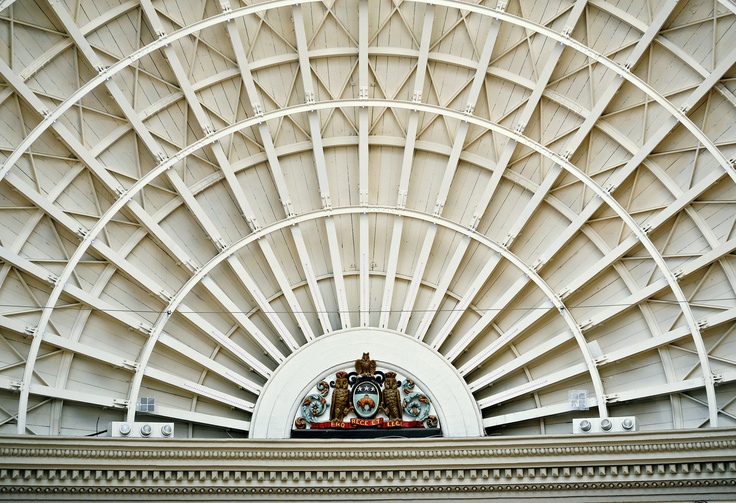 Corn Exchange Coat of Arms
---
Adelphi
We couldn't venture down this end of town without popping in the Adelphi; another multi-room traditional pub and a stubborn mainstay of Leeds pub culture. We finish off another pint from their selection of local breweries and head off to Wharf Street where the Leeds Civic Trust has an owl etched in glass above its door (24), and then we are on the final straight.
Adelphi, 1-3 Hunslet Road, Leeds, LS10 1JQ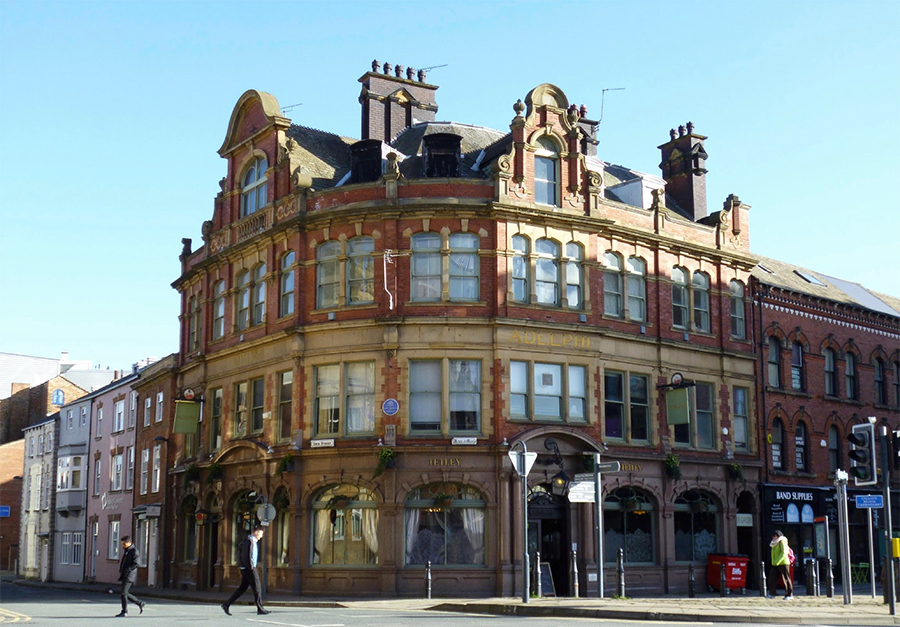 Adelphi
---
Lamb & Flag
Mercifully, it's a pretty short straight too. Leeds Minster at the bottom of Kirkgate features a number of owls to tick off (25) before we collapse into the Lamb & Flag.
Formerly owned by Leeds Brewery, now by Camerons, it still features its former owner's beers along with the sort of accompanying selection of quality beverages you would expect.
Congratulations on ticking off all 25 owls by this end point - your prize? An enhanced appreciation of your city and its surroundings.
Oh, and a hangover tomorrow...
Lamb & Flag, 1 Church Row, Leeds, LS2 7HD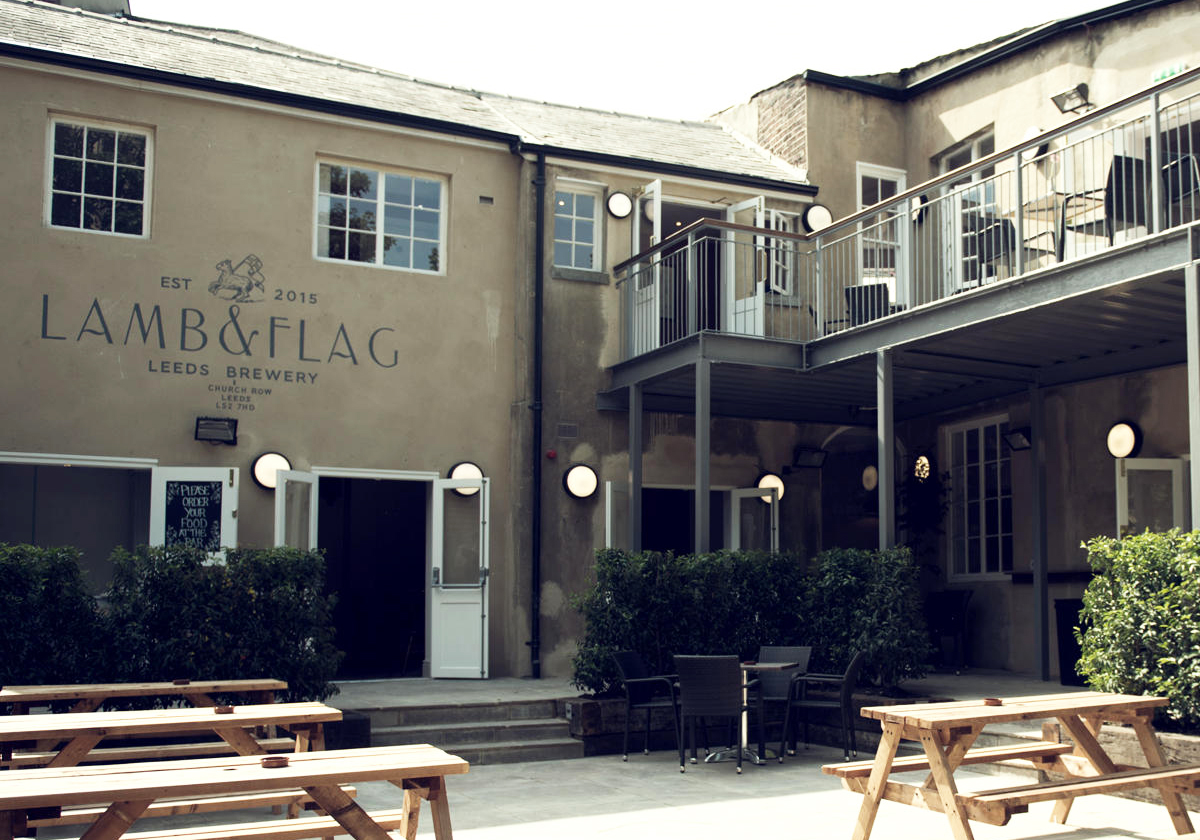 Lamb & Flag