Whether it's seasonal, special, or straight-up secret dishes, we've hunted down the five things you must eat in Leeds this month, before it's too late...
Gobi Manchurian & Ragda Pethis - Bundobust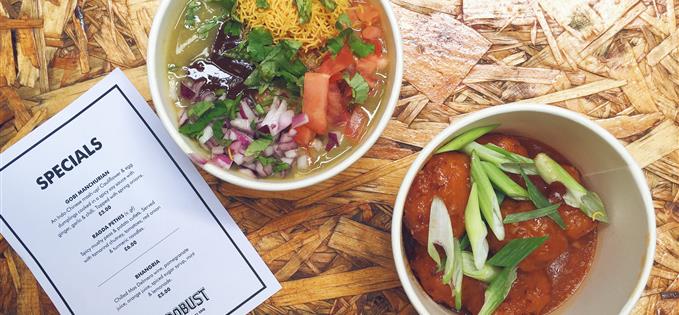 Congratulations are in order for Bundobust's kitchen. Not only has head chef Maity just completed his British citizenship, but they've also come up with a couple of absolutely banging new specials that would be extremely welcome additions to the regular menu. Gobi Manchurian (£5) are bouncy, meatball-like dumplings conjured from cauliflower and egg, served in an umami-rich sauce of spicy soy, tomato, ginger, garlic and chilli that brings back childhood memories of snacking on bags of Tangy Tom crisps.
Ragda Pethis (£6) is a bit more subtle, potato & pea fritters with mushy peas, topped with fresh onion, tomato and coriander, and a good thwack of tamarind chutney. A bit like a pea soup/Bhel Puri hybrid. Wash it down with Bhangria (£5) - a fresh & spicy Indian take on Sangria that blends red wine with pomegranate, orange juice, fresh mint and spiced syrup.
Bundobust, 6 Mill Hill, Leeds LS1 5DQ
---
Cauliflower Shawarma - Ox Club
No strangers to making cauliflower more delicious than it has any right to be during their evening service - when they give it a healthy char and a liberal application of romesco sauce - Ox Club are doing wonders for the vegetable's reputation on their brunch menu now, too.
Cauliflower Shawarma (£9) comes as a huge, chewy flat-bread with a touch of black from the grill serves as a magic carpet, delivering a cacophony of Middle-Eastern ingredients and flavours - cauliflower, romanesco, a deep, hot harissa balanced mingling with slightly-soured yoghurt, sweet, tart sequins of pomegranate, and a version of their infallible cheddar eggs flavoured with ras-el-hanout. You won't eat a better brunch all month.
Ox Club at Headrow House, Bramleys Yard, 19 The Headrow, Leeds LS1 6PU
---
Pastel de Carne - Pintura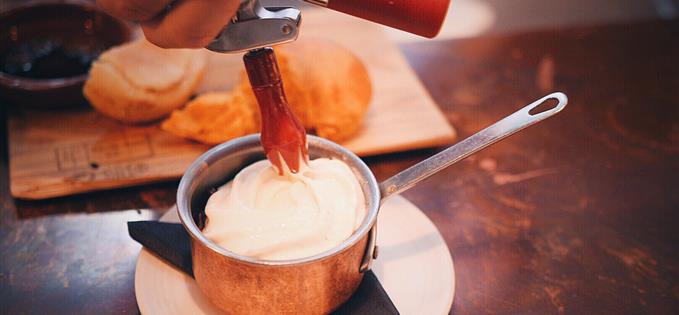 The Summer menu at Pintura isn't short of new, seasonal dishes that impressed us, but the one that stuck in our memory the most is the Pastel de Carne (£6.95).
Beef cheek, slow-cooked sweet sherry until tender and slightly caramelised, oomphed with a touch of summer truffle and topped with new potatoes from a whipped cream dispenser - it's pure, unfiltered joy.
Pintura, 1 Trinity St, Leeds LS1 6AP
---
Courgette, Mint, Pomegranate & Feta, Heritage Tomato, Sourdough - The Swine That Dines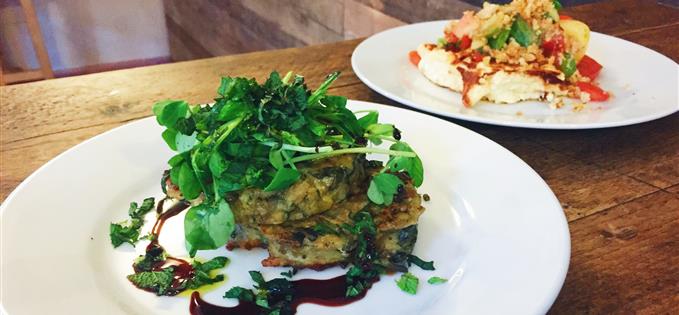 Two dishes from this month's seven-course tasting menu that sum up chef Stuart Myers' ability to put out plates that take modest ingredients and create something so much greater than the sum of its parts.
Feta (£6) is fairly straightforward - simply whipped and flavoured with chilli and onion to give it an unexpected kick, its natural saltiness brings out all the garden flavours locked in those heritage tomatoes, while fried sourdough breadcrumbs add texture. The courgette dish (£6) toys with the form of its ingredients a bit more - imagine a highly-refined version of hash browns folded with cottage cheese for lightness, paired with fresh, aromatic pea shoots and mint, with a tangy, syrupy backbone from pomegranate molasses.
The Swine That Dines at The Greedy Pig, 58 North St, Leeds LS2 7PN
---
Porcini Princess - Golden Balls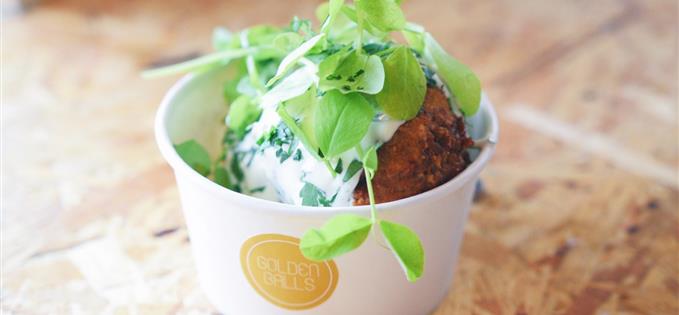 Arancini are tricky to pull off, even in the hands of the most experienced kitchens, which makes it all the more impressive that street-food newcomers Golden Balls are able to pull off perfect little orbs of gooey rice joy time after time.
The God Mamma (£6) leaves a satisfying trail of stringy mozzarella with each bite, but our personal favourite is the deeply mushroomy Porcini Princess (£6), smothered in a ripe and peppery cambozola cheese and parsley sauce.
Golden Balls at Trinity Kitchen, Trinity Leeds, 27 Albion St, Leeds LS1 5ER