'CULOTTES' and 'fashionable' are not two words I'd usually put together.
a good heel will solve an awful lot of culotte dilemmas, as that added height can really lengthen the leg.
After all they were once fashioned by Henry VIII and for me, they conjured up images of the potato sack brown 'skorts' I used to wear at Brownies - not the hot new fashion trend.
They were all over the Spring/Summer catwalks, and now they have begun to slowly filter through to the high street. I must admit, I am now a total culottes convert, to the point where my friends now call me 'the culottes queen'.
Many think culottes can be unflattering, but I'm here to tell you that there is a pair out there for you (trust me). There are so many options on the high street right now; floaty, denim, seventies retro and even the perfect work wear versions, all with different lengths and cuts. My advice is definitely try a few pairs on and give them a chance. I must admit, a good heel will solve an awful lot of culotte dilemmas, as that added height can really lengthen the leg.
Here, I've detailed how to take culottes from day to night, and prove that culottes really are a girl's new best friend.
DAYTIME LOOK 1 | GEORGE ASDA £14
My first pair are from George at Asda. They are very flattering and my only pair that I feel really comfortable wearing flats with. They are cut well, and are made from heavy material so fall beautifully. They are perfect for work too as they are dark grey and go with everything.
I've teamed them with my fave faux leather jacket from Boohoo and my pair of lookalike 'Stans' from H&M.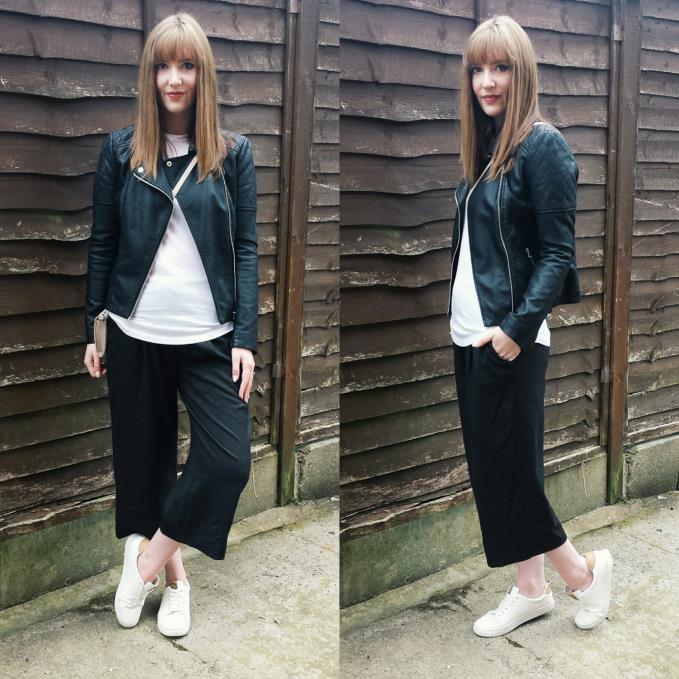 EVENING LOOK 1
To dress them up I've simply added my staple black heels from New Look and a gorgeous off the shoulder blouse from Zara (another big trend this season). They make such a difference from simple black skinnies and really add the fashionable edge to a night out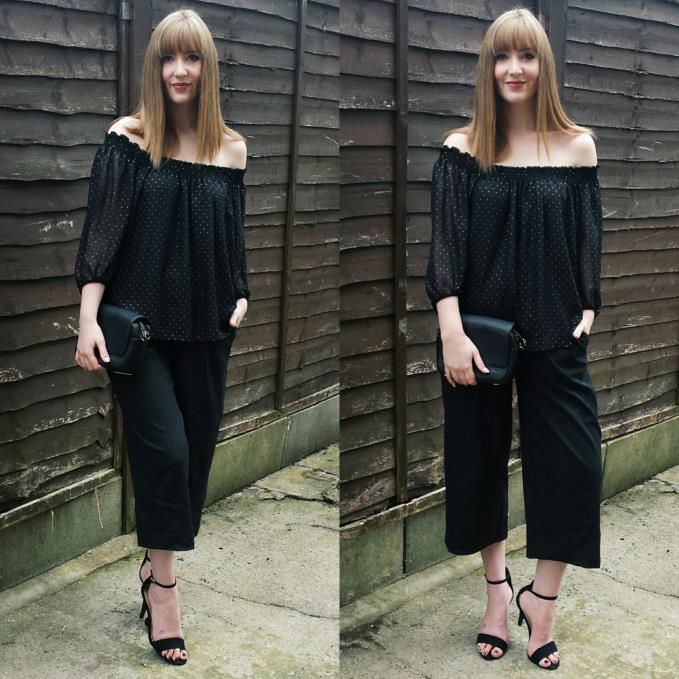 DAYTIME LOOK 2 | PRIMARK CULOTTES £14
These stripey babes are from Primark. I wear them all the time. They fit so well and are very feminine and floaty. I've added a bit of masculinity with my vintage denim jacket and silver brogues from Next. Perfect for a dressed down Spring day.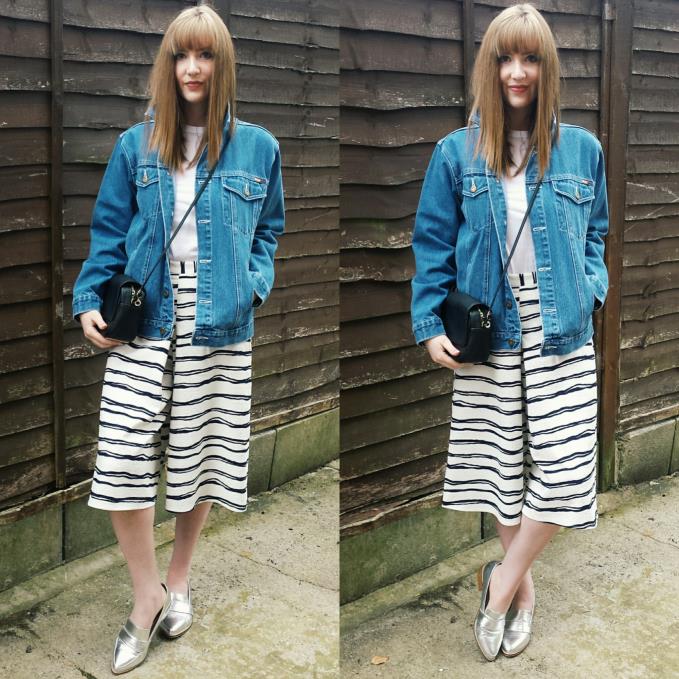 EVENING LOOK 2
Again I've added a heel, which instantly makes it a more evening look and changes the shape of the culottes (if you're ever in doubt, add a heel). My leather jacket has returned and adds a bit of edge to the floaty, girly feel, and my black over the body bag from H&M finishes the look.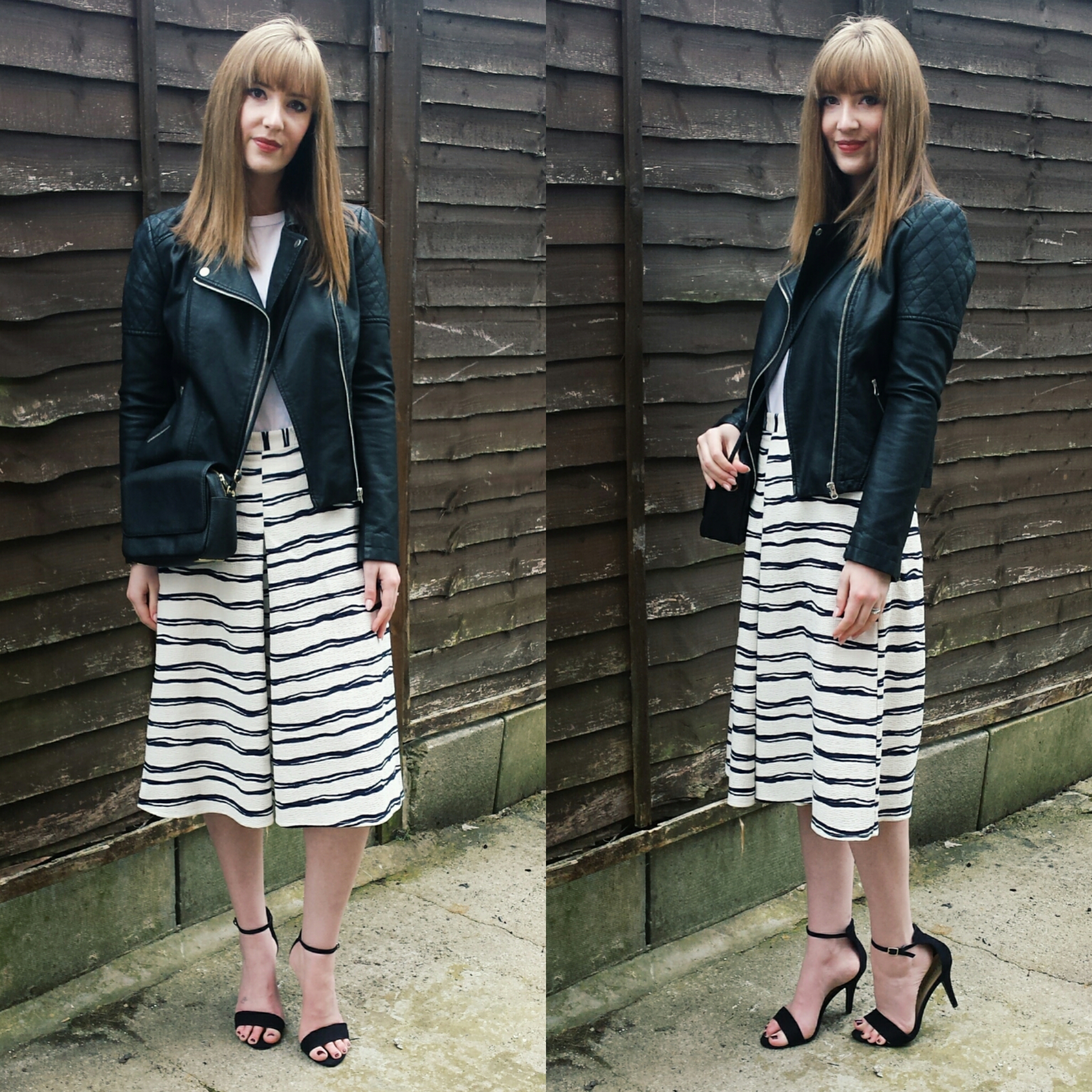 Lauren runs fashion blog Fashion Panic, you can take a look at all her style guides here
Follow Lauren on Twitter @fashion_panic00
SHOP MORE CULOTTES: