OFTEN when bands announce that they are to reform, there seems very little rhyme or reason to the decision, other than a nostalgic night out for the fans and a timely boost to the bank accounts of the performers. This is not the way it is with Space, their reappearance makes perfect sense. If they were in any doubt themselves, they just had to witness the wave of affection that greeted their short set at the With Love From Liverpool benefit.
So Tommy Scott, why now?
We are just one of those quirky bands, we are never going to be cool, but we don't wanna be
"Franny (Griffiths) had some songs that were good enough to record. We did release the album Attack Of The Mutant 50ft Kebab two years ago, but we now have some proper good songs. Getting back together wasn't planned, I was enjoying being in my little mid-life crisis punk band The Drellas. I preferred them to my next band The Red Scare. We had started including the odd Space song in the set and was starting to feel bad about playing them without Franny and Jamie in the band. So, Franny came back in and here we are!"
Tommy and Franny are joined by bass player Phil Hartley and drummer Allan Jones, both members of The Drellas. There is much to look forward to in the immediate future, a single called Strange World released tomorrow, November 27, with an album of the same name to follow in 2016.
The band who shot to fame in the 1990s with a string of hits - including the ever popular Female of The Species - are currently undertaking a long 30 date tour, which reaches the Epstein Theatre on Friday December 4.
"It's great to be back, it feels brilliant. Every gig has been packed. I can't believe how young some of the audiences are," says Scott.
"We will hopefully be recording the album in January, Steve Levine is up for producing it. He produced PiL's Metal Box, so that will do for me. It will be the same schizophrenic thing we always do. The single is slightly different to our usual direction, but there will only be about two songs like that on the album. We wrote that dead quick in the practice room and loved it. There is some stuff that has a Devo or Fad Gadget vibe. We've got a song for the following album called Sharks Be More Friendly which comes from my fear of the sea."
Tommy Scott is an engaging man to spend time with. Hat perched on his head, he exudes the gentle nervous energy that can often pervade creative people. He also has an endearing air of self-deprecation about him. He claims not to be that bright, which is far from the truth. We are dealing with a man whose lyrics have a sharpened take on society as seen from his singular oblique angle.
I mention that I think of Space as a band that lift up humanity's carpet to enable them to comment on the human detritus that is swept underneath. Tommy looks pleased and he agrees:
"That is the perfect quote.... that is US!"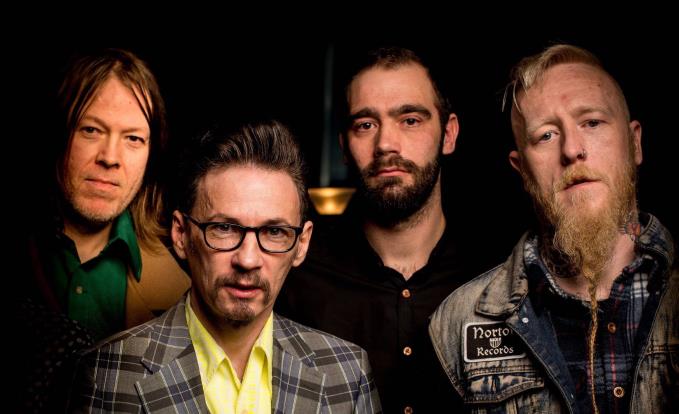 Space 2015
He is clearly invigorated by playing live with Space once again: "Towards the end last time, we got a bit fed up with each other, as every band does, we got to that point were we had exhausted ourselves, people didn't really want to know any more. We had all moved on to different things. Half the time it's pushed upon you. But now we are old, so it doesn't matter, we aren't trying to get in the charts or anything!"
Scott looks much younger than his 51 years.
"I don't feel it... especially after only four dates of the tour! But it's going really well. I couldn't believe the reception we got at the Echo Arena during the Love From Liverpool concert. My favourite, though, was OMD, wow... they blew me away, that's how to get an audience going!
"When we play, we try to put as much energy into the performance to show people that we are enjoying it and there's always a hit coming along soon. We are just one of those quirky bands, we are never going to be cool, but we don't wanna be."
Scott is perfectly happy to talk about the machinations of being in a band: recording, touring, song writing, but ask about what inspires him and he becomes even more enthused and animated. Like many of his generation, his formative years were spent listening to the music his parents played: Ella Fitzgerald, Elvis Presley. The latter would appear in the title of Space songs A Liddle Biddy Help From Elvis.
After a brief spell in Hello Sunset he formed The Australians with his parter Gill. Even then, the songs were investigating society's degenerates. Their best also has one of the all time great song titles: The Girl Who Loved Her Man Enough To Kill Him. It's still one of Tommy's favourites.
"I'd love to include that song in our set. The Australians were my favourite other band that I have been in, we nearly made it, but fell short. I was inspired to form a band by groups such as Spizz Energi, they were my favourite band then, around the time of Where's Captain Kirk?. I went to see him at Eric's"
Following the demise of The Australians, Scott formed The Substitutes, but was far from happy.
"That was the only time in my life when I felt I was sucked into a scene, it was when everyone was going a bit mod. It's like our first single as Space, If It's Real, it's crap, no originality. So I went back to the stuff I used to love like Spizz and The Reluctant Stereotypes. Once you were touched by punk, it stayed with you. It was about experimenting. Someone said that punk was just like hippy with different clothes. My favourite film is The Cabinet Of Doctor Caligari and that's punk, every frame is like a painting. Movies influenced me even more than music."
Given those influences, it comes as no surprise that his songs are populated by such ne'er-do-wells and miscreants as Reverend Miller the serial killer. It's good to have Space back and we can expect to meet some more of these wastrels quite soon.
"If you become touched by music, films or anything else, you never grow up."


*Space, Epsein Theatre, Liverpool, Friday December 4, 7pm. Tickets £15.50 adv here. £17.50 door.