THOSE Naughy Lumps are, perhaps, the ones that got away. A band right at the epicentre of Liverpool's second Mathew Street musiceruption in the mid-late 1970s and as much a part of the volcanic scene as any of 'em.
Right at the top of Pete Frame's Liverpool Rock Family tree, the Lumps were signed to Zoo. Their day-glo biggie, Iggy Pop's Jacket remains a frenetic infectious throwback to hairy-headed punk classicism.
The Lumps split in 1980. Their members scattered far and wide, never to be heard of again. Some of them are still missing.
'It's the best fun you can have with your
trousers on' - drummer Kevin Wilkinson
Yet, in 2010 the wonders of Facebook reunited them and they began to tentatively play again, but not in the city of their birth.
Now it's all systems go for the first gig in Liverpool for 34 years, on Saturday July 20, with old songs and new.
Here drummer and founder member Kevin Wilkinson explains what the hell is going on.
So Kevin, Why did you get back together?
"Why not, more like! Once it's in you, the bug is always in you. Some of us are lucky enough to rock out when we are young, and then The Man gets in the way and has you in his grasp for about 30 years.
"Then you realise you are old enough - and if you're lucky, free enough - to emerge from the workaday world into the broad sunlit uplands of senility and find that you can, with a bit of will & effort, return to annoying people with musical instruments just as one had done at the age of 22.
"Basically, we got together then as we do now, because we wanted to and because it's the best fun you can have with your trousers on, the same ethos that made non-musical students start playing in 1976!
"Thanks to the wonders of Facebook, the unstable energy (energetic instability) of Pete Hart, the financial crisis, our collective boredom and desire to free ourselves from the evil clutches of The Man, and of course, our terminal gullibility, here we are. It was always fun and we hope it will be fun again!"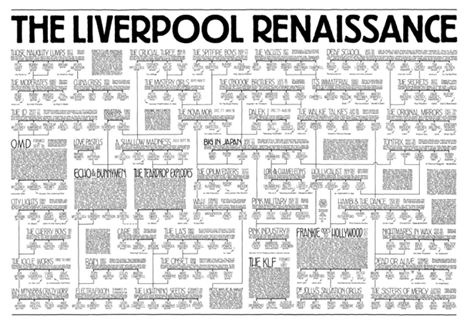 Pete Frame's poster presents 'Pool pop people
How come you haven't done Liverpool before now?

"The band started tentative rehearsals in 2010 & have since rehearsed in Liverpool and played a few gigs in London. We didn't do Liverpool until now because we wanted to have a full band and know what we were doing - so we practised on Londoners!"
Thirty four years is a long time. Excited? Bricking it?
"We are thrilled to be playing in Liverpool again after so long. This is especially true of those of us who moved away from Liverpool when the band split in 1980, have played all over the place with other bands over the years while dreaming of the early days as they receded further into the dim and distant, the probability of ever playing together again in the city diminishing as time went by.
"Remember that all but one (Tony Mitchell aka Max Facktor) of the original Lumps were in fact students at Liverpool Uni, hailing from all over the country, but always considering Liverpool our spiritual home. At last we have a Liverpool gig. It may seem a low key start but as our first gig in Liverpool for so long, we aim to make it pretty special.
What will you be playing?
"The old punky faves (Iggy Pop's Jacket/Pure & Innocent) and some new classics written over the last year. Of particular note are new numbers, some of which revisit the old themes of angst, sex, hypocrisy, infatuation, social ineptitude, abuse of medicines, failure, stupidity, hatred, depression, etc., (e.g. 'Reincarnation', 'Back Door Banging') while others come from a more mature perspective, e.g. 'Heart Attack'.
 "There's even a (gulp!) nostalgic ballad called Lumps Lament', offering a synthesis between the old Havanna/Erics days and our present state of mind/body. Unsurprisingly, the repertoire is more varied than 1978!
What do the Lumps say to all their former fans?
We have written a song, 'Lumps Lament' that explores it all!
 "Our fans all laughed at us! We laughed right back at them"
We also say a couple of quid at the door is a steal for such a night!
*Those Naughty Lumps homecoming gig, Sat 20th July 2013, 8.30pm. Maguire's, 77 Renshaw St, Liverpool. £2 on the door.
Who are the Lumps?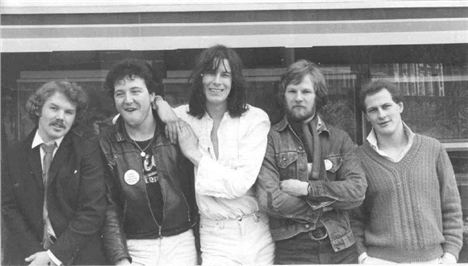 Pete Hart (Vocals)
; head of Oral History at The imperial War Museum; very famous author of history books (check out Amazon); has sung in London band The Applelips Brothers for many years. Lives in East Finchley.
Tony Mitchell (Guitar & vocals; aka Max Facktor); the only Lump to remain in Liverpool; works for a children's charity; has been a session muso in Liverpool, fostering young bands and being a brilliant bloke, guitarist and song writer
Kevin Wilkinson (drums); retired Senior University Lecturer in language & linguistics; has taught all over world for last 30 years, trailing his drums around with him; played mainly in covers bands in Middle East and UK; now freelance language teaching consultant & teacher trainer in Norwich
Bobby Moore (vocals); London member, a cheery cockney gardening services magnate and cricket coach
Dave Toller (saxophone); also plays in 1940s big band band and was an executive in an IT firm but is now retired and free from The Man, based in Liverpool for the past 35 years.
Julia Cadman (bass); plays in the same big band as Dave Toller. Liverpool based.
Martin Papier (keyboards); London based. Spookily brilliant musician; a computer genius and has a new baby which in itself is a miracle
Andy Reeves (lead guitar); London based; played with Pete Hart in London band.
MISSING IN ACTION
Gordon 'Bream' Anderson (guitar); Moved to Australia. Played gig with us 2010 in London; returns to UK Winter. How long for?
Pete 'Kid' Younger (guitar/bass);  original Naughty Lump & ex Wah Heat bassist): has rehearsed recently with the band, but still to free himself from the clutches of The Man in order to have time to be a rock star again. Counting down, teaching in Scotland.
Martin Cooper (bass & vocals); has rehearsed with us a couple of times recently but has many commitments, mainly head chef at Delifonseca Dockside.
Dave Cadwallader (bass), Bobby Carr (everything, but mainly guitar), Dave Hoatson (guitar); so far untraceable.