OVER in Manchester gnashing replaces noshing every October when the new crop of Michelin star winners is announced.
Yes, the annual mope-fest about not being able to nip out for some all-frills food, as the city is denied again, writes itself.
Over this end of the East Lancs, we are better served. Ish.
In this, the lone star state, Fraiche, Oxton, serves up dinner to just eight people, four nights a week. But after it was named by The Sunday Times as the best restaurant in the UK, it's a star that might as well be light years away as tables are snapped up months in advance.
You'll have better luck another 20 minutes away, at Simon Radley's Grosvenor, and until New Year, you can, at least, take the Merseyrail.
But to do it with verve, like Steve Coogan and Rob Brydon in The Trip, you'll have to add wheels and get out into that gorgeous scenery. After all isn't that what the Michelin Guide is all about?
Here's what intrepid diners with a satnav will find within a 95 mile radius of Liverpool.
There's only one two-star among that bunch, but it is L'Enclume in Cartmel, which the Good Food Guide affords a perfect ten score.
The Lake District is booming, yet Lancashire, Yorkshire and North Wales are all fertile ground too.
Happy motoring - and munching - with all the fuss you could ask for.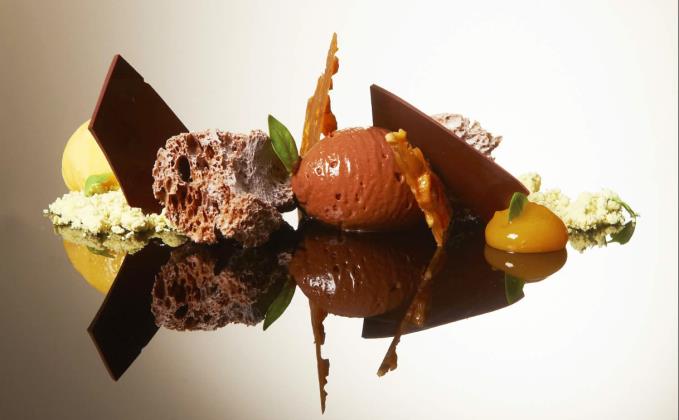 Fraiche, Oxton (4 miles)
The one-man Wirral wonder show shows no sign of flagging. Marc Wilkinson serves a set six-course dinner theatrically to just eight people four nights a week and Sunday lunch to 12, so it's obviously a bugger to get a reservation at the so called "Shed".
Gordo squeezed in for us one windy day in February, loving the experience all the way to one of the best cheese trolleys in his experience, but he rhapsodised most about the pecan nut nibbles it all kicked off with: "Baked, one at a time, in Tinkerbelle's oven. She'd spent all afternoon painting them with ambrosia, sprinkling it with the spices she'd stolen from an incense-bearing tree in Kubla Khan's gardens, close to that sunless sea of his." Our review.
Tasting menu £85.
11 Rose Mount, Prenton CH43 5SG. 0151 652 2914 restaurantfraiche.com
Simon Radley at The Grosvenor, Chester (19 miles)
In Chester it's Sticky Walnut which grabs the attention of the Twitterati and the crowdfunders, but this grande dame of hotel restaurants, holding a star for a quarter of a century, sails serenely on, showcasing Radley's cooking, so accomplished they put his name on the door (there's also the Arkle Bar, named after the racehorse).
They are big on heritage – our reviewer Charles Campion found a Heritage Potato – Loomswood duck ragout, fondant liver and tit bits' "very rich and very satisfying". Our review.
Tasting menu £99.
Eastgate Street, Chester, CH1 1LT. 01244 324024 chestergrosvenor.com
Northcote, Langho (45 miles)
We sent our national critic Charles Campion to lunch at this now rather grand Michelin veteran, run since 1985 by Craig Bancroft and chef Nigel Haworth (joined latterly in the kitchens by fellow Great British Menu star Lisa Allen).
Campion reported: "The cooking is precise, the seasoning considered and the presentation elegant. It carries the flag for the small producers of the North West and deserves credit for sticking to the mantra of 'local and seasonal' for three decades." Good place to stop over, too – it's the current AA UK hotel of the year. Our review.
Tasting menu £90.
Northcote Road, Langho, Blackburn BB6 8BE. 01254 240555 northcote.com
Tyddyn Llan, Llandrillo (48 miles)
A rural boutique restaurant with rooms created in the Eighties by the former set designer for Fawlty Towers, today it is a bastion of classically-treated, proudly Welsh-sourced food cooked by Bryan Webb. His pedigree is immaculate; trained at The Walnut Tree, Abergavenny, succeeding Simon Hopkinson at Hilaire in London. Do the nine courses and crash down overnight Our review.
Tasting menus £60 and £90.
Llandrillo, Corwen, LL21 0ST. 01490 440264 tyddynllan.co.uk
Fischer's Baslow Hall, Baslow (71 miles)
Rupert Rowley sounds like a Regency rake (forgive my sudden alliteration), but don't expect too many culinary dashes to be cut. This is accomplished Michelin-ready cuisine grounded in the products of the Hall's kitchen garden and over 90 per cent of the produce used is British, mostly from Derbyshire. After training with Blanc, Burton Race and Ramsay, Rowley came 'home' fourteen years ago to this solid Edwardian country house that looks much older. Complete the heritage trail with a visit to nearby Chatsworth.
Tasting menu £80.
Calver Road, Baslow, Bakewell, DE45 1RR. 01246 583259 fischers-baslowhall.co.uk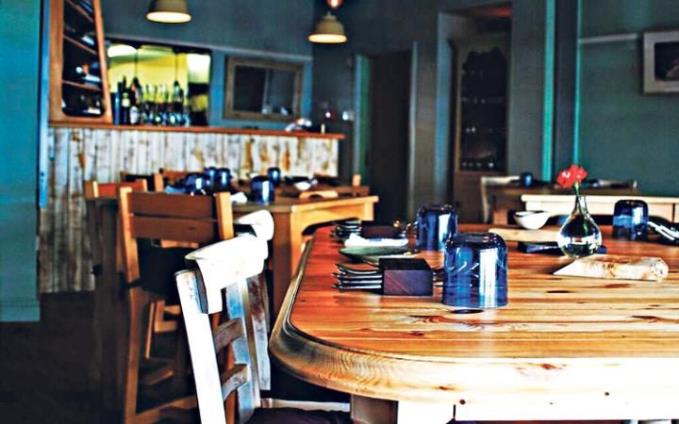 Sosban and The Old Butchers Restaurant, Anglesey (74 Miles)
If you go down to the Isle of Anglesey, you're in for a big surprise. For a start Sosban (it means saucepan) and The Old Butchers (self explanatory) is hidden behind the blinds of an innocuous shop front in Menai Bridge's High Street.
Diners take pot luck, literally and figuratively, at Stephen and Bethan Stevens tiny gaff which is open even less than Fraiche, just three nights a week.
What punters (all 16 of them per night) can expect to eat on any given service is a mystery until it's plonked down in front of them.
"Forget the menu, savour the experience," they say.
So far, so good. The bad news is you'll have to wait 15 months to savour anything. The next bookable table is January 2018 at time at writing. By then we may all be living on the Moon.
Lunch £34. Dinner £59.
1 High St, Menai Bridge LL59 5EE. 01248 208131. http://www.sosbanandtheoldbutchers.com
Man Behind The Curtain, Leeds (74 miles)
A Sunday Times critic (not London-centric AA Gill) was a bit sniffy last weekend about the whole Michael O'Hare experience, citing "his next opening, in Manchester, is backed by famous footballers", as if that were a war crime, and getting all Erotic Review about the hand-massaged octopus she was served "on a spoon shaped like a sperm and as delicious". Ewww.
Perhaps the Great British Menu winner inspires such naughtiness. Our own Gordo lusted after the duck liver: "This was a dish by Dolly Parton. Two pink, tiny doughnuts exploded all over the table with emotions least expected; interior velvet subtlety, white chocolate covers topped with pink near-candy top covers, rhinestones of freeze dried berries bringing balanced tart finishes." No wonder curious folk are booking months ahead for a taste of the Chef formerly know as Hair Metal's abstract expressionism on a plate approach.
Tasting menu £75.
Top Floor, Flannels, 68-78 Vicar Lane, Leeds LS1 7JH. 0113 243 2376. http://www.themanbehindthecurtain.co.uk
Box Tree, Ilkley (79 miles)
This cottage place (chintz, bone china dogs, framed scenes from Shakespeare) looks much as it did in the camp old days when young tyro Marco Pierre White was blooded in its kitchens, but this Yorkshire national treasure maintains its contemporary culinary edge under the stewardship of serial star holder Simon Gueller. This is down to his knack of hiring chef prodigies to cook alongside him. When I last reviewed for ManCon in 2015 Lawrence Yates was cooking; the mantle has passed seamlessly to Mark Owens. Food and service remain immaculate. Our review.
Tasting menu £75.
35-37 Church Street, Ilkley, West Yorks, LS29 9DR. 01943 608484 theboxtree.co.uk
L'Enclume, Cartmel (85 miles)
Gordo was converted to Simon Rogan's exquisite cooking on his last visit, attempting to give it 11/10. It inspired him to describe a yoghurt-led dessert as "looking finer than a Matisse. It was so beautiful that 'perfect' doesn't do it justice. It was Bardot walking past Senequier in St. Tropez with flowers in her hair". As a culinary experience then a notch up on our own lovely French. Our review.
Tasting menu £130.
Cavendish St, Cartmel, Grange-over-Sands LA11 6PZ. 015395 36362 lenclume.co.uk
Gilpin, Windermere (85 miles)
This Lakes stalwart, which lost its original star in 2008, has forged back under new chef Hrishikesh Desai hired after the luxury hotel took the bold step of featuring in BBC 2's Alex Polizzi: Chefs on Trial. Desai, who gained experience with Paul Bocuse, The French Laundry and Lucknam Park has turned things around dramatically.
Tasting menu £85.Gilpin Hotel & Lake House, Crook Road, Windermere, Cumbria, LA23 3NE. 015394 88818 thegilpin.co.uk
The Samling, Ambleside (86 miles)
While Holbeck Ghyll and Sharrow Bay have shed their stars, the Samling has kept the Lakes Michelin flag flying high above Lake Windermere. Odd that it doesn't make it into the rival Waitrose Good Food Guide, while the Nordic-inspired, forage-mad Lake Road Kitchen down in Ambleside does. .
Tasting menu £80.
Ambleside Road, Windermere, LA23 1AR, 015394 31922 thesamlinghotel.co.uk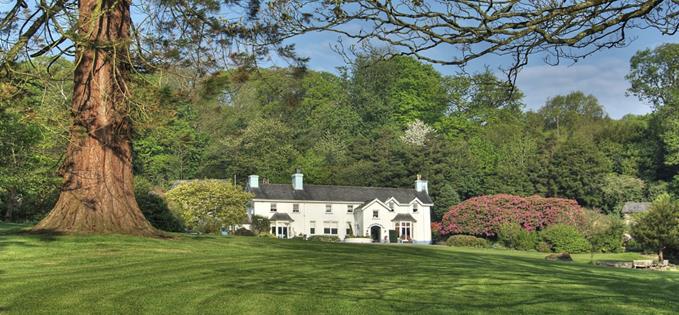 Ynyshir Hall, Machynlleth (90 miles)
Built in the 15th century and once owned by Queen Victoria, this high-end hotel is a six -minute walk from the RSPB Ynys-hir Nature Reserve, with sheep everywhere.
In the dining room, Gareth Ward and his team create innovative, modern British tasting menus. Ward hails from the two Michelin star restaurant Sat Bains in Nottingham where he worked for three years as sous chef. He also worked at the one star Hambleton and Seaham Hall in Durham.
They say: "The main emphasis is on taste and exciting flavours using only the best of Welsh and British produce."
We say: You herd it here first.
Lunch tasting menu £39.50. Dinner tasting menu from £95.
Eglwysfach, Machynlleth, Powys SY20 8TA. 01654 781209 http://www.ynyshirhall.co.uk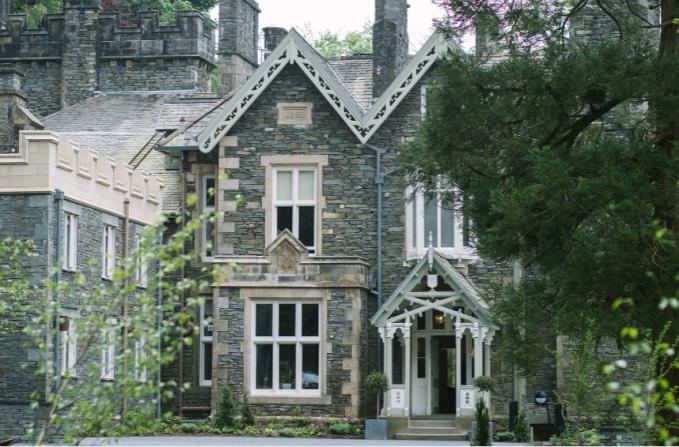 Forest Side, Grasmere (95 miles)
It can be scant consolation for Simon Rogan – who missed out again for The French at the Midland – that his former head forager and sous chef at L'Enclume, Kevin Tickle (main image), has proved a meteoric success running the kitchens at this glorious Lakes hotel, open just seven months. Mr Tickle's menus echo his mentor. Our review.
Tasting menu £85.
Keswick Road, Grasmere, Cumbria LA22 9RN. 015394 35250 theforestside.com
No wheels? The best of the rest - according to the gospel of St Michelin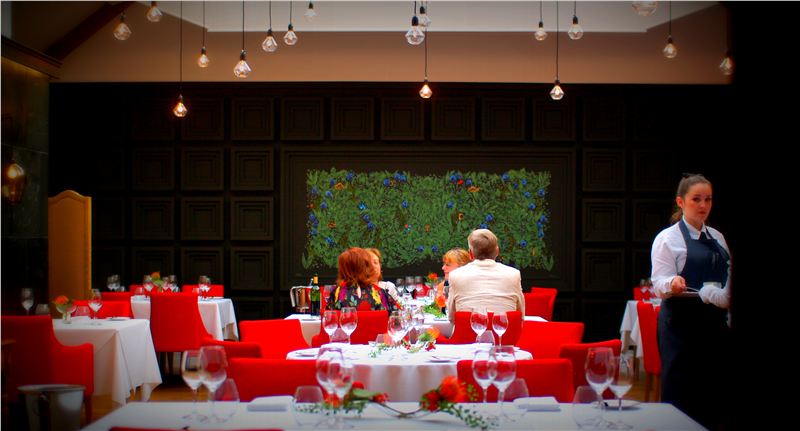 There are no Bib Gourmands for Merseyside, however the following are singled out as worth a rather posh Michelin pit stop.
Panoramic 34, West Tower, Brook Street, L3 9PJ.
Vincent Cafe, Exchange Flags, L2 3YL.
Etsu, Beetham Plaza, The Strand, L2 0XJ.
The Art School, Sugnall St, L7 7DX.
60 Hope St, 60 Hope St, L1 9BZ.
Neon Jamon, Smithdown Place, L15 9EH
Spire, Church Road, L15 9EA.
Da Piero, Mill Hill Road, Irby, CH61 4UB.
Burnt Truffle, Telegraph Road, Heswall. CH60 0AQ.
Bistrot Verite, 7 Liverpool Road, Birkdale, PR8 4AR.
Lawns, Thornton Hough, Neston Road, CH63 iJF.
V Cafe, Lord Street, Southport, PR8 1JR.
Eagle & Child, Maitkiln Lane, Bispham Green, L40 3SG.
The Great Britain & Ireland Michelin Guide 2017 is published on Thursday, October 6. View the full awards list here.