AT WAHACA they ensure that customers with sensitive dispositions – and stomachs – need never be afraid.
Understandable, maybe, in the case of artwork specially commissioned for the latest branch of the Mexican restaurant chain.
The output of political street artists Lapiztola, whose decorative touches add cred to the College Lane venue, generally features death, drugs, the disappeared and other realities of life in their tormented native country.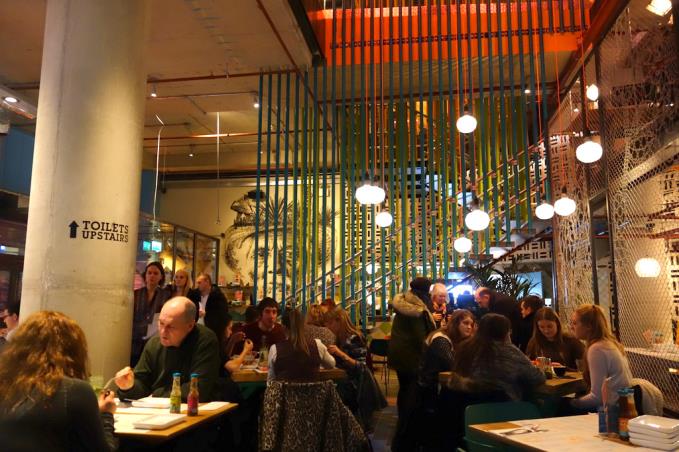 So colourful birds and a senior senor wearing a sombrero and a smile were probably deemed a safer choice for College Lane than the Mexican artists' collection of doilies featuring bloody, limbless corpses, which could put you right off your enchilada.
At one point a man at a neighbouring table proclaimed: 'It's cheese on toast!' Quite possibly the whole restaurant was having the same thought
You won't encounter anything to shock the system at the 19th and latest offshoot of Wahaca, the Mexican "market food" restaurant chain part-owned by Masterchef winner Thomasina Miers. Likewise, there is nothing to startle the palate.
Wahaca is the phonetic spelling of Oaxaca, the Mexican state from which Miers, and co-owner Mark Selby, have drawn much of their inspiration, and herein lay the first clue to the restaurant's offer. Like the name, the food is packaged for consumers who prefer not to be challenged.
Lapiztola's input apart, Wahaca's sizeable Liverpool One interior gives the impression that a virus has found its way into their computer-aided design software; either that or they couldn't agree on anything so opted to have everything: from low-hanging lights to mock scaffolding, from ducting to doilies – the traditional Mexican sort, not the corpse-strewn sort.
Waiting staff are determinedly helpful and cheery and it's not their fault that they are required to explain the menu by reading out what it says on the menu. Basically, there are lots of little dishes (the street food Miers so admires) and some bigger dishes. Much of it sounded similar. Much of it was similar.
Tacos like pork pibil (£4.25), slow-cooked in "our special Yucatecan marinade", with "fiery" pink pickled onions; flash-grilled steak with chipotle salsa (£4.50); chilli chorizo fundido (onions and peppers "smothered" in melted cheese with a "Mexican style" chorizo oil)(£4.85); chicken wings tossed in "our stunning burnt habanero salsa" (£4.95); chilli quesadilla, a "silky tangle" of onions and chillies, with "soothing" feta (£3.95); roasted, blackened cauliflower covered in a "deliciously creamy" chipotle cheese sauce (£4.50); salsa n chips £3.25; "crunchy" slaw with chipotle dressing (£2.30).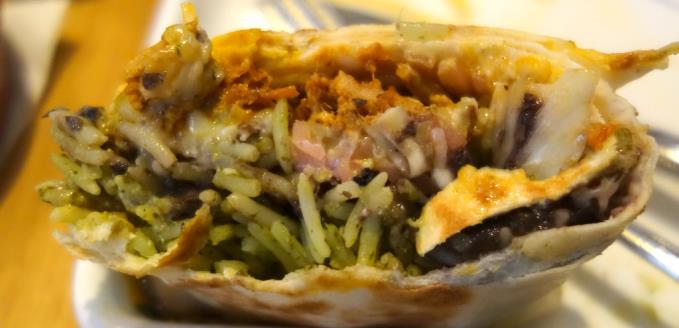 'Burrito, bulked out with rice, could have been devised by their accountant'

Then more substantial stuff like pasilla chicken (£9.50), grilled skin-on thighs, marinated with "rare" Oaxacan chillies and served in tortillas with another helping of habanero salsa. And a burrito with more of that slow-cooked pork (£7.15), this time "cooked for hours" in a habanero and achiote marinade until "meltingly tender".
So many words, rendered meaningless by food that is Anglicised, sanitised and homogenised to the point where almost everything tasted of the same vague, underheated, indeterminate spice.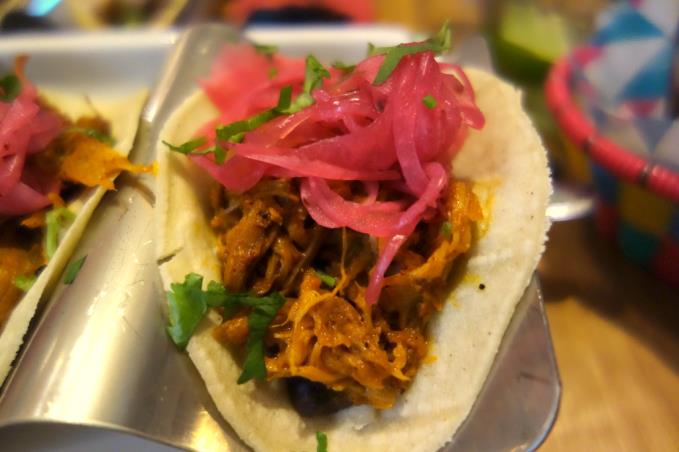 Pork pibil
We failed to be stunned, our taste receptors detected no sign of fire or, for that matter, deliciousness. Admittedly, the slaw at least had some of the promised crunch, and we were, briefly, soothed by the cauliflower cheese until we discovered that "blackened" meant burnt, at least in our case.
Otherwise, the best I can say is that it filled us up. Maybe this was the truly authentic bit. In Mexico, the shocking divide between rich and poor means many are grateful just to have food on the plate. Flavour is a bonus.
Cheese, the mild, inoffensive sort, appeared a lot. If it's not included in a particular dish, you are invited to order some and pile it on anyway.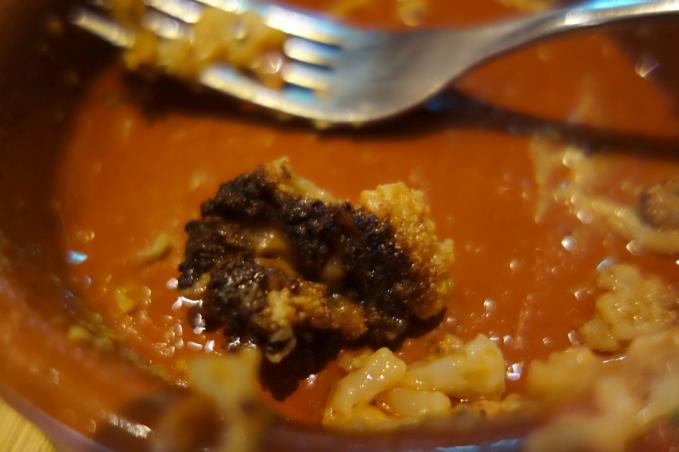 'Blackened' cauliflower cheese
At one point a man at a neighbouring table proclaimed: "It's cheese on toast!" Quite possibly the whole restaurant was having the same thought.
It was all rounded off with greasy churros and coffee that was not just awful but cold as well.
Helpfully, there is a selection of bottled chilli sauces at the table so you can add your own taste.
I have not eaten on the street in Mexico but I understand that, at its best, it will blow you away. Replicating the big flavours of a hot climate's cuisine is never going to be easy in a damp English winter, but this does not come close.
Maybe size matters. Maybe recipes passed through the generations, and perfected for decades on the streets by the stallholders of Oaxaca, do not take well to being mass produced for Wahaca's 21 British outlets.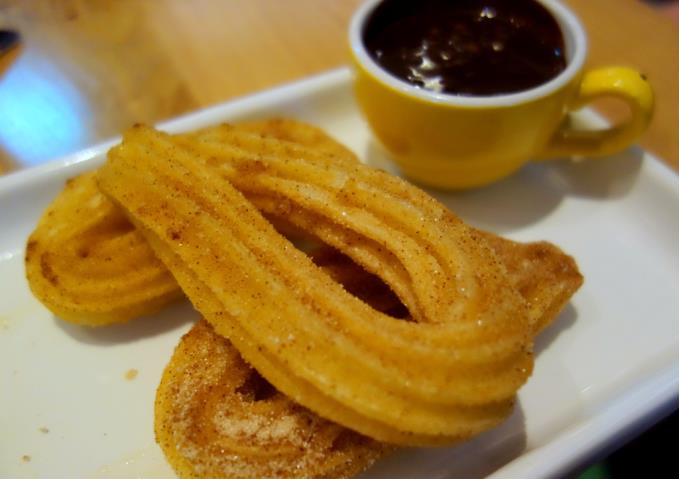 Churros and coffee
You don't become a bad cook by winning Masterchef but It is hard to reconcile Miers' aim to recreate "the incredible vibrancy and freshness of real Mexican food" with this stuff.
The hearts of Miers and Selby may in the right place but that burrito, bulked out with rice, could have been devised by their accountant.
You have to take their professed environmental principles and support for a Mexican children's welfare project at face value. But in the end, it doesn't matter how sustainable, charitable, socially responsible and ethical you are if the only thing you can clearly recall from a table crammed with Mexican food is the cheese.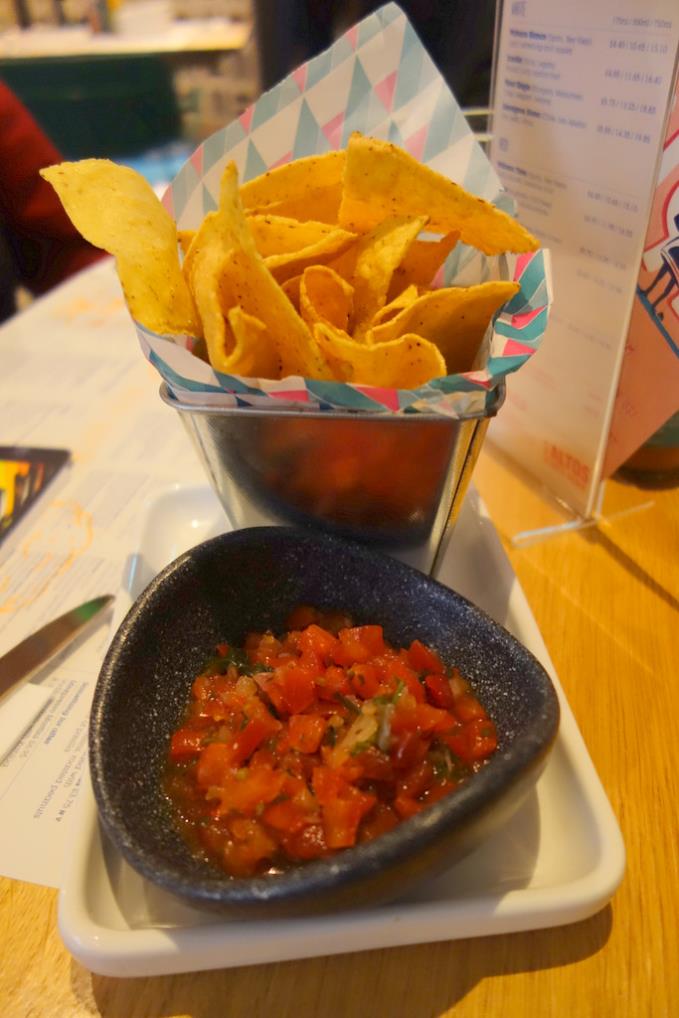 NB: All scored Confidential reviews are paid for by the company, never the restaurant or a PR outfit. Critics dine unannounced and their opinions are completely independent of any commerical relationships.
Wahaca Liverpool,
24 College Lane,
Liverpool, L1 3DS.
Tel. 0151 541 9174.
Rating: 11/20
Food 4/10
Service 4/5
Ambience 3/5
Venues are rated against the best examples of their kind: gastropubs against the best gastropuns, takeaways against the best takeaways, etc. On this basis, the scores represent....
1-5: Straight into the dog bowl
6-9: Straight to the Iceland
10-11: In an emergency
12-13: If you happen to be passing
14-15: Worth a trip out
16-17: Very good to exceptional
18-20: As good as it gets