IN places where food challenges are held, it is common to feature a "wall of fame" honouring those who can successfully keep down the calorific equivalent of three full days' food at one sitting.
Chucking it straight back up again results in instant disqualification and, doubtless, a prominent mention on the "wall of shame".
Meanwhile, on another planet, known as Africa, millions fall sick through lack of food.
One is a bit of fun on a Tuesday night, the other a way of life. How happily these two facts co-exist is a philosophical question that need not concern a restaurant review.
What should is whether a restaurant that devotes the front cover of its menu to food challenges can achieve a quality to match the quantity.
I settled for a glass of water, which came with a piece of lemon; that piece being a pip. Nothing else,
just a pip
Rack and Dollar, a new Berry Street restaurant and bar, draws its inspiration from across the Atlantic where the gross overconsumption of food is so big it has its own organising body – Major League Eating – and stuffing your face is not so much a challenge as a constitutional right.What should is whether a restaurant that devotes the front cover of its menu to food challenges can achieve a quality to match the quantity.
Words like "mammoth" and "mega" dominate the menu which offers the opportunity to consume, depending on the time of week, five pounds of nachos (Sundays), "limitless slabs" of ribs (Mondays), or partake of Tuesday's 54321 burger challenge (five burgers, four toppings, three cheeses, two salads, one bun).
The US theme continues with multiple big screens beaming sports, a roomful of pool tables, 60 varieties of bourbon and mocked-up mugshots of US movie stars.
A raised platform, once a stage for karaoke in its incarnation as the China Garden, now makes up the main eating area. Grey is the dominant colour and, in the manner of such places, the lights are low. They used to do dim sum in here, now they do dim.
Service combines the best of US-style hospitality with the worst of the UK sort in that the young staff we encountered exuded a natural charm and eagerness to please but had evidently received no instruction whatsoever, other than to cram diners into one tiny area of an otherwise big, empty room, presumably to confine the mess.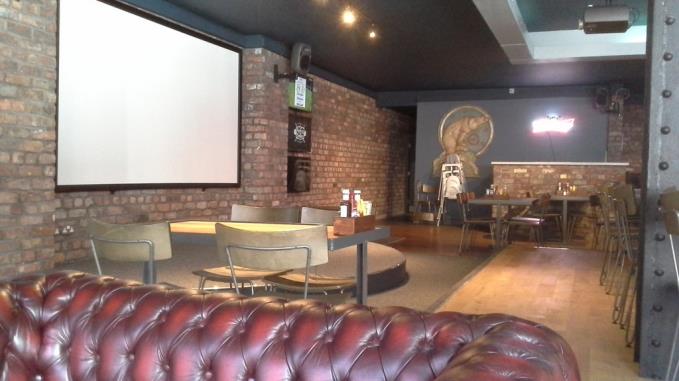 The menu reads like it belongs to another restaurant, one that has been around for many years ("our salads are outstanding – we've been told regularly") rather than a couple of weeks; and one that really does provide "unlimited tea and coffee with all breakfasts", rather than no hot drinks at all, ever.
"The menu shouldn't say that. We don't have a coffee machine," agreed one server, recounting how, just the other day, 16 Dutchmen were in and all wanted coffee after their meal. One can only imagine their bewilderment at discovering that the only American-style restaurant on Earth where you can't get coffee was in Liverpool, and they were sitting in it.
So I settled for a glass of water, which came with a piece of lemon; that piece being a pip; Nothing else, just a pip.
When it came to eat, it was clear the food challenges lay not only in sheer volume of stuff.
Chicken wings (£5.20 for six) came with a chilli sauce (from a choice of three in ascending levels of heat) that was adequate but lacked anything approaching complexity.
A full rack of ribs (£16.50, pictured top) was so wanting of flavour that you could have told me they were pork, beef or lamb and I would have been none the wiser.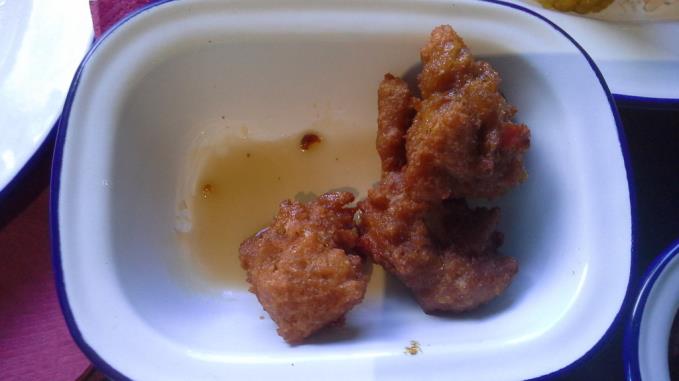 Deep fried cauliflower in buffalo batter
Smothered in a bourbon balsamic glaze that was sugary and indistinct, the ribs were served with a hunk of corn on the cob, coleslaw that was a sickly mush, and "stealth" fries, an American concept named after the US air force's killing machine of choice because, like the stealth bomber, it is made with an an "unprecedented hi-tech coating", making them extra crispy; Not ours, though.
From the sides (£3.95 each or three for £10), deep fried cauliflower in buffalo batter lacked seasoning but not grease, while hush puppies – a sort of cornmeal fritter – were squishy and bland. If a gargantuan, barely dressed Cobb salad (£7.50) was indeed "outstanding", as the menu insisted, it was only for managing to be quite so unremarkable.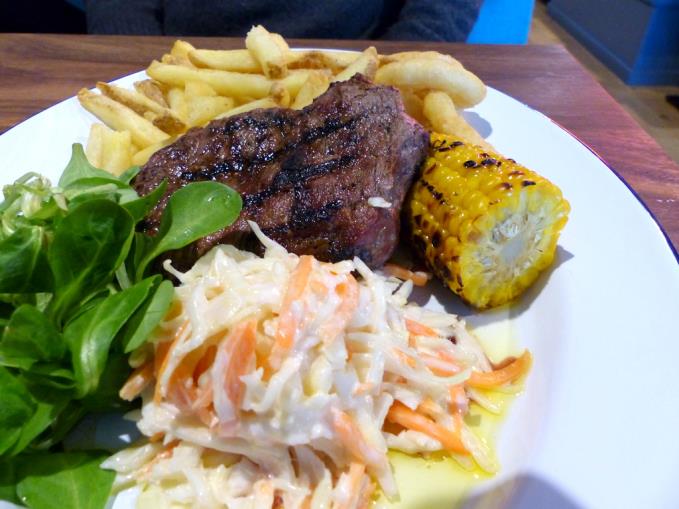 Sirloin steak
The 8oz sirloin steak (£15.95) had been grilled perfectly well but that was never going to stop a lump of poor quality meat from being tight and chewy.
An 8oz burger (£9) was unwisely served sitting in a puddle of synthetic barbecue sauce, making for a soaking brioche bun and a messy eater. Still, the patty, topped with thick, melted Swiss cheese, and cooked with a satisfying beefy coarseness, was the best thing we had between us, and if the verdict – "it's okay" – was not delivered with much fervour, at least it wasn't the same air of resignation that greeted pretty much everything else.
Both came with more fries, still some way short of "extra crispy" but a whole lot better than the first batch.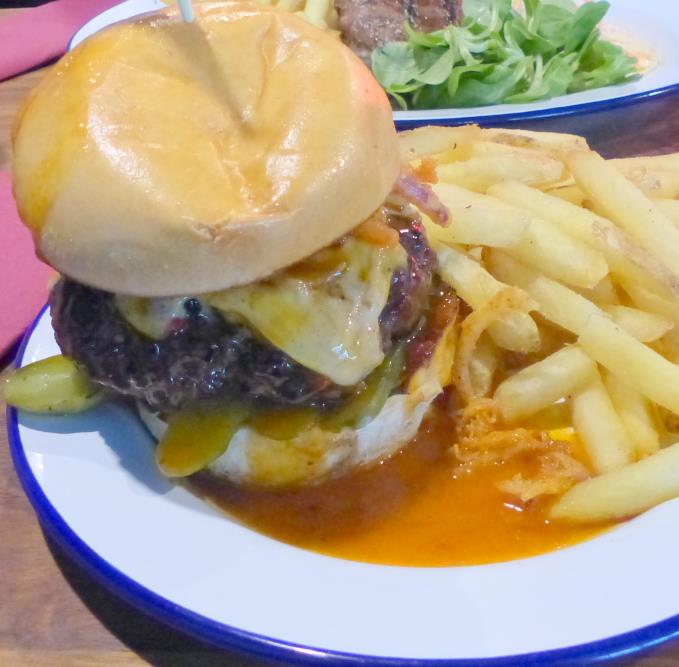 Burger in sauce
Of the small list of puddings (£4.50 each), diners are told to expect "the finest deserts (sic) you'll see on any menu". Instead, cheesecake had the texture of an incompetently defrosted sponge, while a friend described the content of her pecan pie as "mostly vanilla goo".
It's been suggested to me that you can't really expect more from "this sort of place". But why on earth not? At its best, food like this can make your lips smack in delight.
Here, however, quality control appears to have taken a back seat to an abundance of everything. American excess? That'll do nicely.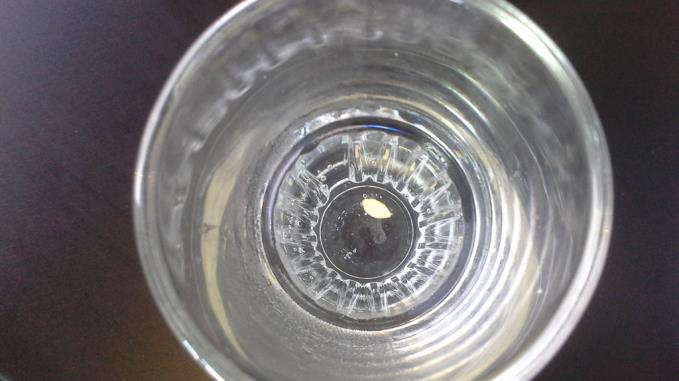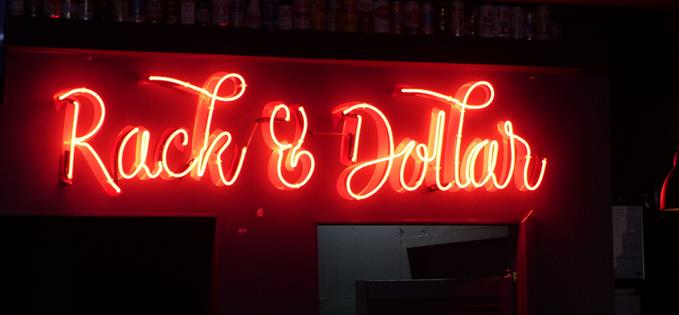 Rack and Dollar, 27-35 Berry Street, L1 9DF. Tel. 0151 707 6020.
Rating: 9/20

Food: 4/10
Ambience: 2/5
Service 3/5 (for trying their best)
Venues are rated against the best examples of their kind: takeaways against the best takeaways, fine dining against the best fine dining, etc.
Following on from this the scores represent:
1-5: Straight into the dog bowl
6-9: Raid the freezer
10-11: In an emergency
12-13: If you happen to be passing
14-15: Worth a trip out
16-17: Very good to exceptional
18-20: As good as it gets
ALL SCORED LIVERPOOL CONFIDENTIAL REVIEWS ARE IMPARTIAL. CRITICS DINE UNANNOUNCED AND PICK UP THEIR OWN BILLS, NEVER THE RESTAURANT OR A PR COMPANY.