SUPERSTAR chef Jean-Christophe Novelli headed for Liverpool with a big reputation (four Michelin stars, five AA Rosettes,) and a lot of big talk: "The goal," he proclaimed, "is to create the most talked about and respected brasserie in the North West."
No pressure, then. But if all else fails he's already assembled enough material for a half-decent autobiography – cooking for the Rothschilds, working for Keith Floyd, making and losing a fortune, twice marrying and divorcing, being bailed out by Marco Pierre White, barring Michael Winner out of his restaurant, not to mention his appearances on The Alan Titchmarsh Show. Actually, let's not mention that.
Cod fish finger risotto was supposed to be served in a copy of the Liverpool Echo, but wasn't – maybe they decided the dish was depressing enough already
The England-based Frenchman has not run a restaurant for 10 years, concentrating on his cookery academy and two children. So his new baby, the basement restaurant of the new DoubleTree Hilton Hotel in Sir Thomas Street, was greeted with murmers of excitement.
Novelli was, after all, the man the Guardian called "one of the handful of gifted chefs of his generation" and when the hotel's general manager described Novelli's presence as "a major coup for the city", for once it did not seem like more PR guff.
Well, up to a point. Novelli has devised the menu for his only UK restaurant but he will not, so we understand, be a fixture the kitchen. He's coached his players, delivered the team talk; now it's up to them to execute the game plan.
On the evidence of this performance - a long way from Premier League - Novelli needs to see more of his squad.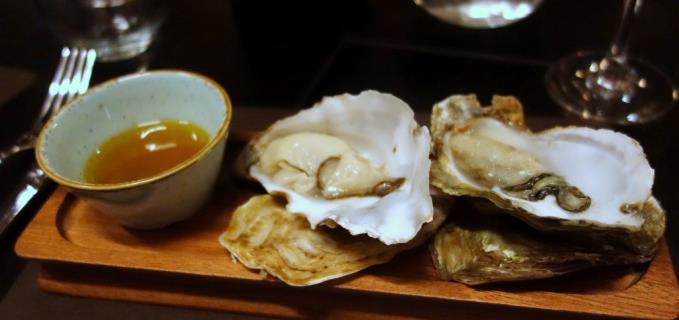 The Doubletree occupies a couple of Victorian grade II listed former council buildings and their grand interior was one of the factors that attracted Novelli. That character is better displayed in the Library Lounge (cocktails, a pared-down Novelli menu) with its 19th century walnut bookcases, than in the restaurant, which, for all its tasteful hues and padded upholstery, has a megacorp aspect to it; only excellent archive pictures of Liverpool contradict the feeling that you could be in Leeds or Ludwigshafen.
The menu looks like standard French bistro fare: snail, moules marinieres, steak, cassoulet. But no, Novelli assured us, this was to be "bespoke", with "themes" and "concepts", turned out by a team who have undergone "intense training" at his Hertfordshire academy.
"Perfect," declared the waiter after he had finished taking our order. Only, it wasn't. Indeed, it was far from perfect, with nearly every dish put in front of us suffering from some sort of drawback. I was eating with a friend, James, a respected chef and well-travelled gastronome to boot, so I can say with confidence that it wasn't just me.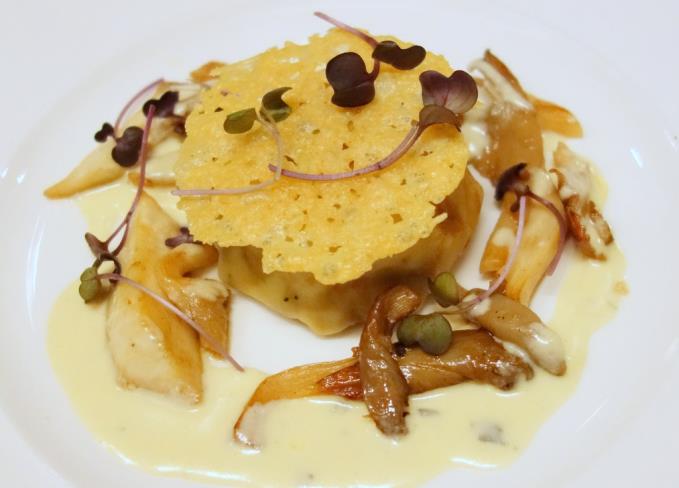 Steamed mushroom gâteau with Moravia cheese crackling
We began well enough, with oysters (£2.50 each), which came on a board alongside a classic accompaniment, shallot vinaigrette. They'd have been better served on ice but were good nonetheless.
Steamed mushroom gâteau with Moravia cheese crackling (£7 or £9.50 for a larger portion), was a great looking, neatly-constructed crepe parcel of mushrooms in a port sauce but all a little one-toned, crusty cheese or no crusty cheese.
Terrine de cassoulet sauce gribiche (£7) – wrapped in fine carrot slices – likewise looked a treat but lacked due care and attention. The meat element was agreeable all right, but garlic (haricot) beans were undercooked and a chunk of carrot so hard I struggled to get my heavy duty cutlery through it.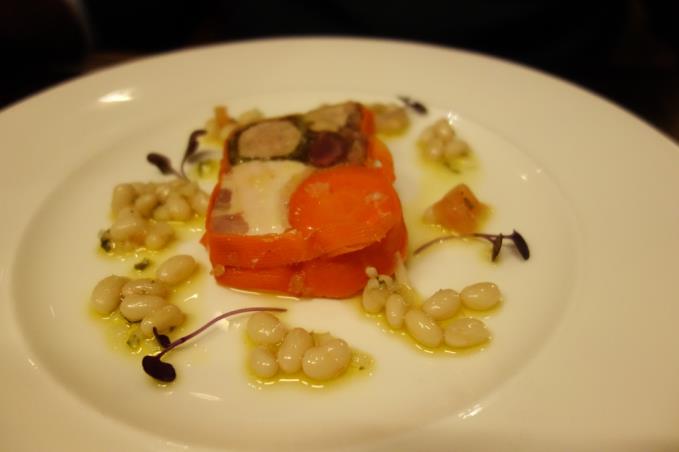 Tough going: Terrine de cassoulet sauce gribiche
Coq an vin (Novelli's Choice, £14.50), a deconstructed version of a one-time brasserie staple, was the highlight; chicken leg that was meaty, tasty with a hint of gamey, and cooked just right, with proper mashed potatoes, nicely caramelised shallots (not the advertised St Andre onion), and carrot (no mushrooms), but let down by a scant sauce. Of the little there was, most had seeped into the mash, leaving insufficient to detect Novelli's "own special twist" – the addition of cocoa and vanilla.
Misleadingly-named deep fried cod fish finger risotto (£12.50, main image, top) was actually fingers of cod mixed with risotto, chilled and breaded. Bland and underseasoned, they were not helped by a tartare sauce in need of sharpening, and a limp bundle of watercress.
It was supposed to be served in a copy of the Liverpool Echo, but wasn't – maybe they decided the dish was depressing enough already.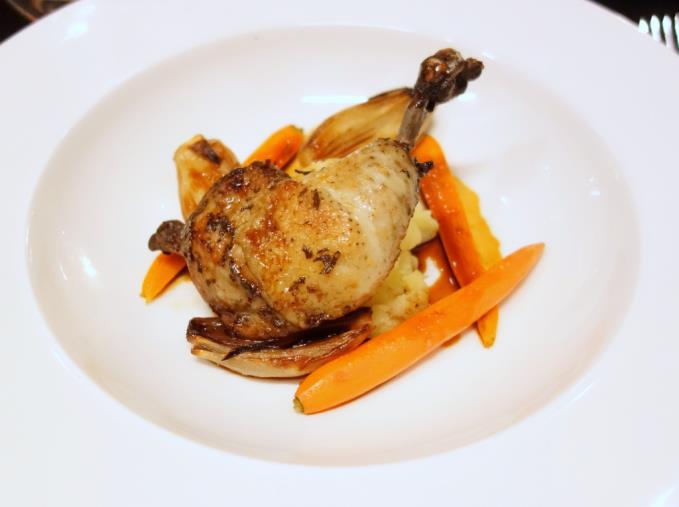 Coq au vin
Baby carrots tossed in orange juice, cardamom, vanilla (£3.50) betrayed none of these ingredients. Meanwhile, my first mouthful of gratin dauphinoise (£3.50) was, in more than one way, shocking. I was so thrown by the unpleasant tang, I forgot to take a picture of the damn thing. Even without this problem, it was far from the hymn of comfort and joy this creamy indulgence ought to be, instead grey and unappealing.
The waiter's response, however, was impeccable. He would take it back, replace it with chips, if that was all right with us, and not charge for either. Just as well since the chips, a small, unremarkable bowl of frites, were not £3.50's worth.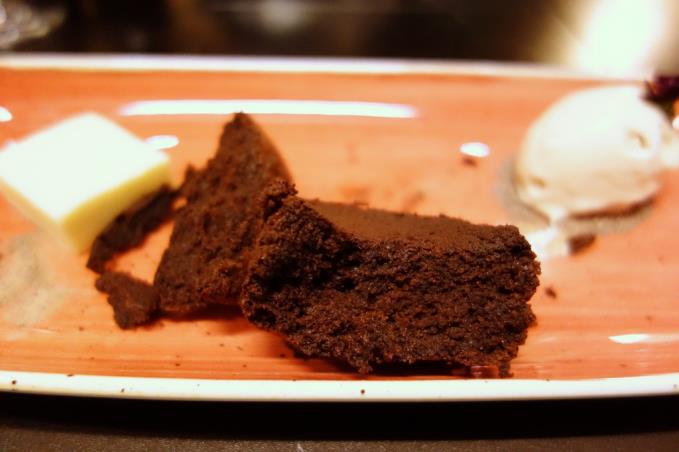 Chocolate fondant
Desserts (all £6.50) brought no relief: tiramisu and Kahlúa was rather lame, the Kahlúa (coffee liqueur) failing to register, while soft vanilla chocolate fondant came minus the liquid centre, which is rather the point of the thing.
With a pretty average bottle of red, our bill came out at over a hundred quid.
Repeat performances risk leaving punters feeling pretty resentful.
Pinpointing where the problem lies is not easy; ingredients, method and execution all share some responsibility. Novelli is said to be planning a second restaurant. He needs to get this one right first.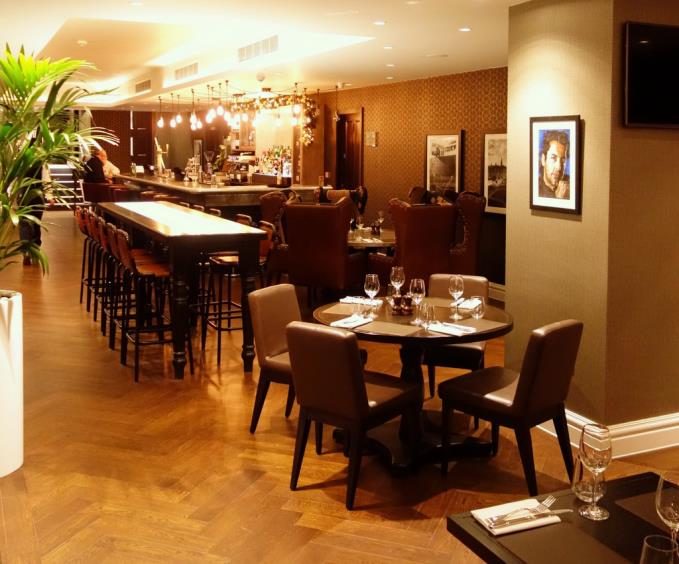 NB: All scored Confidential reviews are
paid for by the company, never the restaurant or a PR outfit. Critics dine unannounced and
their opinions are completely independent of
any commerical relationships.
Jean-Christophe Novelli at Brasserie Michelle
Hilton Doubletree,
6 Sir Thomas Street
Liverpool L1 6BR
0151 556 1222
Rating: 11/20
Food 4.5/10

Service 4/5
Ambience 2.5/5
Venues are rated against the best examples of their kind: gastropubs against the best gastropuns, takeaways against the best takeaways, etc. On this basis, the scores represent....
1-5: Straight into the dog bowl
6-9: Straight to the Iceland
10-11: In an emergency
12-13: If you happen to be passing
14-15: Worth a trip out
16-17: Very good to exceptional
18-20: As good as it gets