ALLAN Williams, The Man Who Gave The Beatles Away - reportedly turned up at the Epstein Theatre last weekend and was heard to announce, somewhat emotionally, "I am Epstein".

An obvious factual inaccuracy, but not the only one.  In the hotly anticipated drama Epstein: The Man Who Made The Beatles, you kind of get used to the odd jarring, hang-on-a-minute! moment.
This is a drama that not once lapses into
vulgarity or inelegance. And, to that end, one senses Epstein would have loved it. Not to
mention having a theatre named after him
One school of thought says if you are going to present a Beatles-related play to a Liverpool audience - many of whom either knew them or could go on Mastermind discussing them - then you had better be pretty damned sure of your ground.

Playwright Andrew Sherlock, on the other hand, says dwelling on detail isn't the point and it's "getting to the heart of the man" that matters. To emphasise the point, we are warned from the start that this is not a show for purists.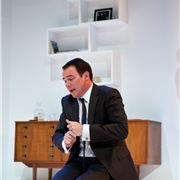 Once we decide not to let the facts get in the way of a good story, Sherlock presents us with one fictional character, known as "This Boy", whose lines are punctuated with expositional facts about the Fabs, and one real-life character who eats and breathes nothing else but His Boys: The eponymous Eppy.

For his part of the bargain, The Bill's Andrew Lancel gives Sherlock's intention a fine shot.
His take on the sartorially splendid but fragile manager of, first, a Liverpool furniture store and then the world's most famous band, is completely convincing. Quite simply Lancel IS Brian Epstein (sorry Allan). Well, as far as any of us can ever know.
We are reminded that he has been bruised in love and battered by gangs; that he was kicked out of the Army, kicked out of RADA. How meaningful relationships have eluded the posh boy from Childwall Five Ways, now at home in the shadow of Buckingham Palace: 24 Chapel Street, a place where he is said to have changed rent boys as often as his neighbours changed the guard.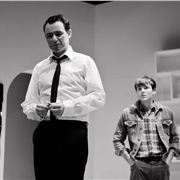 Lancel's Epstein weeps uncontrollably, he pops uppers and downers with Cognac, he reads Chekhov aloud, he peppers his dialogue with just the right sprinkling of camp - and his charisma attracts young men to his G-Plan bachelor pad (nice set work from LIPA graduate Amanda Stoodley) in swinging Sixties London. Ah, look at all the lonely people.

Performance wise, such elan has consequences. There are only two people in this intense stage "marriage"  which means there is nowhere to hide. Some of the interchanges are rushed and Lancel's fictional foil, "This Boy", played by newcomer Will Finlason, still needs a little work.

In fairness, Finlason, a Mancunian, has the odds rather against him: some cumbersome dialogue that would not suffer from being hacked back, a series of Beatles song titles shoehorned into his lines, all that expositonal stuff and a too-modern scouse twang that transports us straight from Belgravia to Brookside.

Other times the rapport is better. "This Boy" wants a deeper knowledge of Brian (no, "not like that"), has compiled a scrapbook about him and is earnestly seeking what? The Inner Light? Thankfully, he never says that. Merely, we learn, he thinks it will help him get a foothold as a reporter at the Echo.

It's not big on laughs this. Whatever the devices and twists of narrative, the plot, set on the fateful August Bank Holiday weekend of 1967, can only have one ending.
It is a drama that not once lapses into vulgarity or inelegance. And, to that end, one senses Epstein would have loved it. Not to mention having a theatre named after him (even one with a new-ish pub next door, which allows its crap band to play, and intrude, throughout the first half).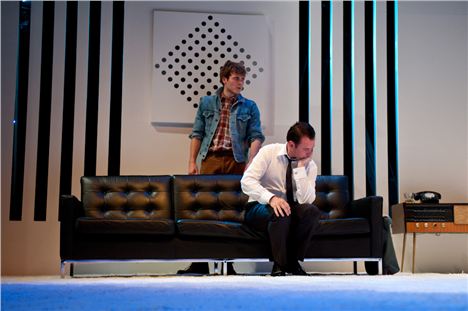 Jen Heyes' and theatre PR Bill Elms' production is being billed as a world premiere, which presumably means the ambition is to tour it nationally. A London run perhaps? 


It was fully supported on the press night by familiar faces from Mersey media, politics, arts and entertainment, as well as Mike McCartney and Joe Flannery, Epstein's pal from childhood, who even gets a bit part. He later said Lancel's performance had brought a tear to his eye - in a good way. Sighs of relief all round.

Perhaps Williams, when he made his alleged "I am Epstein" declaration at the start, was referring to the name of the play - "The Man Who Made The Beatles". For, arguably, it was he who did that very thing.
A more accurate title might be the one that has hung around Williams's own neck for the past half century. After all, Eppy was the man who naively gave history's biggest pop commodity away to any merchandiser, film producer or publishing house who showed a casual interest. Just as he would give himself.

Would never happen these days. With two feature films on the go and this, a second stage play, delving into his personal history, the life of Brian is a currency on the rise.
*Epstein, The Man Who Made The Beatles, runs until Dec 1.

7/10.