THE all day dining concept is not new; in fact it's everywhere, like edible background noise.
New restaurants seem so keen to be all things to all people that they've forgotten to dig one deep hole and actually specialise in something. Lately, we've seen a people-pleasing procession of menus featuring eggs Benedict alongside Thai fishcakes and tapas. We see what they're trying to do, but all these generic, globally-spanning dishes just feel like the menu has been written by accountants rather than chefs.
The black pudding was a world away from the resistant black discs of your average fry up, this was soft, almost like a paté – I suspect they make it themselves, which is a rare thing nowadays
Although the newish Castle Street Townhouse unashamedly markets itself as an all day dining destination, they're the first to have PR'ed the idea properly.
They've upsold the concept using the simple idea (and I'm paraphrasing here) that if you're not the same person on a Friday night as you are on a Monday morning, then how can you expect them to be?
"We are all different people at different times of the day," they say.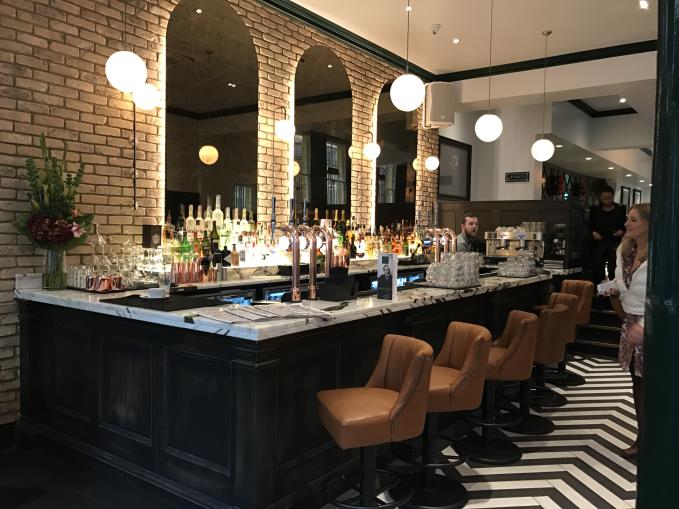 Fair enough, they've got a point. On a Friday night I'm carefully positioning my false eyelashes, whereas first thing Monday, I'm more than likely fishing them out of my bra.
Perhaps I'm a traditionalist, but the menu confused me. There's no mention of lunch or dinner, just brunch – until "late". Brunch is traditionally named for the late morning meal which composites breakfast and lunch, or if you're greedy like me, it's another meal I can squeeze in between breakfast and lunch. Castle Street's "all day" breakfast (which finishes at 12pm oddly enough) naturally segues into their all day brunch, served from 11am.
True to form, their brunch classics involve a Kamasutra of eggs, chorizo and avocado in various positions. There's also a salads and superfoods section, if you need to recalibrate your vitamin levels after a heavy weekend. So, by process of elimination, "big plates" and "sides" are where you'd usually find "lunch" and "dinner".
After spending much of December, so far, fishing aforementioned ocular prosthetics out of my undergrundies, I very much did need a nutritional boost, so turned to a salad of butternut squash, quinoa, avocado, tenderstem broccoli and rocket (£7) to start. To be honest, I think chewing all that fresh and vibrant goodness really did make me feel better...well, it was either that or the cocktail I ordered with it. Rise and Shine (£8) with tequila and Cointreau looked as innocent as a pink fluffly poodle but kicked like one of Barbara Cartland's mules.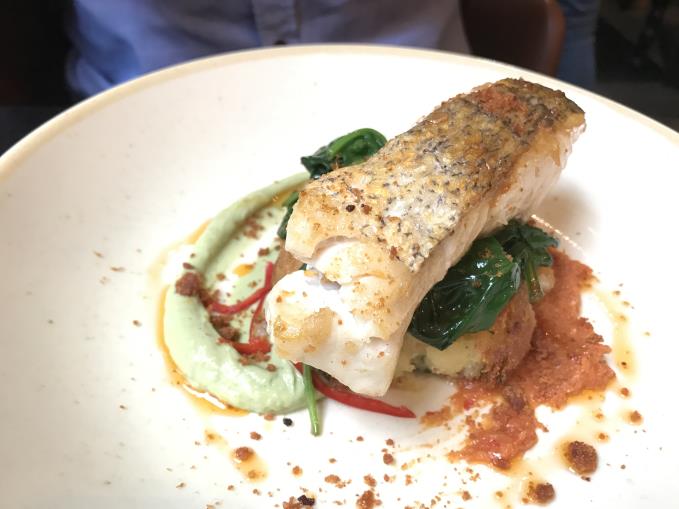 Hake
My husband often recounts a story of a family meal nicknamed "ring-a-ding rissoles", because you had to shout "ring-a-ding" every time you detected a bit of solid protein amongst all the mashed potato fluffer. Fishcakes with lemon mayonnaise and rocket (£5) were not like those at all. They were definitely more fish than filler.
We couldn't decide on mains, so negotiated some kind of plate-swapping deal. Belly pork with butternut squash, black pudding and chorizo jam (£10) gave the pig a decent send off. Three soft slices of tender tummy were a pleasure to chew, but I think only the first piece had grade A crackling, so by the time I handed it over, the response wasn't as enthusiastic. The black pudding was a world away from the resistant black discs of your average fry up, this was soft, almost like a paté – I suspect they make it themselves, which is a rare thing nowadays.
Hake fillet with spinach, potato hash, avocado, chilli and chorizo (£13) was a decent enough wintry fish dish. The chilli was on the polite side, but the hearty deep fried potato cake gave it some welly.
They've put enough effort into desserts to make them worth saving room for. I was going to order peanut butter crème brulee (£5) as it's the kind of stuff I dream about, but it would only be likely to result in inevitable self-loathing so close to LBD season. In the end, we shared an out-of-season strawberry honey flapjack cheesecake (£5.50) which looked a little like something one of our kids would proudly knock together. It was satisfyingly chewy and creamy and fruity, so fit the all day brunch remit perfectly.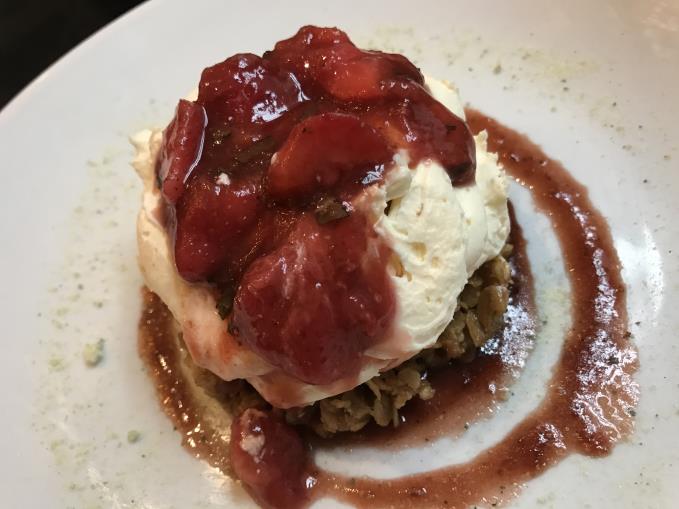 Strawberry honey flapjack cheesecake
Castle Street Townhouse is a handsome, polished-looking space with a feature bar at the front, lots of versatile black and white and a variety of seating options from low level leather loungers to booths for imbibing booze.
The staff are lovely, so I've decided to bump a few miserable relatives off my Christmas list and put them on there instead. From the greeter who specialises in warm eye contact, to our server, Dave, who turned out to be an expert on technology and taught us new things about our smartphones.
Water was placed on the table immediately and replaced with an almost invisible efficiency, there were discreet coat hooks near every table and reservation signs are personalised. The owners have gone into rare levels of detail which really do make guests feel quite looked after, whether morning, noon, night, or the morning after the night before.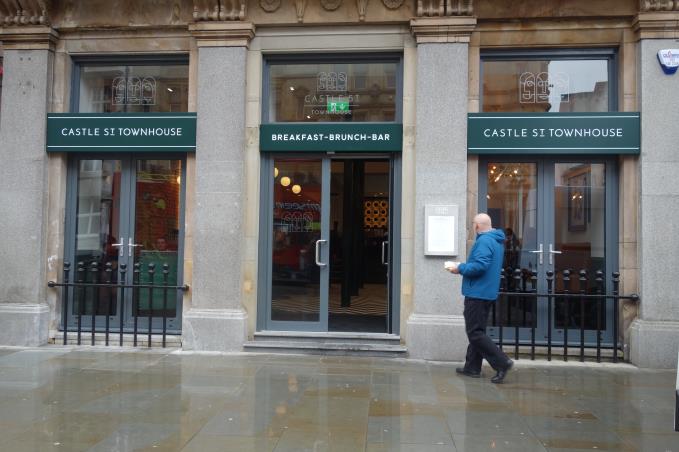 OVERALL SCORE: 15.5/20
Ambience: 4/5




Service: 4.5/5




Food: 7/10



(Rise and Shine 8; superfood salad 8, fishcakes 8, pork 7, hake 7, cheesecake flapjack 6)
All scored Confidential reviews are paid for by the company, never the restaurant or a PR outfit. Critics dine unannounced and their opinions are completely independent of any commercial relationships.
Venues are rated against the best examples of their kind: gastropubs against the best gastropubs, takeaways against the best takeaways, etc. On this basis, the scores represent...
1-5: Straight into the dog's bowl; 6-9: Netflix and chill; 10-11: In an emergency; 12-13: If you happen to be passing; 14-15: Worth a trip out; 16-17: Very good to exceptional; 18-20: As good as it gets.