OUR first taste of the Shankly Hotel was in the car park, where small portions are the order of the day.
The decor seems to have been devised by a committee of footballers' wives who managed to get their hands on a job lot of studded brown faux leather upholstery
I was failing to park my pretty average sized car into any of the available spaces which had apparently been designed by an accountant with a Robin Reliant.
Bill Shankly's presence is immediately apparent as you exit the car park on to a curved corridor that looks like the entrance to an exhibition centre. Which in some ways it is.
When property developer Lawrence Kenwright took ownership of Millennium House from the people of Liverpool, one or two churls suggested the price was on the low side. Was it the biggest bargain since Shanks signed Kevin Keegan for £35k?
Who can say? But certainly as many eyebrows as glasses were raised when Kenwright announced the Victoria Street premises would be a shrine to the greatest Liverpool FC legend of them all. But business is business.
Everywhere in the former Liverpool City Council HQ are reminders of the Scottish genius who turned an average, second tier team into the dominant force in British football: a fabulous photo, blown to life-size proportions, of Shankly leading his players out at Wembley; his 1973 Manager of the Year award, fittingly sponsored by Bell's Scotch Whisky.
The Bastion (cue sneers from Evertonians) Bar and Restaurant is so-called in memory of Shankly's wish to make Anfield "a bastion of invincibility".
The room speaks of an ownership who couldn't decide what they wanted it to be, so decided it would be a bit of everything. Part museum, part high-end restaurant, part sports bar.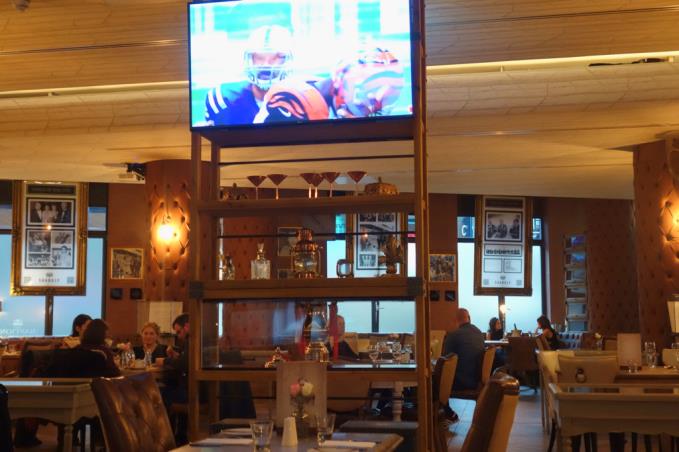 The decor seems to have been devised by a committee of footballers' wives who managed to get their hands on a job lot of studded brown faux leather upholstery, indeed so much that rather than waste it, they've covered every pillar and even the lavatory doors in the stuff.
Across the room, among the Shankly memorabilia, are giant TVs, which presumably come into their own at 3pm on Saturdays, but on our visit mostly featured a septaguenarian former Liverpool player talking animatedly with the volume switched to silent.
High end aspirations or not, you can't accuse The Shankly of being exclusive, not when they're offering ham and cheese toasties with crisps (£8.95) to drinkers in search of a late supper (Midnight Munchies menu, served until 5am),
Hang around and you can tuck into a "lazy beer brunch" (£12.95) incorporating "hair of the dog" – full breakfast, chips, a pint of lager, oh and a glass of fresh orange juice to make you feel good about yourself.
A sneak preview of our meal came courtesy of the carpet under our table. A mini museum within a museum, the floor featured a festival of litter, the remains of meals gone by, the highlight, perhaps, being a grape wearing a cap of furry fungus.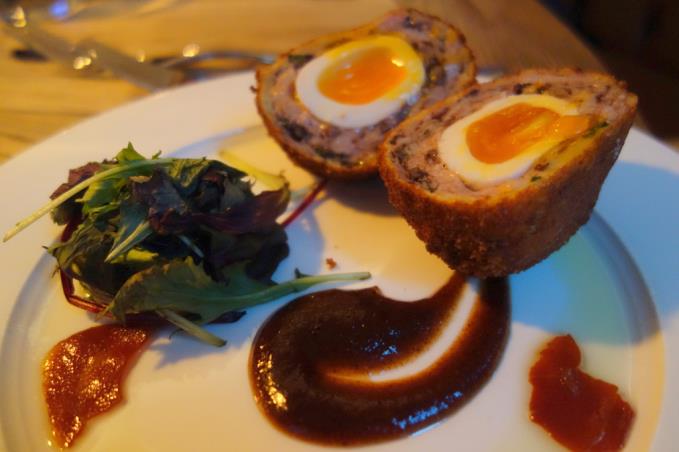 A scotch egg tasting of Christmas
The food we actually ordered was a little variable, some of it very good, some of it not quite so good, but much of it hinting at a kitchen, not short on flair, doing its best on a limited budget.
It may seem ungracious to criticise bread and butter that we got for nothing but while Meadow Churn butter pats have their place, they do not sit well with luxury branding; ditto mass-produced, half-baked rolls.
In keeping with the Shankly theme, our starters had a Scottish flavour, notably haggis with neeps and tatties (£7.50), prepared with a pleasingly light touch: luscious, highly seasoned haggis with the tiniest, bonniest of baby turnips, potato pureed with swede and a sauce suggesting French mustard, cream and a dash of Bell's. It also included Lancashire black pudding, as incongruous as it was inconsequential, and which ought to have been dropped quicker than Joey Barton in a Rangers shirt.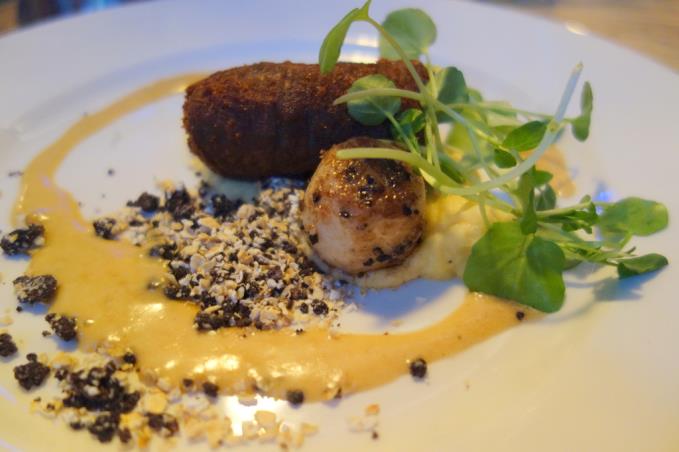 Haggis with neeps and tatties
Elsewhere, mushroom soup (£6) was richly satisfying. A beautifully balanced, home-made Scotch egg (£6.50) soft yolked, crisp coated and tasting of Christmas, was only let down by a garnish of leaves in a shrivelled heap.
Even if the preposterously named "famous" Shankly burger had not come very well-done and tasting of very little, its rudimentary nature, with average fries and garnishings, would have felt dear at £14.50, but then I guess you're paying for those leatherette pillars.
The chef, we were informed, was "not happy with the quality of the hake". Its alternative: beer battered fish (£14.50), perched across a line of fat, Jenga-style chips made with more concern for appearance than flavour.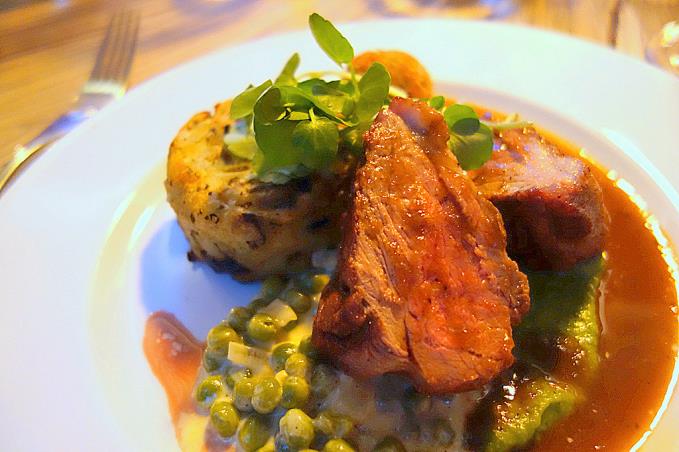 Lamb rump
The unidentified fillet was a shade overcooked and the batter, while grease-free, was, I learned from its recipient, "not the best". Alongside came a dish of blameless marrowfat peas and a dollop of proper capery tartare sauce.
Neat, prosciutto-wrapped pork fillet (£16.50) and chargrilled lamb rump (£18.50) were both pretty faultlessly cooked and presented, but both short on discernible flavour, while the hand that wields the condiments had been occasionally too vigorous with the grinder; a lovely potato cake accompanying the lamb was overly-peppery, while a few kale leaves with my pork all but took my head off.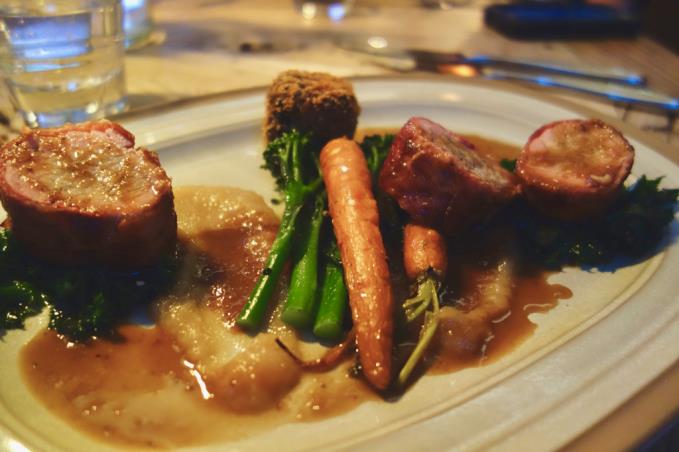 Prosciutto-wrapped pork fillet
Mrs Grill's rump, if I may be so indelicate, came with peas two ways: a splotch of puree and a portion served in a creamy sauce. With my pork fillet, tenderstem broccoli and finger-sized carrots, which were fine; I just wish I had known that our side dish, a "selection of market vegetables", would comprise another pile of broccoli and carrots.
(I'm also not convinced that two varieties of vegetable are enough to constitute a "selection", but never mind).
Another outing for black pudding (with the lamb) and haggis (with the pork) were further indications that either a close eye was being kept on the head chef's purse or there were not enough hands on deck.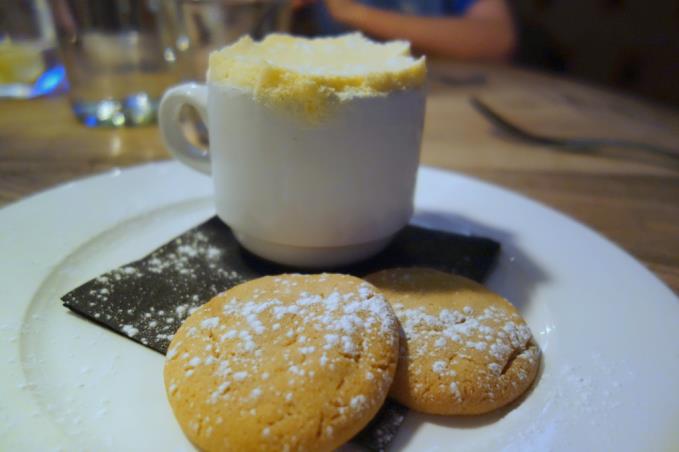 Lemon Souffle
As a weapon of last resort, a dense, giant lemon souffle (£6) in a mug would come in handy if an army of MUFC supporters invaded the premises. Peach and passion fruit pavlova with sweet whipped cream and pulled sugar was much better - and notable for the subversive presence of Everton toffee mint sauce.
The great Scot, when encapsulating his attitude to life, used to say that if he was a road sweeper, his street would be the cleanest in the borough. Next time they take a pan and brush to the carpet, they should invoke the spirit of Shankly.
All scored Confidential reviews are paid for by the company, never the restaurant or a PR outfit. Critics dine unannounced and their opinions are completely independent of any commercial relationships.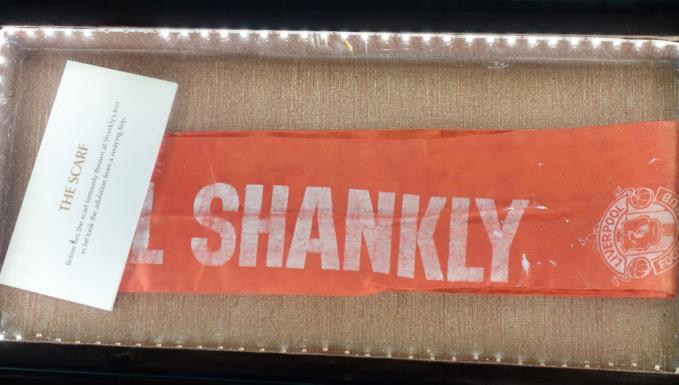 The Bastion Bar and Restaurant,


Shankly Hotel




Millennium House,




Victoria Street,




L1 6DN


0151 236 0166. Web
OVERALL SCORE: 12/20




Food 6.5/10*




Service 3/5




Ambience 2.5/5



*(Haggis with neeps and tatties 8/10, soup 7/10, Scotch egg 8/10, burger 4/10, fish and chips 5/10, pork 7/10, lamb 6.5/10, market vegetables 7/10, souffle 3/10, pavlova 6/10).
Venues are rated against the best examples of their kind: gastropubs against the best gastropubs, takeaways against the best takeaways, etc. On this basis, the scores represent...
1-5: Straight into the dog's bowl
6-9: Netflix and chill
10-11: In an emergency
12-13: If you happen to be passing
14-15: Worth a trip out
16-17: Very good to exceptional
18-20: As good as it gets