£6 million spend at Grade II landmark sees Australasia, 'Cunard House' and chefs academy
MICHELIN-starred chef Aiden Byrne is to open a fine dining restaurant in Liverpool's Cunard Building.
It will be called Cunard House and is part of a far reaching deal between Liverpool City Council and the Living Ventures hospitality group.
A Mersey version of Manchester's hugely successful Australasia restaurant/bar brand will also be created in the Grade II listed landmark.
In addition, an academy of excellence will allow chefs to train under Huyton-born Byrne (main image right) who, at the age of 22, became the youngest chef to win a Michelin star before going on to get two more at the Dorchester's Grill Room.
A total of £6 million will be invested in the ground and first floor venues, creating 150 new jobs at the council-owned building.
Liverpool Mayor Joe Anderson says revenue raised by rent and rates will be ploughed back into essential services run by the cash starved authority.
Tim Bacon (main image left), CEO of Knutsford-based Living Ventures, said: "I am delighted to introduce Australasia and Cunard House to Liverpool.
"It has always been a city very close to my heart and I am sure people will love these two new dining experiences – each will bring something totally new and dynamic to the Liverpool dining scene.
"Aiden is also very excited to be returning to his home town. Cunard House will be a showcase for the amazing food Aiden produces and the training academy will give him the opportunity to pass on his knowledge and experience to aspiring young chefs who could not ask for a better mentor."
On the ground floor of Pier Head building, Australasia will serve modern Australian cuisine "combining Pacific Rim flavours underpinned by European cooking tradition". It will also have a bar serving cocktails, with music from resident and guest DJs.
On the first floor, Cunard House, led by Byrne, will be modelled on his current workplace, Manchester House, which featured in the BBC TV series Restaurant Wars last year.
Mayor Anderson said: "It will provide a world class dining experience for residents, tourists and office workers in this part of the city and will be a catalyst for further investment in the Pier Head area.
"We know there is a huge demand for dining at the Cunard Building, demonstrated most recently through the success of the Aquitania pop up restaurant during the Three Queens visit."
The Cunard Building was built betwen 1914 and 1917 by the Cunard Steamship Company at the height of Liverpool's maritime fortunes. It vacated the building in the 1960s, relocating to Southampton.
The middle of the Three Graces was bought by Liverpool City Council in 2014 and now houses the main bulk of its office staff.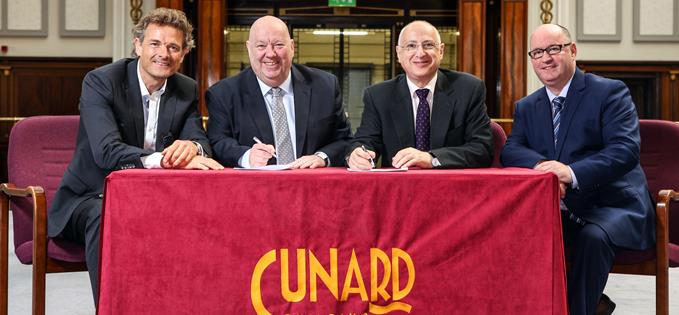 Living Ventures CEO Tim Bacon, Liverpool Mayor Joe Anderson, Lord Carlile CBE QC Chairman Astutus Strategy and Astutus director John Hyland
Mayor Anderson added: "It is also a great economic deal for the city, creating a significant number of jobs and economic spend, and will generate business rates and rental income for the city council which we can reinvest in essential services."
Set up in 1999 by Tim Bacon and Jeremy Roberts the Living Ventures Group started off in another grand setting in Liverpool, opening Life Cafe in the now empty Lyceum on Bold Street. LV developed the equally successful Living Room brand which began in Victoria Street. In recent years its fortunes have grown.
The company currently owns and operates Gusto, Olive, Blackhouse Grill, Smuggler's Cove, The Alchemist, The Oast House, The Botanist, Red Door, The Trading House, Australasia; Grand Pacific, Artisan and Manchester House.
Subject to planning approval Australasia is expected to open in April 2016 and Cunard House in September 2016.
Lord Carlile, Chairman of Astutus Strategy Ltd, which brokered the deal, said: "The development is a great opportunity to bring a great building back into the growing Liverpool powerhouse. It promises to be a wonderful restaurant, and a go-to meeting place.
"The Mayor is to be congratulated on his support for this exciting venture."