LUNYA has once again been named the best local restaurant in the North West by readers of The Good Food Guide.
The announcement comes as the Spanish venue lines up the castanets to celebrate its fifth birthday next week. A second Lunya is set to open in Manchester in September.
Here, Lunya customers have been voting since March to put the restaurant out in front of stiff competition in the food bible's Restaurant of the Year Awards which are revealed today.
We can't wait for the next five years and are really exited about taking Lunya to Manchester
Peter Kinsella, who co-owns the College Lane diner and deli with Mrs Elaine K, said: "We are delighted and humbled at winning this most prestigious award for a second time. Lunya is our absolute passion."
In 2010 the couple gave up lucrative careers in the health service and child psychology to pursue their dream of bringing Catalan and Spanish food and drink to Liverpool. They picked a premium site in the new Liverpool One and have run everything from Spanish dance classes to language lessons and ham carving tutorials.
Peter told Liverpool Confidential: "We're so pleased and proud to have made it to five years old. When we opened we had no idea what our future would hold but we never envisaged so many people taking us to heart and for the business to become such a success. We can't wait for the next five years and are really exited about taking Lunya to Manchester."
Elaine added: "This award is particularly special as it is the well informed foodie public who vote and it has such historic prestige; for us, it is the ultimate award for a restaurant such as ours."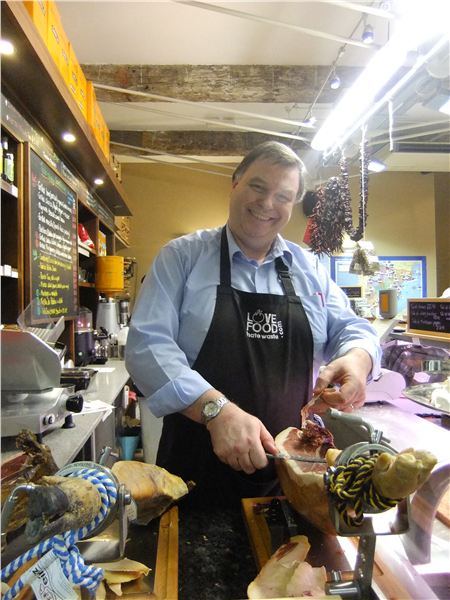 Peter Kinsella: Humbled
Each year The Good Food Guide, published by Waitrose, calls for diners to nominate their favourite local eating place. This time, 18,000 people responded.
It says the aim is to honour the best independent restaurants, pubs and cafés across ten UK regions. Awards are based on public nominations with a panel of Good Food Guide judges choosing the overall winner. This year that would be The Miller of Mansfield in Goring, Oxfordshire.
Lunya sealed its win, the guide says, for its "fusion" food and "friendly and knowledgeable staff'".
Elizabeth Carter, Waitrose Good Food Guide editor, added: "At Lunya, Spain meets Merseyside. This fusion food takes its most literal form in the house signature dish, 'Catalan Scouse', made with morcilla and chorizo, but Lunya is also the perfect place for Spaniards in Liverpool to feel as if they are at home. The tapas menu is always interesting, the sherry list is amazing, there's a vibrant atmosphere with friendly and knowledgeable staff. There is also a deli on site, so you can take a taste of Lunya home with you."
Liverpool already has the best food retailer, according to BBC Radio Four's The Food Programme, while over the water Fraiche still wins the dinners for Merseyside as far as Michelin stars and The Sunday Times are concerned. So yes, flights of sherries all round.