I'M not sure if it was fate, irony or just lucky timing but my taxi ride to an Indian vegetarian restaurant was with a driver who moonlighted as a "meat technician". Whatever it was, the more detail he went into about mad-cow-disease-causing prions, as we sped towards our destination, the happier I felt knowing that the greatest health hazard I was going to encounter over dinner at Sanskruti - a restaurant that specialises in the vegetarian dishes of South India - would be my own gluttony.
A rich stew made with black smoked lentils (think more lapsang souchong and less backyard bonfire) this is no average daal
Tucked away in the so-called business district, off Old Hall Street, on the former site of the Pink Ginger Grill, Sanskruti is charmingly unassuming. From the outside, it looks like just another Indian restaurant, albeit one a cut above your average suburban takeaway.
Embarrassingly, I probably would never have investigated it if I hadn't been tipped-off by a friend, who informed me that they did a decent daal makhani; a dish which, when done right, is the epitome of Indian comfort food.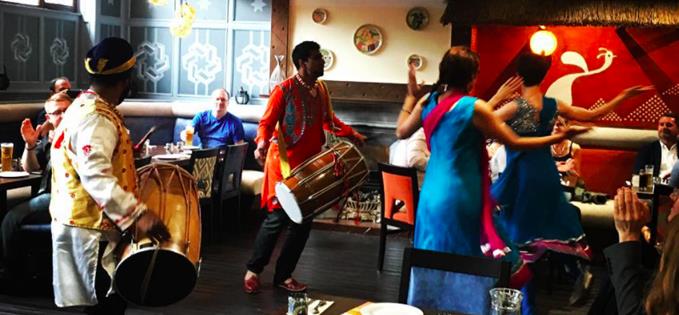 Despite the carb-heavy menu - potatoes, lentils and rice feature predominantly - there's a definite lightness of touch shown in the street food section.
Made up of four munchy, crunchy snacks, some of the elements of the sharing chaat platter starter (£8.85) worked better than others. Perhaps we've been a bit spoilt by the crisp pani puri we've tried over at Mowgli, but the ones here felt a little stale and would have benefitted from a touch more tamarind to cut through the yoghurt dolloped on top of them. However, we could happily have munched on the bhel - a moreish Bombay mix comprising of crispy spiced puffed rice, potatoes and diced onion - all night.
"You should be careful with this one," our waiter advised when the Mr ordered the lasaniya bateta (£6.25), "it's pretty spicy." Either our tastebuds have finally become immune to red chillies or our waiter was being overly cautious: the promised fiery hit of this dish never quite materialised. What we received instead was a bowl of new potatoes cooked to breaking point, smothered in a gooey sauce spiked with cumin and black cardamom. Delicious, yes, but you'd have to have a decidedly delicate palate to be overwhelmed by it.
Our accompanying mushroom dosa (£5.45) reminded us of a giant crispy pancake. While it felt as though the chef had skimped a bit on the mushroom filling, we had great fun tearing strips of it off in giant handfuls and using it to scoop up the tangy, slightly sour coconut sambal it was served with.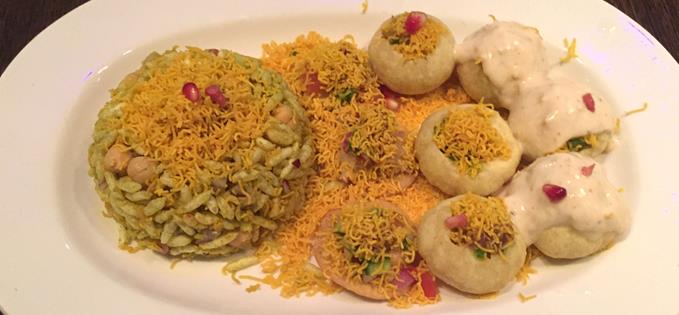 sharing chaat platter
And then onto the main event, that daal makhani (£4.95). A rich stew made with black smoked lentils (think more lapsang souchong and less backyard bonfire), tomatoes and a dash of cream, this is no average daal. While I haven't yet found a version in the north to rival the one found at London's Dishoom, this comes exceptionally close. It is a comfort blanket of a dish, an indulgent delight that sticks to your ribs and will have you ordering roti after roti (three pieces for £2.95) to ensure no scrap of it goes to waste.
Desserts are often the weakest element of an Indian meal but it would be remiss to not mention Sanskruti's incredible pistachio kulfi (£3.75), which was an unexpected highlight. This was gobsmackingly good ice cream that rippled off the tongue like velvet. I would have merrily ordered seconds if I wasn't already feeling like I needed to be rolled home.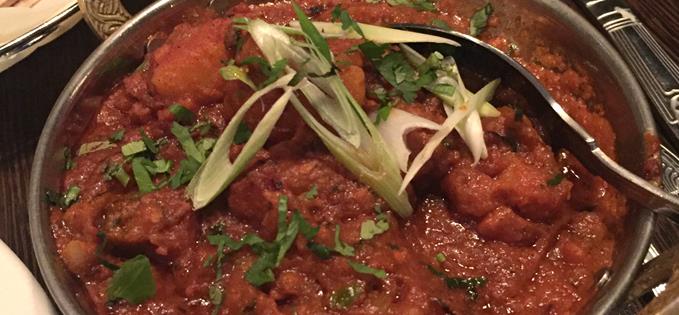 Lasaniya bateta
The menu also features a number of cocktails, some of which worked better with our dishes than others. I wasn't particularly wowed by their ginger martini (£7.45); it struck a slightly sour note when competing against so many different flavours and definitely didn't require the giant slice of raw ginger stuck onto the side of it. It was bettered by the vanilla and cardamom sidecar (£7.45), although this isn't really the kind of food that benefits from being washed down with fancy booze.
Service is brusque yet brisk - impressive given that the restaurant was busy with families celebrating Diwali on the night we dined. While not everything we tried lived up to expectations, Sanskruti's menu definitely contains more hits than misses. It's also remarkably good value for money - a three course meal for two with drinks only cost £56, which is no mean feat in Brexit Britain.
It's lovely to see a neighbourhood restaurant proving it can thrive on its own terms, particularly in these increasingly cut-throat times.
If you're looking to treat your vegetarian pals to something a bit more interesting than a goats cheese quiche, then you could do a lot worse. We'd even recommend inviting the carnivores along too.
All scored Confidential reviews are paid for by the company, never the restaurant or a PR outfit. Critics dine unannounced and their opinions are completely independent of any commercial relationships.
Sanskruti,
Ormond/Bixteth Street corner
Liverpool, L3 9NA.
Tel: 0151 236 8886. Website

OVERALL SCORE: 14/20
Food: 7/10
(Sharing chaat platter: 6/10; lasaniya bateta: 8/10; mushroom dosa: 7/10; daal makhani: 7/10; khichdi (rice and lentil mix): 7/10; pistachio kulfi: 8/10)
Ambience: 4/5
Service: 3/5
Venues are rated against the best examples of their kind: gastropubs against the best gastropubs, takeaways against the best takeaways, etc. On this basis, the scores represent...
1-5: Straight into the dog's bowl
6-9: Netflix and chill
10-11: In an emergency
12-13: If you happen to be passing
14-15: Worth a trip out
16-17: Very good to exceptional
18-20: As good as it gets