THE three of us had discussed for months, via phone, email and texts, the prospect of meeting up to engage in a wee bit of banter and enjoy a few bites. But the planets did not align - then they did and so we converged on Hardman Street early one evening.
The beef rib steak resembled one of those terrifying creatures that had Sigourney Weaver in meltdown in the sci-fi Alien movies
The first of our trio was Sue Ainger, as she's now known, who once sported the fabulously flamboyant surname of Flackett, which, you might imagine, was made up but as far as I know wasn't.
She has a handle on nosh, having worked alongside the inestimable, award-strewn Martin Cooper at the truly trail-blazing Armadillo Tea Rooms in Mathew Street in the 1980s, and she is regarded as a catering guru in Liverpool.
However, the Grilla restaurant is the kind of gaff that would have resulted in the "trendies" who munched mostly vegetarian lasagne or bean broths in the Armadillo, or its bigger brother the Everyman Bistro, gagging in distress.
The third companion was Angie Sammons, editor of Liverpool Confidential, and a proper seasoned foodie.
Now therein lies another tale. Angie and I have been chums for over 30 years, from the days when hacks scratched a living with quills and Quink and when she also sang for her teenage supper with Alan Peters' blues band, The Lawnmower. I've known Sue for about the same length of time and they've also circled each other for over three decades. But it suddenly struck us that we'd never actually sat down around a table together. So, naturally, there was a lot of ground to cover.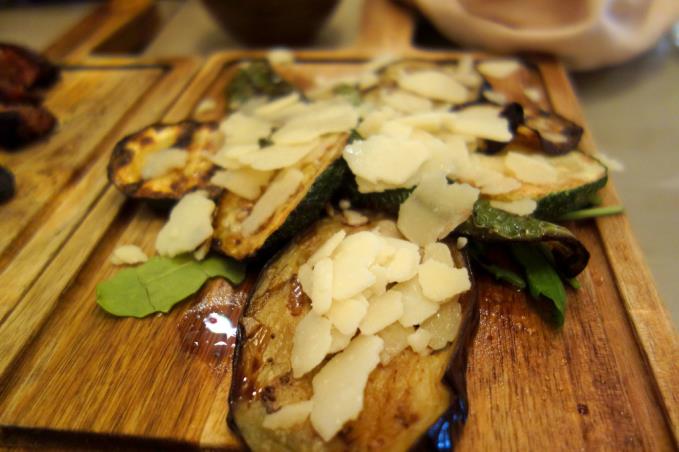 Grilled aubergine
We all remembered that the site of Grilla was a roistering place back in the 1980s when it was in the hands of a manic Greek chap called George and where many lotus-eater hours were spent getting wasted on ouzo, raki and gorging on staggeringly succulent garlic prawns. Today Grilla bills itself as a fusion of Greek and Swedish fayre, which was a first for our little party, and shouldn't work but does; and the current proprietors, who are partly Greek, partly Swedish, knew nothing of the venue's provenance, which is probably just as well.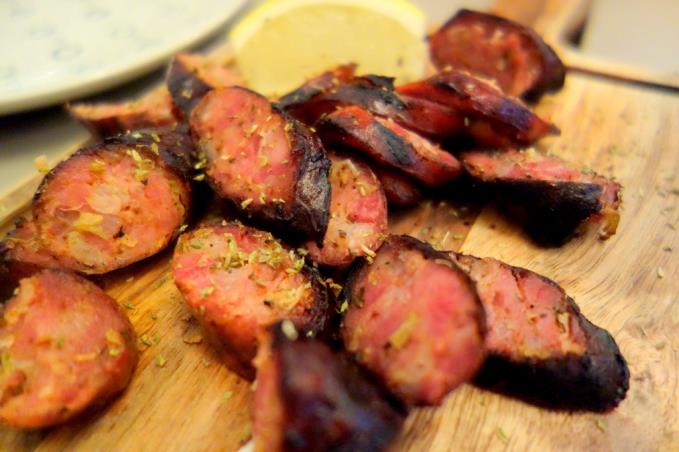 Greek farmers' sausages
This contemporary joint, if you'll pardon the pun, tags itself "meat on the spit" and offers finger-licking hunks and generous cuts for carnivores garnished with a flutter of salad leaves and quite acceptable spuds in various forms. There is a nod to other vegetables - although the platter of grilled, sliced aubergine with flakes of parmesan (£4.70), which we kicked off with, would, I suggest, be agreeable even to a ravenous hyena, while the blissful bowl of homemade tzatziki (£3.60) deserves a plaque on Parnassus.
The décor is calming in a light and breezy Scandinavian fashion with grey wooden panelling and furniture that might be related to silver birch trees, more likely IKEA: nevertheless it embraces, inviting punters to unwind in a welcoming, warmly lit cocoon which is enhanced by the presence of the pleasant and attentive black clad waiting folk. They had been hovering since we arrived, and after a couple of slurps of bargain basement wine and sparkling mineral water, we glanced at the "carte du jour", which really does feature Greek and Swedish edibles.
Then we set to gossiping: discussing people in music, the media and the arts et al that we've all known in common for years, and murmuring that they were mostly okay; although, with pursed lips, we then mused that, in reality, a lot of them were completely bonkers and gloriously outlandish.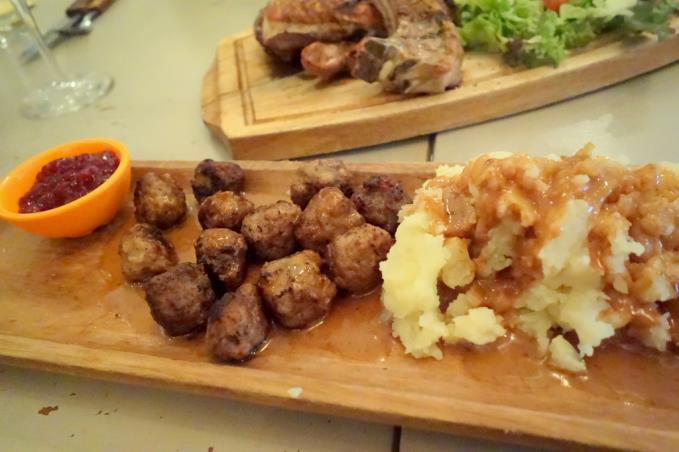 Swedish meatballs and mash on a wooden board
At one point as we chomped and nattered, the possibility of a trifling contretemps was brewing when the co-owner of Grilla, a personable, bearded young fellow, approached, asking nervously if everything was okay as one of his front of house squad had whispered that not all seemed well at our table, re the steak (£21.50), which was Angie's chosen primary ration for the evening.
His angst was a tad animated because Sue, with the authority garnered from years of buying and cooking vast quantities and varieties of grub, had grasped the rib steak and held it high, like a set of wind chimes, as she demonstrated how such a section of the animal would be butchered.
We re-assured him that all was well and not to worry. As we all three chorused this refrain, I heard a cock crowing in the background and the cackle of the witches stirring the cauldron on the heath in Macbeth.
For, in truth, neither Angie nor Sue reckoned the slab of meat up to a great deal. Angie had asked earlier if "rib steak" was rib eye steak but the answer was unclear. In the event, this gargantuan beast arrived on a large wooden board - as do most things - splayed out with the actual ribs akimbo, much like a giant stingray. It resembled one of those terrifying creatures that had Sigourney Weaver in meltdown in the sci-fi Alien movies. The view was that it hadn't really been given the searing it demanded, unlike Sigourney's space pals.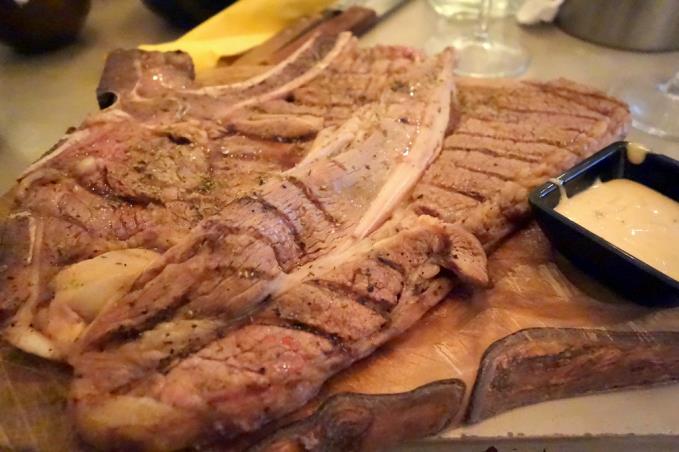 Beef rib steak
My own grilled lamb chops (£11.90) were very splendid, thank you: and there were five of them, spread out seductively on a bed of mixed greenery.
We'd all earlier actually quite fallen for the starter of Greek famers' sausages (£5.50), which also come as a main course, densely packed with lean, well cured meat and scattered with the sort of oregano found growing wild on Mediterranean roadsides.
At the same time Sue's mashed potato and a shovelful of juicy Swedish meatballs (£9.90), complete with a tart lingberry sauce, was, she exclaimed, extremely yummy, and she scoffed the lot.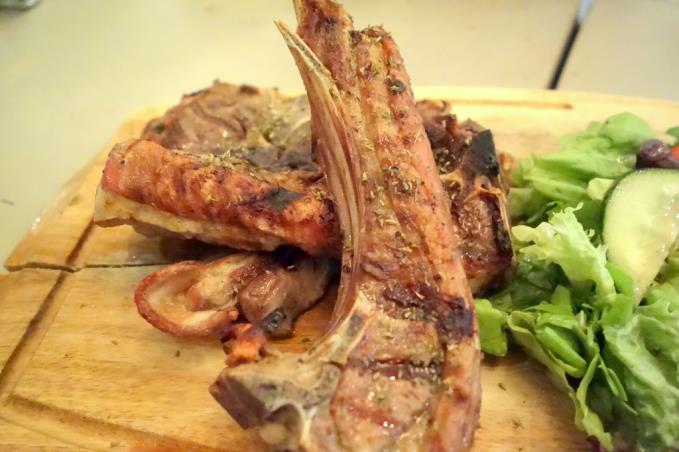 Loads of chops
As we shared bits of each others meals – and the steak was rather flabby - we began to rant about politics and raged about the dissolution of the Labour Party, barely pausing to breathe as we shouted and gesticulated which was maybe disconcerting for the gentle Grilla staff who were politely inquiring if we required anything else. No thanks, we muttered, engrossed in our pontificating. Suddenly one of them placed on the table a plate of delicious chocolate brownies with dollops of rich cream that were "compliments of the house". We wondered if they'd sussed out our "critical" mission but decided it was just a nice gesture.
As we rose to depart there was a spot of ruminating between ourselves over the steak and how there might be just the teeniest cultural confusion with its definition on the menu. Yet we all agreed that, overall, Grilla has got the touch and the mood for stress free culinary expeditions. When we go back we plan to do serious damage to the starters, which, ahem, certainly cut the mustard; and the no-bun burgers look quite appetising.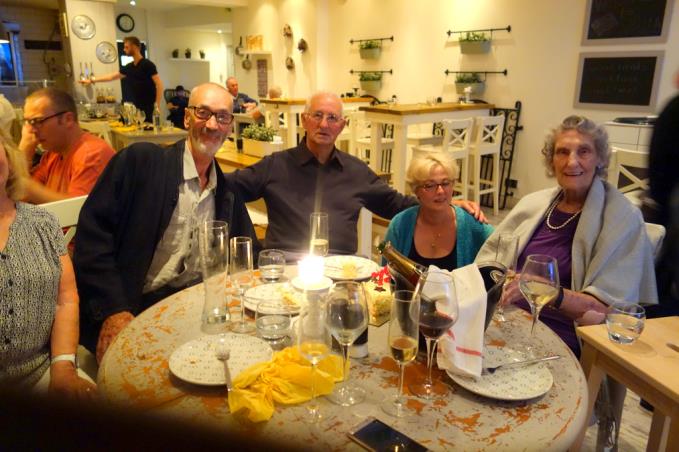 Dave Scott, left, and family celebrate the 97th birthday of Aunt Lily (far right)
Out of the corner of my eye I had spotted a familiar figure at a round table. It was the amiable Dave Scott, co-founder of that very Everyman Bistro of yore. After hearty greetings he explained that his was a family gathering to celebrate the 97th birthday of their Aunt Lily who was poised, almost regally, with a glass of champagne.
We could have stayed on for hours but the demons of the approaching dark night were beginning to howl, so with quips and hugs we bid farewell to Aunt Lily and Dave, who also seemed to be enjoying their visit to Grilla, even though she had believed that there would be starched white tablecloths.
All scored Confidential reviews are paid for by the company, never the restaurant or a PR outfit. Critics dine unannounced and their opinions are completely independent of any commercial relationships.
Grilla

22 Hardman Street,
Liverpool L1 9AX.
Tel: 0151 345 0940. Website
Overall score: 15/20

Food: 7/10
(rib steak (5) , mashed potatoes and Swedish meatballs (7), grilled lamb chops (7), aubergine (8) Tzatziki (8) sausages (8) brownie (6)

Ambience: 4/5
Service 4/5
Venues are rated against the best examples of their kind: gastropubs against the best gastropubs, takeaways against the best takeaways, etc. On this basis, the scores represent...
1-5: Straight into the dog's bowl; 6-9: Netflix and chill; 10-11: In an emergency; 12-13:If you happen to be passing; 14-15: Worth a trip out; 16-17: Very good to exceptional; 18-20: As good as it gets.