WE'LL have to hope Delia Smith doesn't get her culinary clutches into the Canos family during post-match refreshments.
If young Sergi's folks decide to join their boy in Norwich, then Liverpool will lose a second bright young star.
You see, when Liverpool FC plucked 16-year-old Sergi Canos from the famous Barcelona football academy, his family departed their sultry homeland to follow the son.
Lamb with mustard sauce and a battered asparagus spear is a standout dish; the meat, sweet and melting, has been tenderised all day in the oven with oil and garlic, formed into a terrine then seared
In the fullness of time they opened Gracias, a Spanish restaurant dedicated to the cuisine of their native Valencia.
They had some nerve starting up next to the Penny Lane roundabout, late last year. Or maybe they just didn't know that the crescent connecting Smithdown Place to Church Road has become as celebrated for its victuals as its Beatles.
Perhaps they were not aware that another tapas restaurant, Neon Jamon, was already flourishing there. Or that the Locke brothers' celebrated, multi-award winning Spire would be their next door neighbour.
Either way, formidable competition has done nothing to stop Gracias rapidly earning a reputation for top drawer food.
But this summer, the Canos' gifted fledgling, now 19, flew the Kop to join Norwich City Football Club.
The Canaries are famous less for the exploits of the players than those of the joint owner, Delia Smith, the nation's cookery instructor, who famously stirred the pot during a half time rousing of the Carrow Road faithful.
"Where are you? Where ARE YOU?!" she goaded fans during an ouburst some put down to too much cooking sherry in the mix.
The football connection, while not laboured, is established early on at Gracias; a Sergi shirt is framed on the wall just inside the entrance. Alongside, in a gesture of inclusiveness and good business sense, is one belonging to Everton goalkeeper, and fellow Spaniard, Joel Robles.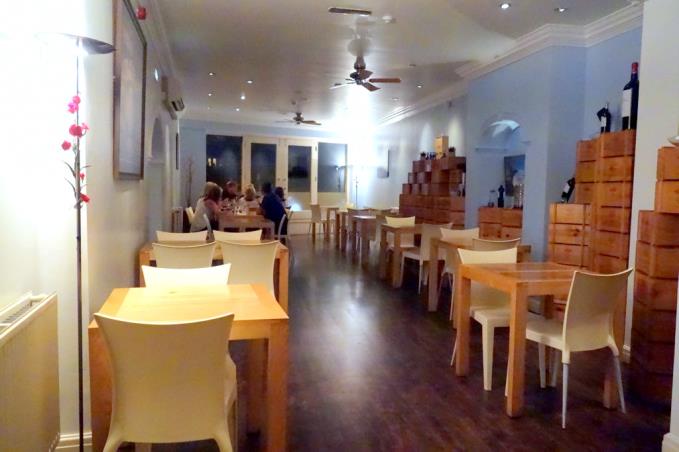 In an airy, open plan space, wine crates are stacked into ornamental towers, tables and chairs are simple and plain, walls bear sketches of Spain.
The colour scheme, tasteful and bright, evokes the whitewashed villas and unbroken blue skies of a Catalonian summer.
Servers, who are uniformly well informed, all appear to be Iberian and smile like they've forgotten they now inhabit the fear and loathing of post-Brexit Britain, Xanadu for xenophobes.
Tapas - "classic" and "gourmet" - take up most of the menu; with main courses reduced to a minimum after they proved less popular. This is probably less a criticism of the latter, and more down to the former being bloody excellent.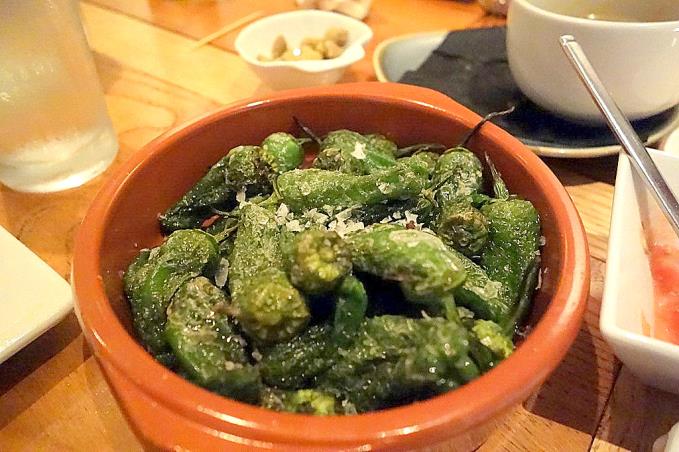 Padron peppers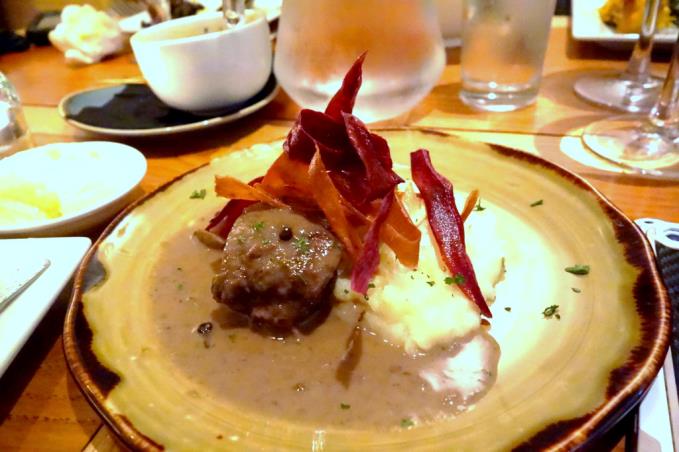 Pork cheeks braised for 16 hours
In the interests of thoroughness we covered the card and discovered this much: bread and olives and a couple of tapas scarcely leave room for dessert, never mind a main course.
The bread (£3.25), soft and elastic, from a local bakery, comes with a glorious garlicky alioli, smooth and silken, which they gladly replenish, and a simple dish of ripe tomato, skinned and grated and sweetly refreshing.
Good stone-in olives (£3.55) include chunks of pepper, softened in the savoury marinade, while Padron peppers (£4.95) are charry and sweet and doused with salt flakes.
Off the specials we have a tumble of chicken strips (£5.50), the breast meat moist and tender, the crunchy breadcrumbs arid as the Kalahari. For dipping purposes, a lavish jam of roasted tomato and fennel.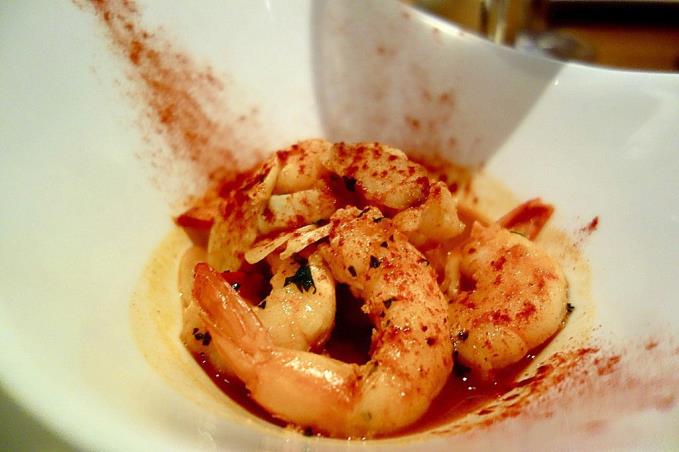 Garlic prawns
A Spanish burger (£6.25) is branded with all the layers of flavour that come from a well-used griddle, and topped with cheese melted on to a slice of chorizo. On the side, onion rings are more like tempura: slender, sweet and crisp.
Lamb with mustard sauce and a battered asparagus spear (£7.95) is a standout dish; the meat, sweet and melting, has been tenderised all day in the oven with oil and garlic, formed into a terrine then seared on one side for a caramelised finish.
A hefty hake fillet (£7.95), cooked just about bang on, comes with a mound of migas, Spanish sausage blitzed with breadcrumbs. Among the tapas, this is the single dish I find fault with. A little one-toned, it needs perhaps a sauce with a cutting edge.
No matter, for here come fleshy garlic prawns (£6.55) immersed in a tomato-rich broth, warm with spice, so good that when the prawns are gone, I spoon down the rest like soup.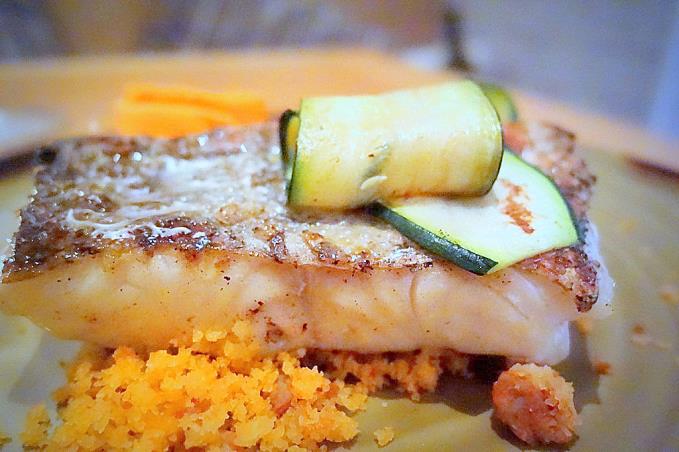 Hake
And pork cheeks (£6.50), which, like the lamb, had been cooked for 16 hours until collagen dissolves into gelatin. Rhubarb and raspberry sauce, dark and sticky, adds balance. Served with silken olive oil mash, and crisp slivers of parsnip, it is a perfect meal in miniature.
A small problem with timings allows two more dishes to arrive after the main courses of Valencian-style paella with rabbit (£10.95) and arroz negro (black rice) with squid and fish (£13). It also means, more seriously, that the paella rice is undercooked and has insufficient time to flavour or to form the soccorat, the crust that make the dish special.
Fortunately the arroz negro, coloured with squid ink, infused with a text book fish stock - and a close cousin to paella - was perfect.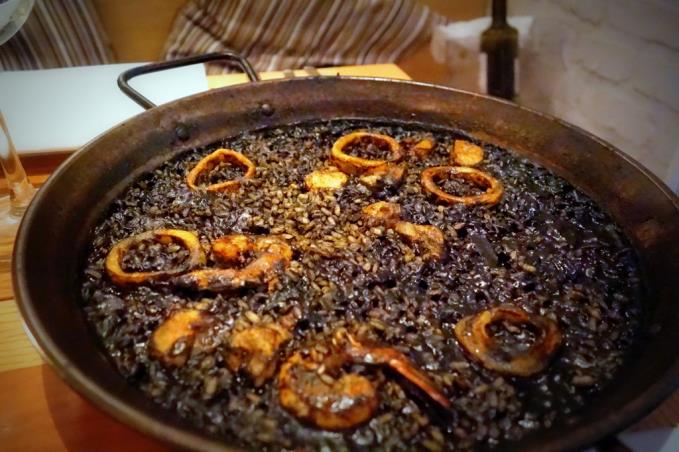 Arroz negro for two
From an excellent all-Spanish wine list, a bottle of Alba Vega Alberino (£22) from Galicia, is crisp, cold and fruity, and in perfect balance with the seafood. A glass of Rioja (£8.70) as full and robust a crianza as you could hope for.
For dessert, churros come with a proper dark chocolate sauce; almond and cream caramel tart (£6.95) is proficient if not outstanding.
We are told the senior members of the Canos family are settled and happy in Liverpool, and there is even a chance Sergi could one day return to Anfield.
But if the Amontillado is cracked open as Sergi presents the relatives to his new boss, Delia, God knows what will come of it. Delia's partial to a slice of tortilla and the conversation will inevitably turn to food.
Next thing you know Senor Canos and Co will be saying adios to Liverpool and hola to the next vacant unit on Rampant Horse Street, Norwich.
Then we'll be the ones crying "Where ARE you?"
All scored Confidential reviews are paid for by the company, never the restaurant or a PR outfit. Critics dine unannounced and their opinions are completely independent of any commercial relationships.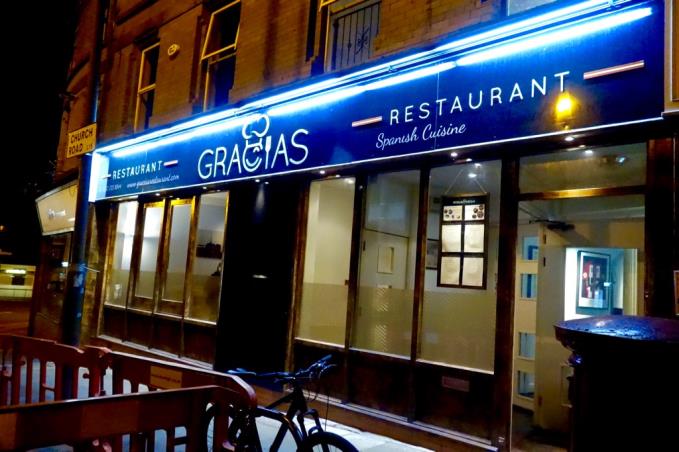 Gracias

3-5 Church Rd,
Liverpool L15 9EA.
0151 733 8844. Website
Overall Score: 16.5/20
Food 8/10

(Alioli 10/10, peppers 8.5/10, chicken strips 8.5/10, burger 7.5/10, lamb 10/10, hake 7/10, prawns 9/10, pork cheeks 9/10, paella 5/10, arroz negro 8.5/10, almond tart 6.5/10, churros 8/10)
Service 4/5
Ambience 4.5/5
Venues are rated against the best examples of their kind: gastropubs against the best gastropubs, takeaways against the best takeaways, etc. On this basis, the scores represent...
1-5: Straight into the dog's bowl; 6-9: Netflix and chill; 10-11: In an emergency; 12-13: If you happen to be passing; 14-15: Worth a trip out; 16-17: Very good to exceptional; 18-20: As good as it gets