FOR every meal bought at Give Kitchen, another is supplied to those most in need of a feed.
You give, they give, we all give "to the poor, homeless, hungry and sick in both our local areas and third world countries".
Of course, the moment this arrangement becomes known to a restaurant reviewer, he has nowhere to go.
In such circumstances, even the mildest of savagings has not merely the potential to affect custom but actually deprive a starving child of food.
And what kind of a bastard would that make me? The sort who writes restaurant reviews for a living, of course.
It's not perfect but there is enough to please and the list of small and large plates is a work in progress
In Liverpool, vegans had scant choice of places to go before Give Kitchen provided them with their own dedicated restaurant and the couple of times we visited it was getting comfortably full, despite being a bugger to find.
Do yourself a favour, if you're coming from Liverpool do not attempt to locate Give Kitchen via the first entrance into Brunswick Dock, as signs suggest. This way will lead you into a maze of light industry from which you may never return. Instead, drive a little further along and turn in at the Jaguar showroom.
Not just any old "Eatery and Inspiration Centre", Give Kitchen is an integral component of something called The Give Foundation whose purpose is "to eradicate world hunger, poverty and disease by 2040"; all from a single unit on the south docks. At least for now.
Global expansion plans are afoot, with a location on city centre Bold Street already being eyed up, we hear, and Give's food available online for delivery to anywhere in the UK.
On two levels, the ground floor is taken up with a counter, half a dozen tables, and, to one side, a shop selling much of their organic produce. Upstairs, the main balcony space is bright and light, with mix and match tables, seat cushions all shades of tree-hugging green, the walls bedecked with the words of inspiring historical figures ("Live as if you were to die tomorrow" – Ghandi).
Since the menu necessarily excludes all meat and dairy, a chef in a vegan restaurant is required to be more creative with a smaller palette. Here the results are encouraging, if inconsistent, with more of a kick required in some things, less in others, and the one minor disaster involving tofu cancelled out by a dish that proved a revelation to me.
So, no, it's not perfect but there is enough to please and the list of small and large plates is a work in progress. Feedback from customers, so the helpful and friendly servers informed us, will be used to tweak and improve as they go along.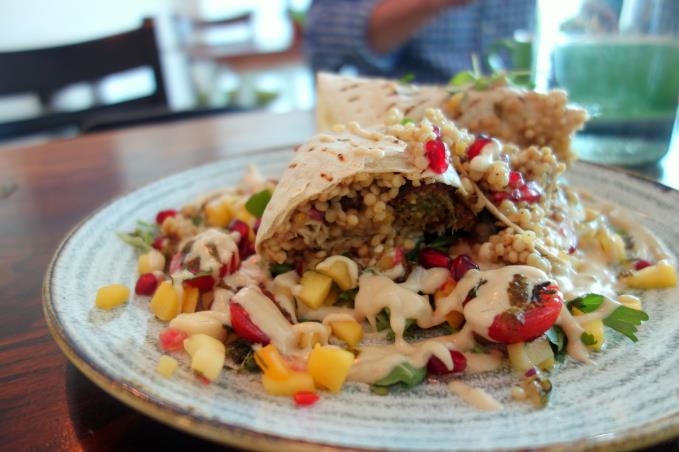 Falafel and couscous wrap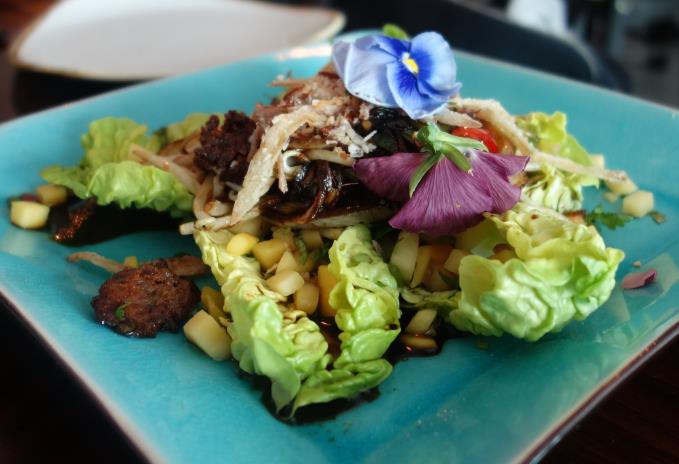 Mock duck
First up for a tweak should be the falafel and couscous wrap (£7.95). Nothing wrong with the spicy, crisp-coated falafel, nor the preserved lemon and apricot pearl couscous, but the rest of the plate looked like a jar of tahini and a fruit and veg stall had collided at high velocity with disastrous consequences.
Indian tofu goujons (£8.95) featured batter overwhelmed by a garam masala spice mix, the tofu tasting of nothing, like it does when it doesn't get any help. Potato wedges came in a damp heap, some undercooked, all minus any sort of crust. Lime and coriander tartare sauce, creamy and piquant, was sadly wasted in this company.
In the plus column: arancini balls (£6.50); beetroot, thyme and rice combined, battered to a crisp finish, and served with a cool sumac and mint raita. Pistachio and kale hummus (£4.95) was also good though in need of a little acidity. Luckily a squeeze of the lemon provided with my water did the trick nicely. Wholemeal sourdough, lightly toasted, was just the thing to scoop it up.
Vegetable stew
Vegetable stew (£8.95) came with generous, irregular chunks of squash, pepper and courgette, in a tomato-rich sauce that had depth and the gentle heat of Moroccan spice, and herb-infused pearl couscous on the side.
Best of all was mock duck (£6.95), which, I learn, since this is new to me, is made from thin sheets of wheat gluten laid on top of each other, flavoured and coloured in oil, sugar, soy sauce, and salt, and finally fried to a crisp finish.
The result doesn't exactly taste like duck but it does bear an uncannily fleshy, fibrous texture and has a rich, savoury flavour. Served with a sweet soy and sesame dressing, mango salsa, baby gem leaves and a couple of beautiful edible flowers, the whole was something of a triumph. Think of it not as a moral alternative to a dead duck but a pleasing dish in its own right.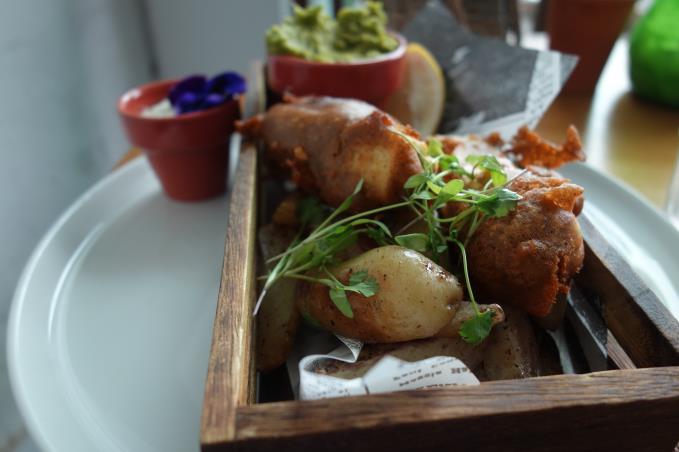 Indian tofu goujons
A respectable chocolate brownie (£5.95), dark strong English breakfast tea (£1.95) and a smooth Americano (£2 for the regular 8oz size – sensational value considering its organic, fair trade and sustainable sourcing credentials) was a decent way to end proceedings.
Who can say how successful the Give Foundation will be in its ambitions for our planet but you can't knock them for trying.
And there's no doubt that only a vegan restaurant, free of the violence and suffering associated even with dairy products, could have represented a movement formed to "make the world a better place".
Peas and love everybody.
All scored Confidential reviews are paid for by the company, never the restaurant or a PR outfit. Critics dine unannounced and their opinions are completely independent of any commercial relationships.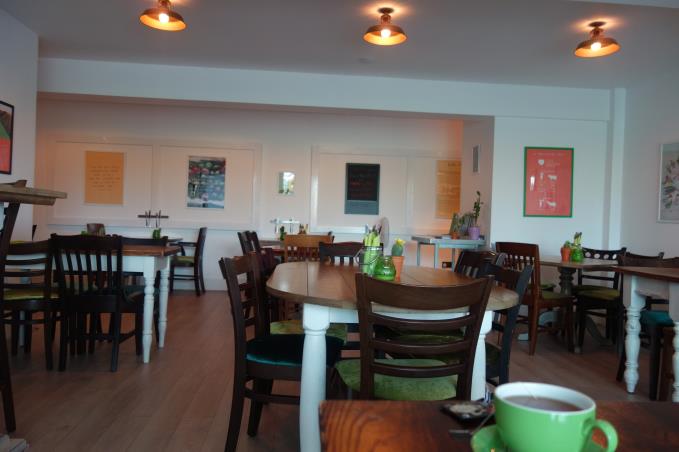 Give Kitchen,


Unit 5, Glacier Buildings,




Harrington Road,




Brunswick Dock,




Liverpool, L3 4BQ. Tel: 0330 999 3888.
Score: 14/20
Food 5.5/10
(falafel and couscous wrap, 4/10; tofu goujons, 2/10; arancini balls, 6/10; hummous, 6/10; vegetable stew, 6/10; mock duck, 8.5/10; brownie, 5/10)
Service 4/5
Ambience (with the added glow that comes from knowing you've helped somebody else) 4.5/5
Venues are rated against the best examples of their kind: gastropubs against the best gastropubs, takeaways against the best takeaways, etc. On this basis, the scores represent...
1-5: Straight into the dog's bowl; 6-9: Netflix and chill; 10-11: In an emergency; 12-13: If you happen to be passing; 14-15: Worth a trip out; 16-17: Very good to exceptional; 18-20: As good as it gets
Powered by Wakelet