THE restaurant we were meant to review took ages to find in the midst of Moorfields. When we finally made it, the shutters were up with a sign saying it was closed "due to an electrical fault." In small, independent business-speak, that tends to mean the chef hadn't bothered to turn up that morning.
We found ourselves trudging towards Bold Street on a scorching hot lunchtime where my family eventually mutinied with a meltdown outside Crust. A few frantic phone calls to the editor later, we were given the nod to go in and bask in the glory of their free air conditioning.
It can be a bit of a challenge cranking out 800 words about flat circles of oven-cooked dough with various toppings. From humble beginnings as pleasant, Neapolitan peasant fodder, pizza has become a ubiquitous global phenomenon and is just as likely to be found in Peruvian park corners as in Parisian palaces.
The black dough (made by adding charcoal to the flour) pimped it up to the best looking pizza I have ever seen
However, they don't just offer straightforward pizzas at Crust. They serve all day breakfasts, bruschette, starters, pizza wraps, pasta, salads and even burgers.
To order one of the 30 or so pizzas and calzones listed on the menu, you must first choose from four types of base; original, five grain, organic and black dough. As it turns out, it's worth the trouble.
We practically inhaled a reviving glass of homemade lemonade (£2.50) of which they offer no fewer than 10 variations. We chose "red" with lemon juice, sugar syrup, fresh strawberries and soda, and a cool "Dottor Gin" from the cocktail list (£7.00): Hayman's London gin, elderflower, lime, lots of fresh rosemary and tonic.
Just as you can't judge a book by its cover, or a bottle of wine by its label, the dish descriptions at Crust don't entirely match what arrives at the table.
King Prawns with Garlic Butter (£5.95) turned out to be three prawns in a cherry tomato sauce on a charred slab of woodfired Tuscan bread. There was no way of guessing it wasn't going to be the low-carb option you might have been hoping for.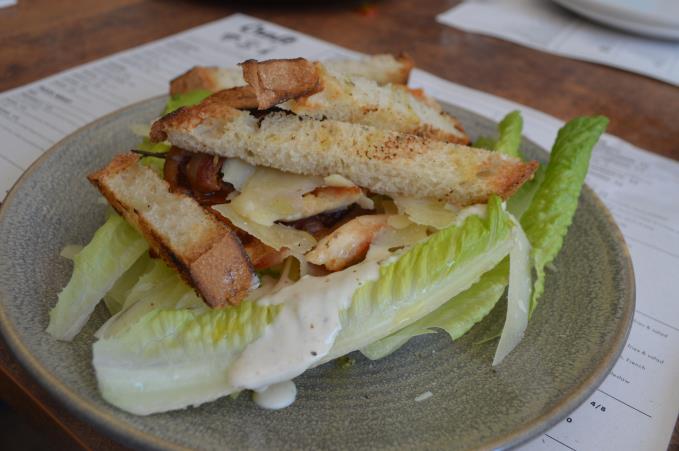 Chicken Caesar
Considering that a large proportion of the world's population are fundamentally opposed to eating pork for deeply religious or dietary reasons, we were surprised to find several stealthy shards of previously undisclosed bacon in our Chicken Caesar (£4.50/£9). We didn't mind, it was a well executed dish with a decent amount of long, crisp Romaine lettuce leaves, but had I been treating a Muslim cleric or a Rabbi to lunch, there could have been a bit of a problem.
Calamari fried in a light batter with garlic mayonnaise and spicy salsa (£4.95) was exactly as described. Although the squid was soft and the batter was as light as was promised, it lacked a little flavour, needing those double dips to prop them up.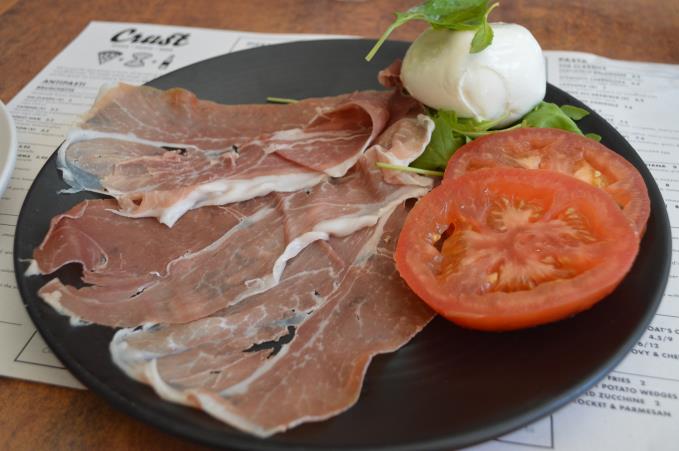 Prosciutto di Parma
Prosciutto di Parma (£5.95) was exactly as it said on the tin, er packet. Oh never mind.
For mains, everyone seemed to want pizza, so I ordered pasta, as Crust seemed equally proud of that. I had ordered Kamut Pasta with Prawns, Orange Zest and Yellow Cherry Tomatoes but it was Spelt Tagliatelle with Squid, Courgette and Cherry Tomatoes (£7.50) that arrived, with a side order of charming apology. It was a comforting homely dish, but the pleasantly chewy squid strips got totally lost amongst the pleasantly chewy ribbons of pasta, until only science could have told the difference.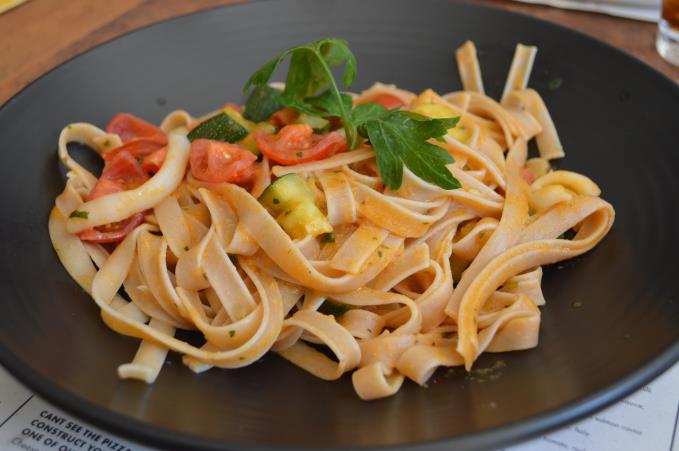 Spelt tagliatelle with squid, courgette and cherry tomatoes
My kids both chose their pizzas on "original crust" which was selling the slow-risen sourdough a little short. Son enjoyed his Diavola, with spicy salami, while daughter was chuffed to discover they offer a white pizza with no tomato sauce, just buffalo mozzarella, fresh cherry tomatoes, basil and extra virgin olive oil (both great value at £6). Pizzas were so huge we ended up taking half of each back home in a take-away box.
The arrival of the final pizza was preceded by a finger bowl. Gamberi & Astice (£14) with tomato, prawn, lobster sauce and half a lobster plonked on the top, shell and all, was undoubtedly the star of the show. The black dough (made by adding "healthy", natural vegetable charcoal to the flour) for an extra £1.50, pimped it up to the best looking pizza I have ever seen.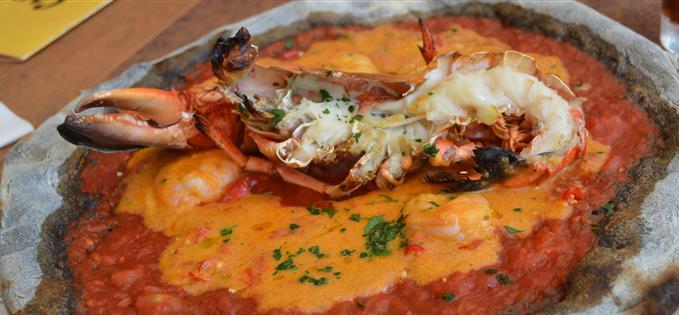 Lobster rocks: Gamberi & Astice is the star of the show
The charcoal adds drama to the dough but doesn't affect texture or flavour. I expect black dough to be a "thing" soon. We photographed it from every angle, drawing much virtual pizza envy through various social networks. We added some enhancements to it; chopped fresh red chillies and anchovies (+£1.50) and the only tiny criticism we had was that towards the end, it got a little soggy.
They do offer desserts; Nutella or fruit pizzas, chocolate cake, gelato and the intriguing Birramisu made with chocolate beer, but we were full to bursting.
If you saw a family of zombies wandering round in the heat of the waterfront last week, it wasn't part of a Biennial artistic performance, it was simply us in a carbohydrate coma.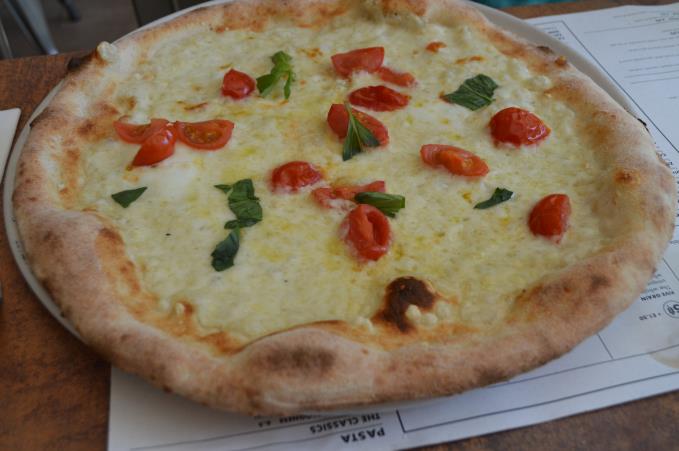 All scored Confidential reviews are paid for by the company, never the restaurant or a PR outfit. Critics dine unannounced and their opinions are completely independent of any commercial relationships.
Crust
25 Bold Street,
Liverpool, L1 4HR
Tel: 0151 709 1133. Website
Overall score: 14.5/20



Food: 7/10
(Chicken Caesar 7, Prawns 6, Calamari 7, Proscuitto 7, Diavolo 7, White Pizza 7, Lobster Pizza 9, tagliatelli 7)
Ambience: 3.5/5
Service: 4/5

Venues are rated against the best examples of their kind: gastropubs against the best gastropubs, takeaways against the best takeaways, etc.
On this basis, the scores represent...

1-5: Straight into the dog's bowl; 6-9: Netflix and chill; 10-11: In an emergency; 12-13: If you happen to be passing; 14-15: Worth a trip out; 16-17: Very good to exceptional; 18-20: As good as it gets.
Powered by Wakelet