GORDO realised something aged 16: being fat, ginger and freckled, the only chance he had to compete with his good-looking and considerably wealthier elder brother, on the girlfriend front, was to chat to the ones who weren't dressed as Christmas trees.
The red cabbage was the best ever. That's across this country, any country....Only Halle Berry strolling out of his bath would do a better job on Gordo
Invariably, the understated ladies were the ones without father issues, body dysmorphia or alcohol problems. They were funnier and also way sexier... if you managed to get a snog.
If the bell rang, these ladies were always the best to wake up with too. Class doesn't disappear as the make-up comes off. Especially if there is barely any there to start with.
Years later, Gordo is reminded of this rule when it comes to restaurants and the rush to open them this year. Several of the crop have had PR folk gushing about the amount of money spent (it's normally north of a million English), along with "concepts" and "desires" to raise the bar in the city while shouting about how many Michelin-starred restaurants the chef has worked in.
...Dig deeper and you'll find the chef has spent a few weeks working for free in the odd Country House Hotel.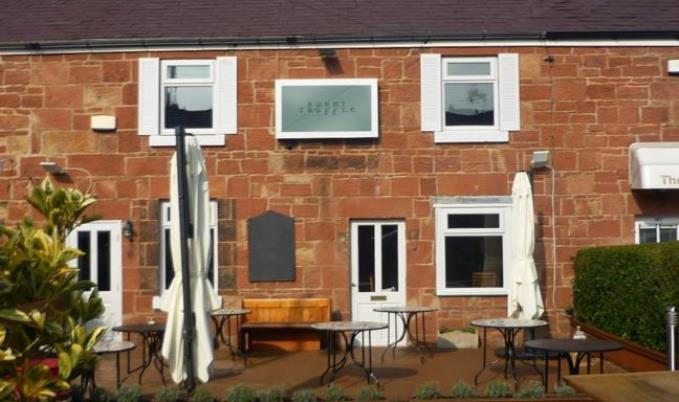 It becomes tiring. The Fat One recently received an email back from a potential "dressed as a Christmas tree" restaurant, which read: "Congratulations, you have successfully reserved your table at (removed) newest and most exclusive restaurant…"
Are you bloody serious? They haven't even opened yet. Groan.
Now, try this on for size: "We had to make the choice, for example, between new tables or an oven. We already knew that our philosophy, with regard to opening a restaurant, was to serve quality ingredients without the fuss. With that in mind, we sacked off the new tables. These are still our core values – good honest food served in an unpretentious environment, all run by a youthful team of committed professionals."
Blimey. Now which one of these would you prefer to book in at?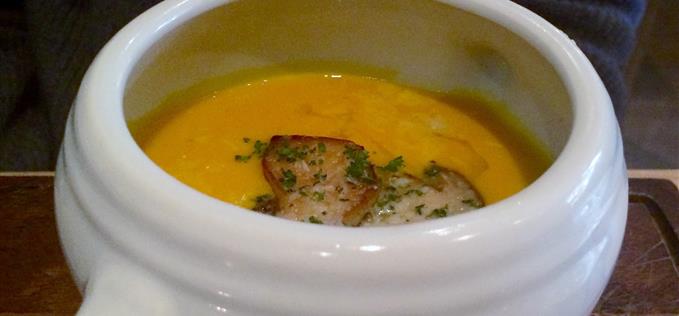 Pumpkin and parsnip soup with ceps and truffle oil
The latter was taken from the website of the now-well-known Sticky Walnut in Chester. Adept at social media, mainly through the chef's own self-deprecating tone (much beloved by his followers), he and the team went on to raise £100k through a crowdfunding scheme to open a second restaurant, The Burnt Truffle, in Heswall.
Now this lady looks more Gordo's type. So, off to Heswall.
Gordo can tell you it's on the high street; he can also tell you that if the signage cost more than fifty quid, they've been robbed.
Walking into what looks like someone's house - the non-too perfect layout of the place - small downstairs, maybe 30 covers, 40 upstairs, a pretty snug kitchen and a nice looking fireplace with a couple of candles trying hard to set fire to a handsome bag hanging off the back of a chair - feels, well, cosy.
Looking at the open kitchen set-up in the far corner, it becomes clear that all those hours spent scrimping on Ebay to findi the restaurant furniture has paid off, because what matters - the cooking kit - looks deadly serious. But is it being used correctly?
A Negroni cheered Gordo up, the homemade vermouth, straight up with ice, didn't have the same effect on his minder; writer and trainee millionaire Ruth Allan.
Bread appeared with walnut and truffle butter (£3.00); a near mousse-like consistency, the two went well together, but could have done without the pre-dribbled olive oil. Two's company, three's a crowd, dontcha know chef? Great sourdough, mind, not normally enjoyed by Fatty.
Ruth ordered pumpkin and parsnip soup with ceps and truffle oil (£5.00). It was nearly a cracker, but missed out on a mention in dispatches by being under-seasoned.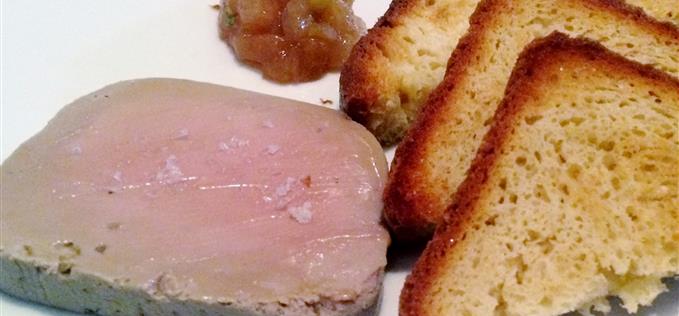 Chicken liver paté
Gordo's pick was the chicken liver paté (£7.00), served with toasted brioche and quince chutney. Now, this dish needs brioche that doesn't crumble along with a quince chutney that knows its job, that being not to overpower the brilliant main act: silky, lush, smooth-as-butter and humming with flavour.
Next up, Jacob's Ladder, watercress, truffle and Parmesan chips with onion purée (£17.00) wasn't what the master butcher in Gordo was expecting. Jacob's Ladder is a new cut invented by beardies (or is that hipsters? Whatever), basically ribs cut vertically so that it resembles Venetian blinds. Kinda like three short ribs stuck together.
So what we have is a difficult cut, very, very chewy, with bones removed, and fit mainly for mince or stews in the hands of mortals. But the alchemists in the kitchen had performed brilliantly well; deeply, gorgeously brown and stickily tender, the meat having been broken down for 16 days, adding flavour by the hour.
A fine dish, the onion purée heart-warming, with watercress that did what watercress should do: not complain when dumped on a side plate.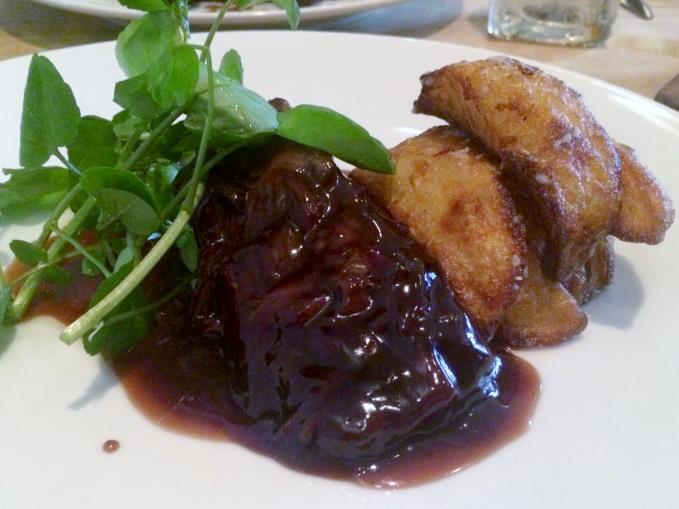 Jacob's Ladder, watercress, truffle and Parmesan chips with onion purée
The minder had the venison haunch, spelt, pancetta, ceps, Jerusalem artichoke purée, damsons and pickled walnuts (£22.00, main image); Gordo can only speak of his mouthful of venison (may well have been fillet) covered in puree, a right charmer.
The sides were braised red cabbage with golden sultanas (£4) and honey roast chanteney carrots (£3.00).
The red cabbage was the best ever. That's across this country, any country that has a few Alps in it and the Austro-Hungarian Empire adding in Prussia and Poland. Let's not mess about here, this is a 10. Only Halle Berry strolling out of his bath would do a better job on Gordo.
The carrots baffled Gordo, as some of them weren't red. The good thing was they all tasted of carrot.
The chips? Chef, take a leaf out of Coco Chanel's book, before you go out, take a look in the mirror and take something off. In the case of these chips, the Parmesan and truffle. They're good them chips, so serve on their own with some fleur de sel.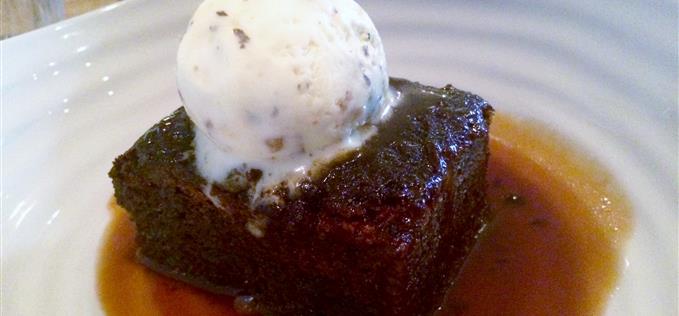 Sticky toffee pud
The vanilla crème brûlée (£6.00) was well flavoured but a little dull. Or, can it be too wet? Possibly. Sticky toffee pudding, toffee sauce and walnut semi-freddo suffered from the usual mistake of not having enough toffee sauce AND NO THICK, LUSCIOUS DOUBLE CREAM. That walnut semi-freddo was like a weak handshake from a movie star with a strong chin.
Service is tight, smiley, conspiratorial and deeply professional.
Wine is interestingly middle of the road; the team uses one of Gordo's favourite suppliers, Boutinot. La Cote Sauvage Cairanne 2012, juicy Rhone red, is one of Gordo's favourites at this price - £26.00 in Burnt Truffle.
This restaurant is a delight; an inclusive bistro that delivers heart-warming grub (you could call it modern British), it does overdo the truffle element, mind. Still, unlike many of its contemporaries this year, Burnt Truffle has spent money on the product as opposed to the bullshit.
Gordo just wishes he had one down the road from his gaff...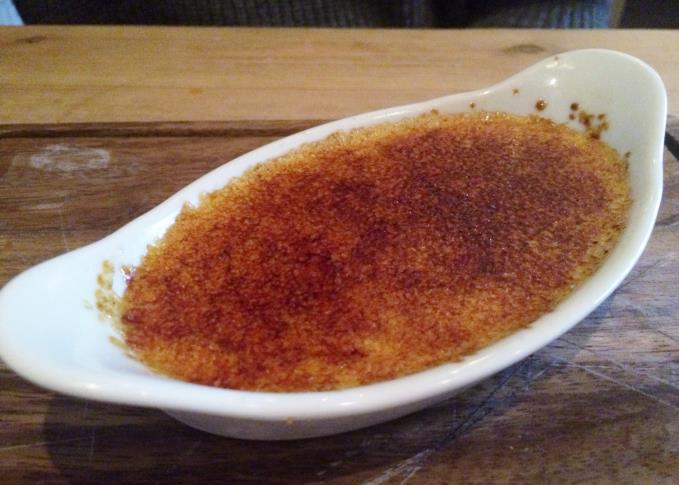 creme brûlée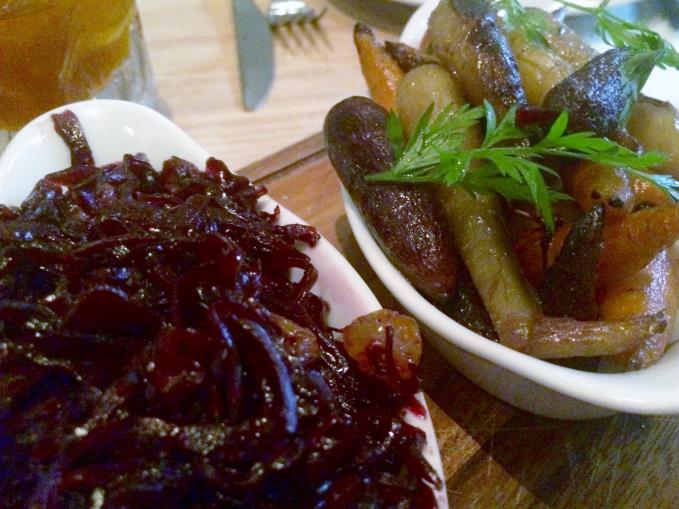 Red cabbage and carrots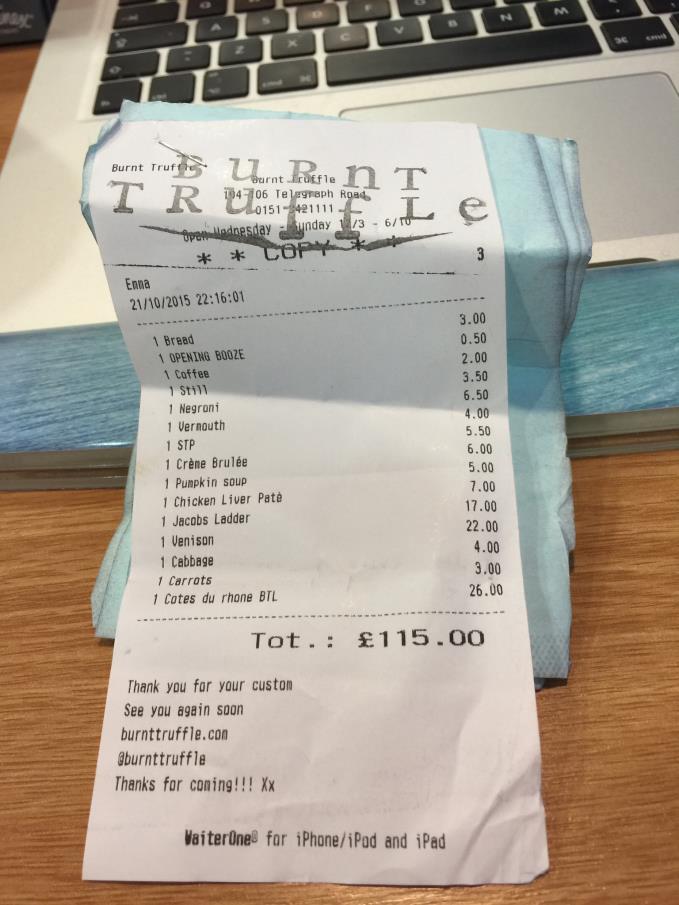 NB: All scored Confidential reviews are paid for by the company, never the restaurant or a PR outfit. Critics dine unannounced and their opinions are completely independent of any commerical relationships.
Burnt Truffle,

106 Telegraph Rd,
Heswall, Wirral CH60 0AQ.
0151 342 1111
Rating: 15/20
Food: 7/10
Service: 4/5
Ambience: 4/5
Venues are rated against the best examples of their kind: gastropubs against the best gastropuns, takeaways against the best takeaways, etc. On this basis, the scores represent...
1-5: Straight into the dog bowl
6-9: Straight out to the Iceland
10-11: In an emergency
12-13: If you happen to be passing
14-15: Worth a trip out
16-17: Very good to exceptional
18-20: As good as it gets