LIVERPOOL is now beating London for bar, cafe and restaurant openings - and the latest capital import is Be At One which opens to the public this weekend.
You'll find it in a handsome Victorian warehouse in Seel Street, directly opposite the Kazimier Garden.
This is the 32rd Be At One to open and the 13th outside London - and it boasts a mind boggling menu of over 160 cocktails - sweet, sour, bitter and fruity - all presented in a bumper booklet.
Be At One started life in Battersea Rise, 18 years ago, the brainchild of three bartenders, Steve Locke, Rhys Oldfield and Leigh Miller, who met while working at TGI Friday's in London.
Back then, TGI's was a hotbed of hospitality talent, also spawning a young Tim Bacon who went on to form his own Living Ventures empire in the north.
All three founders were at the Liverpool launch party last night.
"TGI's was something really special in those days," says Miller. "You learned real bartending skills. How to make brilliant drinks for people. Not mixology, as such, where sometimes anything goes, but recipes based on classics that people could agreeably sip all night.
He added: "There was nothing like Be At One when we first opened in South London in 1998 and it really took off. We built the whole bar from scratch, we even did all the carpentry and fitting. We were all young and so quite fearless."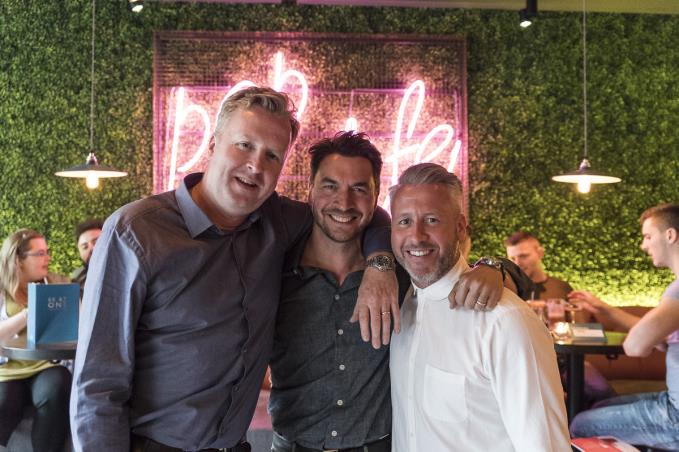 Founders Rhys Oldfield, Steve Locke and Leigh Miller
Times have changed and the Be At One ambition is to open 60 bars across the UK, but Miller says they won't lose the personal touch.
"It's important that we don't lose the ethos of the original, so you will find all three of us personally undertaking the staff training, walking the floors and serving behind the bars," he told Confidential.
Heralding the Seel Street arrival, Steve Locke said: "Liverpool has always been on our radar and now the time has finally come to open our doors to the city's lively bar and restaurant scene.
"Each of our Be At One bars is unique in design. We decided to make our Liverpool bar the quirkiest yet with a pop art theme, reflecting the city's music history."
Be At One's arrival in Liverpool joins a list of others as the city's food and drink sector expands rapidly.
Research carried out by AlixPartners and CGA Peach, measuring British pub, bar and restaurant openings, recognised that restaurants and cafes in Liverpool have increased by 17.1 percent over the last five years, trumping London's 13.4 percent.
Be At One's arrival will create 20 new jobs in the city and the team are "all home-grown talents hired for their party-loving personalities and passion for their hometown".
*Be At One opens on Friday July 15 at 13-21 Seel Street. Happy Hour will run from 4:30pm - 8pm Monday to Wednesday, 4:30pm - 7pm on Thursdays and will run from 2pm on the weekends, finishing at 7pm on Friday and Saturday and 12am on Sundays.