A DISCORDIAN Ball, Nina Conti and the world premiere of Cosmic Trigger: The Final Secret of the Illuminati, will be at the non-stopping heart of a two-day celebration next month, dedicated to the life and work of Illuminatus author Robert Anton Wilson.
Taking place entirely at the Camp & Furnace, the "Confestival" weekender, is called Find The Others. It will feature performances by comedian Robert Ince, ventriloquist Conti and producer, film-maker and one-time Killing Joke member Youth.
They join a host of other musicians, writers (John Higgs, Robert Temple and CJ Stone Sex Pistols LP artist Jamie Reid and KLF-er Jimmy Cauty) to celebrate the work, ideas, philosophy and "twinkling brilliance" of the late author, poet, sage and self-proclaimed holy fool "Pope Bob".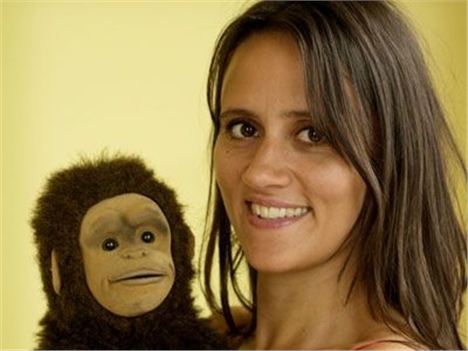 Nina Conti, who took up ventriloquism after taking up with the late Ken Campbell, appears at The Discordian Ball On November 22
It is being delivered as promised. Liverpool Confidential revealed earlier this year how Daisy Eris Campbell (daughter of the late theatre wizard Ken Campbell) was planning to bring the caper to town if a crowd-funding scheme to raise £23,000 needed was successful.
Well it has been, thanks to a whole heap of "illuminaries" who got behind it, among them, Oscar winner Jim Broadbent and sci-fi author Alan Moore
Daisy was in town this week, auditioning people and measuring up (main picture) with several Cosmic cohorts.  
She told Confidential (who accidentally stumbled across them): "Sometimes magic really DOES happen. The crowd-fund target was reached with help and support from all over the planet, ardent fans and the cosmically-curious."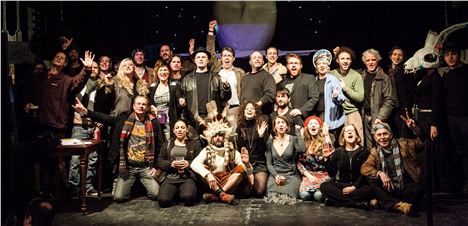 Brighton v Liverpool: The February 23 fundraiser at The Kazimier went a bit pear shaped afterwards
Cosmic Trigger: The play will open here – as planned – on the weekend of November 22nd and 23rd  exactly 38 years after dad Ken Campbell's Illuminatus premiered in the city in Mathew Street, starring, among others, Bill Nighy and Daisy's mum, Prunella Gee. It swiftly moves to London the following week.
Based on a trilogy of novels by Playboy staffers Wilson and Robert Shea, Illuminatus was a play that irrevocably changed the lives of all who were involved, both performers and audiences, and wound up opening The Cottesloe at the National Theatre.
Cosmic Trigger, its non-fiction sequel, recounts a period of Wilson's life when he journeyed through what he called "Chapel Perilous" befriending the likes of Timothy Leary, Alan Watts and William Burroughs, and experimenting with Crowley rituals and LSD.
Anyone who remembers, or wishes they remembers, the original Illuminatus, or indeed the late Ken Campbell's ordered madness in Liverpool, as artistic director of the Everyman in 1980, will be sure not to miss it. Indeed, Campbell and those who staged Illuminatus at the Liverpool School of Language, Music, Dream and Pun in Mathew Street, even get speaking parts in the new production,
Music, projections, and a voice-over by Alan Moore evoke the real­-life hallucinogenic trip through conspiracy, paranoia and enlightenment that transformed Wilson from a simple Playboy editor into the influential counter-cultural figure he is today.
If the events of February 23 this year are anything to go by, when an advance recce party led by Brighton-based Campbell and Higgs came to Liverpool for the day to launch the fundraiser you would be as well book the following week off work. 
The number 23, will, naturally, be everywhere.
SHALL YOU GO TO THE BALL?
 
FIND THE OTHERS CONFERESTIVAL: Saturday 22nd/Sunday 23rd November, The Camp and Furnace, 67 Greenland St, L1 0BY (0)151 708 2890. Conferestival opens with the play, Cosmic Trigger, on Saturday at 2.23pm and closes late on Sunday night.  Tickets for the whole shebang, including the play on Saturday afternoon are £69. 

PLAY ONLY: Preview: Friday November 21, £23/£13 concessions. 7.30pm-11.30pm. Tickets for everything: Everyman box office 0151 709 4776.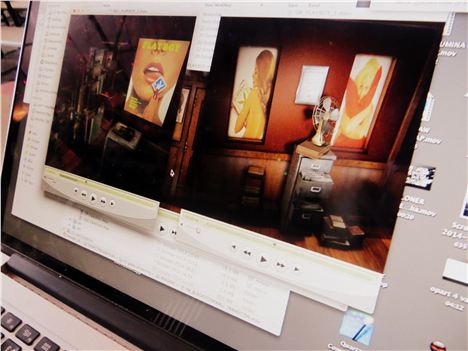 Cosmic Trigger visuals on a Macbook yesterday