WHAT with Brexit tensions dividing the country, and similar political upheaval being played out elsewhere, that this year marks the centenary of the Easter Rising is an ironic reminder that nothing has really changed. People continue to quarrel and quibble, often with hefty consequences.
What is it to be Irish? What will it mean to be to be Irish next year? Or in 100 years?
Hence why this year's Liverpool Irish Festival theme is "conviviality", which - as well as bringing Ireland and Liverpool together - aims to explore contemporary and traditional elements of Irish culture and often the tension arising between the two.
Do you define yourself as one of the old guard, or the new wave?
The festival also investigates what being Irish means at home and abroad; particularly relevant as, post-referendum, those looking to maintain EU citizenship clamour to apply for Irish passports.
As the UK's most diverse celebration of Irish culture, LIF's fourteenth edition promises a lively programme of performance, films, music and talks. There are sparkling debuts by first time playwrights and reimaginings of ancient customs, as well as emerging musicians adapting traditional instruments for a modern soundscape. Performances and discussions will centre on the cornerstones of Irish culture, and how they affect Liverpool's Irish community, while exhibitions and activities focus on the Emerald Isles' rich heritage.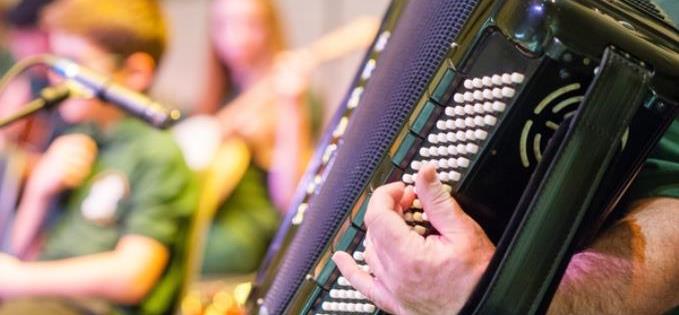 Accordion @ Pete Carr
A highlight is Three Plays - Riders to the Sea, The Shadow of the Glen and Purgatory - at the Treasure House Theatre, exploring the theme of the undead and how the Irish peasantry's relationship between the living and departed has long been full of mysticism and myth. Alsop Drama take the three one-act plays, by John Millington Synge and William Butler Yeats - originally performed as a trinity by the RSC - to reveal how superstition and folklore influenced rural Irish lives in the early twentieth century.
There's more theatre with Liverpool Lambs, an original production - written by Peter King (descendent of the King Brothers, volunteers who travelled from Liverpool to Ireland for the Easter Rising) and Steve Nolan - which retells the little-known story of the Liverpool men and women who played a role in the Uprising. This is paralleled by an exhibition at the Central Library and a panel discussion on James Joyce's Portrait of the Artist as Young Man.
Music comes in the form of fiery live performances and acclaimed singer-songwriters. Damien Dempsey, from Dublin's North Side, will be giving a one-off performance of his album No Force on Earth, which commemorates the Easter Rising of 1916. Folk rock, meanwhile, comes from County Tyrone's The Logues; whose music has been labelled everything from 'psycho ceílí' to 'whiskey soaked folk'. An altogether different form of folk can be heard from Rackhouse Pilfer; a Dublin quartet whose rootsy Americana incorporates uilleann pipes, concertina, Russian accordion, fiddle and guitar - while, after their storming performance in 2014, We Banjo 3 return with their modern take on Irish old-time bluegrass.
Alongside a continuing programme of exhibitions, tours, talks and traditional Irish music sessions across the city, the festival's popular family events also make a comeback; including the Family Day at Museum of Liverpool and, of course, the ceili.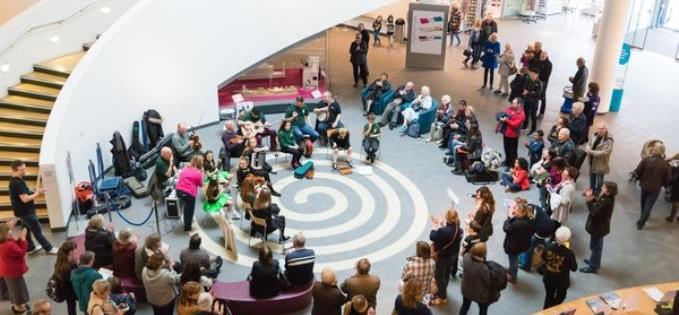 Family Day @ Pete Carr
Emma Smith, who leads the festival, says: "Conviviality has been at the forefront of my mind since joining the festival. Irish culture is lively and friendly and chimes with our Liverpool-ness, yet this year's referendum demonstrated a seismic social shift that we must consider - and reconsider - when we think about Irish culture, what it means to be Irish, and what it means here in Liverpool.
"The Easter Rising centenary reflects on stories of Liverpool people who stated a claim for their Irish-ness, at times risking everything. Post-Brexit we are witnessing many British people clamouring to reinstate their Irish citizenship and retain EU nationality. Stories resonating from 100 years before connected with us this summer, and cause us to question: is the nature of being Irish in Liverpool more than a historical connection? What is it to be Irish? What will it mean to be to be Irish next year? Or in 100 years? We hope to pose these questions to our audiences, to start conversations and provide safe spaces in which we can discuss, understand and develop friendships".