DEREK Hatton, it is said, wasn't too impressed when the New Moon Pub Co took the keys to Liverpool's one-time School For The Blind on Hardman Street - at least not by the name.
"He demanded to know why we weren't calling it 'The Old Trade Union Centre', he thought that was a great name for a restaurant," recalls Paul Newman, one of the owners of the the Cheshire-set gastropub chain which is making its first inroad into Liverpool this week.
Bit long that, Degs. "The Red Flag" might have been better. Equally, one supposes, they could have called it the Old Nick and served up prison rations. After all, the vast landmark on the corner of Hope Street did used to be the headquarters of Merseyside Police.
Let us not ever forget, either, the landmark's legendary status as The Picket, music venue funded by Paul, Ringo, Yoko and Pete Townsend and from which sprang forth The Coral, Space and The La's.But none of that has been set in stone for over 200 years, carved in letters over the door. It starterd off as an instution for the sight impaired so The Old Blind School it is.
The entire front of the building has been taken over for the enterprise and the public is in for a big surprise when it launches as a 170-cover restaurant and at least one bar this weekend. This was a stunning building to begin with and its slow death was difficult to take last September when The Liverpool Biennial opened it up for its Needle In a Haystack exhibition.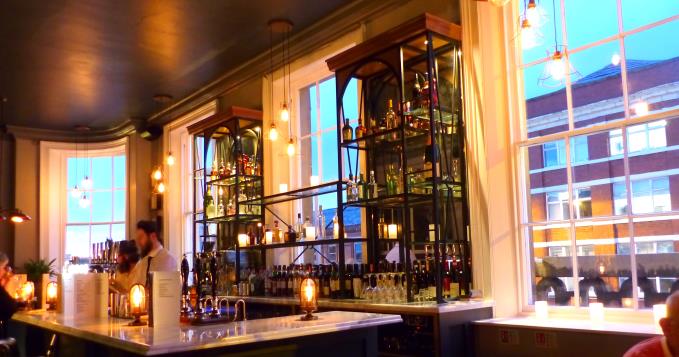 Now, it has to be said, the renovation is pretty spectacular. Don't forget, until the recession of 2008, this was set to be flats and most of the period features would have been lost from public view forever.
The most striking thing left of the old building - Mick Jones's brilliant but crumbling mural on the central dome - is, alas, not something you can see. It's not part of the Old Blind School refurb. The rest of the complex, owned by the Hope Street Hotel, is set to become an apartment hotel and a Pizza Express. Who knows what will become of it.
Here is what we had for dinner last night on a trial run. No review because we were there to provide service feedback, and they ended up paying. But make what you will of our pictures.
On the tools in the open plan kitchen is Paul Feery (pictured above, right) latterly of Blake's at the Hard Day's Night Hotel and the Restaurant, Bar & Grill. He's a big lad with a big talent, serving up big food. So that means no stopping off at the chippy on the way home. Or, in Degsy's case, getting a Liverpool taxi to bring it home.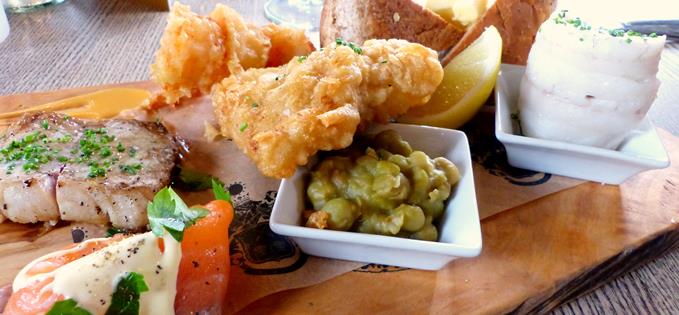 A groaning board of fish, served with a parch-dry £25 muscadet: The Coastal (£16.95) Tempura king prawns, corn & chilli puree - vodka cured sea bass fillet - chip shop fish & mushy peas - grilled smoked haddock - peppered smoked salmon, citrus hollandaise


Rump of Lune Valley lamb (£18.95) with a goblet or two of Satanic, £25 Rioja, mojito crumb, gravy and champ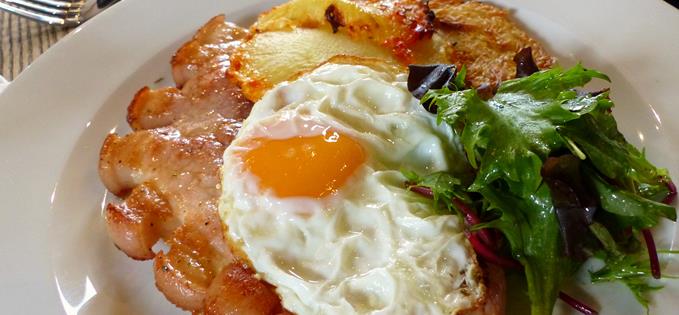 Old Spot dry aged gammon steak (£13.95) Cider, mustard and sugar glaze - crispy potato, chilli pineapple & egg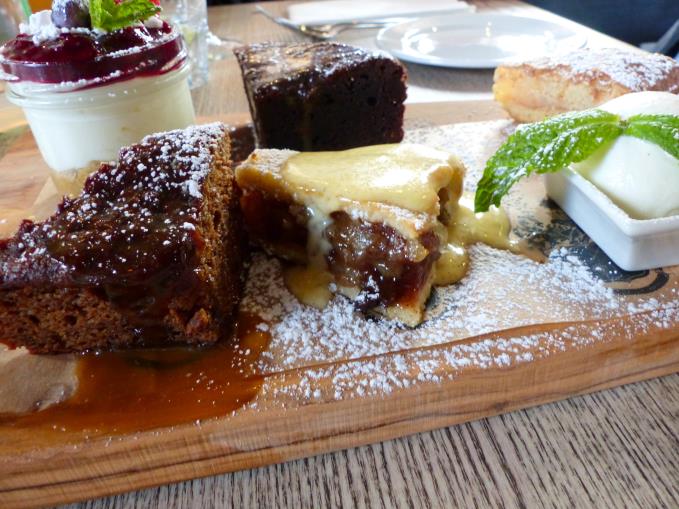 A big load of cake including triple chocolate brownie, hot apple pie, Eton mess cheesecake, Mrs Dowson's ice cream and bakewell tart