Where?
124 South Road, Waterloo, Liverpool L22 0ND, 0151 928 1301.
When?
Normally open 8.00-5.30. Mon - Sat.
But, but, but
Christmas 2015 sees something special: Write Blend will be opening its coffee shop doors on Christmas and Boxing Day from 10am-2pm for a "lovely, relaxing time".
"Don't be lonely, this Christmas," they urge, promising drinks, food, festive music and sherry.
What's the story?
Bob Stone opened Write Blend in May of this year with business partner Sally-Anne Tapia-Bowes. After being made redundant from a jewellers he spent some time working in a bookshop before deciding to take the plunge himself. He picked a building in Waterloo that had previously housed a gymnasium downstairs and a Costa coffee venture upstairs. Now the Coffee Room sells independently-sourced coffee from local suppliers Joe Black's and a variety of wonderful food. As their publicity says: "In a world which constantly seems to be rushing, it's good just to stop for a while and enjoy some of the finer things in life; a sofa, a book and a cup of coffee."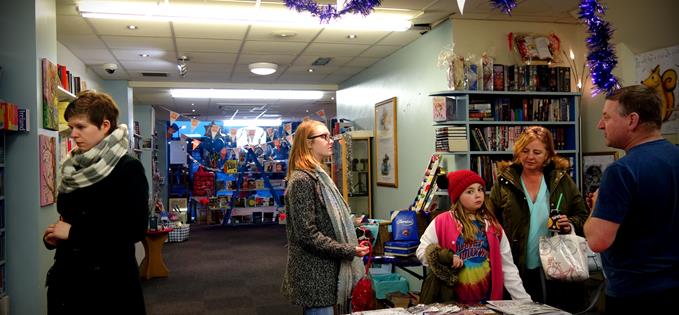 Tell us more
Bob: "We are lucky in as much as there had been a Costa upstairs, so the infrastructure of a coffee shop was already in place when we took over the building. As well as providing a bookshop and a decent coffee shop, I found out even in the first few days of opening that there was a need in this area for somewhere that could become a hub where creative people could meet and find outlets for what they do. It's working to an extent, we have links with several local writers, particularly of children's books."
Frank Cottrell Boyce, who lives in the area, hosted a rehearsal of his forthcoming radio play How To Escape From Sorrow at Write Blend to enable producers to gauge audience reaction.
"It was really good, we got about 70 people in. If we can get a well known author in, then it's like having a rock star in for me!"
One author that came from a reading was children's writer BB Taylor, who runs an animal rescue centre and bases her stories on the animals, some of which she brings with her to the readings. "We now seem to have moved on from being a creative hub to running a menagerie! But the kids love the animals."
Another was humourist and Educating Peter author Tom Cox, whose books on cats sell in their squillions and who drove up from Totnes to meet his legions of fans.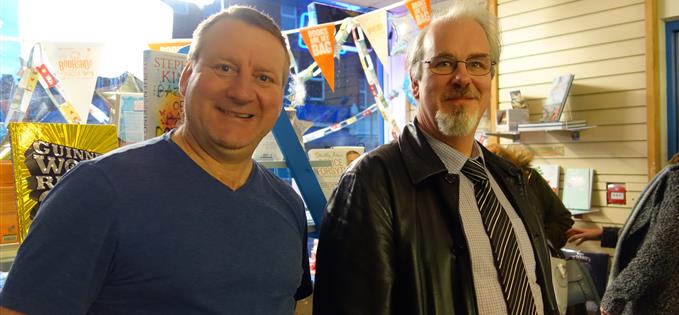 Tony Higgerson and Bob Stone who run the shop

What is the ethos of the shop?
"We have to adapt according to what people want. On one hand we have to stock the bestsellers, a struggle though that is, as we can't buy those books from our wholesalers as cheaply as Tesco can sell them. So we can't afford to discount in the way they do.
But there are people who want to use a real bookshop at they are prepared to pay the right money for their books. If you look at the cost of things, then £6.99 for a book is not expensive, but we have to convince the public of that. Where we score is that the supermarkets can't supply the back list. If you go to a supermarket and tell them that you enjoyed such and such a book and you would like something similar, they will say 'Well... we've got these beans!', they haven't got a clue. Independent bookshops have to exist to do things like that, as you can't rely on Amazon, their recommendations are rubbish!"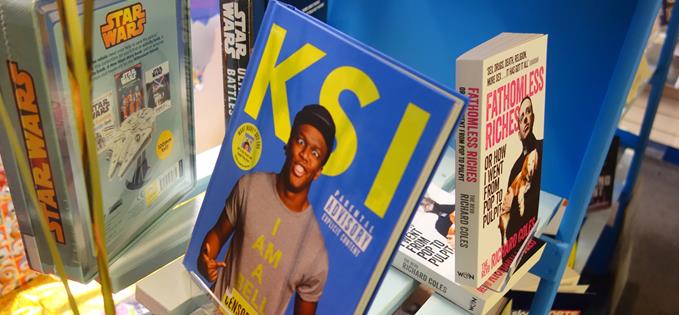 Not just books and beverages
There are a range of events taking place there, such as readings along with musical and poetry events. There are art classses and a creative writing group too. The shop also sells jewellery, decorative items and original artwork. And there is a play area to distract the kids in both the cafe and the shop.
What about the future?
"As things stand, the coffee shop is holding it's own and that can only grow. As for the bookshop, we need to encourage footfall and that will determine how things go. Like everything else, that will be demand led. We will have a look in six-months to a year's time at what is and isn't selling and if we need to specialise in particular areas. It's too early to tell at the moment."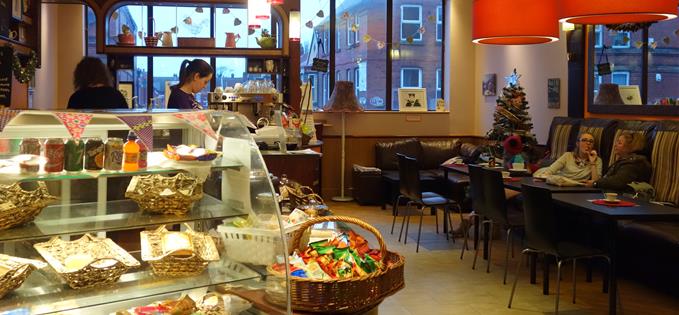 Why go there?
The first floor cafe is a delight, and full disabled/pushchair access in the form of a lift. Once up there, you will find a bookish paradise of classics and oddities to flip through - if you can tear yourself away from the wifi - over good coffee and tea, Dafna's legendary cakes, milkshakes, panninis, home made soups and hotdogs. Costa did all the design work, so it's a bit of a win win.
As for the bookshop, with the resources at its disposal, Write Blend has the capacity to be the biggest bookshop in the world and can get most things for a customer, including out of print books.
How do I find out what is going on there?

Call into the shop! Alternatively, they are on Facebook and have their own website