What's the story?
You have all heard or have been to Delifonseca, the semi-eponymous food shop and restaurant started by Candice Fonseca in Stanley Street, 2006.
Downstairs a grotto of groaning shelves filled with gourmet delicacies, upstairs a consistently reliable restaurant with plenty of accolades and awards to paste in the window.
Delifonseca remained as no-nonsense as its owner – a lass from Lancashire by way of Lisbon. An epicurean heaven, around which sprung up a gay village anchored by a very different Lisbon over the road?
Like all successful operations, it looked easy. So easy that a few people copied its deli-restaurant format. But they mostly went under, proving that some things are harder than they look.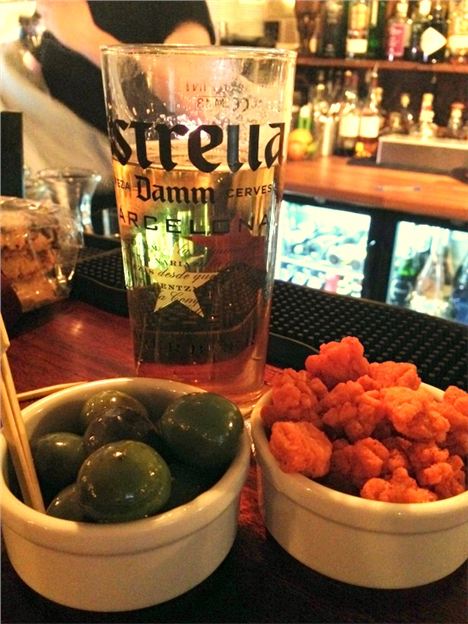 The irony!
Oh it doesn't end there. Delifonseca was so popular that even it decided to copy itself – setting up shop down at Brunswick Dock, land of the car dealership and main artery out of town. A bigger and better premises, containing a Brough's butchers and a serious grocery store, blossomed.
Then the unthinkable happened: the cosy little birthplace in Stanley Street was cast asunder by its loyal customers. They had defected to the Delifonseca at the south docks.
They do like to be beside the quayside.
Time to drop the dead deli. Thus Fonseca's bar was born.
Ten a penny along there, surely?
Different proposition altogether. The only meat-fest you will find in this bar is the Spanish Platter, missus.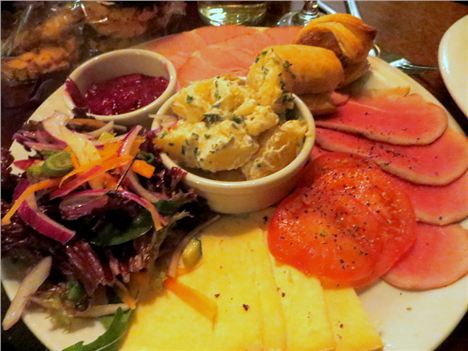 What's the craic?
"Our focus is great wine with an extensive by-the-glass range," they say. Cocktails aren't the thing, but Fonseca's does feature a special, at weekends, themed cocktail events as well as spirits master-classes.
Try a "Flight of Fancy": any three wines from the extensive list for £9.95, or upgrade to the same with bubbles for £14.95.
Alternatively, plain dive into the list and work your way up, or down, from the Navarran Campo Nuevo (175ml glass - £3.95, 375ml carafe - £7.95 or take the bottle for £14.95), up to a Domaine Monnier, Puligny Montrachet 1er Cru, 2010 (£79.95), with literally dozens in between, including loads of champers.
Who goes there?
At lunchtime, the work crowd. After that, happy accidents or people in the know. Confidential stumbled down the stairs a couple of Wednesdays ago on the way to somewhere else and forgot how to get back up them. There was a mixed bag: couples, a group of friends in their twenties and punters from upstairs. They say it gets late and lively towards the end of the week, but if you are the after-work imbiber, or shopper looking for a relaxed vibe, it could be for you.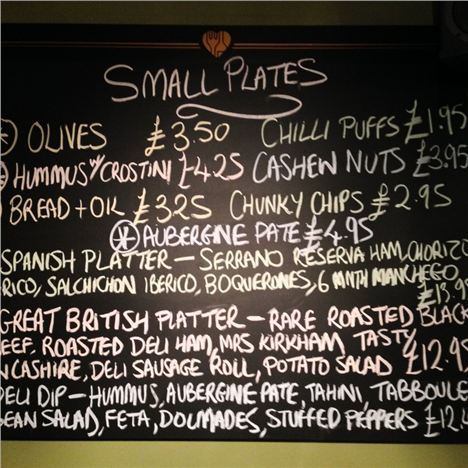 Grub up
And some. What hasn't changed are the take-out sandwiches, soups and salad boxes at lunchtime, plus an express lunch which is all of that on a plate. Throughout the day and evening come platters and dips from a deli counter by the bar, a place where you can prop with nothing more than a refreshing Estrella, some top flight gordal olives (£3.50) and chilli puffs (£1.95).
Alternatively, you will also find some of the best chips (£3.50 a bowl) in the city. Pair this with a some vino and voila! A very cheerful date indeed.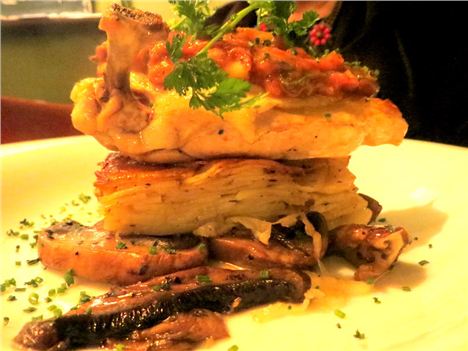 I want goat curry, I want a posh burger, but I want it with a beer in the bar.
If you insist. Pick any dish from the upstairs restaurant specials board, and they will bring it down to your table.
This chicken supreme perched on a construction of velvety Lyonnaise potatoes was executed to near perfection (£10.95) and the Great British Sharing Platter (£12.95) shows just how well a good glug of Cotes du Rhone can knock slices of Anglesey Butchers rare black beef and Mrs Kirkham's Lancashire cheese into the stratosphere. Not forgetting the home made sausage rolls.
It's not a bad life, though some may find the red velvet chairs a little low slung for dining.
How do you mean?
They are reclaimed from a cinema in Suffolk, going against the grain of the current mainstream style of "urban vintage". Owner Candice says: "I wanted to create something vaguely glamorous but not 'glitzy', but still vintage in feel." There is a lot of copper too (if you want coppers you are in the wrong bar) - making it all a bit David Lynch.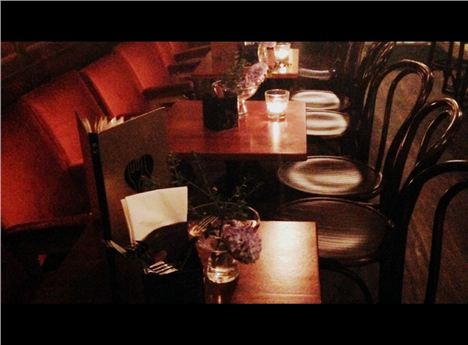 That's entertainment
More "That's Entertaining". Cookbook Club is held on the first Monday of the month. Each time a cookbook is chosen. On the night, people turn up with a dish made from it and they sample one another's results. Afterwards, they discuss how good or bad the cookbook is, the Hairy Bikers' ears burn and on a bad night there is a chorus of "Why, why, why, oh Delia".
Keep an eye out too for wine tasting evenings which take place every month but have no set pattern.
Verdict
Far from the madding crowds of Mathew Street and Victoria Street, at last a proper wine bar retreat.
With realistically priced drink and food it shows up others in the area at the top end who are definitely having a Hard Day's laugh. No, it's not as easy as it looks.

ALL SCORED CONFIDENTIAL REVIEWS ARE IMPARTIAL.
Critics drink and dine unannounced and the company picks up the bill. Never the venue, never a PR company.
Rating: 17/20.
(Drinks: 9/10, Food: 4/5, Vibe and Service: 4/5)
Where?
12 Stanley Street, Liverpool, L1 6AF. 0151 255 0808. Website
When?
Monday to Saturday, 11am-late. (Last restaurant food orders, 9pm, Mon-Thurs; 10pm, Fri-Sat)
---
Tweets by Angie Sammons @twangeee