What's the story?
They came in search of paradise....and found it... in Colquitt Street.
Just over a year ago three Liverpool amigos - Alvin, Theo and Sam - realised that they were so mad about rum, Hawaii and the good times that they had to do something drastic.
So they opened Aloha, a "tropical hideaway and drunken parrot sanctuary" which is buried in the unassuming basement of the historic Royal Institution in Colquitt Street.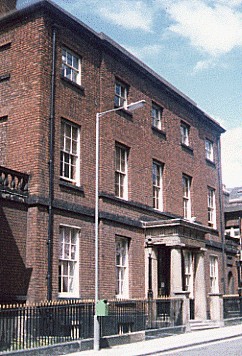 Yes, in April 2010, Liverpool officially gained its first (and therefore its finest) 'Tiki' bar. In April 2011 it celebrated still being the only and finest Tiki bar, with a big party.
Tiki bars are all about escapism. Back in the days when war veterans returned with exciting tales of exotic places, similar establishments appeared (mostly in America) to recreate the bliss of Pearl Harbour. They are defined by big drinks and even bigger decor. Polynesian god masks and carvings, grasscloth, bamboo, plants, lava stones, hula girls and palm trees.
Aloha's mission is to bring the paradise of Polynesia to The Pool of Life.
It's independent in thinking and in ownership. The only chain you will find connected to this glorious drinking den is a flower garland, and you are probably wearing it.

Why go there?
The enthusiasm of the staff goes a long way. They wear their passion (fruit) on their sleeves, literally. Potential bar staff have to have LESS than a year's experience in the licensing trade because they are going to be debugged. Taught the Aloha way.
Hunks don Hawaiian shirts while the Honolulu Babes charm in 1940s floral dresses. All of them are clearly having hi-jinks and they want you to join them.
It helps, too, that the drinks are incredible. Your classic pina colada (£6) is served in a half-hollowed pineapple (when they are available) and comes with a wedge of orange, a flower, a petal and a cocktail umbrella. It looks fantastic and tastes even better.
Not sure what to order? There is a cocktail list available (prices from £3.50) but you might as well ask one of the staff. They would genuinely love nothing more than talking to you about rum and watching you enjoy it with them all night in their overtly decorated shack.
For the less adventurous, there are bottled beers (from £2.50) and every regular spirit to be had. But, seeing as you are on Colquitt Bay Beach, Hawaii, you might as well treat yourself.

What's yours?
A volcano, thanks. That is a flaming eruption of rum, rum, rum and err, rum. Believe it or not, four rums of varying strength make a Zombie cocktail. The volcano element is all about presentation. This surprisingly drinkable delicacy is so special that it requires a £10 deposit to be put behind the bar.
A £10 deposit for a drink, seriously?
Well, kind of. Zombies are served in large, volcano-shaped ceramic dishes (right), a fair few of which went mysteriously missing during Aloha's first few weeks of trading. This stretched the lads' shoestring budget a bit too far, not to mention the woolly jumpers of the customers who nicked them.
So, the deposit is for the dish and it's returned to you as soon as you have finished slurping up the fluid basaltic lava inside (and realise that you can no longer see straight).
What's more, the volcano holds more than enough rum for two or three people to get a good couple of slugs, and, splitting the cost makes it a pretty good deal. Let's face it, there are plenty of places in town that charge around £7 for a glass of crap wine.
Want to sit down after all that?
You may well want to book a table in that case - there are only three.
They even have names: Skeleton Island, the Hula Hideaway and the Cactus Cove "because we care about them more that way". There is a minimum spend on them which equates to £10 per person. If you find yourself on Skeleton Island there's the option of indulging in Dead Man's Chest, a bottle of Toz rum. Approach with caution, they say, "lest you find yourself in Davy Jones's Locker".
Who goes there?
On Saturday night, it has to be said, groups of dancing men made up the majority. There's no holding back the hips here, fellas.
Also present, was a party of pirates dressed for "Lauren's Hen Do Treasure Hunt". Those who had flamboyant faux-parrots attached to their outfits fitted in particularly well with the décor.
FUN is Aloha's USP. In order to keep it that way at the weekend (it's not far from Concert Sqare, this gaff) they invite regulars who the doormen may not recognise (those Tiki masks are a bugger) to Facebook them to be put on their "good time gang" if they intend dropping in. Everybody wants to enjoy it and they want to keep it that way. You'll be alright though.
Entertainment?
Apart from everything all around you, all the time, there's a great DJ and live music and some top art on the walls.
The Drunken Parrot Sanctuary is the bar's rum and tequila appreciation group. It meets on the first Monday of every month. Anyone is welcome to attend these two hour-long sessions of talking, teaching and tasting (all at cost price) but you have to love the spirits.
Last Thursday saw Aloha's first annual luau, involving "copious amounts of free booze" along with a Hawaiian feast, hula dance class and a limbo competition. And with opening from 5pm every night until at least 2am, even on a Monday, it's our sort of escape. What an attitude.
Verdict
Rock-a-hula!

Where?
Aloha Bar, 22 Colquitt Street, Liverpool. L1 4DE. Visit.